If you were on the internet at all this past week, you've probably either heard of the rumors that former president Donald Trump was getting arrested or saw some photos of him resisting arrest. Looks like both of those things may be false.
On Trump's Truth Social account, he claimed that on Tuesday morning, he will be arrested in New York. What was actually (partially) true was that he may be indicted for his alleged role in paying over $100,000 in hush money to Stormy Daniels to silence her about their supposed affair. Despite Trump's pleas for protest, his supporters failed to mobilize properly and, according to USA Today, any protests and demonstrations are "traps." That was good news for anyone on their daily commute into the city on Tuesday morning.
But a person can dream, and dream they did. Utilizing the still-growing technology of making AI deepfakes, some people wanted to imagine a perfect world where the former president was locked up once and for all.
User @EliotHiggins appears to be the source of the original photos making the rounds, but they expectedly took on a life of their own and began circulating without context or credit.
Another user @okeef_reborn, described as a "guerrilla satirist," also shared an image of his mugshot. Upon closer inspection, it's clearly fake due to the nonsensical text behind him.
Some of these photos are fairly convincing, but a telltale sign that the photos are fake is to look at the hands. Especially in Higgins' photos of Trump appearing to be taken down by a group of police officers, some appendages don't make sense or just look slightly off.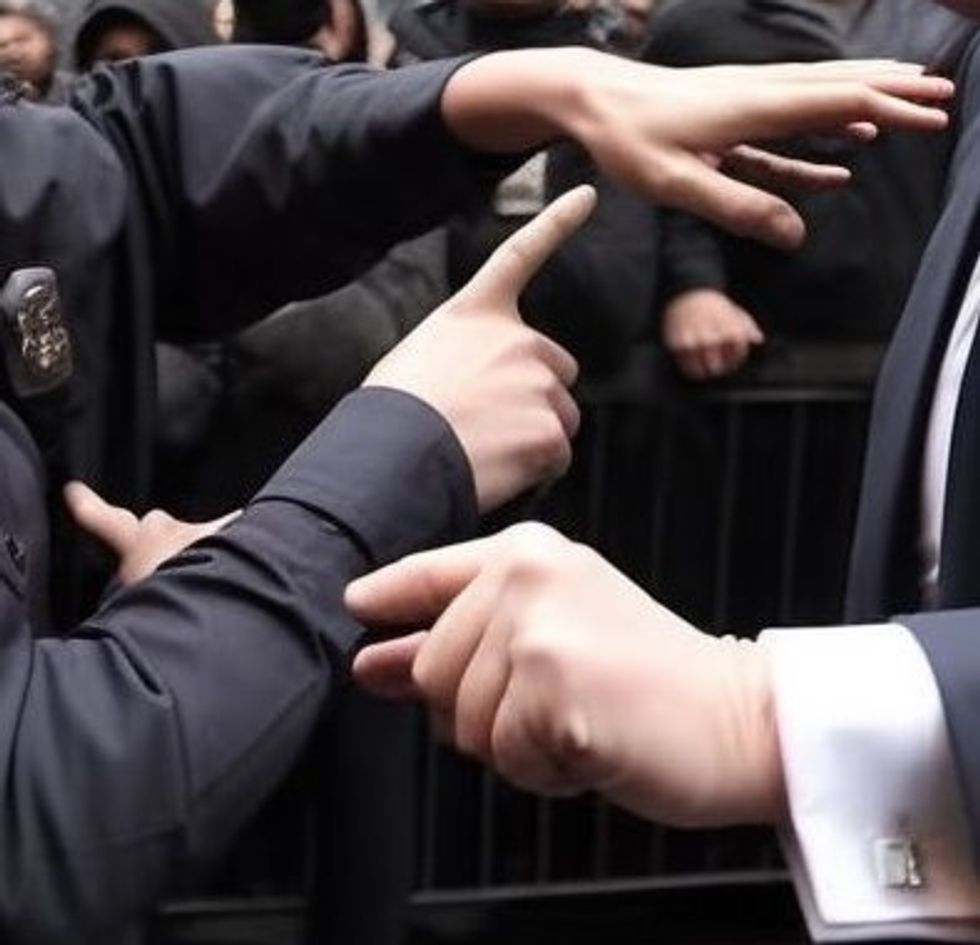 As for the fate of Trump, not much is known about his indictment date or if an arrest is ever in the cards, but there's a more worrying claim in light of the false news. According to his campaign in a statement made to Fox News (which should be taken with a grain of salt), he purports to have raised over $1.5 million for his upcoming 2024 election campaign. The suggested donation amounts started at $500.
Photo courtesy of @TheInfiniteDude/Twitter
Sign Up for the Morning PAPER