As he wraps up a tour in support of his debut album, Blue Neighbourhood, singer, YouTube star and LGBT role model Troye Sivan reflects on the importance of visibility within the gay community, especially among queer entertainers.

Are you still making videos for YouTube while you're on tour?

I do sometimes [but] very, very rarely. It's really not conducive with touring. Making videos takes a long time. And the I also want to make sure that what I'm putting out I'm super proud of, and that's tough, especially, again, when you're on the road. I've been so focused on music and touring that it's fallen to the wayside a little bit.

What was the response like to the video you posted in 2013 where you came out publicly?

It was just overwhelming support and love. I'm so lucky and so grateful. I've been the most lucky, privileged kid in the whole world. I've not had a single bad response to my coming out since day one, and it's just been an absolute blessing in my life. I can only hope that everyone should be so lucky as I was.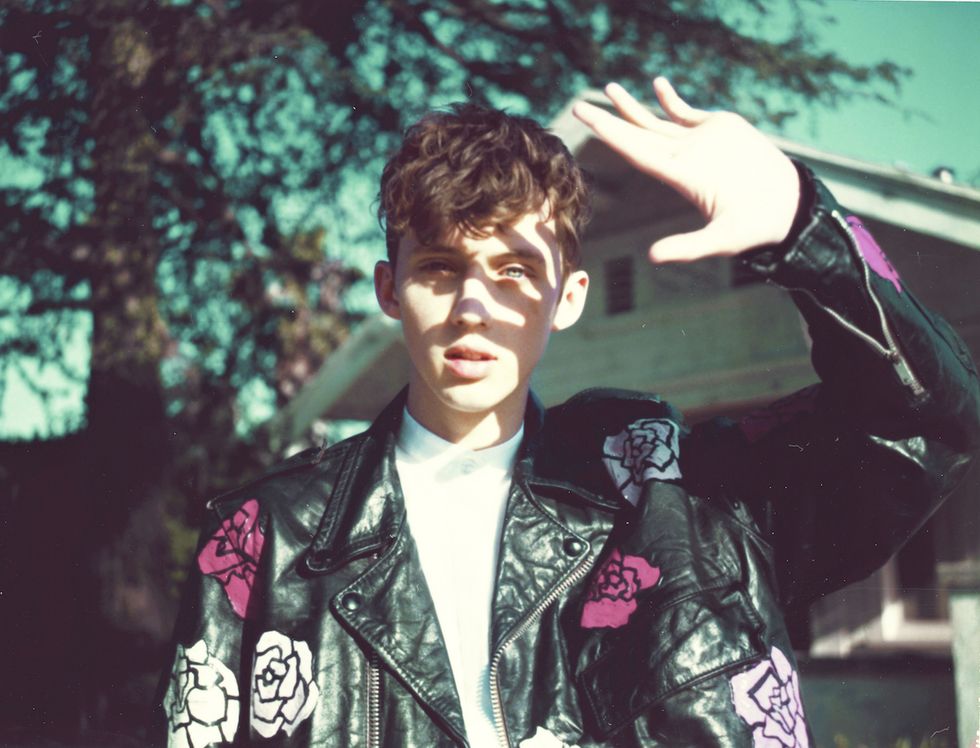 Growing up, did you have any LGBTQ role models that you looked up to? Or did the lack of representation influence you to do what you're doing today?


I think the latter. I think the lack of representation is definitely something that kind of shaped the way that I'm trying to mold my whole career. I remember the first gay kiss that I ever saw on TV and how much it blew my mind. And I never saw it again for a number of years. Eventually then hearing about someone like Ricky Martin coming out, or George Michael, and those were kind of the ones that I saw and I just couldn't see myself in those people. They were so much older than I was, and, yeah, it was just a different world. I'm always trying to be true to myself and hopefully some people will be able to see themselves in me, and think, "Oh! I'm like that person." Or at the very least understand that it's okay to be different.

You said in another interview one of the most powerful things an LGBTQ person can do is just live. What did you mean by that?

I'd like to influence my younger fans so that they understand that the things that make you weird or different when you're a kid are so often the things that end up making you the coolest when you're older, and shape your profession and your job. I would just say, stick with what you love, do what you love regardless of who you are, and be unapologetic about who you are, and everyone will figure themselves out around you. It's not your job to make other people feel comfortable. They'll all kind of fall into place, hopefully.

Have your thoughts and hopes changed at all in the wake of the American election?

I've been pretty heartbroken about the whole thing and I don't even live here. I broke down the other day thinking about the survivors of Pulse in Orlando, for example. Imagining how it would feel to feel like your country doesn't care about you, and your people, and we've had such a rough year. It was a really, really heartbreaking thing to realize. And so I think that we have a lot of work to do, and we just have our work cut out for us this year. I think unfortunately minorities know that kind of path of fighting for survival so well, that I have no doubt that we'll carry on and we'll be fine, and we'll make it through this. But it fucking sucks that we have to in the first place. It's just kind of a bummer. But you heal, you accept that's what the case is, and you just work ten times harder.

You've said you hope not to reach just your audience but the parents of your audience. Why is that important to you?

I think it's important to me just because I've realized how much my parents, my family and my friends shaped my experience. In life in general, but especially as a queer person, I think that having support changes everything. It changes the whole game. And so yeah, even if it's just through the kids putting the album on in the car or the parents seeing the music videos or whatever on TV or hearing an interview maybe, I'd like to try and communicate with them how important their role is in this whole thing.

For me the most rewarding thing in the world is when I can tell that maybe a kid hasn't been allowed to go to the show by themselves and they've brought their parent, but their parent is standing in the audience singing along to the words. I'm like, oh my God, how many times did the kid play the songs on the way to school ? It makes my life.

Have you met any artists who are similarly outspoken? What has it been like to work with people who are of a like mind?

Totally. I'm close friends with [actress/model] Hari Nef, I love [actress] Amandla Stenberg, there's people like [Years & Years frontman] Olly Alexander who are also doing their thing. I feel like there's a bunch of us right now who are sort of just doing us and speaking about it and showing everyone that that's okay. And it's really inspiring to see those people and meet those people and feel like they're also kind of fighting the same fight. It really keeps you going.
Photography by Janell Shirtcliff

More from the issue:
Bella Hadid Like You've Never Seen Her Before (cover story)
Fran Lebowitz On Donald Trump, Protests and Moving to Canada
Remy Ma On the Importance of Women Working Together
Hayley Kiyoko On Understanding Her Sexuality and Finding Her Voice
Young Thug On the Fight Against Poverty
Colton Haynes On the Importance of Seeking Help
Jerry Springer On How Liberals Always Win (In the End)
You May Also Like