This is a strong year for the increasingly relevant Tribeca Film Festival (from April 28 through April 29). Aside from a dizzying array of strong films and documentaries, there is the 25th anniversary screening of Steven Spielberg's Schindler's List, a 35th anniversary showing of Brian De Palma's Scarface and a restoration of the indie great In The Soup (see below). Having been consistently impressed and surprised by the screenings, here are 10 movies that shouldn't be missed:
​Nico, 1988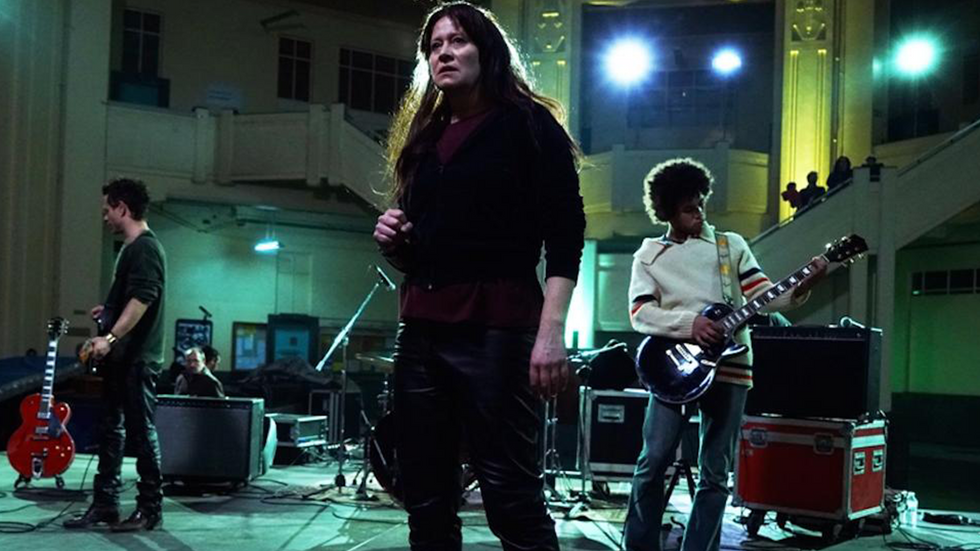 Courtesy of Magnolia Pictures
A stunning biopic of the thorny later days of former Velvet Underground chanteuse Nico (played with blazing fury by Danish actress Trine Dyrholm). Focusing on the rocky tour with a new band (one even more dope sick as Nico), the harried British manager (John Gordon Sinclair) tries to keep things together and keep supplying Nico with the heroin she needs to keep going. What the movie does so expertly is show many of Nico's demons but also her humor and humanity. A full throttled performance at an unsanctioned concert in a Communist country is electrifying. There is bracing dark humor in director Susanna Nicchiarelli's knockout of a film.
We The Animals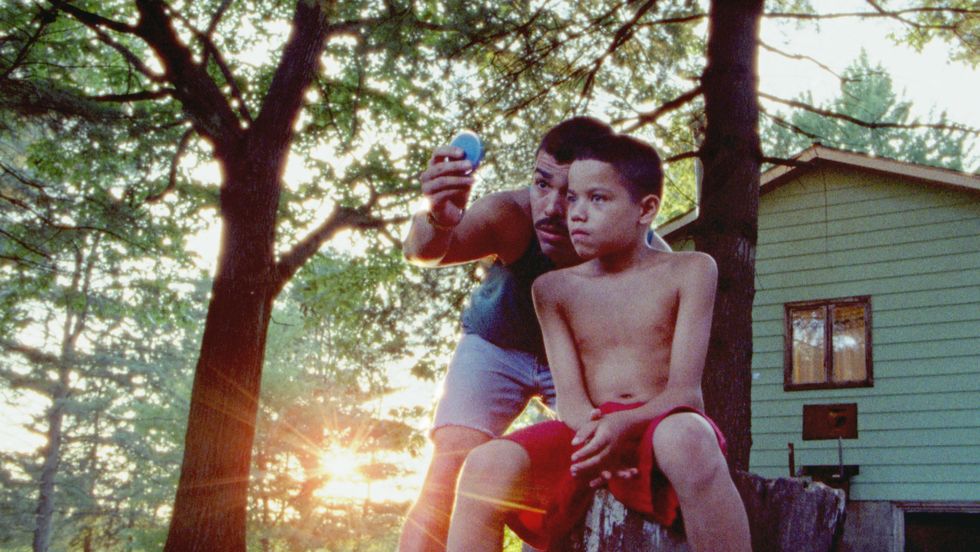 Courtesy of The Orchard
Based on Justin Torres' exquisite book, director Jeremiah Zagar stylishly adapts this story of three brothers who escape the chaos of their family life on their own wild child terms. A white mom (Sheila Vand) and her abusive Latino husband (terrific Raúl Castillo) have a loving but troubled relationship in their suburban home. Their three sons create their own reality on a daily basis dashing through woods and through town causing havoc. Young Jonah (Evan Rosado) chronicles their misadventures in a secret journal which he keeps hidden in the springs under their bed. "Body heat!" the children whisper huddled together under a blanket, their tangle of bodies fitting together into a formidable feral force against the outside world. The magic realism of the movie really works and the end is devastatingly poignant and poetic.
Sunday's Illness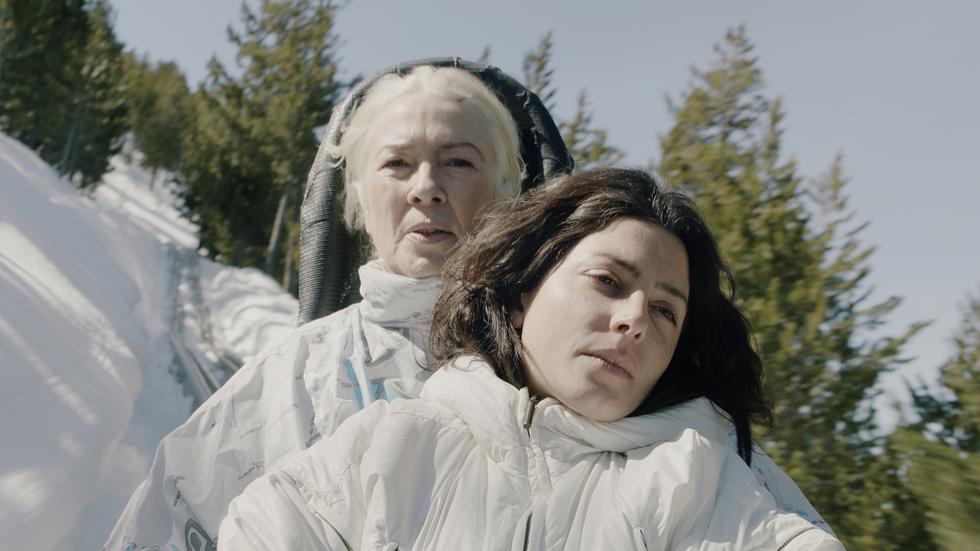 Courtesy of Lucía Faraig
In this sublime Spanish film by Romon Salazar Hoogars elegant wealthy Anabel (Suzi Sanchez) is throwing a dinner party when to she shockingly realizes one of the waiters is her daughter Chiara (Barbara Lennie). Anabel walked out on her husband and child over 30 years ago. Chiara says she doesn't want money, she wants to spend 10 days alone with her mother, a situation that naturally alarms Anabel's husband. The two women travel to the deep woods where Chiara lives. You do wonder constantly about the daughter's motivation and true objective, and as the days pass a series of disturbing events muddy those waters. But this is not that kind of a movie. Gorgeous looking, with extraordinary performances by the two leads, this film really packs an emotional wallop.
In The Soup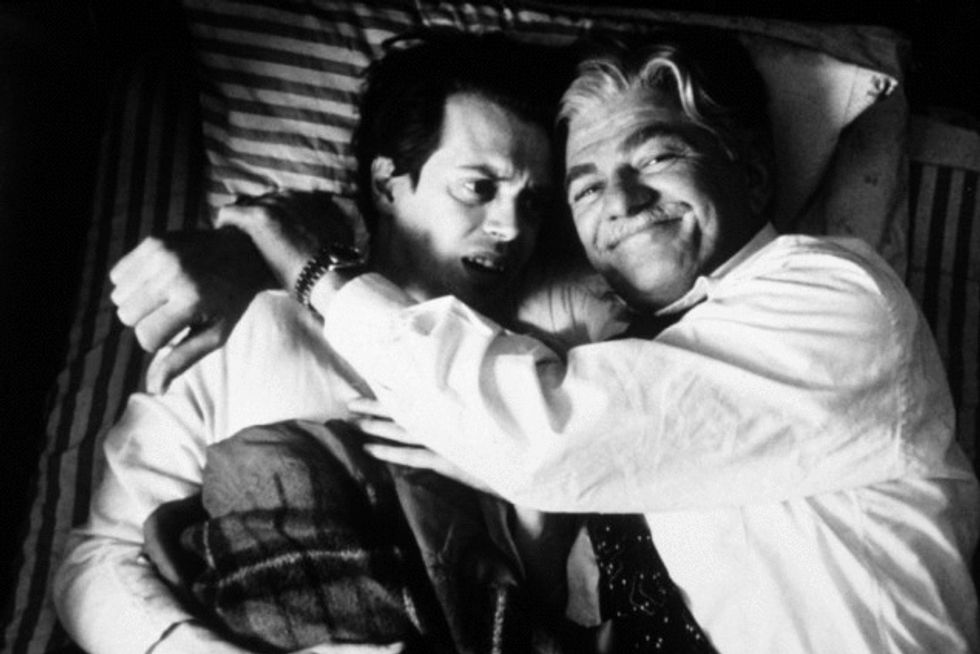 Courtesy of Phil Parmet
Steve Buscemi and Seymour Cassel are hilarious in this 1992 whacked-out comedy directed by Alexandre Rockwell. Buscemi plays Adolpho, an aspiring East Village filmmaker, who puts an ad in the paper to sell his script and hooks up with a bizarre gangster "Joe" (Cassel) who has decided he wants "art as an important part of his life." Unfortunately, he drags Adolpho along on a crime spree to raise the capital for their artistic adventure. As Adolpho says in a voice-over that describes this film: "The only thing you could do is sit back and see what would happen next..." The restoration of this indie gem is from a successful Kickstarter campaign.
Cargo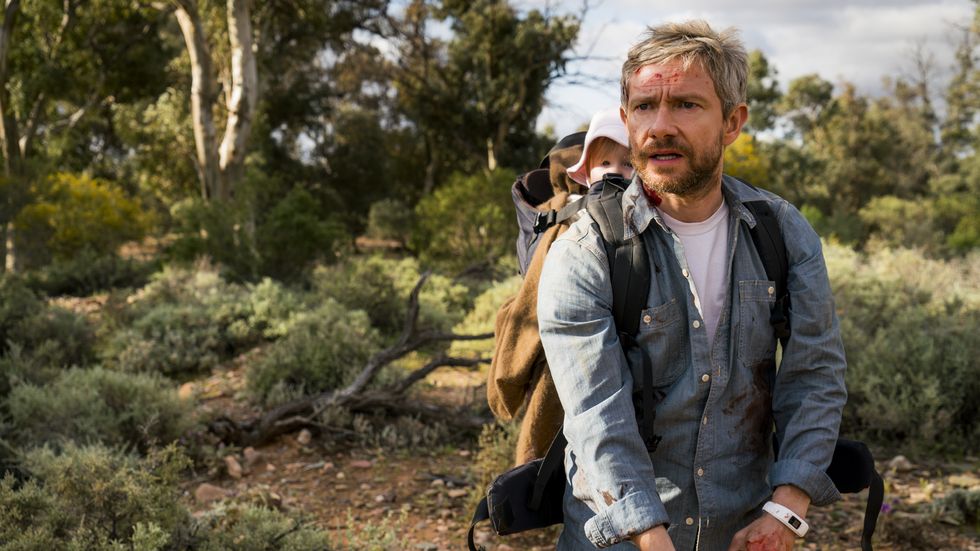 Courtesy of Geoffrey Simpson
Andy (Martin Freeman), wife Kay (Susie Porter) and baby daughter are navigating along a river on a houseboat with limited rations and fearful of landing on shore. An epidemic has transformed the Australian outback into dangerous terrain with wandering flesh-munching living dead. Fracking and other environmental disasters have seemed to poison the earth and returning it to its Aboriginal roots. It's hard to imagine mining fresh material out of this familiar subject, but directors Ben Howling and Yolanda Ramke do. Martin Freeman is particularly moving, desperate to keep his toddler safe. And there's the remarkable Simone Landers as a young Indigenous girl he meets along the way. The gorgeous, exotic, haunting, Australian terrain also help transform this into The Walkabout Dead.
Every Act Of Life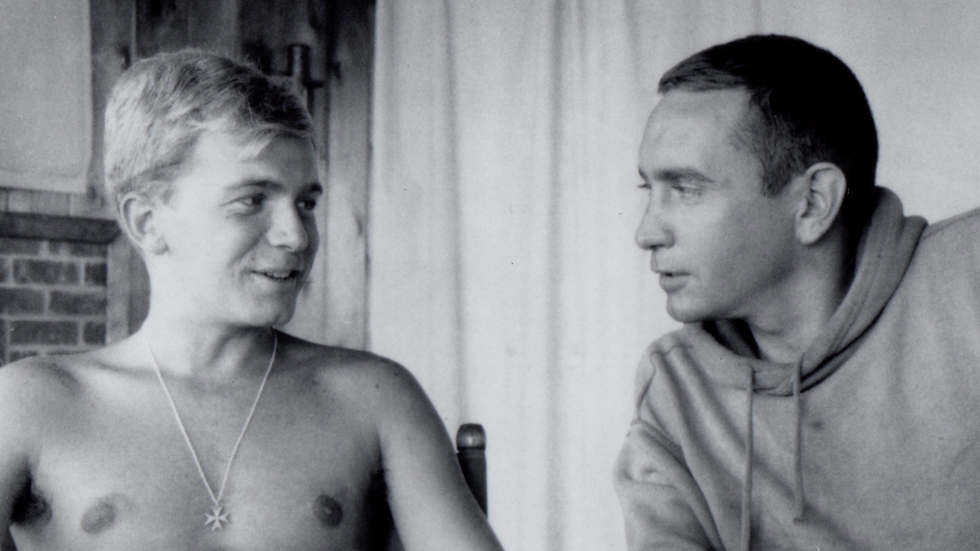 Courtesy of Tribeca Film Festival
Poignant, incredibly inspiring, documentary by Jeff Kaufman about the career and life of Tony-winning playwright Terrence McNally. Wildly diverse plays like The Ritz (1975), Love! Valour! Compassion! (1994), Master Class (1995), Frankie And Johnny In The Claire de Lune (1982), The Lisbon Traviata (1989), plus the books for musicals such as Kiss Of The Spiderman (1992) and Ragtime (1996) are only a fraction of his storied career. Never uptight about being openly gay in his personal life, this became a problem for some closeted boyfriends. His tempestuous early affair with playwright Edward Albee is sensitively examined along with his loving relationship with longtime partner Thomas Kirdaho, who McNally married in 2010 in Washington, D.C. One comes to admire McNally's attitude in the wake of painful flops and turbulent relationships. Not to mention coming to grips with his alcoholism (thanks to a concerned warning from Angela Lansbury). You just listen to the man and love him. For theater fans this movie is indispensable.
​Jellyfish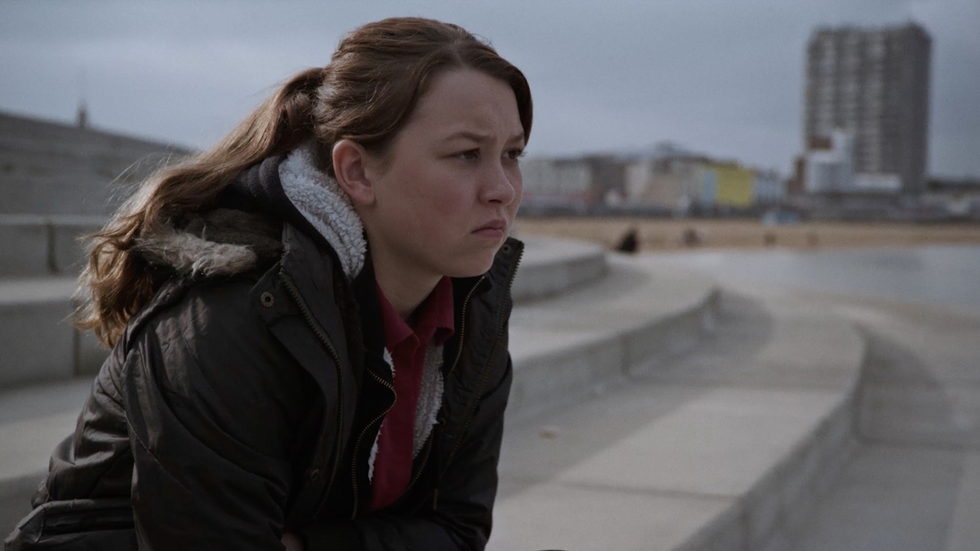 Courtesy of Peter E. Riches
Liv Hill, in a breakout performance, plays 15-year-old Sarah Taylor in this British drama deftly directed by James Gardner. Sarah takes care of a mentally ill mother, who can't get out of bed. She bikes her younger brother and sister to and from school. She works at an arcade and gives hand jobs to men in the back alley for cash to feed the light meter. At school she's either bullied or ignored. But when an Arts teacher (excellent Cyril Nri) suggests she channel her rage into comedy for a school presentation, she suddenly becomes inspired. For once she has hope that this is something she might excel at. The crushing awfulness of her young life is really tragic, but Sarah's toughness and foul-mouthed bluster is bracing, heart-breaking, and darkly funny.
Duck Butter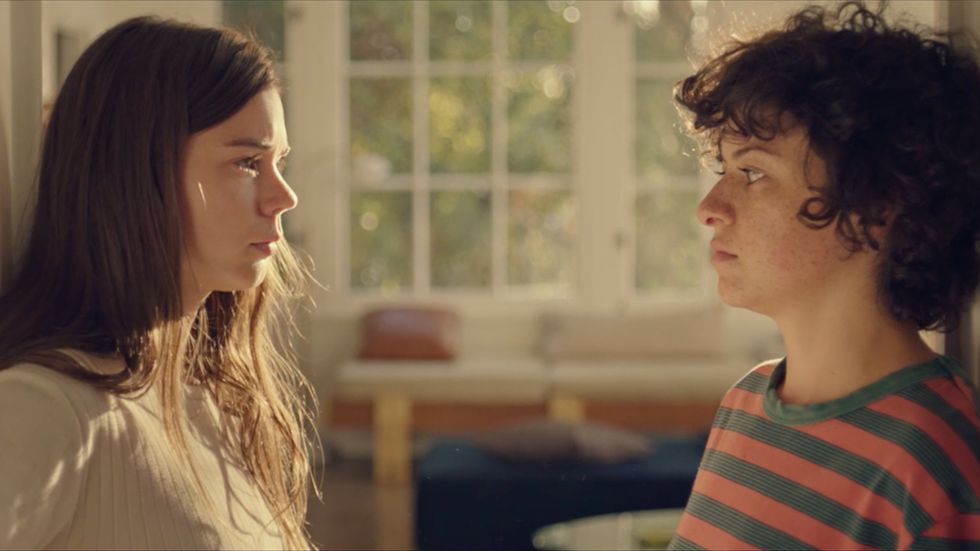 Courtesy of Hillary Spera
In Miguel Arteta's emotionally chaotic romantic drama, Naima (Alia Shawkat) is an aspiring actress, just cast in an indie movie. At a local bar she meets up with a free-spirited Spanish singer Sergio (Laia Costa), and is instantly smitten with her. They end up going home that night and Sergio suggests that they defy the boring conventions of beginning a relationship by spending 24 uninterrupted hours eating, drinking, and making love. That kind of concentrated intensity is a bit scary. The unbridled sex; the confessionals; arguments; the crying jags — all on little, to no, sleep. It's especially trying on Naimi who is the far more analytical and guarded, while Sergio is more willing to take bigger risks. There's a wonderful and telling scene where Sergio's unconventional mother shows up for lunch that reveals more about her daughter then an all-day talk marathon.
​Blue Note Records: Beyond The Notes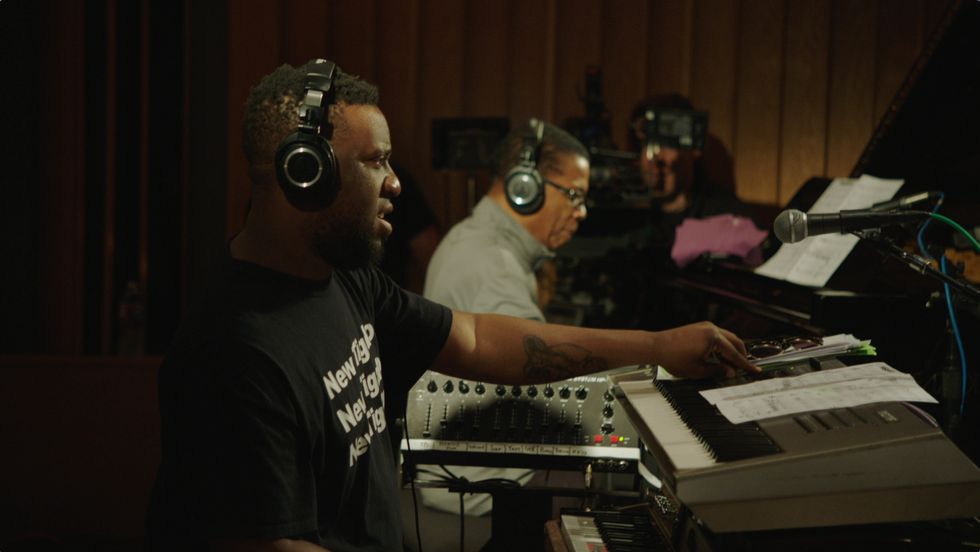 Courtesy of Blue Note Records
Glorious and invaluable documentary by Sophie Huber of the ultimate jazz record label Blue Note Records. The film charts two German friends who fled their country before World War II — Alfred Lion & Francis Wolff — who were wildly passionate about jazz music. Thelonious Monk, Miles Davis, Bud Powell, John Coltrane, Sonny Rollins, Art Blakey signed on early to their record label, a lot of the platters were recorded at homes in New Jersey. "Why would someone start a record label not to make money?" was often asked, but Alfred Lion was all about the music and encouraged their artists the freedom to be as creative as possible. Francis Wolff took some amazing photos of these amazing recording sessions. They transformed the face of music, and paved the way for the hip hop generation.
Seven Stages To Achieve Eternal Bliss By Passing Through The Gateway Chosen By The Holy Storsh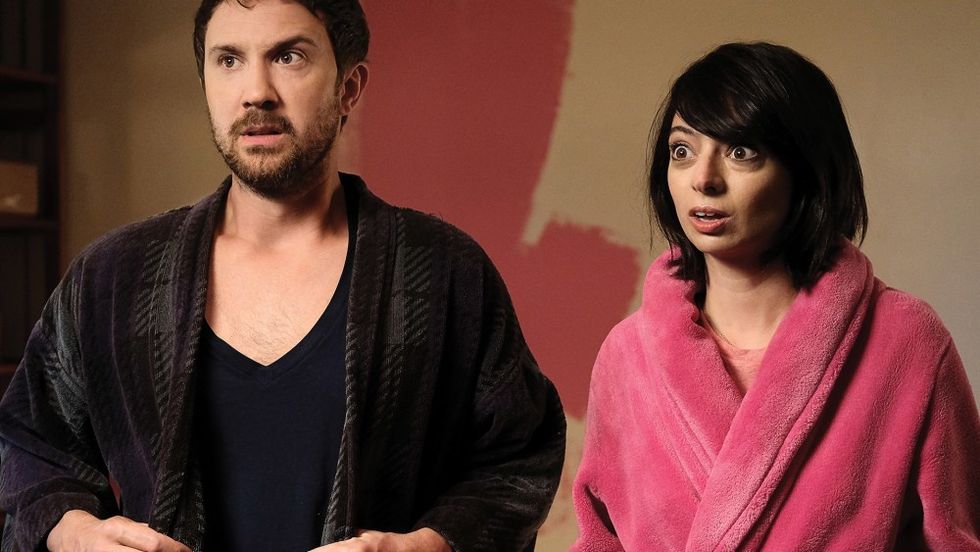 Courtesy of Tribeca Film Festival
Even though I'd hate to have to be the theater owner putting this title up on the marquee, director Vivieno Caldinelli's offbeat black comedy actually won me over. Claire (Kate Micucci) and slacker boyfriend Paul (Sam Huntington) have just moved to L.A. and scored a nice large apartment on the cheap. What they don't realize is that an infamous cult leader named Storsh committed suicide in the bathroom of their flat. Before long, scores of "followers" are climbing in their window to off themselves in this "holy" place. The twosome are at first horrified, but eventually become more accommodating to these suicidal Storsh disciples. Because of these macabre, frequent, occurrences, they have Detective Cartwright (Dan Harmon) on speed dial. And because Claire works for a media agency, Cartwright thinks she can help him sell his screenplay. There's something goofy and sweet about this couple, and there are parts of this whacked-out film that really made me laugh.