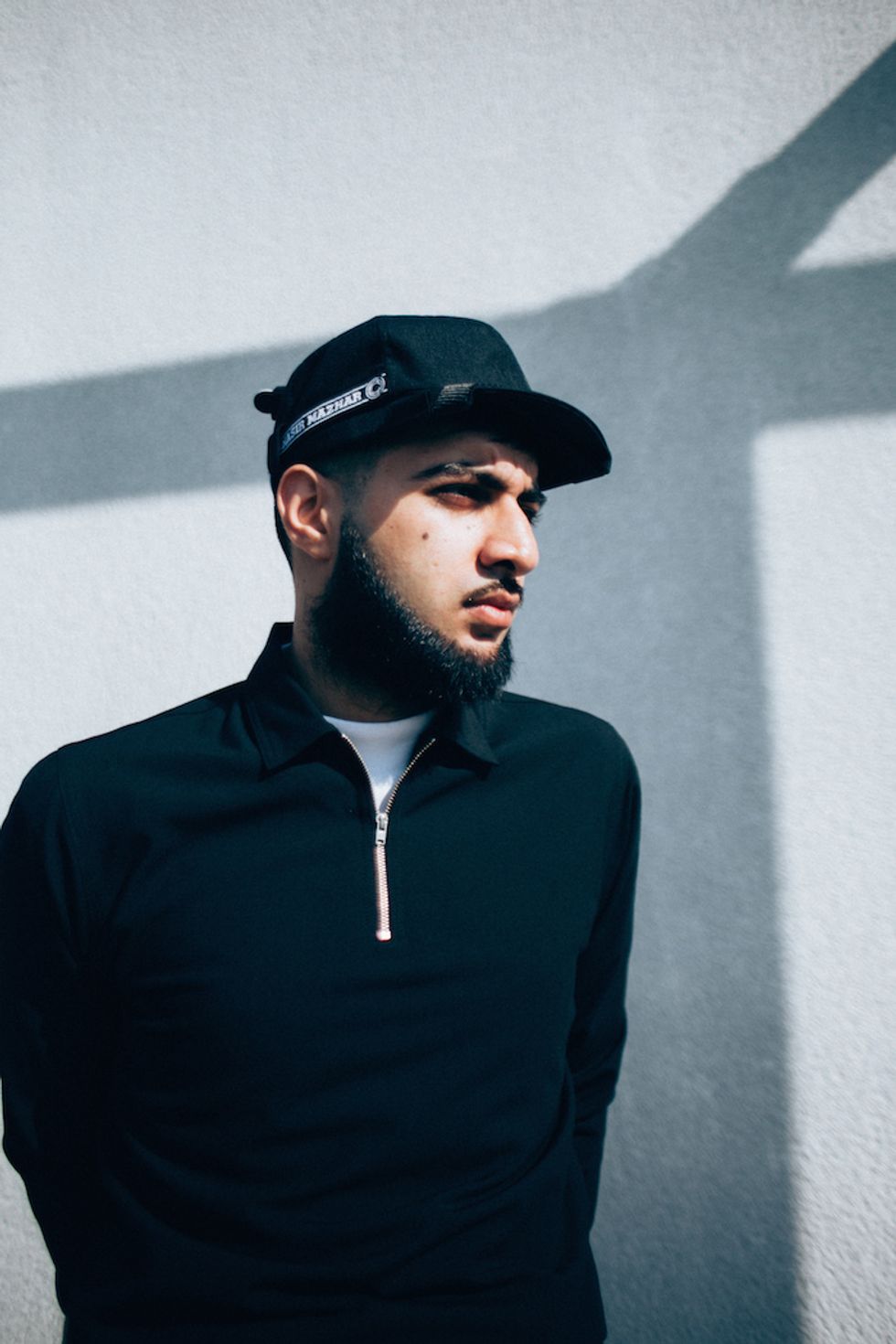 Photography by Victoria Grout/Styling by Alizé Demange  
Faze Miyake
 aka 26-year-old producer Farris Malik has the sort of trendsetting talent to cause a stir, as he's already known as one of the most innovative producers in the mutant dance circuit. With a taste for American rap blended with the traditional elements of leftfield UK dance he grew up surrounded by in East London, he masterfully mixes 8-bar rhymes with the bando, creating a palette of sounds that are ushering in a new era for the London underground. As such, we spent a second chatting with him to find out more about the album, touching on his grime roots, love of Rick Ross and the release of his 
debut album this Friday
.
Why do you think grime's getting big stateside? In a conversation with Novelist, he said that is was because of the young second wave -- do you agree? 
To be honest, I noticed it happening when I first [started in the scene]....when I first came around I was doing grime, but it sounded like how my album does now -- like hip-hop, you know? I kind of changed the whole scene; everyone started making beats that sounded like me. I feel like Novelist has come along and has had the exact same effect. He's taken it back to the roots of grime and the old school-style which everyone's almost copied...I feel like he's definitely influenced the scene. 
Speaking of hip-hop, the fact that you're so American, particularly Southern, rap-influenced is interesting.
The influence is always changing. Say with Novelist, he's got the power right now in that whole scene where he's controlling where it's headed. When I first came around, when I made that track "Take Off," which is 5 years old now, it kind of changed everyone's way of making grime. I didn't even think it was a grime song, it was just what I was enjoying. The type of music I was listening to the real trap stuff, not like EDM trap or anything. I went to Miami for my 21st birthday and I noticed all of these Rick Ross tracks getting played...that's when I went back and made "Take Off," because I was already so into that sound already. It reminded me of grime in the club and I thought I could recreate that. Now it's different though, I've still got that old grime elements within me, I think, because I grew up listening to grime it's never gonna leave me it's a part of me, coming from East London and all. But in America right now, it's different, man. It's gotten more and more like what's going on out there. I think drill music is grime. I feel like it's the exact same thing, I can't look at it any other way. 
So speaking of American hip-hop, why is that such a marked influence on your sound rather than like [grime legends] Dizzee Rascal or Wiley. Is it the lyricism or...?
I like listening to hip-hop more than grime for some reason. I like grime beats but I don't really like grime lyrics. It doesn't do anything for me. 
Yeah, I feel like that's the general consensus. So you're not like a Skepta fan or anything? 
I've always been a big fan. I remember when I was younger, when I first even heard of Skepta, I was like "He's the best." And he had this really basic lyric like "What'd you mean? What'd you mean? You fool" -- but he was the only MC I had heard at the time. He was hopping on beats by like [dubstep icon] Skream, who had that "Midnight Request Line." I remember hearing it and thinking "Cool. He's the best MC," but all of my friends were into like Kano or whatever so no one ever agreed with me. But now everyone loves him off.
It's funny that you say your not into grime lyricism that much because wasn't "Take Off" like the unofficial anthem for [grime battle series] Lord of the Mics for a bit? 
I don't know, I mean I made the track, it got played on Rinse [FM] and they basically reloaded it like 10 times and spat on it for 15 minutes. Me being me, I just used the hype around the tune, but a bunch of DJs were just battering it...then a couple months later I met [Lord of the Mics founder] Jammer at Fabric [nightclub] and he was like "I really like the tune and everything and I really want to do something with it."...I suppose it really got me out there but it was already big before. Big up to Jammer though, because people today still describe it as the tune from Lord to the Mics.
Yeah, I mean it's pretty seminal. I guess I'm just wondering about it because the new album has less of a traditional MC presence -- except for Family Tree and Little Simz there's no real textbook grime-influenced rappers. Is there any particular reason for that? How do you decide what tracks are instrumental versus vocal? 
To be honest, with the album it was too easy for me to put loads of MCs on there. I really wanted to try and prove that I can do something else. I like to work with MCs but with an album I want to show that I can still be myself and my music can remain my sound. I just wanted to get out in different places, that's all. Off the back of this album, I know I wanted to branch out and do a lot of different stuff. I literally wanted to have a feature for each type of style or drum roll -- so there's the Inga Copeland tune ["Ice Cold"] that no one would've expected, there's the Little Simz tune ["The Nest"] for people who like rap and the Sasha Go Hard track for drill or American rap people. There's loads of features on there for different kinds of people. Oh, and the Family Tree one -- obviously, because they're the crew I came up with -- is basically a full on grime track and I didn't want to put more than one on there. 
How did you get immersed in grime? Did you get your start via raves or pirate radio? 
It's just where I'm from. Coming from East London even my older sister and cousins were into that. Like my older sister was really into garage, my older cousins were into jungle, my dad used to listen to a lot of jungle and reggae as well...Music has always been around me really and even in my school days. I feel like that's when grime really started. There were a lot of MCs in my school. That whole culture was always around me and I've always been really into it. I've never really liked pop music or commercial music. I don't even know why, like sometimes I listen to a tune on daytime radio and think "yeah, this is sick" -- but I won't buy a commercial track. It's just that underground culture is [within] me, so I feel like I'll always keep that in my music. 
You just dashed my hopes of a Faze Miyake x Little Mix track. 
Don't worry. When I'm 35, I'm gonna sellout and just do a quick EDM track. I cannot wait.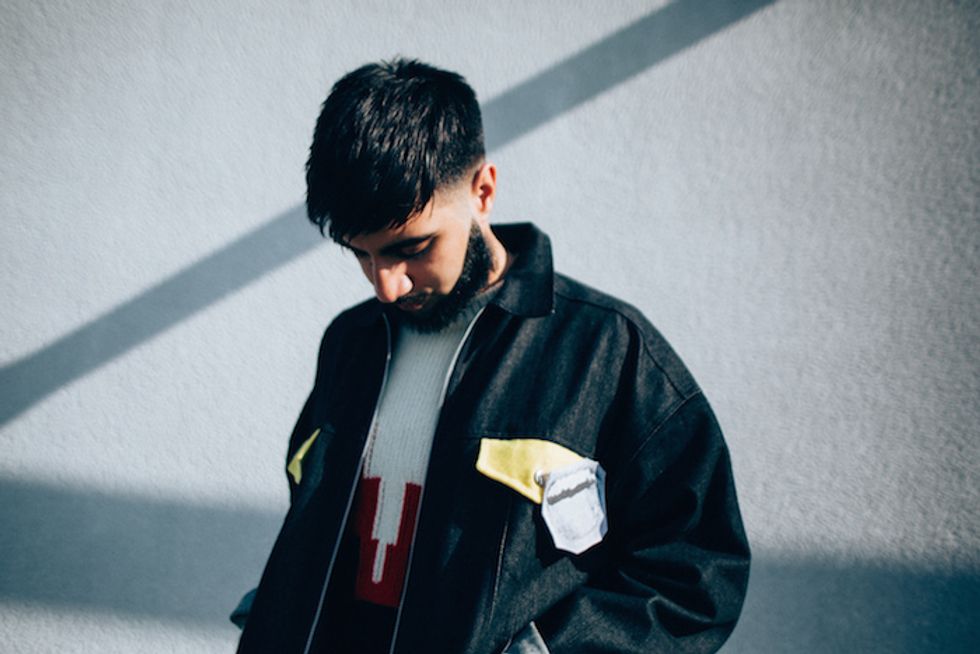 Styled by Alizé Demange 
Photography by Victoria Grout
You May Also Like