Transgender culture has become ultra trendy in the media, but the fact is that New York City has always boasted places with trans activity and creativity. Here are 10 of the most fondly remembered: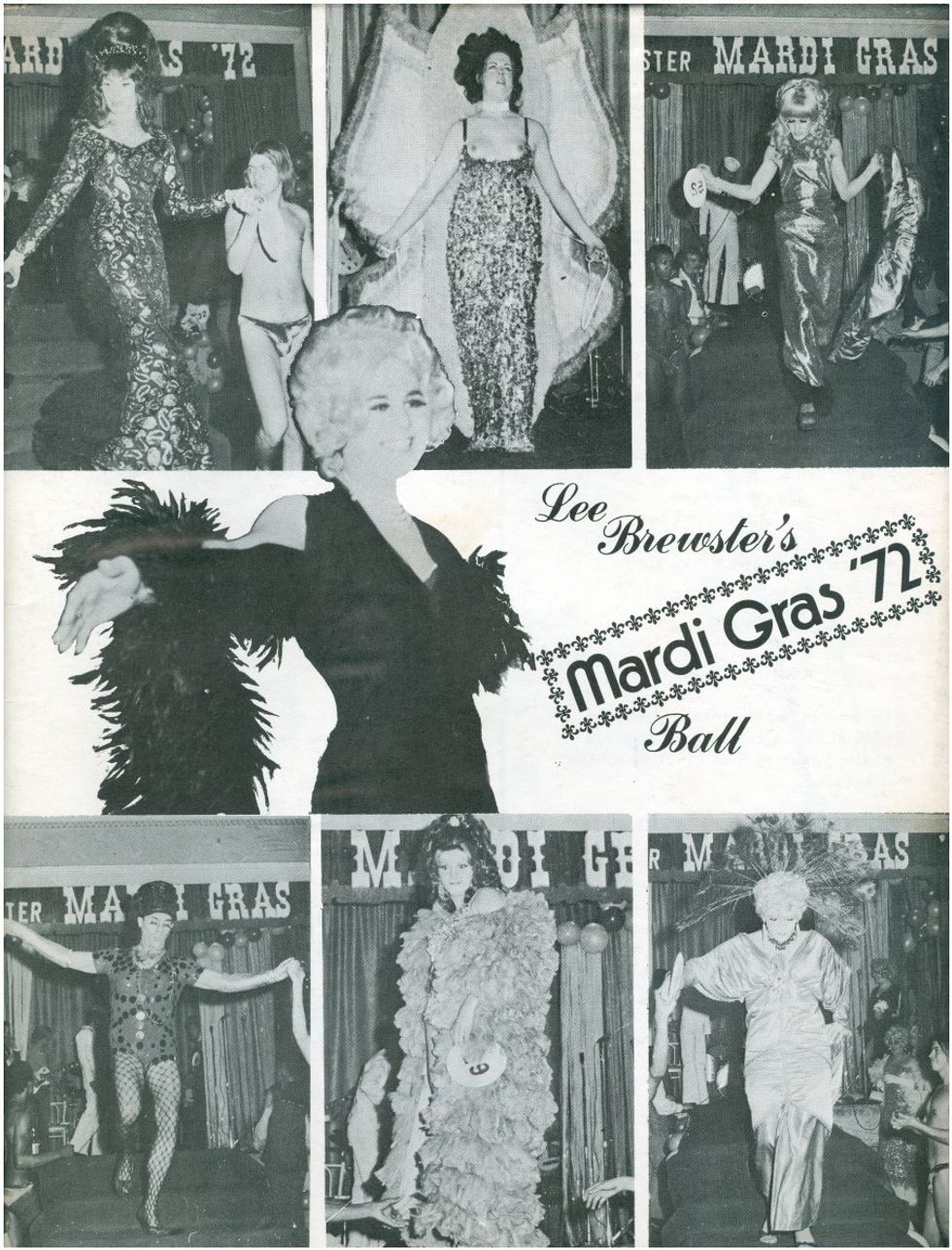 photo via Queermusicheritage.com
LEE'S MARDI GRAS
(400 W. 14th Street)
A 5000-square-foot store in the Meatpacking District owned by Lee Brewster (it later became Michael Salem Boutique), Lee's offered large-sized high heels, falsies, gowns, corsets, fishnets, and everything else for drag and trans customers. Brewster, who'd been fired by the FBI for being gay, was an LGBT activist and groundbreaker who died in 2000. He also held annual drag balls through the late '60s and early '70s that were frequented by celebrities from Carol Channing to Shirley MacLaine.
EDELWEISS
(11th Avenue near 43rd Street)
In its various locations, this was a fascinating hangout for trans women, cross-dressers, and every type of gender outlaw that makes New York sparkle. There were certainly prostitutes working the joint, but I also loved seeing the men who looked like they snuck out in their wives' outfits for a night, while wifey was away on business.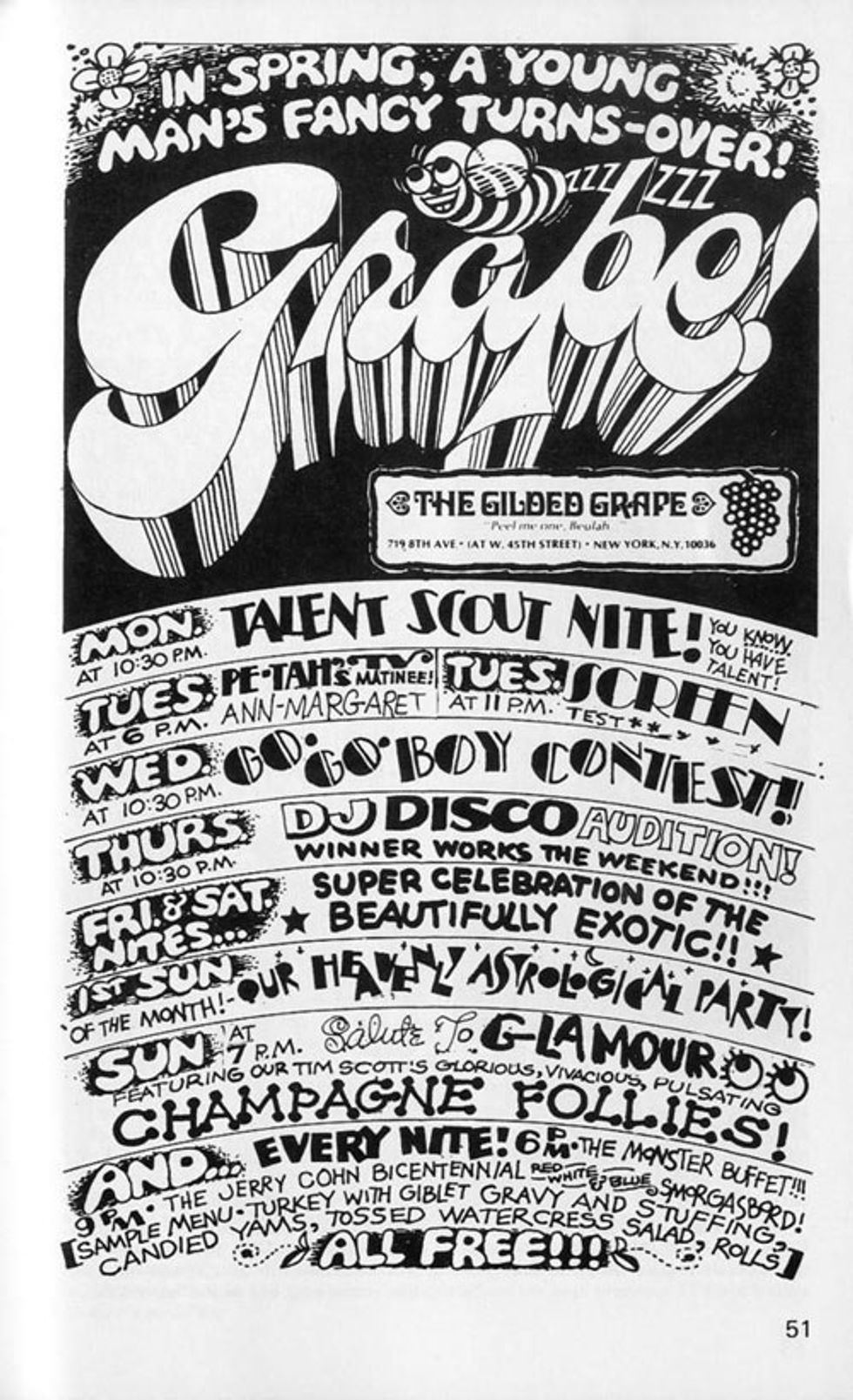 Photo via discomusic.com
THE GILDED GRAPE
(719-Eighth Avenue)
A hole in the wall opened in 1974 as a mixed disco, the Grape became atmospherically filled with drag and trans folk, then it moved to a larger space and changed its name to G.G. Knickerbocker's at 1466 Broadway. And after that, it moved again and became…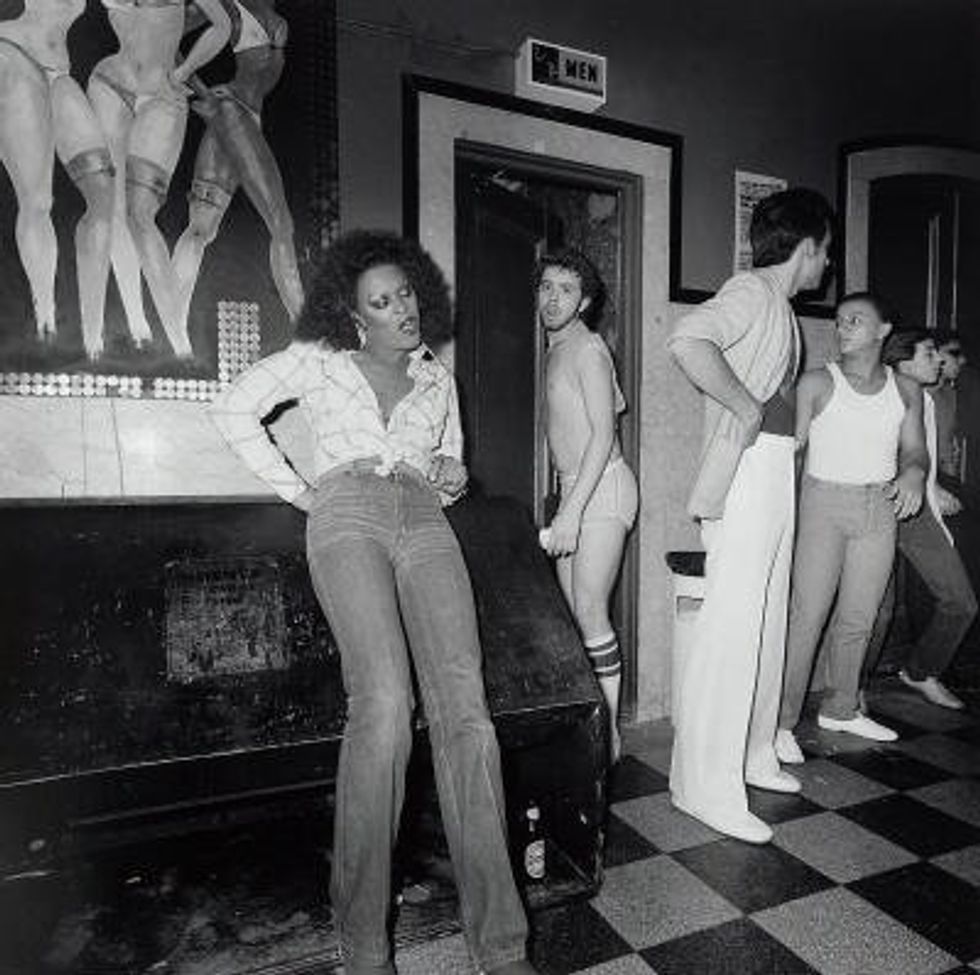 ...G.G.'S BARNUM ROOM
(128 W 45th Street)
Yes, the old Peppermint Lounge morphed into the Barnum Room from 1978 to 1980. This was an incredibly vivid experience, with a crowd heavy on Times Square trans gals, some of them prostitutes, some of them models. There was a taboo, sexy feeling in the air, and the best touch was that trapeze artists hung over you all night. In 1980, the space became the Peppermint Lounge again!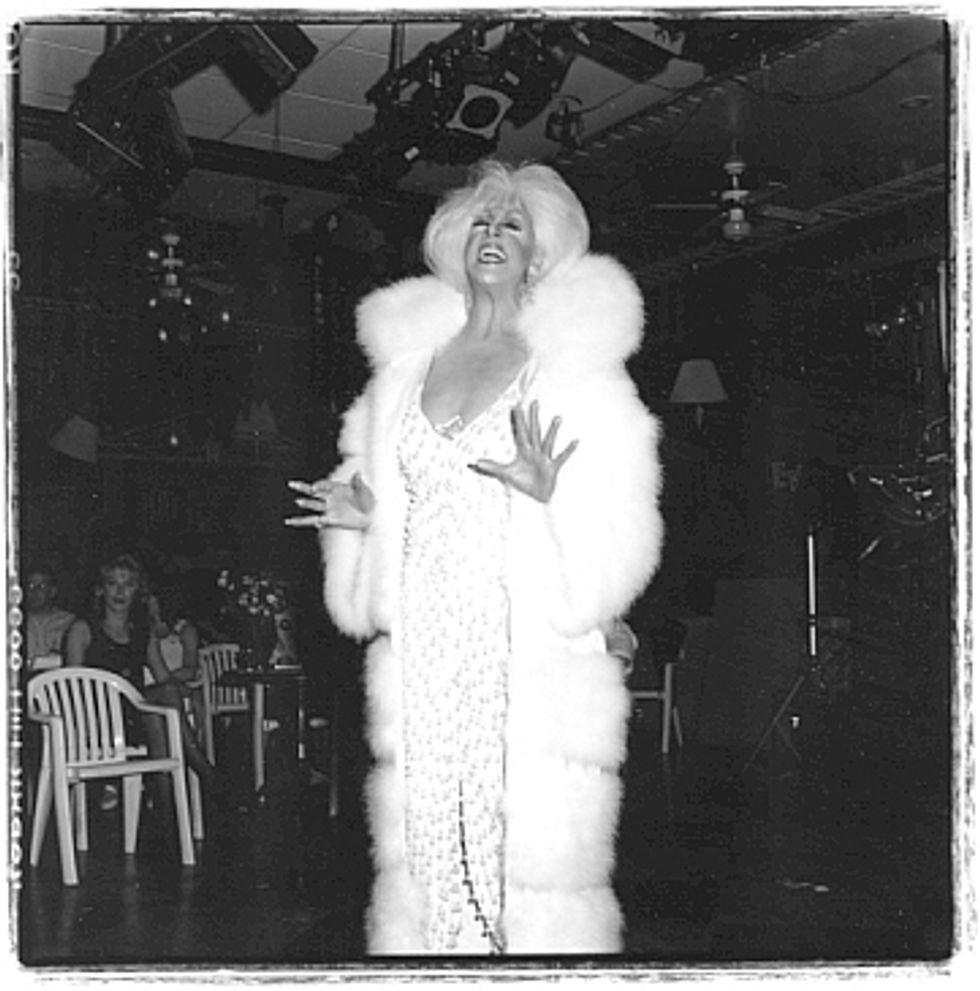 Dorian Corey singing at Sally's Hideaway. Photo via Sallys-Hideaway.
SALLY'S HIDEAWAY
(264 W. 43rd Street)
This was a gay bar with a mixed crowd, and in the 1980s, it featured not only gogo boys parading their wares, but also drag and transgender shows. It was very typical of a semi-raunchy Times Square that was doomed to the history books. Also: STELLA'S (266 W. 47th Street), a place rich with old Times Square ambience.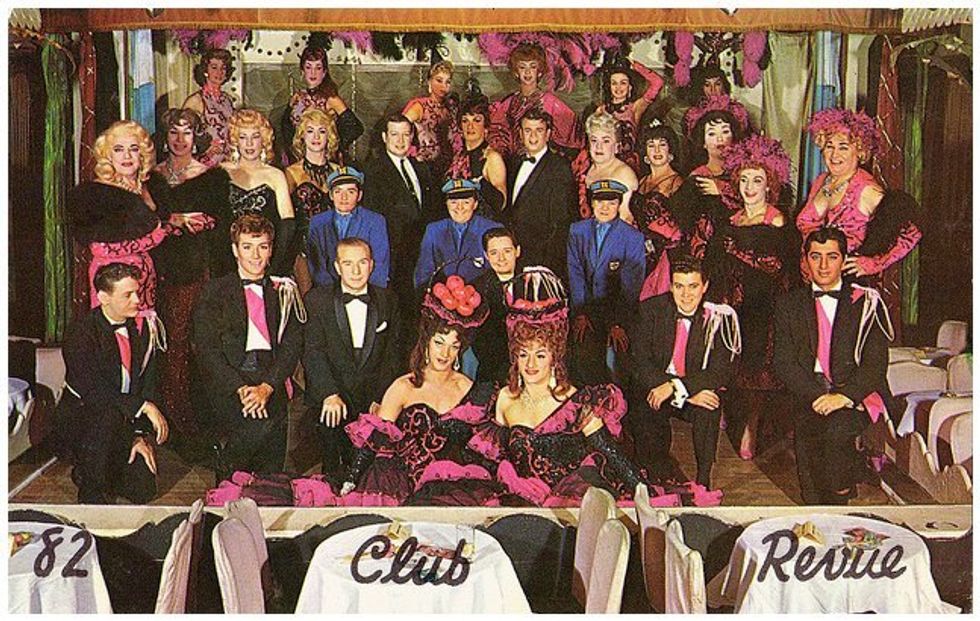 Club 82 photo via Queermusicheritage.com
CLUB 82
(82 E. 4th Street)
In the 1950s, this became known as "New York's most unique nitespot," which meant that it presented popular revues featuring "femme impersonators". It was quite subversive at the time, especially since some of the performers were not impersonators at all--they were trans.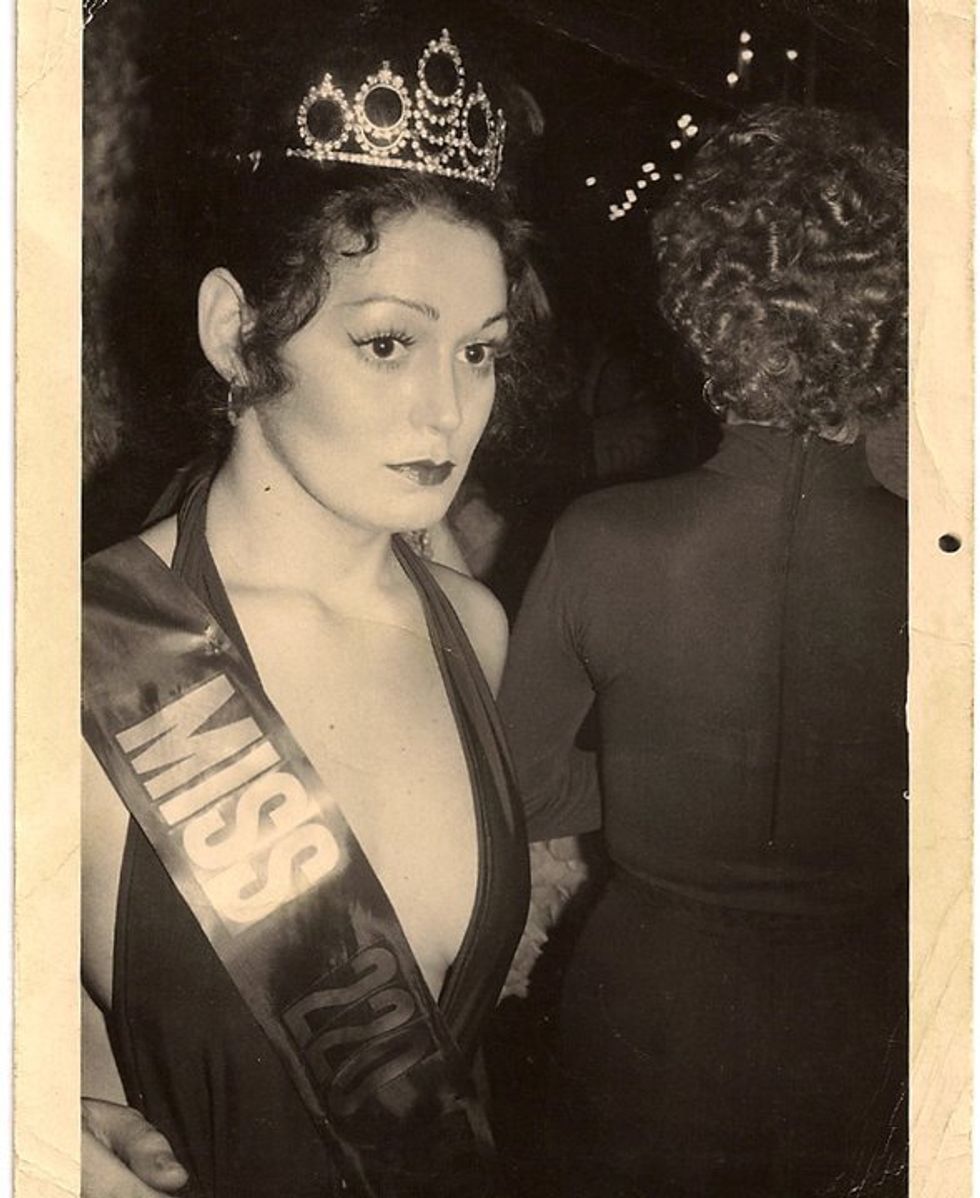 Tish Gervais at at 220 Club. Photo courtesy of Michael Musto.
220 CLUB
(220 Houston Street)
In the 1970s, this after-hours club featured every kind of LGBT, providing a place where the transgendered felt welcome. The Miss 220 Club pageant brought out a bevy of them vying for the glittery tiara.
ESCUELITA

(301 W. 39t h Street)
This Latin-flavored dance palace moved to the above address after a long run at a nearby spot, and it continued to romp for 19 more years, closing earlier this year. The highlights were the trans revues featuring stars like Angel Sheridan, Lady Catiria, and Jessica Foxx. I used to bring in every New Year's as a very happy audience member there. The place finally shuttered because, as the owner, Ben, told me, hardly anyone came anymore! They had one weekly event left, and it was a straight one. Ben says he could have made the place all straight, but in a nod to its LGBT history, he decided not to, and moved on.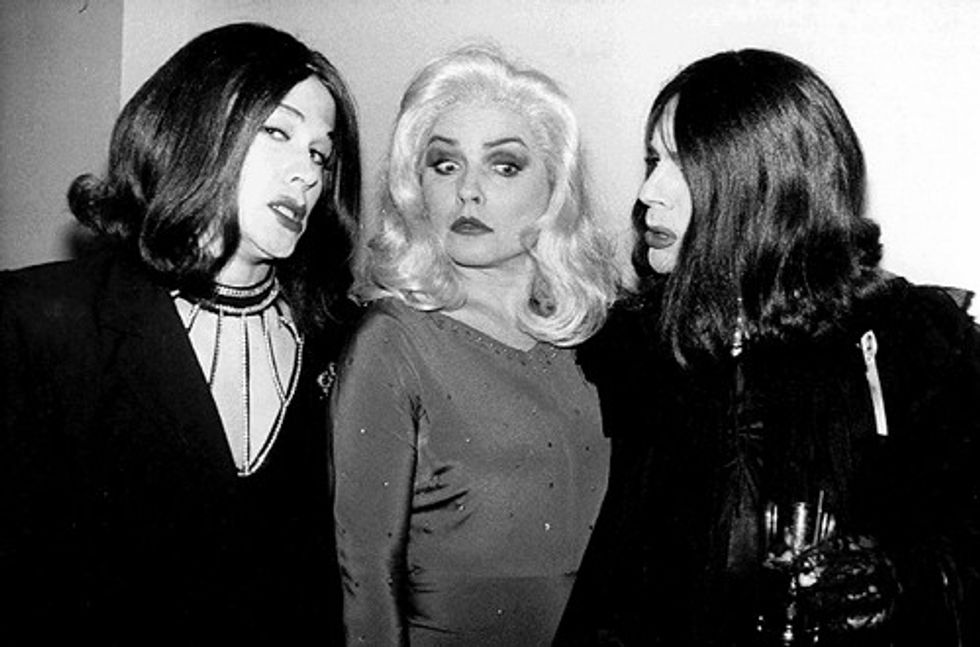 Debbie Harry at Jackie 60. Photo via Boweryboyshistory.com
JACKIE 60
(Tuesdays at Mother, 14th and Washington Streets)

A mixed party for aggressive bohemians with brains, Jackie loved trans women so much they were generally pulled to the front of the line to get in.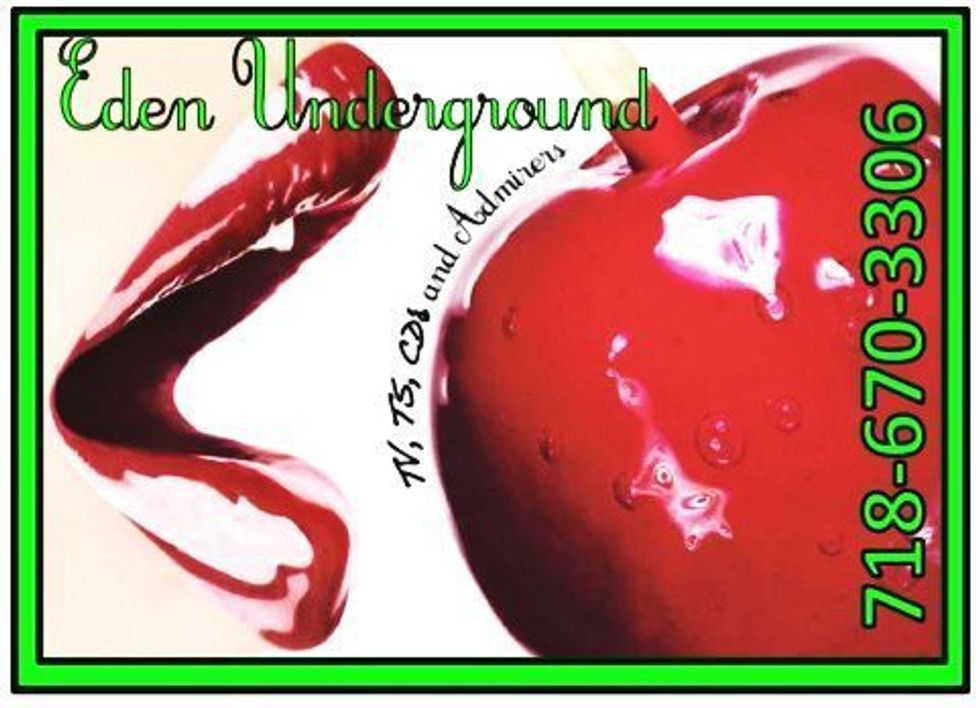 EDEN UNDERGROUND
This sex party for male-to-female trans gendered, drag queens and their admirers was held for several years in Brooklyn. Some gay male attendees only pretended to be trans, dressing up so they could nab action with the hot straight guys that showed up, but they were in the minority. And the party actually has carried on, so it's not nostalgia yet at all! Drag star Sweetie kept the bash going in Manhattan, and is now taking the summer off with it, but says she'll bring it back in a new location. Try the party's hotline (212-726-2539) for updates.