From #viewsfromthe6 memes and Raptors mania to the Toronto International Film Festival and chart-topping hits from Drake and The Weeknd, Toronto has shed its ¯\_(ツ)_/¯ image over the years and emerged as a major force in the music, sports and film industries. But fashion is another story. Despite being hailed as the most multicultural city in the world, cultivating a laundry list of fashion industry veterans and emerging designers, and even getting major props from Vogue (who named the city's West Queen West neighborhood the second coolest neighborhood in the world in its global street style report), it's still an afterthought in the international fashion community. Perhaps that's due to the nation's reputation as a casual, outdoorsy country best known as the birthplace of the Canadian tuxedo and whose most well-known brand is outdoor apparel makers Roots. Or maybe it's due to the fact that there's relatively few homegrown fashion publications covering the local industry and its designers and it gets overshadowed by its southern neighbor, New York City. But whatever the case, thanks to its legacy of producing major players, a slew of young designers and new infrastructural support, here's why Canada's biggest city may well become fashion's next It scene.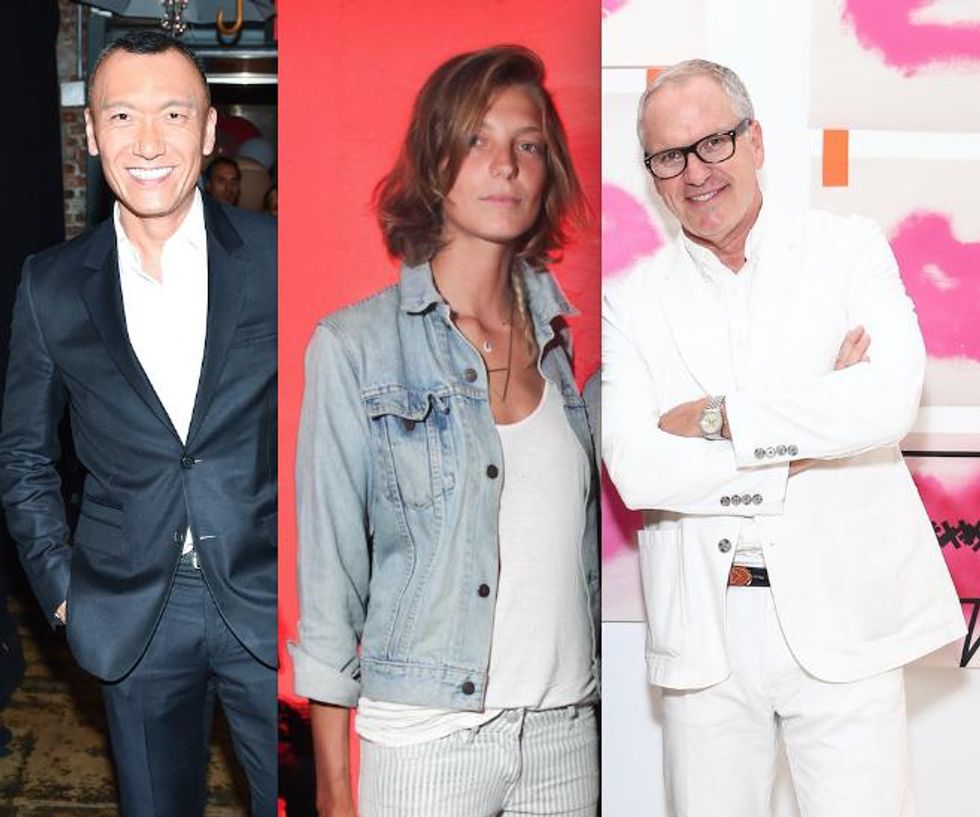 Industry players
The genesis of Toronto's old guard industry superstars began in the mid '80s when a makeup aritst-slash-photographer and a salon owner created Make-Up Art Cosmetics -- MAC for short. The young brand took off thanks in part to fabulous creative direction from Donald Robertson, the LA-based fashion illustrator (better known to some as @drawbertson) who launched his career back in his native Toronto. Meanwhile, Jeanne Beker and Tim Blanks were making waves on TV as the respective hosts of FashionTelevision and Fashion File and a decade later, supermodel Shalom Harlow, who hails from a town 40 minutes outside of Toronto, would co-host MTV's House of Style. Across the pond, Linda Evangelista was working with Karl Lagerfeld at Chanel and refusing to wake up for less than $10,000 a day.
The 2000s ushered in a new guard. Leslie Fremar left Vogue (where she was Anna Wintour's assistant) to become the powerhouse stylist she is today. Joe Zee was the creative director of Elle, becoming a household name in the late aughts thanks to his cameos on MTV's The City. Brad Goreski similarly rose to fame as an associate of stylist Rachel Zoe on her eponymous reality TV show, while Jay Manuel was a creative director and Winnie Harlow a contestant on America's Next Top Model. Meanwhile, Daria Werbowy, Coco Rocha and Jessica Stam were walking the runway, Geordon Nicol (who went to high school with Daria) was DJing fashion shows as one-third of The Misshapes, while Tommy Ton was snapping editors and stylists outside the shows as one of the first street style photographers. In a coup of their own, Stephanie Mark, Erin Kleinberg and Jake Rosenberg were interviewing these tastemakers in the comfort of their own homes and photographing their closets for their voyeuristic blog The Coveteur. Not too shabby, eh?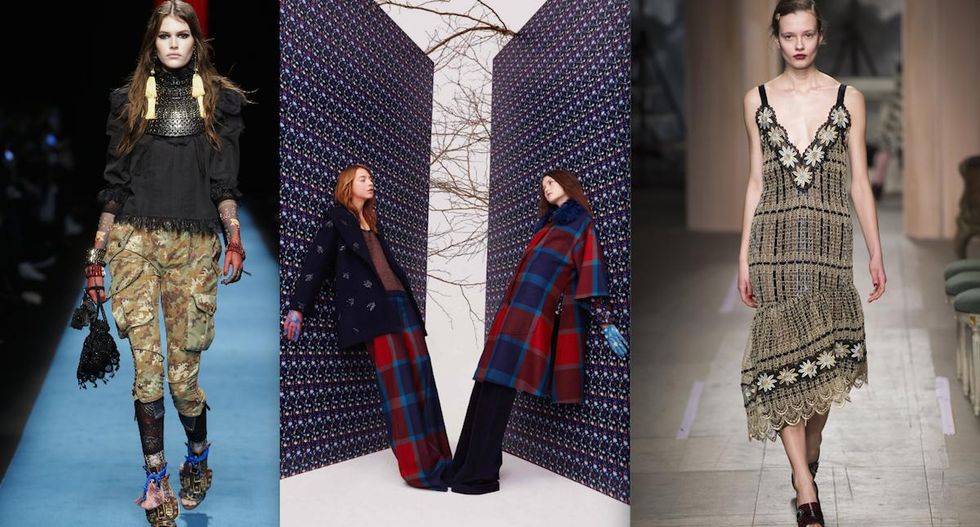 International designers from Toronto

The sad reality for many designers from Toronto is that they had to leave Canada to gain approval internationally before achieving the same at home. Most decamped to one of the Big Four fashion cities: Twins Dean and Dan Caten launched DSquared2 in Milan, where they continue to live and work. Erdem Moralioglu left for London to earn an MA at the Royal College of Art and establish his eponymous label, which last year celebrated its tenth anniversary. Many award-winning emerging designers have settled in New York: Tanya Taylor, known for her hand-painted florals and use of color, won the 2016 US Woolmark Prize. Recent grads of the CFDA Fashion Incubator include Dana Arbib (who founded accessories label A Peace Treaty with Farah Malik) and womenswear designer Kaelen Haworth. Aurora James' ethical footwear label Brother Vellies was one of three winners of the 2015 CFDA / Vogue Fashion FundVogue Fashion Fund, and Chris Gelinas was a finalist of the prestigious LVMH Prize in 2014. Still others are based in Paris, like Nicolas Andreas Taralis, who studied under Helmut Lang, and print master Calla Haynes. Both were ANDAM finalists in 2012.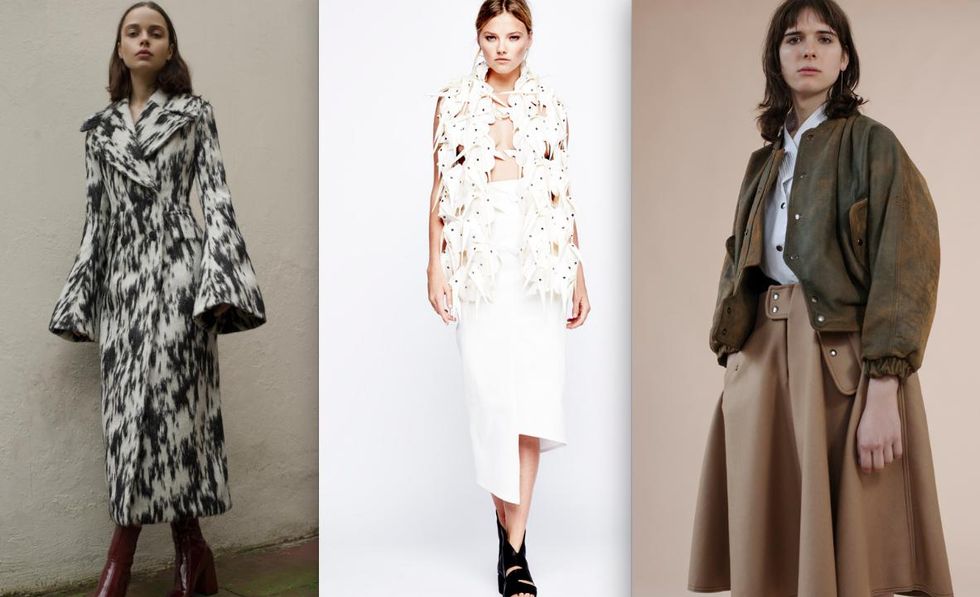 Toronto-based Designers
While the most well-known labels founded in Toronto may be outerwear line Canada Goose and Ports 1961 (which was previously helmed by the Caten brothers in the '80s), there are several Toronto-based designers making evening wear along with contemporary fashion. Sophie Trudeau, wife of Prime Minister Justin Trudeau and Canada's answer to Michelle Obama, has been a boon to these designers since her husband's swearing-in ceremony. She's been seen in baby-alpaca coats and jackets by Sentaler and Smythe, as well as elegant gowns from past Project Runway Canada contestants Lucian Matis and Stephen Wong, the latter of whom is one-half of Greta Constantine (and BFFs with Coco Rocha and DSquared2).
More conceptual designers exist, too. Perhaps best known is Vejas Kruszewski, who just won a special prize as part of the prestigious LVMH Prize. At only 19-years-old (!), Kruszewski is self taught and approaches design free of established norms. His fall 2016 look book features transgender model Hari Nef wearing jackets with irregularly placed seams. Another rising designer, Sid Neigum, translates his obsession with geometry and numbers into precise, mathematical designs. The designer debuted at London Fashion Week in February to critical acclaim, with Vogue declaring him "one to watch." Sisters Chloé and Parris Gordon named their line 'beaufille,' which translates to 'handsome girl' as a nod to their distinct tomboy vs. feminine tastes. Their womenswear and fine jewelry has received a groundswell of support since their debut presentation at MADE fashion week earlier this year. Another designer, Laura Siegel, goes to great lengths to ensure her line is ethically manufactured. The star of the 2014 documentary Traceable makes several trips to India each year to oversee artisans who produce her bohemian-tinged designs, singlehandedly improving their lives in the process.
Infrastructure
Despite a lack of strong retail support and a small customer base in Canada, which makes sustaining a business difficult for local designers, infrastructure exists to support the Toronto fashion industry and help it grow. Ryerson University is the only Canadian entry in The Business of Fashion's 2015 Global Fashion School Rankings and counts Erdem and Todd Lynn as graduates. Toronto is home to the world's first Fashion Incubator, which will celebrate its 30th anniversary of nurturing young designers. Management firm The Collections plucks designers from obscurity and grooms them for the runway, overseeing casting, styling and production while IMG-owned Toronto Fashion Week and Toronto Men's Fashion Week showcase these and other designers biannually. Rounding out the system of educating, nurturing and grooming, the Canadian Arts and Fashion Awards recognizes designers at an annual, industry gala, and the Fashion Design Council of Canada advocates on their behalf before the provincial and federal governments.
So, short of Karl Lagerfeld staging a Chanel pre-collection in Toronto, what will it take for the city to get the recognition it deserves as a fashion capital in-the-making? A who's who of industry leaders have sprung from the city and its surrounding regions, working at the forefront of beauty, illustration, journalism, modeling, photography, styling and design. Many were lured by the greener pastures of a more established fashion center, but Toronto proudly continues to call them its own -- although a little shouting from the rooftops wouldn't hurt. Or as Drake would do, from the top of the CN Tower.

You May Also Like
Paper People 2020
Creative direction by Agusta Yr / Styling by Erika Golcher