The Met Ball is moments away and if you happen to be a fashion fanatic preparing to ogle this year's crop of gowns, tuxes and over-the-top outfits on the first-ever red carpet livestream, PAPERMAG has decided to whet your appetite with the Top 10 Most Outrageous Looks From Met Balls Past.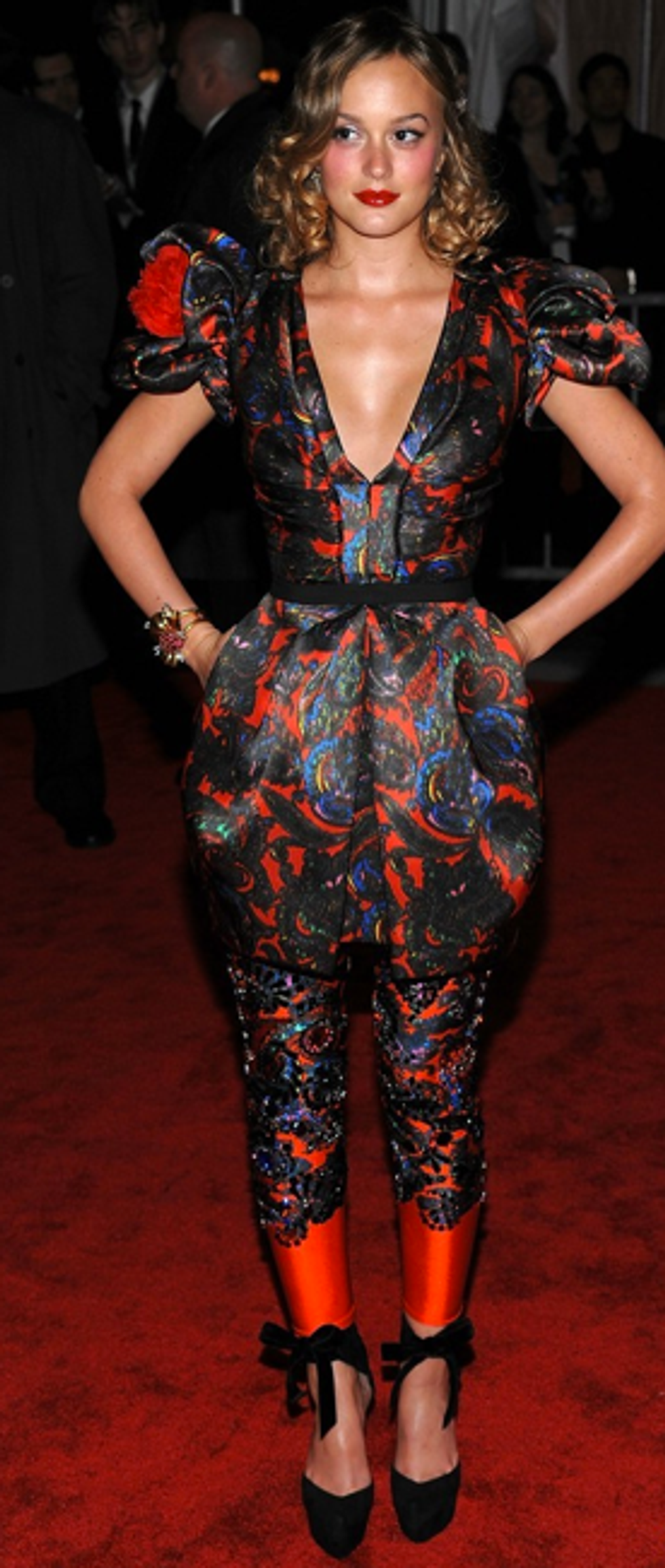 10. Leighton Meester in Louis Vuitton, Met Ball 2009
We have to applaud Leighton Meester for so triumphantly separating herself from Blair Waldorf's prissy wardrobe.  Her unconventional pants/blouse look was a stunner thanks, in large part, to a fabulous fit that allowed the outfit's interesting silhouette to come through without looking like one big mess.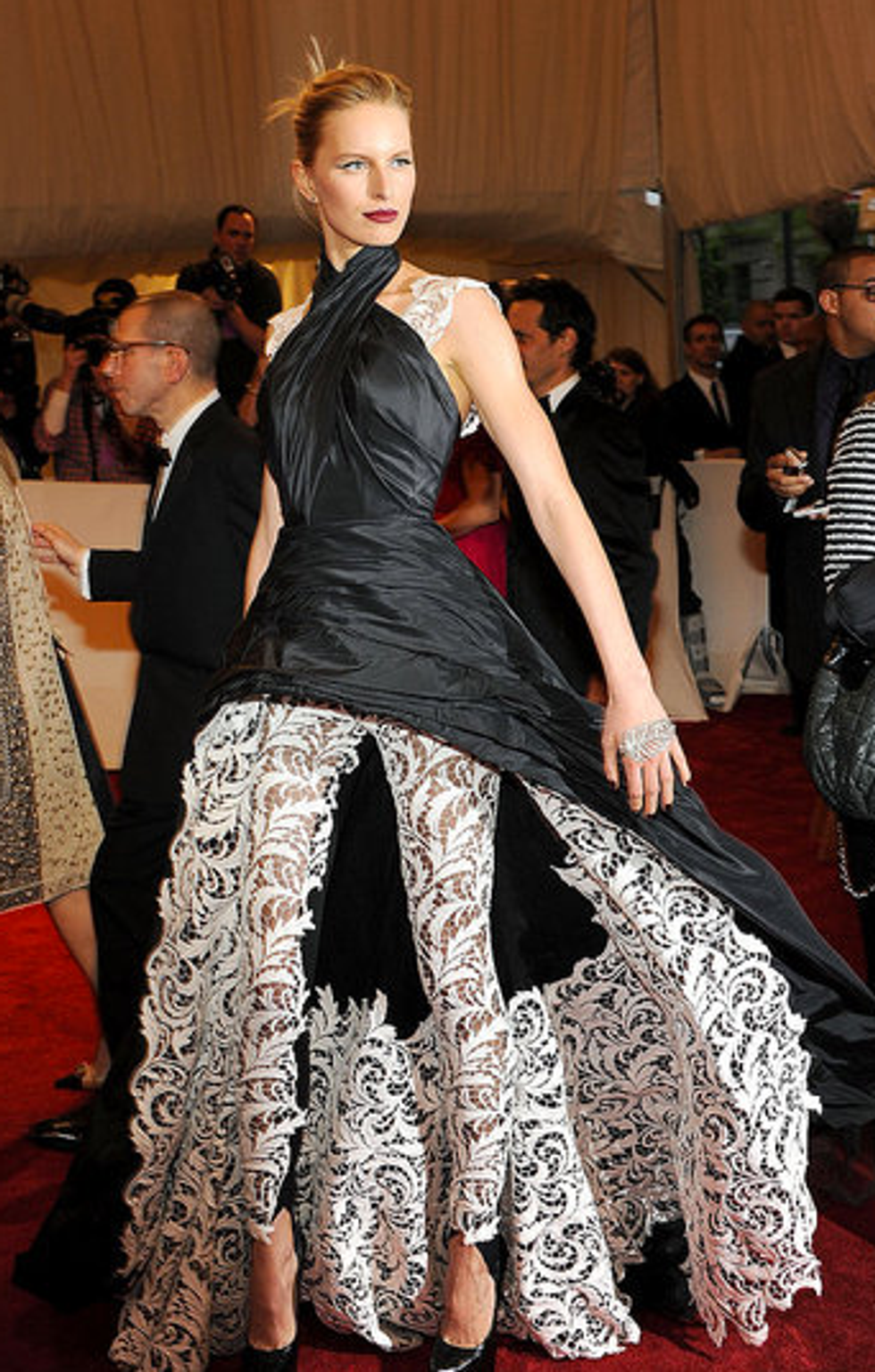 9. Karolina Kurkova in Jean Paul Gaultier, Met Ball 2011
This daring gown-legging combo took a major fashion risk and despite the fact that it looks like Kurkova is perpetually lifting up her skirt -- to climb the stairs, avoid a puddle etc. etc. -- it kind of works and is definitely in keeping with 2011's "Savage Beauty" theme.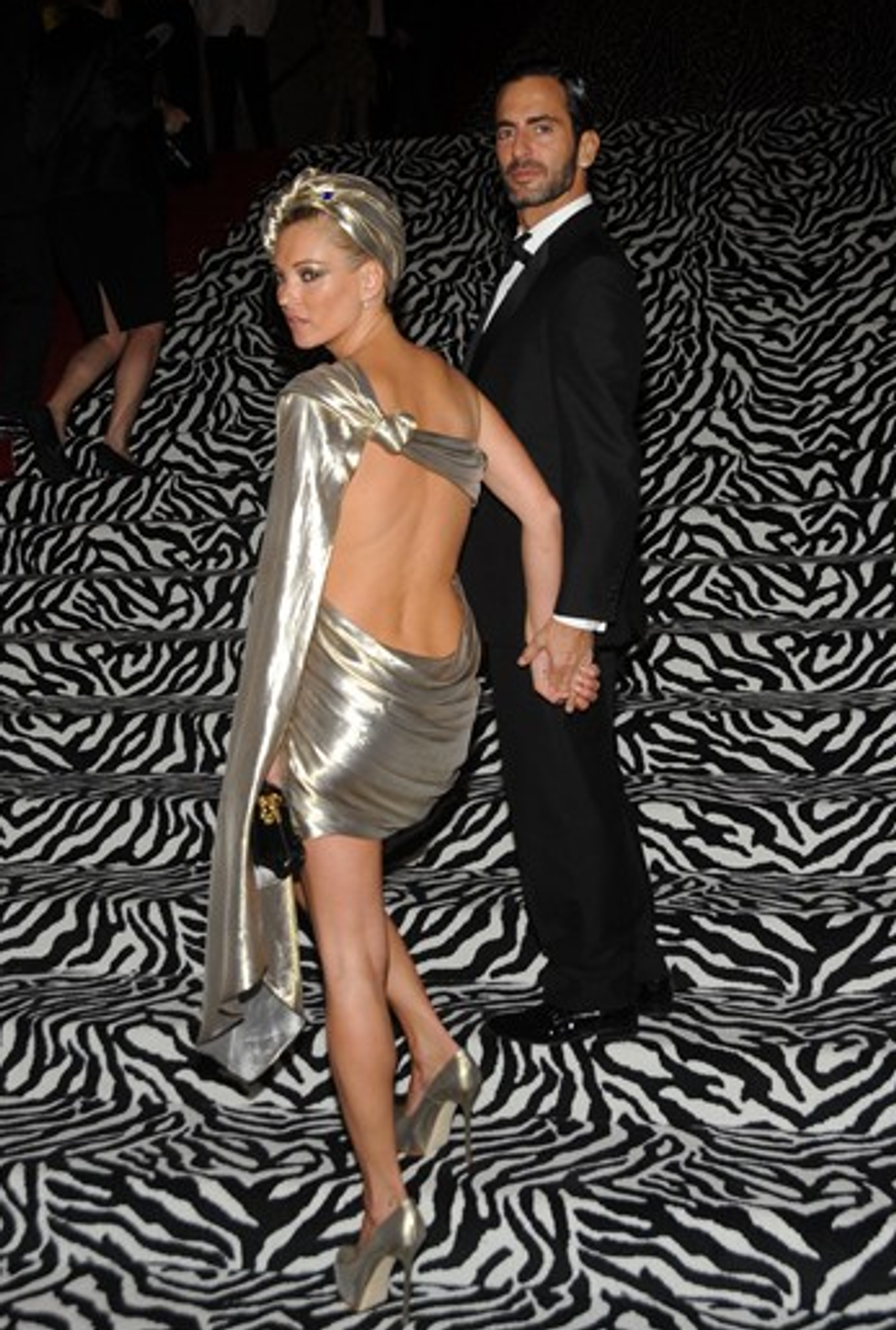 8. Kate Moss in Marc Jacobs, Met Ball 2009
Kate Moss is wearing a custom gold lamé turban. Any outfit that includes a custom gold lamé turban makes it our list, no questions asked.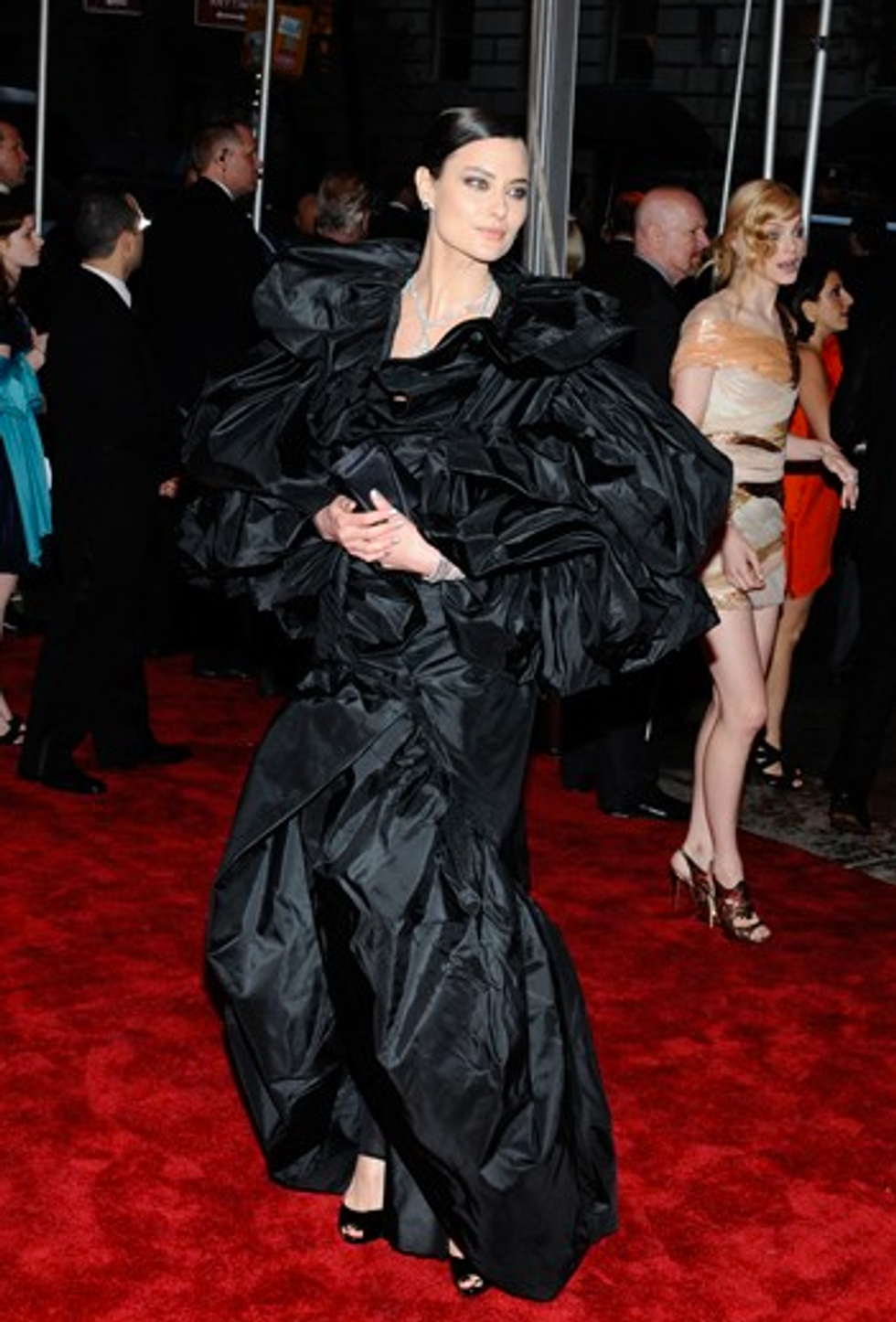 7. Shalom Harlow in Bob Mackie, Met Ball 2009
We love Shalom Harlow for wearing this. We have no idea how much difficulty she had getting through narrow passages, and even less of an idea how she managed not to pass out from heatstroke, but who cares? Suffer for fashion, Shalom!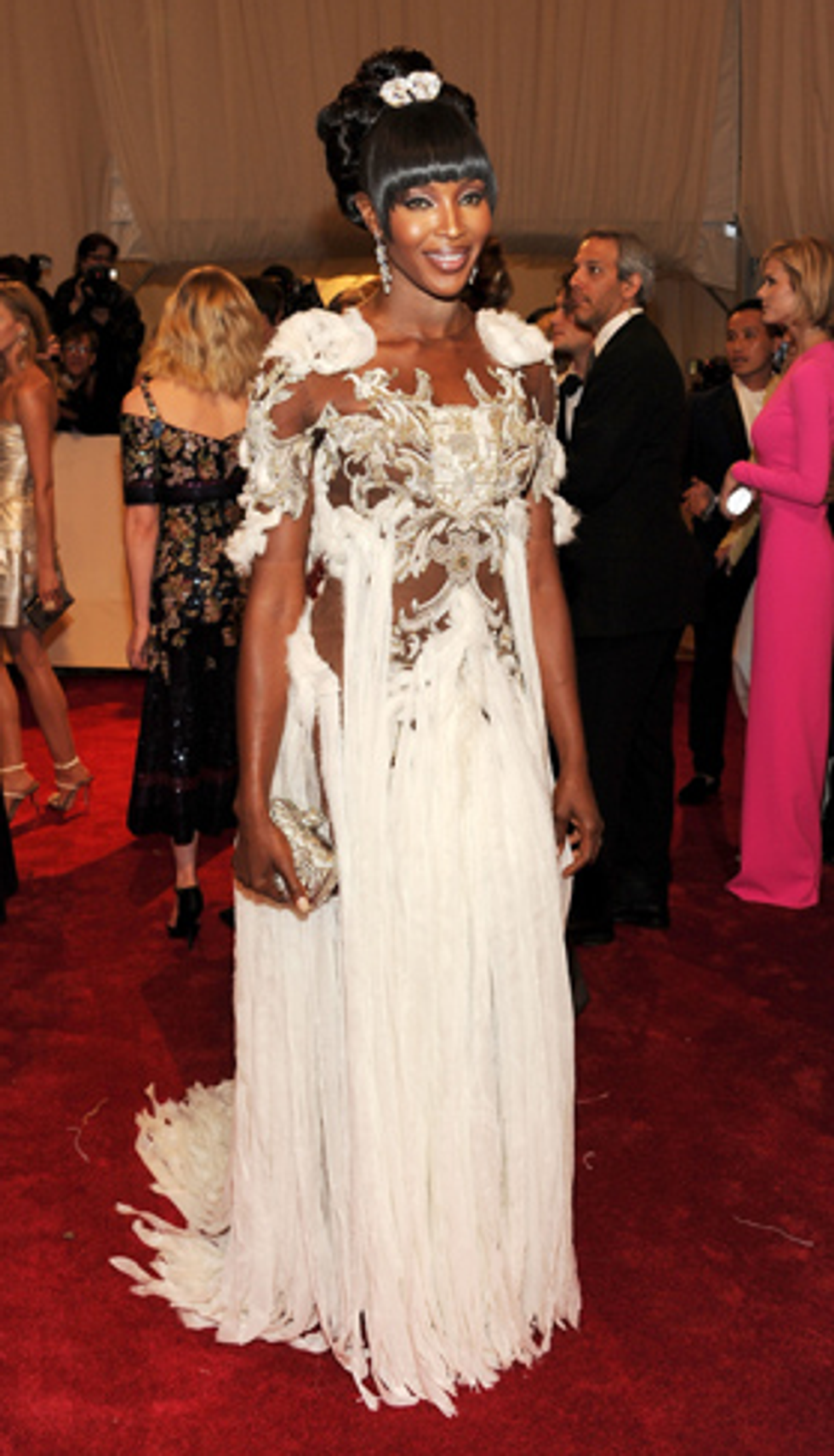 6. Naomi Campbell in Alexander McQueen, Met Ball 2011
Naomi Campbell kept in theme and honored the late Alexander McQueen by wearing one of his label's creations at the 2011 gala but she ended up looking a bit like a cross between a tasseled lampshade and a shorn lamb.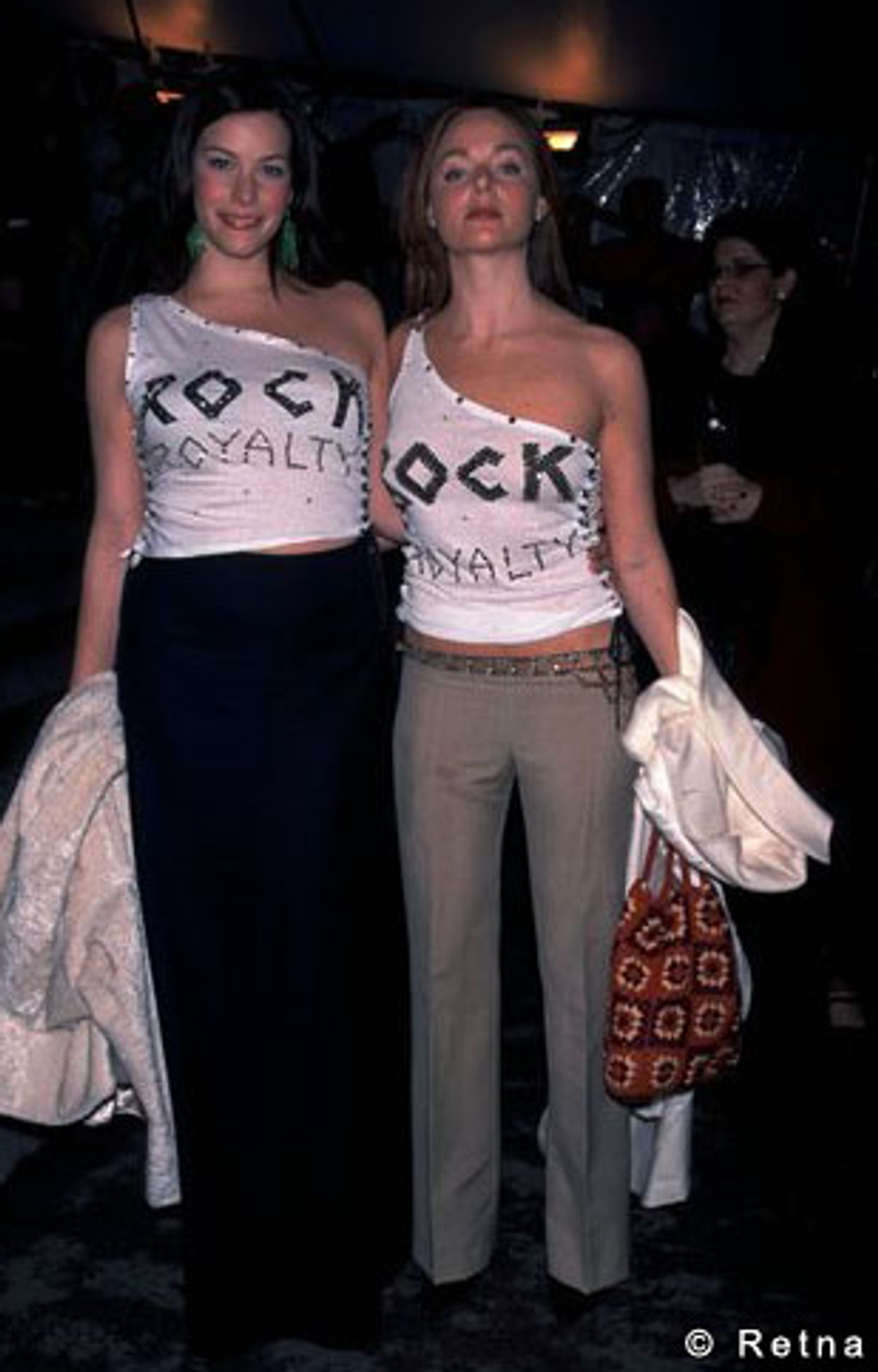 5. Liv Tyler and Stella McCartney, Designers Unknown, Met Ball 1999
Though both gals are offspring of rock royalty, they are not rock royalty despite whatever their under-dressed one-shouldered t-shirts proclaim.  Rock stardom is not inheritable like an aristocratic title, ladies.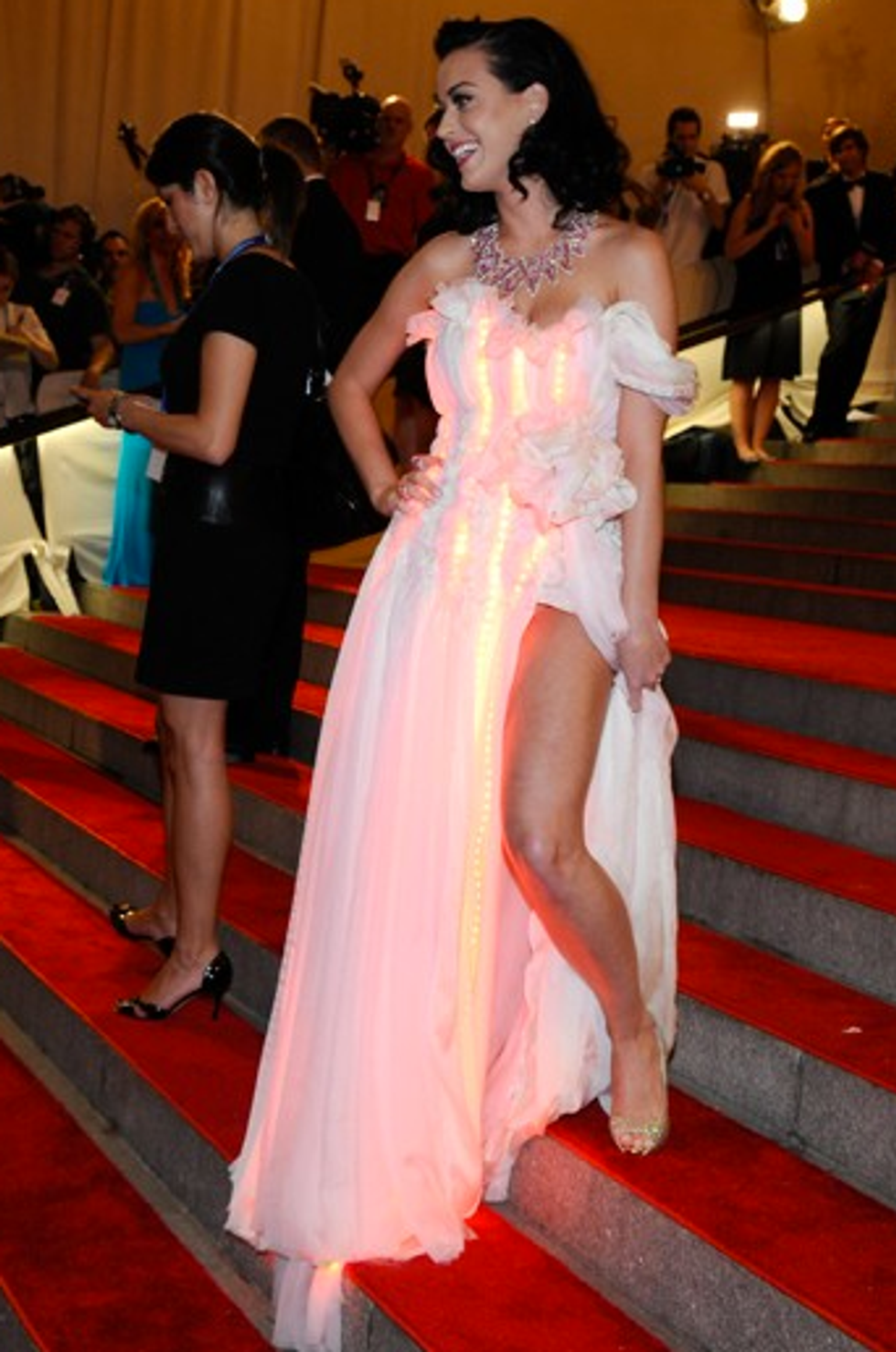 4. Katy Perry in CuteCircuit, Met Ball 2010
Katy Perry's dress, replete with LED lights, may have generated almost as much press as the 2010 Gala itself.  We'll pay big money if anyone can find a gif of that gown lighting up.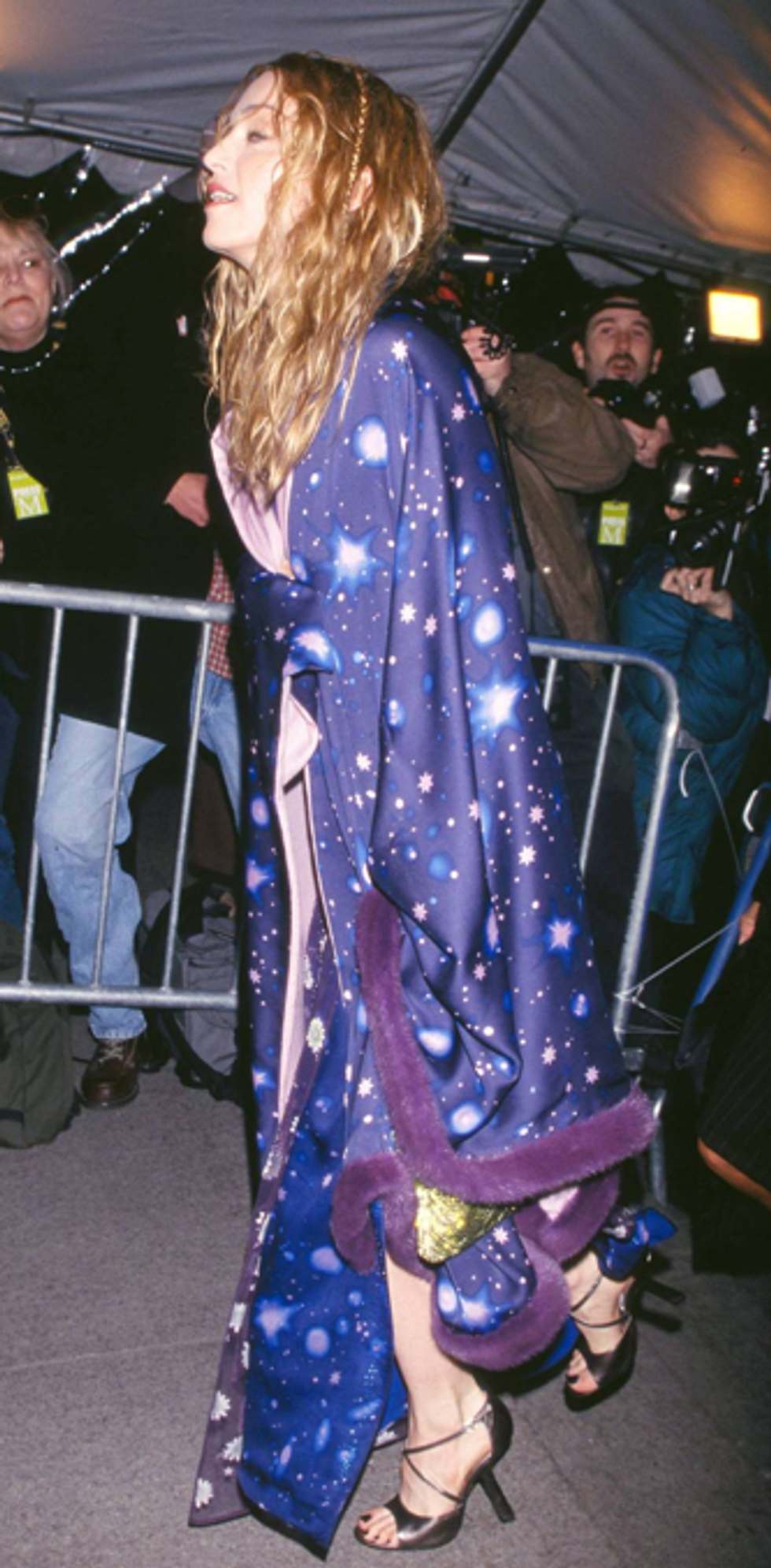 3. Madonna, Designer Unknown, Met Ball 1998
Before she became British, Madge had a New Age-y thing going on during her Ray of Light phase but that's no excuse for wearing a stars-and-moon coat trimmed in purple fur to the Met Ball.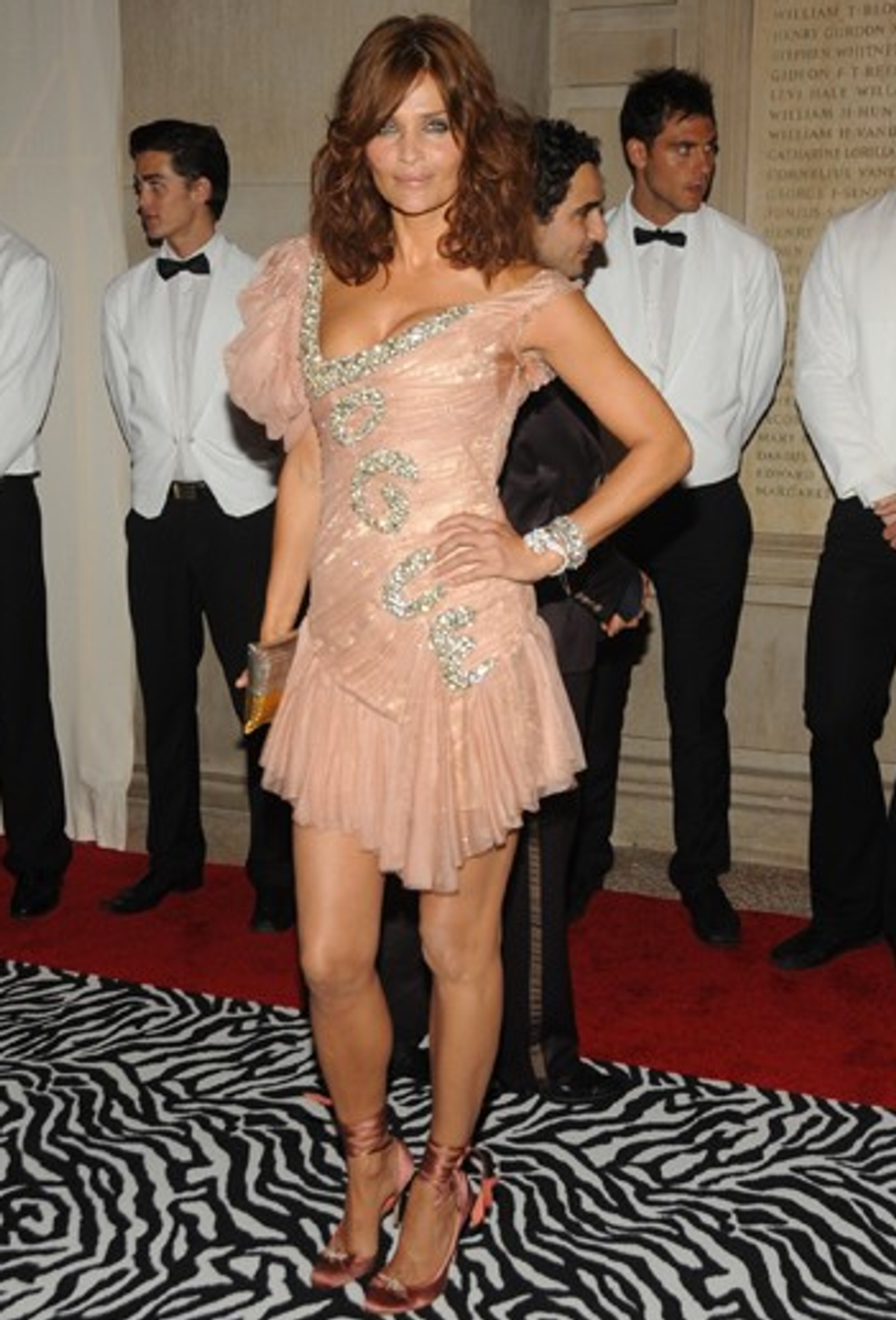 2. Helena Christensen in Zac Posen, Met Ball 2010
This dress would have probably gone under the radar if, you know, it didn't have Vogue written in crystals across it. Now we have to ask: was Helena Christensen gunning for Best Dressed 2010 or was Zac Posen trying to be besties with Anna Wintour?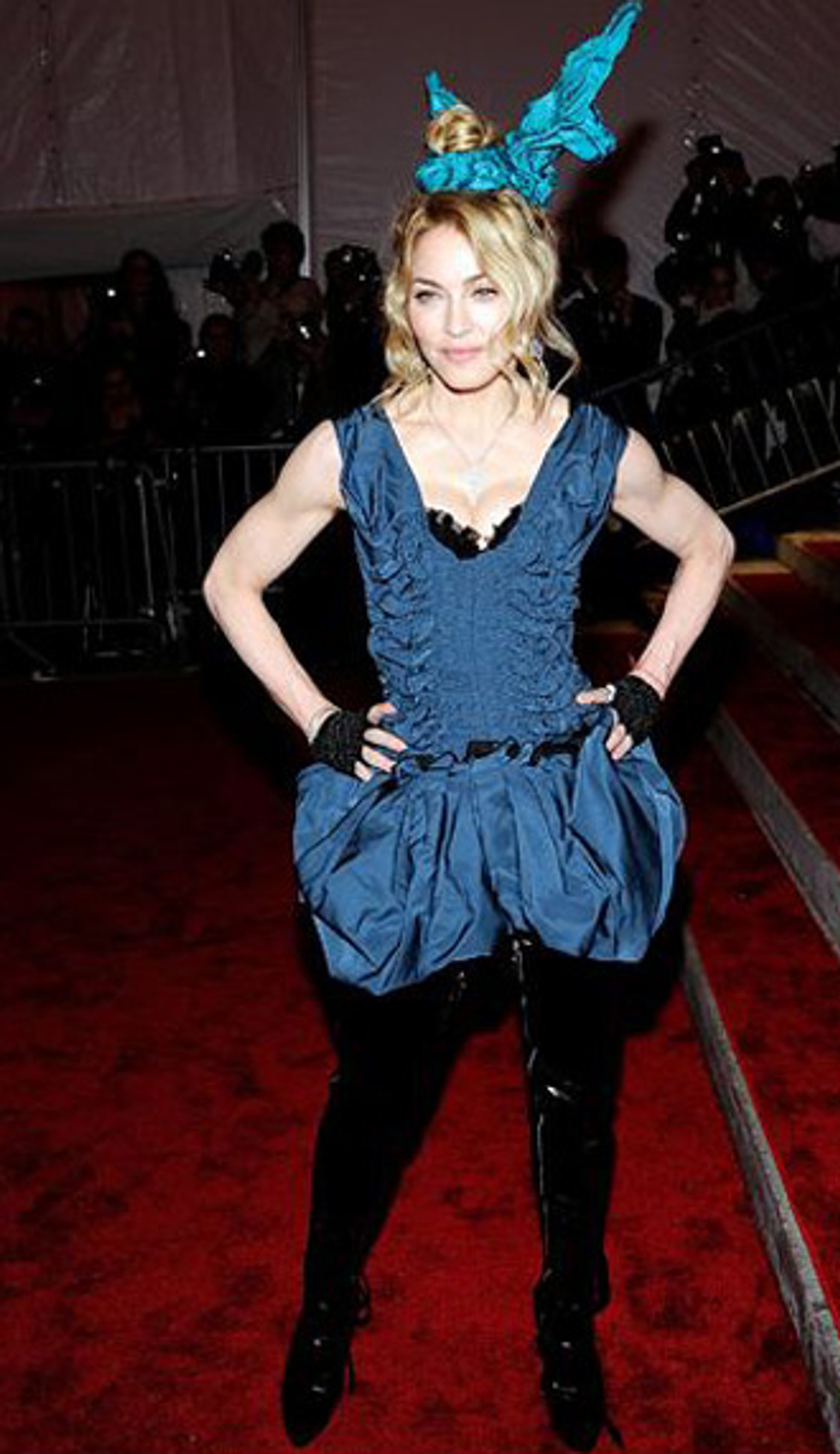 1. Madonna in Louis Vuitton, Met Ball 2009
With the black thigh-high boots, the bra peeking out, the fingerless gloves and the hair tie, Madonna simultaneously looks like a bunny hooker and an updated version of herself c. the mid-1980s.