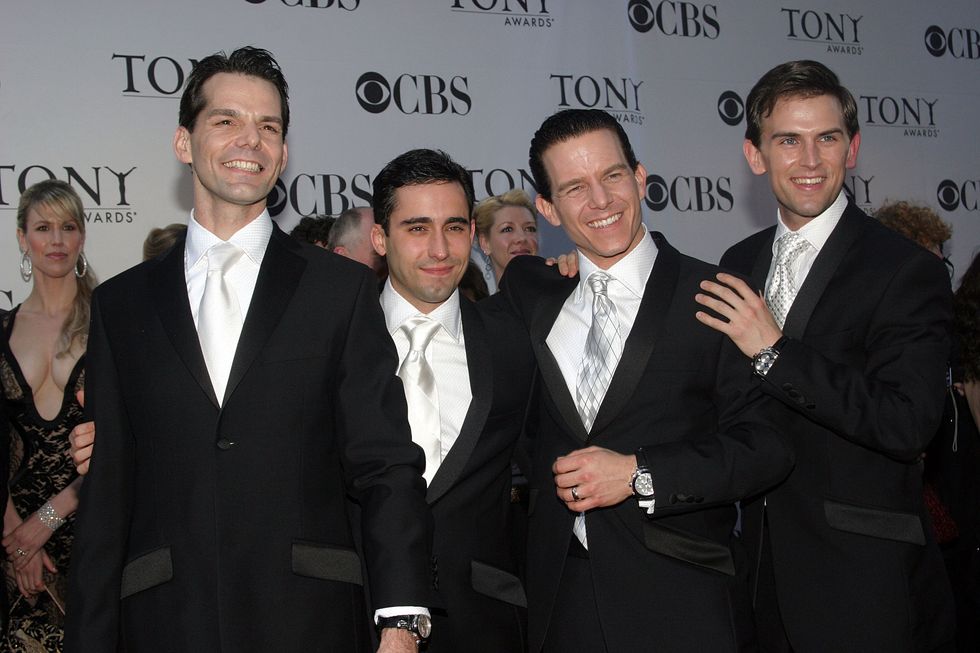 It was Broadway Blogger's first time on a red carpet outside Radio City Music Hall at this year's Tony Awards and I was right up front working the stars like a pro! The highpoint for me came when Oprah made her entrance.  A producer of the Tony nominated musical, The Color Purple, she was on hand as a presenter.  No one in the press line thought she was going to stop to talk but when asked what the best thing about this year's Tony Award's was for her she came over and said "Having all the cast nominated.  It's such a validation to be recognized."  I thought it was nice that she took the time to talk to us, unlike her fellow superstar cum Broadway baby Julia Roberts who didn't even bother to walk the press line.  
Other highlights for me were talking with Julianna Margulies, who is just as beautiful in person and had a hot, hot, much younger date, who I hear is a lawyer! She talked about her new movie Snakes on a Plane and patiently answered questions about what she took with her to the beach from the Us Weekly reporter standing next to me. "Sunscreen," the pale skinned Margulies answered without hesitation. "Sonya Dakar 365 SPF 30, but not just in my beach bag to be honest, I mean if it was sunny out tonight it would be in here," she said pointing to her purse.  

Former Cabaret star Neil Patrick Harris was more than willing to chat up the press, but when a younger reporter said she used to watch "Doogie Howser, MD",  he said, "What about 'How I Met your Mother?' Where's your TiVo girl?"

Alison Pill was charming in a simple navy blue dress by Liz McQueen, whom she described as being an "amazing young designer." She said she couldn't wait to sit down after having just been "deblooded" from a matinee of Martin McDonagh's murderous Tony nominated play, The Lieutenant of Inishmore.  

Tony winning Jersey Boys, John Lloyd Young and Christian Hoff were refreshing and seemed so excited to be at the Tony's.  Young who before being cast as Frankie Valli, was ushering at a Broadway theater said, "A year ago tonight I was sitting at home in my underwear watching the Tony's knowing that I had the role, but I was petrified, not knowing how it would go whether I would be able to pull it off, whether I would fail, and so now to be here as a nominee in a lead category is something I could have never imagined then.  I could have only hoped."  I asked him what it was like to be a part of Katie Couric's send off on her last day at the Today Show and he said it was great to be a part of media history. "I think of those big goodbyes like the Bette Midler goodbye to Johnny Carson that's been replayed and replayed so this may be something that my grandchildren see on television."  Super hot, Hoff, who plays bad boy Tommy DeVito, patted his wife, Melissa Hoff's pregnant stomach and said "this is our little trinity right here." He has a lot to celebrate! Unfortunately the boys had to be on a plane at 1:30am to go to Washington D.C. to perform at the White House, for a luncheon organized by Laura Bush. And although I was pulling for The Drowsy Chaperone, the original musical that was created by Canadian writers Bob Martin and Don McKellar, to take home the top prize of Best Musical, I couldn't help but be happy for Jersey Boys' producer Michael David, who a little over a year ago today had to move his company, Dodger, out of the two gorgeous floors they occupied on W. 41St to a much smaller space on W. 43rd after a series of flops like Good Vibrations and Dracula, the Musical.  



I was also excited to see Harry Connick Jr., Anna Paquin, who looked ravishing in a dark red gown, and Mark Ruffalo, but none of them were quite as excited to see me as they rushed past the print press section without a word, but all and all it was an amazing experience and I couldn't have asked for anything better for my first time out on the carpet.  Well, accept for at least a glimpse of Julia Roberts…but hey BB knows she can't have it all.  

Plus it almost made up for it when I found myself in the bathroom with Bebe Neuwirth! But as much as I wanted to talk to her I thought it might be slightly awkward calling to her over the stall door.  Next time I'll know to come prepared with some appropriate toilet talk!

Here is a cute photo by Caroline Torem-Craig of the cast of Tony winning musical The Jersey Boys.  Congratulations to them!