TOMORROW X TOGETHER has a complicated relationship with mint chocolate ice cream.
Here's the inside scoop. Huening Kai and Yeonjun like it, but the rest of the group hates it.
Taehyun groans. "Oh my god!"
"Toothpaste!" Shouts Beomgyu.
It's moments like these that remind one that the five members of TOMORROW X TOGETHER (pronounced "Tomorrow by Together") are still in the throes of youth. All under 20 years old, members Beomgyu, Taehyun, Soobin, Yeonjun, and Huening Kai sit in the salon of an upscale, regal hotel room, dressed in various shades of blue, black, and white and bubbling with enthusiasm and energy. In front of them sits a small coffee table with water bottles and containers of chocolates, pretzels, and cashews placed on top.
Tomorrow, TXT will perform at Madison Square Garden on night one of KCON New York, a multi-day convention and music festival celebrating Korean culture. Despite only officially debuting four months ago, the fan chants to their songs will be so loud that they'll ring across one of the most prestigious stadiums in the United States. For now, however, they're just five friends. They conduct themselves in a professional manner, answering every question in English, but their joyful exuberance shines through whenever they dissolve into giggles over one another's answers.
Sitting in the closest chair, Taehyun, 17, smiles often as he talks about his passions. Leader Soobin, 18, owlishly observes his members from the nearby couch, interjecting small replies once he's certain the other members have finished speaking. Yeonjun, 19, confidently dives headfirst into every question with near-perfect diction. Beomgyu, 18, and Huening Kai, 16, sit the farthest away and nod along enthusiastically, their heavy bangs bouncing back and forth.
When these five individuals were announced as the lineup of Big Hit Entertainment's newest boy group in January, the anticipation was nearly palpable. Debuting as a K-pop group on its own is no easy feat, but to debut from the same company as BTS cast the world's eye on TXT's every move. Instead, TXT have transformed those expectations into something positive: inspiration.
Huening Kai references BTS's Love Yourself: Speak Yourself stadium tour as a "dream" for the group, and shares the desire to see TXT perform on a global platform like the Billboard Music Awards just like BTS. They've also gleamed a bit of knowledge from them along the way too.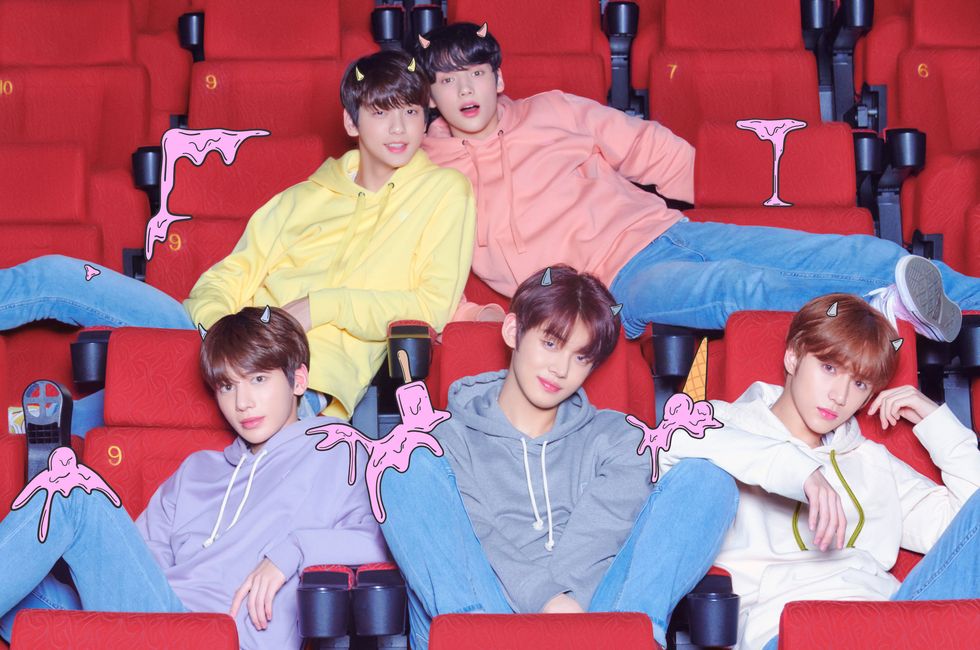 "They told me that teamwork is number one, and that you have to cherish and value your team," says Beomgyu.
But it's not just BTS that made TXT want to become K-pop idols. In fact, the world can thank Freddie Highmore for piquing Beomgyu's interest in becoming an artist. "I watched the movie August Rush when I was nine years old, so I wanted to become a singer and I started to play the guitar," he says.
At age eight, Taehyun knew after watching SHINee's "Replay" music video that he wanted to be a star. "It made me want to become a singer," Taehyun confesses. "My favorite was Taemin."
That flurry of inspiration can be heard in the group's debut mini-album,The Dream Chapter: STAR. Centered on the transition from childhood to adolescence, the album's message is best explained by its single "Crown." Bubbling beneath high-lilting vocals and addictive synth-pop, the song's lyrics juxtapose the feelings of isolation and fear associated with puberty to a horn sprouting on top of one's head. It's not until they encounter another person with wings, which some fans believe to be a reference to BTS, that they learn to accept their eccentricities with pride.
"Crown" shot straight to no. 1 on the Billboard World Digital Songs Sales chart, with its music video racking up over 15 million views in the first 24 hours, making it the most-viewed debut music video for a boy group in K-pop history. On top of that, The Dream Chapter: STAR debuted at no. 1 on the Billboard Emerging Artist chart, World Albums chart, and no. 2 on the Heatseekers chart.
The rest of the album paints an image of a breakthrough artist open to musical experimentation. Bouncing from chirpy, new jack swing on the track "Blue Orangeade" to the fizzy, uptempo "Our Summer," The Dream Chapter: STAR is jam-packed with youthful ebullience, references to Tupac and Biggie, and more than a few animal noises along the way.
When asked how the members would describe their sound, Yeonjun answers that: "TOMORROW X TOGETHER is [its] own music style and performance." He references how "bright," "unique," and "energetic" their music is, but it's not until the rest of TXT mentions "cute" that he concedes: "Yeah, also cute."
Since the album's release, the group held their first US showcase in May, where TXT got to experience what they call the most important change in their lives: meeting their fans. "We got to know how it feels performing in front of our fans and it was really exciting," says Huening Kai.
"We got to know that we are loved by so many fans," continues Taehyun. "We are so thankful and we will continue to [be] always thankful to our fans and we will work harder and harder."
But TXT's dreams aren't limited to just album titles; their childhood dreams were just as fantastical as the lives they're living now. "I wanted to be the red Power Ranger," Yeonjun recalls.
"When I was six, I wanted to be a wizard," answers Taehyun, who is known to show off his sleight of hand skills to fans at TXT fan signs.
As it always should once magic is involved, the conversation quickly diverges into Harry Potter territory. Taehyun and Yeonjun are Gryffindors, while Huening Kai loves Ravenclaw. Beomgyu is a bit unsure and looks to Huening Kai for assistance, who quietly confirms that he's a Gryffindor. Beomgyu then relays the information confidently.
Soobin hesitates before he replies, "Hufflepuff."
The dream for the next chapter of TOMORROW X TOGETHER, however, is more concrete than any magic trick. They speak about their dreams with a fiery determination that impresses just how hard the group is willing to work to see them become a reality. Taehyun wants to see the group to become "super rookies," while Beomgyu wants to see TXT be "mentioned for the Best New Artist award" at the Billboard Music Awards.
"Performing large stages like BTS?" Huening Kai asks. The rest of the group lets out a noise of approval.
"One day!" Soobin interjects.
Huening Kai laughs. "One day."
Photos courtesy of Big Hit Entertainment