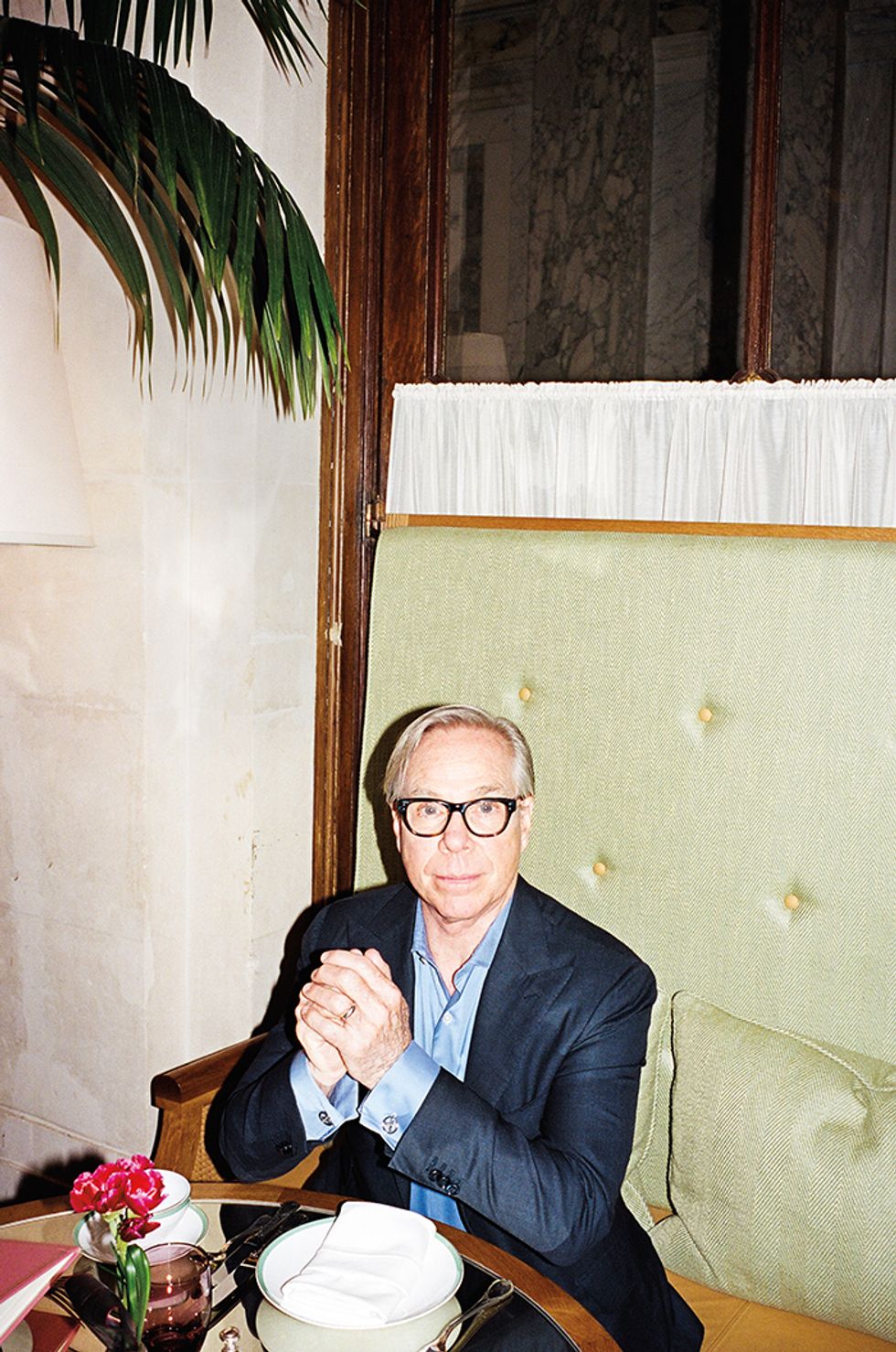 What do you wear to meet Tommy Hilfiger, the fashion legend who this year celebrates the 30th anniversary of his all-American brand? (Needless to say, he was the guy I had to talk to for our American Dream issue.) I chose a navy polo covered in nautical flags as a nod to the man who made the preppy look cool. Hilfiger arrived to the Palm Court in the Plaza Hotel, fresh from the opening of his second Paris location, in a chic navy blue suit -- a far cry from the rock 'n' roll stylings of his early days in upstate New York. Nibbling on an egg-salad sandwich (me) and a bagel and lox (Tommy), we had a great chat about Hilfiger's history, his musical tastes and even his tattoos.


Do you feel like you are the American Dream?

I've been so lucky. Growing up in a large family in small-town Elmira, New York, my parents didn't have a lot of money. My brothers and sisters and I had to work from a young age. I worked in a sporting-goods store when I was 14. I worked in a gas station, and I had a newspaper route before that. I didn't know what I really wanted to do, but I did have a dream to be successful someday.

What inspired you to go into retail?

In high school I started listening to the Beatles, the Stones, Hendrix and the Who. I wanted to be a musician but I couldn't sing or play the guitar, so I really wanted to look like a rock star. I grew my hair really long and I started wearing bell-bottoms and really cool clothes. It was the late '60s.

Did anyone else work this look in Elmira?

A couple friends and I were the only ones. We were the weirdos. We took a summer off and went to Cape Cod, where I worked in a boutique selling candles, incense, posters. When we came back to school, we were wearing hip-huggers, wide belts, fringe vests -- really cool, fun stuff. So we decided to open our own shop. We all put our money together, bought about 20 pairs of bell-bottoms on St. Mark's Place and opened a small shop we called People's Place. Our rent was $50 a month. We painted it black, burned incense, played rock music and set up shop. I kept thinking that if some of the jeans we were buying from manufacturers and the streets had an extra pocket, if they were a little bit more faded, had some more studs or fringe or patches, they would be better. So I started sketching, and I thought, This is really fun. I hired local seamstresses to make clothes for me. I heard about Halston and Bill Blass and thought, That's what I want to do. My parents and everyone I knew said, "You have to go to design school. You need money and connections. There's no way you could do that." And I said, "I know I can."

How old were you then?

I'd just graduated from high school. My parents wanted me to go to college. I went for a semester and dropped out. I hated it, and my store was doing really well. So I opened more stores on college campuses. I created a whole line of clothes and put them in my stores. Then I sold my business, moved to New York City and started designing clothes. I started Tommy Hilfiger in '85. By that time, the hippie trend had come and gone and I was designing for a company in California, so I was spending some time in L.A. I decided to redesign all the preppy clothes that I'd been brought up wearing that I hated. You know -- boring khakis and ill-fitting button-down shirts. I decided to redesign all the classics.

That's still kind of what you do: this dichotomy between rock 'n' roll and preppy.

I think you can be preppy rock 'n' roll, preppy surfer, preppy biker, preppy sporty, preppy minimalist. You could be preppy in many different ways, because preppy really in a sense means classic. I have done that for 30 years now. 

When did you stop dressing like a hippie? 
I came to New York every week in the '70s to buy new items for my stores. My business partner and I used to go to Max's Kansas City to see Lou Reed, David Bowie, the New York Dolls, Patti Smith... We saw this whole scene happening, and then we went to CBGB's during the punk days and the whole selection in my store went from hippie to punk. 
Did your personal wardrobe get more punk?

Absolutely. 
I want photos!
But then Studio 54 opened and we would go four nights a week. Then it went from punk to glam and disco. It was tighter, cleaner jeans, sleeker, chicer, more dressed-up fashion. 
Is the word "American" part of your DNA?
It means something different now than it meant years ago. Because our business is global, we're transporting America around the globe. We're loved in India, China, Europe, Turkey, Greece and Central and South America. I really believe in what I call "F.A.M.E.": Fashion, Art, Music, Entertainment. That was what Andy Warhol was about -- bringing celebrity, entertainment, sports, artists and fashion people all together and creating pop culture.
I loved your last fabulous show: the football extravaganza. Do you feel like the show is more important than ever?

I think it's important to keep the halo over the brand. Our business outside the US is much, much bigger, so during Fashion Week New York, editors come from all over the world and want to see the show. And I want to give them a show. Every season we think, "What do we want to do next that still has a connection to our DNA?"

Now let's get onto something really superficial. Do you watch Real Housewives or any reality shows?

I don't watch it regularly, but if I'm flipping through the channels and if I see the Housewives of Beverly Hills, I'll sit and watch for a while.
What sign are you? 
I'm an Aries. We're opposite on the spectrum, but we do get along. 
Opposites attract. In other news, I've seen pictures of your son; he has a lot of tattoos. Do you have any?
[
pointing to each shoulder
] One here and one here. A couple of years ago my son Rich, who was a tattoo fanatic, said, "You don't like tattoos, do you?" I said, "I like them, but not for me." We went to a tattoo place and he said, "Come on, Dad, just do a small one." So I did.
And how did you pick what to do?

My kids' initials and my wife's name.
Aw. You want to get more or are you done?
Not unless I tattoo my eyebrows and my hairline. Just a joke!