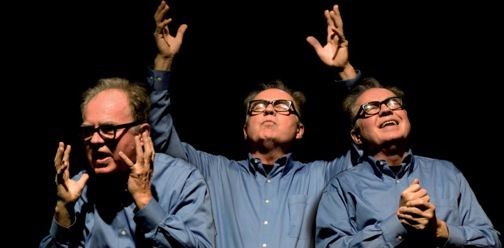 Tom Murrin's name might ring a bell to PAPER readers as the long-time theater columnist behind our stage previews. But to those in the New York avant-garde theater scene he is best known as Alien Comic, a performance art pioneer who has been writing and performing here since the 1960s. After years of finding props in trash cans, stripping down to nothing, and praying to a moon goddess on stage (more often on the street), Murrin brings us The Talking Show: The Magical, Ridiculous Journey of Alien Comic. Made up of a series of monologues, it amusingly chronicles his transformation from a lawyer in Los Angeles to a performance artist in New York, and brilliantly captures the transformation of the New York art scene in the past 40 years. PAPERMAG caught up with Murrin right before opening night to discuss just how ridiculous his journey has been.
For people who don't know much about your play, how would you describe it?
It starts out when I was young in Los Angeles and I started practicing law and then decided I wanted to move to New York and be a writer. I got into playwriting in the early days of La Mama, an alternative downtown theater in the sixties. And then eventually I came to be a performer and I wound my way around the world learning how to do that. That brought me to New York when the performance artist's golden age in the '80s was happening. And I've been here ever since. This is kind of part one of my life story.
What made you decide that you wanted to write an autobiographical play?
Well Lucy Sexton, who's my director and the co-creator of the show, and I decided that this ought to be a good project for me. She and I worked together as performers when she first came here in the early '80s. She directed the Spalding Gray shows, which have been around for the last few years, where actors do various monologues and inflections from Spalding Gray's diaries. Lucy's good at directing and putting together a show of segments and story telling. So we had a good history together and we decided, 'Well, this might be a good time to do something like that of my work' because she knew it really well.
Was is it difficult to sit down and try to give shape to the last 40 years of your life in writing?
It wasn't exactly like that, because I didn't write it. I would go to Lucy's house and would start telling stories. Then she would say 'Okay, that's a keeper' or 'That one we don't need' or 'That one has too many details.' She kind of shaped, paired, cut and suggested and I would come up with stuff. We workshopped this at the tail-end of 2008 and early 2009 at the Bowery Poetry Club. We tried to get an idea of which stories might be interesting, which stories had a true line and which evolved into how I learned to become a performer. Because basically the story is about that. It's a growth story.
So much of what you used to do was improvisational. Is it hard to stick to a script in this show?

Well, it's not hard after we do it a number of times. Things sort of click and you see how one thing leads to another. I'm learning as I go along. When I do my Alien Comic shows people think it's totally improvised, but it is really from a script. I have all these props and masks and costumes and I know I'm going to use those, I want to say something that refers to them. So I write that part down and I go over the script so that it seems like I'm making it up at the moment.
You tell some crazy stories in your play. Is everything in it 100% true or did you embellish?
That's an interesting question. I can't say everything is 100 % true because we compressed a bunch of things. Like something didn't happen on that day or maybe someone wasn't there that time. But I would have to say it's pretty damn true to all the events, it's just that the timing of things was changed to make it a little more compact.
Your play really gives us a clear picture of what the New York art scene was like during the '60s, '70s and '80s. How do you think it has changed?
It's changed, of course, as everything will change. You can't have any growth without change. But I think it's in really good shape. In the '60s, when I saw all the things that were going on at La Mama and Theater Genesis and other places, the whole movement was very exciting. But there was no such thing as performance artists, or learning about the craft in college, and now there is. I love seeing young 20-year-old playwrights, people who are having their first shows  and people who are starting things out in Williamsburg and Bushwick. That's where a lot of things are happening now. It's just as exciting, it's just a newer generation.
For people looking to learn more about avant-garde theater, are there any things you suggest they do or places they go?
I would recommend going to places like PS122, La Mama and Theater for the New City. Dixon Place is great too. They have a brand new place on Chrystie and they've got something going on every night. Go to four or five places, find out what people are doing and find a place where you like what's going on. Then say, 'Anybody doing a show? What's happening here? Is anybody looking for people to help out?' There is this place called the Brick in Williamsburg. There is a group called Catch out in Bushwick. There's the Here Art Center on the west side of town. You'll find these places if you're looking and you'll find something where you say 'This is amazing, I might go to one of their classes.' And before you know it you'll be in, and once you're in with a group of people where you like what they're doing, then you are part of it.
Why do you think theater is still important?
I think it will survive forever. The Internet and YouTube won't kill theater because people still want to see something live happening in front of their very eyes. Whether it's dance, music, a play or a performance, there is something wonderfully exciting and miraculous about seeing it happen right while you're there. I'm not worried about theater. I know that there is a tremendous amount of competition nowadays for theater, but I just figure theater will find new ways to fight that competition. There will always be people who want to see things live.
The Talking Show: The Magical, Ridiculous Journey of Alien Comic is at PS122, 150 First Ave., (212) 477-5829. Through March 7. Thurs.-Sat., 7:30 p.m.; Sun., 5:30 p.m. $15-$20.