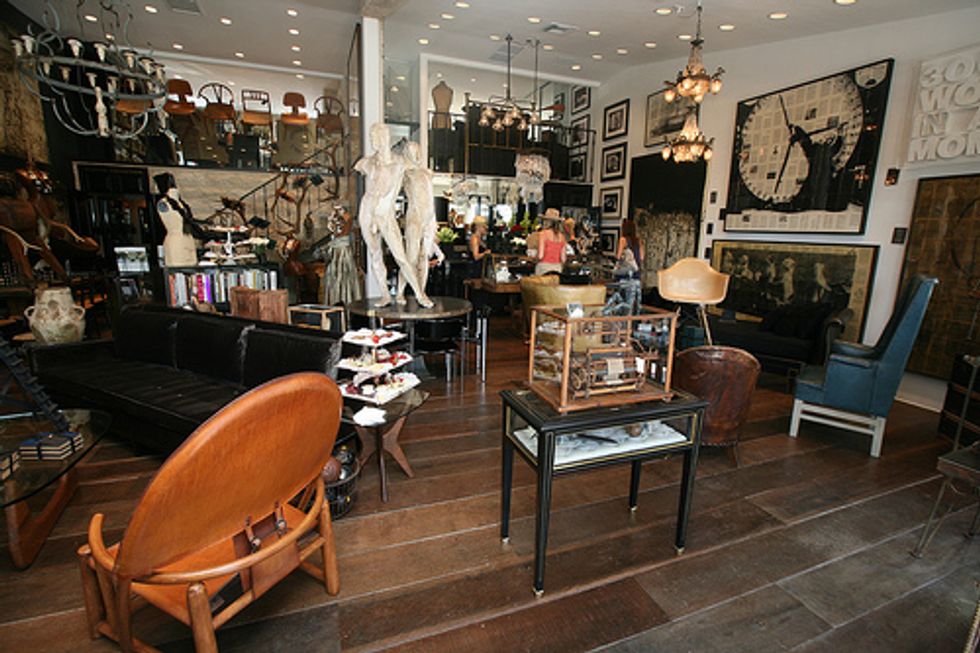 Creating a lifestyle brand comes with its fair share of difficulties, but Los Angeles-based interior designer Tobi Tobin seems to have effortlessly accomplished the task. Then again, she's had close to 15 years experience renovating homes, businesses, resorts and even spas, not to mention the homes of her select VIP clientele: Keanu Reeves and Robert Downey Jr. are longtime fans. West Coast tastemakers will be too with the arrival of Tobin's latest feat, Tobi Tobin Design, located on Sunset Plaza Drive.
The 2,000-square-foot split-level boutique spotlights the Michigan-born former model's knack for cherry-picking unique home accessories and arranging them in a somewhat cluttered, mish-mash. A Loro Piana plush cashmere throw is draped across a mid-century Arne Jacobsen Swan chair (from Tobin's Vintage Furniture Collection), while a Malles Goyard steamer trunk (found on one of her travels last year) sits surrounded by antiques and a carefully curated art library. A 17th-Century stone floor from Tobin's signature flooring collection leads visitors to a counter-side vintage French display case containing an assortment of mouthwatering, hand-made chocolates.
Although the imported Italian linen display was appealing, best of all is the store's signature Tobi Tobin Candle Collection housed in a mini-boudoir showcasing custom-designed scents and 10-ounce candles packaged in black glossy containers, organic burlap, and drift wood branded with the designer's trademark insignia.
Tobi Tobin Design
8601 Sunset Blvd.
Los Angeles, CA
(310) 289-0951
tobitobindesgin.com