Unbreakable Kimmy Schmidt, returning to Netflix tomorrow in all its hilariously dark glory, might center on the titular Kimmy -- played to relentlessly chipper perfection by Ellie Kemper -- but the show's Tituss Burgess was arguably last season's runaway star. Emanating flamboyancy and insecurity all at once as the high-strung, underemployed actor Titus Andromedon, he's the show's most complex (and gloriously human) character.

When we first met Andromedon, he's working as an Iron Man character in Times Square. Taking advantage of Kimmy's fresh-from-the-bunker naivety, he agrees to let her move into his rundown Brooklyn apartment (overcharging her for her a bedroom that's been turned into a closet). Throughout the season we see Titus stumble hilariously trying to become a Broadway star and soften to Kimmy. And when we end the season, we see him being confronted by his estranged wife.
Burgess became an internet sensation after Andromedon music video for track, "Peeno Noir," about an ode to... a certain body part went viral. (Burgess has capitalized on this with his own line of Pinot Noir.) We talked to Burgess about his character's development in season two, the wine biz, Titus' love life and if there will be a sequel to "Peeno Noir."
How do you think Titus has changed from season one to season two?
I think the largest transformation is his involuntary sort of reaction to considering other people's feelings before his own. And you will find throughout the season he is putting people first more and more and more and more. Kind of growing up, if you will, and it's all thanks to Kimmy, played by the ever-loving, ever-brilliant Ellie Kemper.
You two seem really close. What's it like on set?
We love each other. Ellie, that's my girl. I'm really lucky. When you get on a new T.V. show the chemistry and camaraderie between actors can be a mixed bag. We are together so much, so I can honestly say when she's not there, and I think I can speak for her, it is not as fun. It feels like something is missing. Not to say that filming with anyone else isn't fulfilling. But she is my other half and I need her.
How do you think Titus and Kimmy's relationship changed over season 1? He starts out basically taking advantage of her...
He definitely was. He was broke, you know? But what is so beautiful about is that it became less and less about him using her and more about a real friendship being forged just by her mere sunniness and optimism and her outlook on life. Jacqueline (Jane Krakowski), Lillian (Carol Kane) and Titus they are all living in New York and are sort of at liberty to do whatever they want, and then there is this woman that has been away for 15 years and she's more optimistic than the other three all put together. I love that Titus is sort of...being in such close proximity of her and living with her, I think it's taught him a great deal. And I think watching that gap be bridged over two seasons so far is lovely. And it makes Titus' shenanigans more palatable.
Do you think forming this relationship with Mikey is also changing him?
Yes. He didn't anticipate falling in love. Mikey is not Titus' type right off hand -- there is a moment where he considers and then reconsiders whether or not he is going to give Mikey his phone number. And there is an episode where Titus is completely resistant, and Mikey is slowly winning this guy over. Mikey has certainly changed Titus for the better. He is one of the people that I spoke about earlier is terms of whose feelings that Titus considers above his own. And it just warms him, it grounds him in a way that we did not get to see in season one.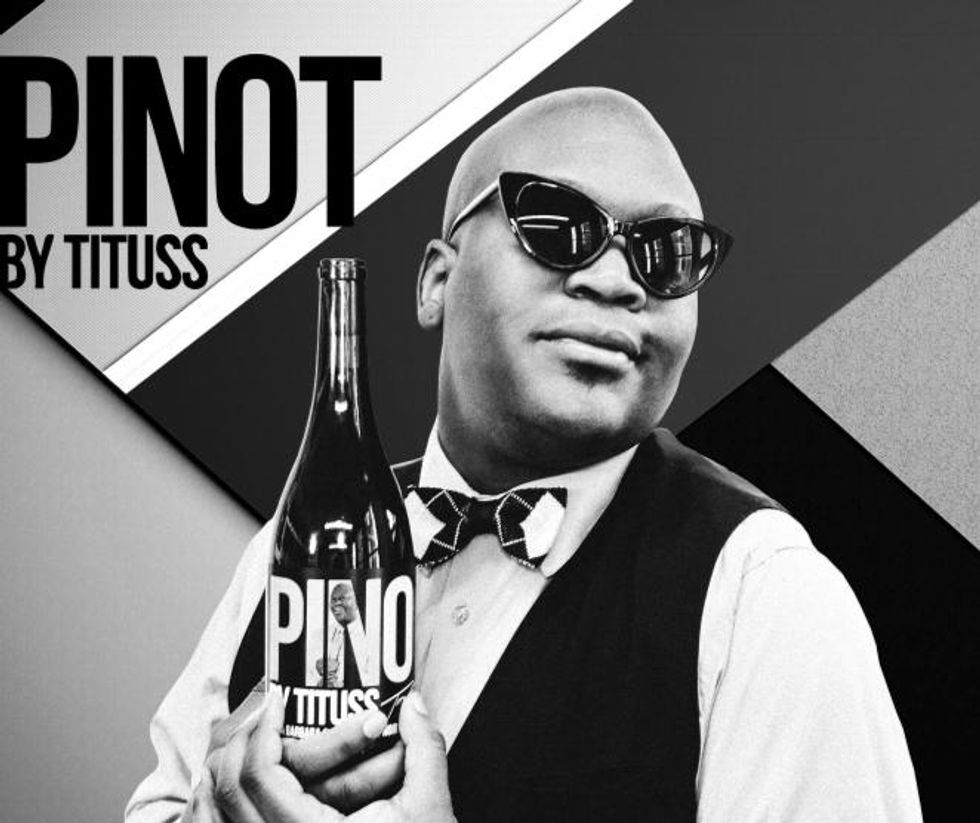 And you just put out your own line of Pinot Noir, "Pinot by Tituss."
I was never inspired to own a wine, but I got a crash course in it as that song went viral -- I was probably drunk for about eight months, because every time I went out to eat, someone would send me a bottle of Pinot Noir. So I learned a great deal about a good wine versus a not so good wine. But larger than that, my followers, the fans of the show, and fans of Tituss Burgess would always tweet or Instagram a quote, and it would always be a picture of someone else's Pinot Noir. And I thought, 'Well they're trying to connect with me, why don't I give them what they are asking for?' So that's largely why I did that.
Will there be a sequel to "Peeno Noir" in season two?
Not a sequel to "Peeno Noir," per se, but season two is littered with its own mini songs and musical outbursts. I think there's a lot to grab on to.
How was it like to shoot "Peeno Noir?" Did you think it was going to be as big as it has become?
Not at all. It didn't make sense to me -- it felt so disjointed. And I kept asking for the melody and this and that and they were literally like "go and make it up, it's going to be fine." And talk about a trust fall! Oh, honey! And the results...they were absolutely right, so I will never question my creators again.
See photos from the official launch party for Pinot by Tituss Burgess at The Box NYC

Photos by Serichai Traipoom