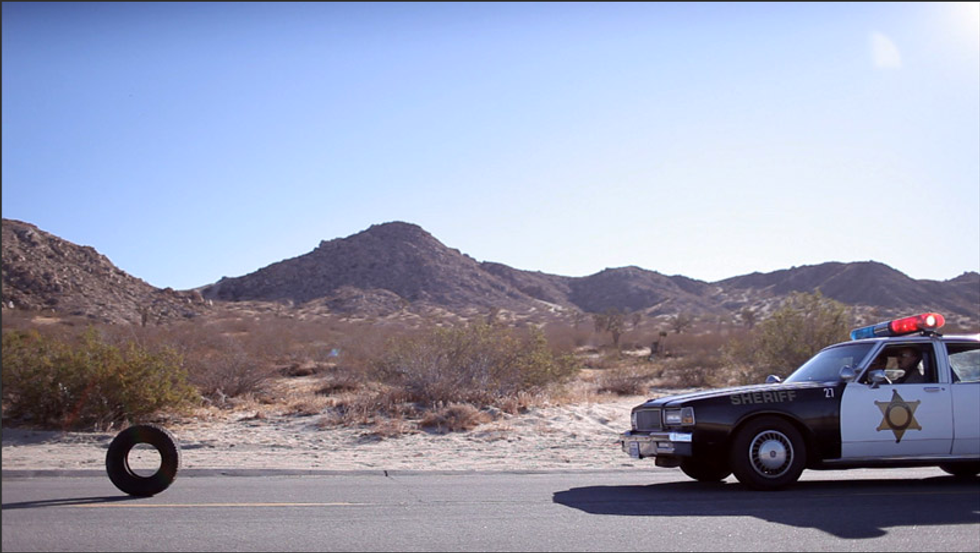 Once upon a time, in the mid-to-late-aughts, a band called
Justice
(a French electro-duo comprised of
Xavier de Rosnay
and
Gaspard Augé
) ruled the music world with leather jackets and mass ubiquity. And although it seems like the group's distorted-synth sound has dialed down over their two-year hiatus, the boys were merely taking a well-deserved break, focusing on their respective side projects. We briefly caught up with Gaspard to talk about his latest endeavor: The soundtrack for talented friend
Mr. Oizo
's newest film,
RUBBER
(in theaters this Friday) which chronicles the life of (what else) a murderous tire with telepathic talents. We also naturally inquired about the musical future of our favorite Parisian performers.  
Tell me what you've been doing since touring the last Justice album.
We did the tour movie/record (
A Cross The Universe
) then we enjoyed life for a while, changed girlfriends. Xavier produced Jamaica's album and I did the
RUBBER
soundtrack with Oizo.
Tell me about this move project. How did you get involved?
We wanted to work on a project together for a while, so
RUBBER
was the perfect opportunity for me to indulge in my musical obsessions and for Oizo to wreck up everything with his glorious monkey wrench. A tire is so lifeless that it was a funny challenge to make it come to life with the music. Soundwise, it's a blend between François De Roubaix, Vladimir Cosma, Philip Glass -- and a chainsaw.
How is your creative process different when you create music alone versus working with Xavier?
Xavier and I spent so much time together we that we think alike, speak alike, eat alike, which is quite convenient for the Justice project. Still, it was a liberating experience to be one mind in one body  and not a two-headed cerbère for a while. Oizo has a very instinctive and immediate way of working, which definitely suits his music and his ideas. I really do think he's the last of the Mohicans in the movie and music business --he has huge balls. 
What can we expect on the next Justice project?
Dirty nails and longer hair.
When are we going to be able to hear some of it?
New single out very soon, album next fall!