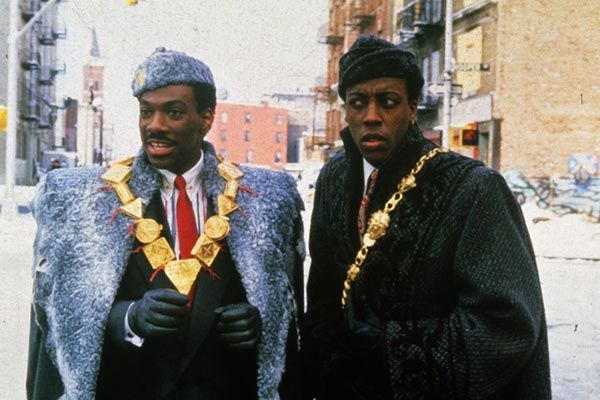 READING
The Best Music Writing of 2011 Launch at powerHouse Arena
To celebrate The Best Music Writing of 2011, editors Alex Ross and Daphne Carr host quite the epic reading this evening, featuring what is essentially a who's who of some of favorite writers in the biz: Contributors Nitsuh Abebe, Franklin Bruno, Jeremy Denk, Nancy Griffin, Vanessa Grigoriadis, Wendy Lesser, Chris Norris, Lauren Puchowski, and Kelefa Sanneh. It all goes down tonight at the powerHouse Arena in DUMBO.
powerHouse Arena, 37 Main St., DUMBO, Brooklyn. 7-9 p.m. Free.
DOUBLE FEATURE
Three Amigos and Coming to America at BAM

As part of BAM's ongoing tribute to director John Landis, tonight sees an amazing double feature of two super-silly '80s comedy gems: The Martin Short, Steve Martin and Chevy Chase-starring slapstick gem Three Amigos, and one of the first "R"-rated movies we ever saw, Eddie Murphy's Coming to America. We remember being shocked and delighted by the line: "The royal penis is clean, your Highness."
Brooklyn Academy of Music, 30 Lafayette Ave., Fort Greene, Brooklyn. 7 p.m. $12.
TAPING

Ask Me Another Live Taping at The Bell House
Calling all NPR dorks! And dorks in general! Their newest radio game show,
Ask Me Another
("an hour of puzzles, games, and trivia") will host a live taping this evening at the Bell House. While tickets are sold out, there'll be some available at the door. 
The Bell House, 149 7th St., Gowanus, Brooklyn. 7 p.m. Click here for details.