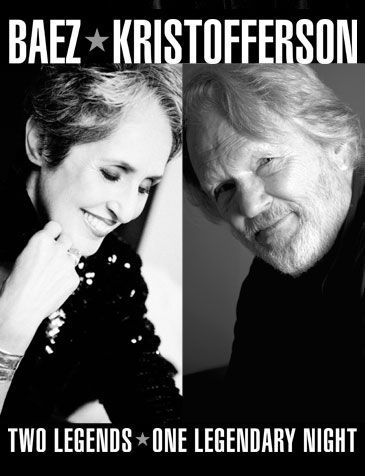 MUSIC
Joan Baez + Kris Kristofferson at Beacon Theater
Given the current state of things, you might hear a classic protest song or two when folk legends Joan Baez and Kris Kristofferson take the stage tonight at Beacon Theater. Either way, you're in for a treat when these two distinct voices join forces for their third and final night performing together in New York.

Beacon Theatre, 2124 Broadway, (212) 465-6500. 8 p.m. $60-$100.
BOOKS


Release Party for Jonathan Lethem's The Ecstasy of Influence
The title of Jonathan Lethem's new collection of non-fiction works,
The Ecstasy of Influence: Nonfictions, etc
, comes from a 2007
Harpers
essay in which the author discusses how our influences, conscious or not, shape how we connect with (and/or plagiarize from) art. Lethem discusses his own literary influences -- Norman Mailer and Paula Fox among others -- as well as topics including street art, Bob Dylan and his old friend, Brooklyn.
Book Court, 163 Court St., Brooklyn, (718) 875-3677. 7 p.m. Free.

PERFORMANCE

Ellen Stewart's Birthday Full Beaver Moon Show
At last: The Full Beaver Moon Crew are together again! The ragtag group of performers, who put on wild shows whenever there was a full moon at P.S. 122 throughout the '80s and '90s, have reunited for one night only. The full cast will get together for what would have been La Mama doyenne
Ellen Stewart
's 92nd birthday (the legendary founder of the downtown experimental theater passed away last year.). Gathered Full Mooners include Alien Comic (aka Paper theater columnist Tom Murrin), Factress (Lucy Sexton), The Naked Lady (Anne Lobst), Jo Andres, Mimi Goese and guest artists Salley May and friends, as well as Heidi Dorow with the Dynamic Diana.
The Club at La Mama, 74-A E. 4th St. 8 p.m. $15.