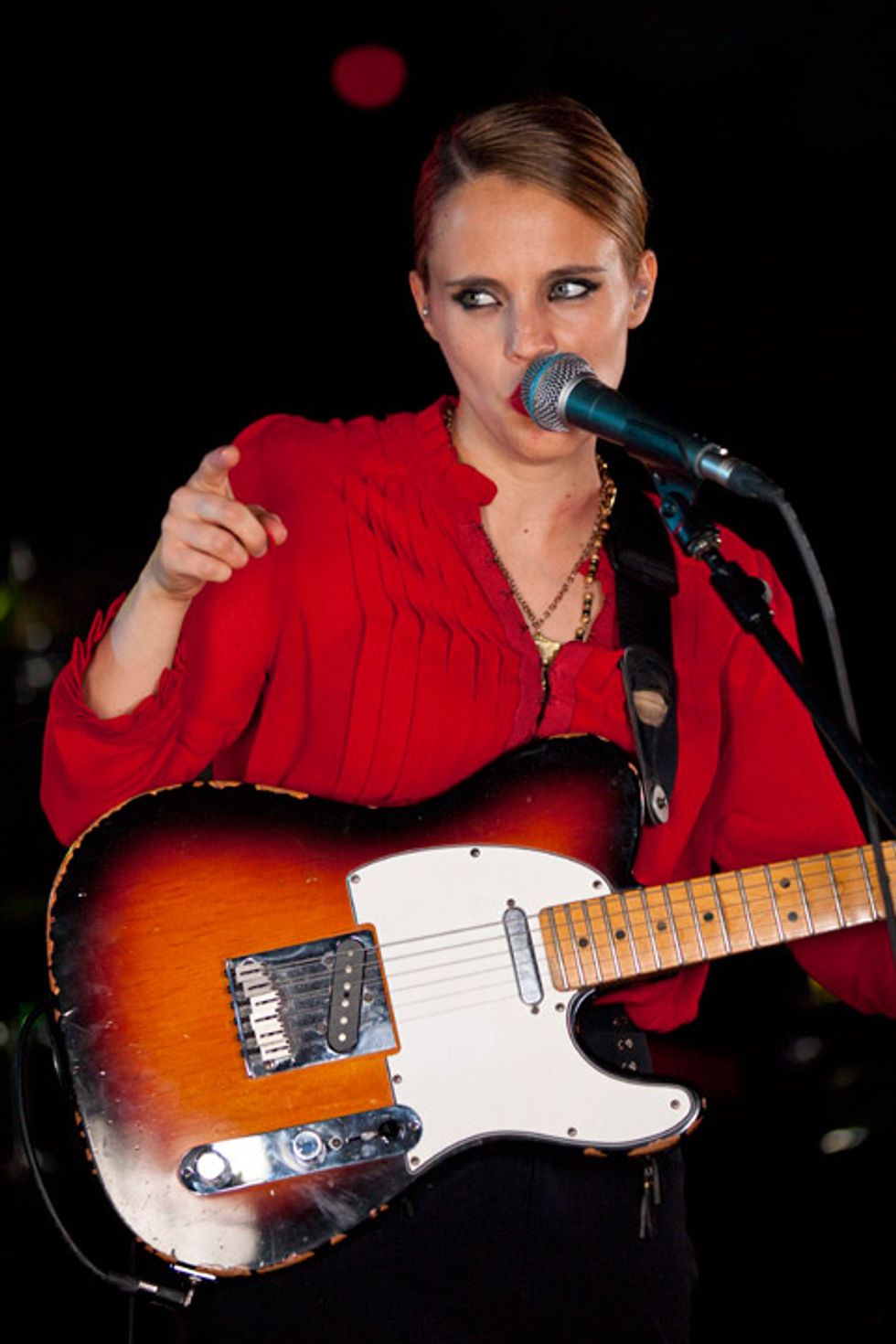 Brooklyn Vegan Holiday Party With Anna Calvi + Eleanor Friedberger + New Moods at the Music Hall of Williamsburg
Ain't no party like a Brooklyn Vegan party, 'cause a Brooklyn Vegan party... well... is quite fun! The well-respected music blog is throwing a series of holiday parties this week, and tonight's features quite the stellar lineup: British chanteuse/electric guitarist Anna Calvi (pictured above) is considered one of the year's break-out acts (her debut album was nominated for the prestigious Mercury Price), and she plays alongside Fiery Furnaces frontwoman Eleanor Friedberger (who released her first, wonderful solo album this past summer) and tropical dance poppers New Moods.
Music Hall of Williamsburg, 66 N. 6th St. 9 p.m. $8.
DVF Sample Sale
You know how it's kind of a cliche that "every New York woman needs a DVF wrap dress"? Well, ladies, it's a cliche for a reason. Head to the DVF sample sale, where womenswear is up to 75 percent off, starting today.
260 Fifth Ave. 9 a.m.-6:30 p.m. Through Dec. 17.
#OccupyNightlife at Parkside Lounge
New York nightlife staple Earl Dax is hosting a free public forum tonight (in conjunction with Andrew Andrew's regular C U Nest Tuesday shindig) at Parkside Lounge, where participants are asked to think about the State of New York Nightlife in terms of the "Occupy" movement. He writes: "Nightlife and club culture is arguably superfluous when contrasted with issues at the heart of the Occupy movement(s) and the thousands of protestors who have put their lives and bodies on the line. That said, the majority of promoters, DJs, bartenders, door staff, gogo dancers, and performers are themselves part of the 99% economically. Moreover, not only are nightlife workers are just likely to suffer from the austerity measures and social spending cuts proposed by political and banking interests, but conservative forces historically have worked to place significant limitation on various aspects of nightlife as threats to civic quality of life and moral order." To that end, The YES Men's Andy Bichelbaum will show several videos, and there'll be lectures and performances by Jim Fouratt, Joanie Moosy and Penny Arcade.
Parkside Lounge, 317 E. Houston St. 9 p.m. Free.