Everyone's favorite trashfire of horny, lonely youngs is back with a brand new feature that now allows you to swipe right on an entire group of people -- because who doesn't love en masse rejection?
Dubbed "Tinder Social," the new feature is a way to meet people alongside your tried-and-true text group (or just a way to feel awkward with an audience).
"Often your best nights are when you're hanging with friends, someone makes an unexpected connection with someone in another crew, and your two crews have an amazing time together," a statement on Tinder's website says. "Maybe you spark a romantic connection. Maybe you make new friends. Either way, a good night out with your friends becomes something better."
Like, a stingingly silent, post-hook up, 20-minute UberPool ride home?

Test-launched in Australia, the feature allows you (or anyone else in your predetermined group of up to four people) to swipe right on another group, or vice versa. And while it may be intended as a low-pressure way to find some finance bros to foot the bill for your girls night out, to be honest, the brief 30 minute trial run we've done has been kind of a mess. After all, when you launch this kind of feature on an app primarily known for hook-ups, the people you encounter may not be looking for the kind of "friendship" you're looking for.
Not to mention the fact that there is potential for this to escalate into a Victorian novel as your best friend hooks up with Mr. Rochester (even though you know he really wants you and your plain-faced governess self). Or if you happen to be approached with the prospect of an orgy by two Argentinian guys who are probably most interested in the one straight dude in your group -- which happened almost immediately for us.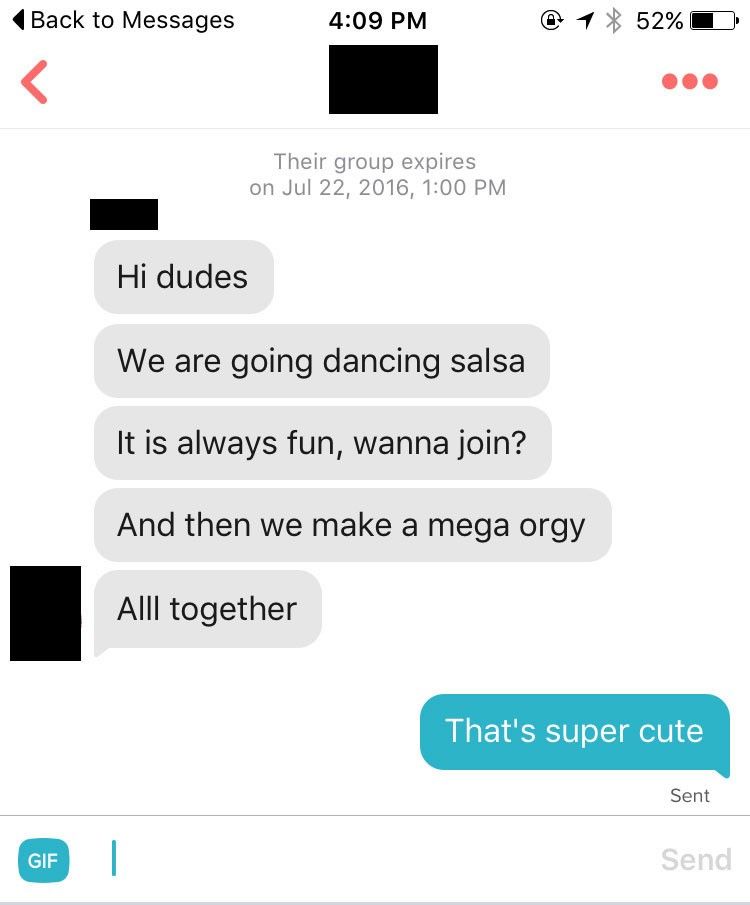 After all, Tinder meet-ups (however brief and meaningless) are always imbued with a certain level of sexual charge. Add more people and, obviously, it'll get a million times messier. Unsaid intentions, accidental swipes on people who you've already been on bad dates with, pre-meet divvying up of your match group -- the margin of awkward is exponentially multiplied when you invite a group into this scenario.
But, hey, if you want to find a whole new set of people to ghost on cause you're "feeling sick", go forth.