Tiffany Young, like some of us, enjoys getting her life at Britney Spears concerts, worshipping Madonna's back catalog, and becoming all-too-emotionally invested in RuPaul's Drag Race.
Unlike some of us, she also already happens to be an international pop superstar.
Following a decade-plus long run as a member of Girls' Generation — one of South Korea's most influential and successful girl groups of the late '00s-to-mid '10s, regarded as The Nation's Girl Group — the born-and-raised 28-year-old Californian now finds herself back at home in West Hollywood in 2018, splitting her time in between acting classes, going out on auditions and hitting the recording studio as she aims to make longtime solo dreams come true stateside.
She's already got dozens of singles, albums, music videos and tours to show for herself as a global superstar, as well as a solo record of her own (I Just Wanna Dance) released back in 2016. But her forthcoming single — "Over My Skin," out on June 28 — marks the formal debut of Tiffany Young, the U.S. Solo Pop Star.
A daunting task? Perhaps, especially considering the track record of fellow solo female artists hailing from the K-Pop world that have come before her.
But after putting in the hours studying the leading ladies of pop who've blazed trails and inspired generations — from Cher to Janet to BoA — and channeling the charisma, uniqueness, nerve and talent instilled in her from the queens on RuPaul's runway, Tiffany vows to carry on the tradition.
Related | The World According to RuPaul
Or, at the very least, deliver a dance routine that'll leave you gagging.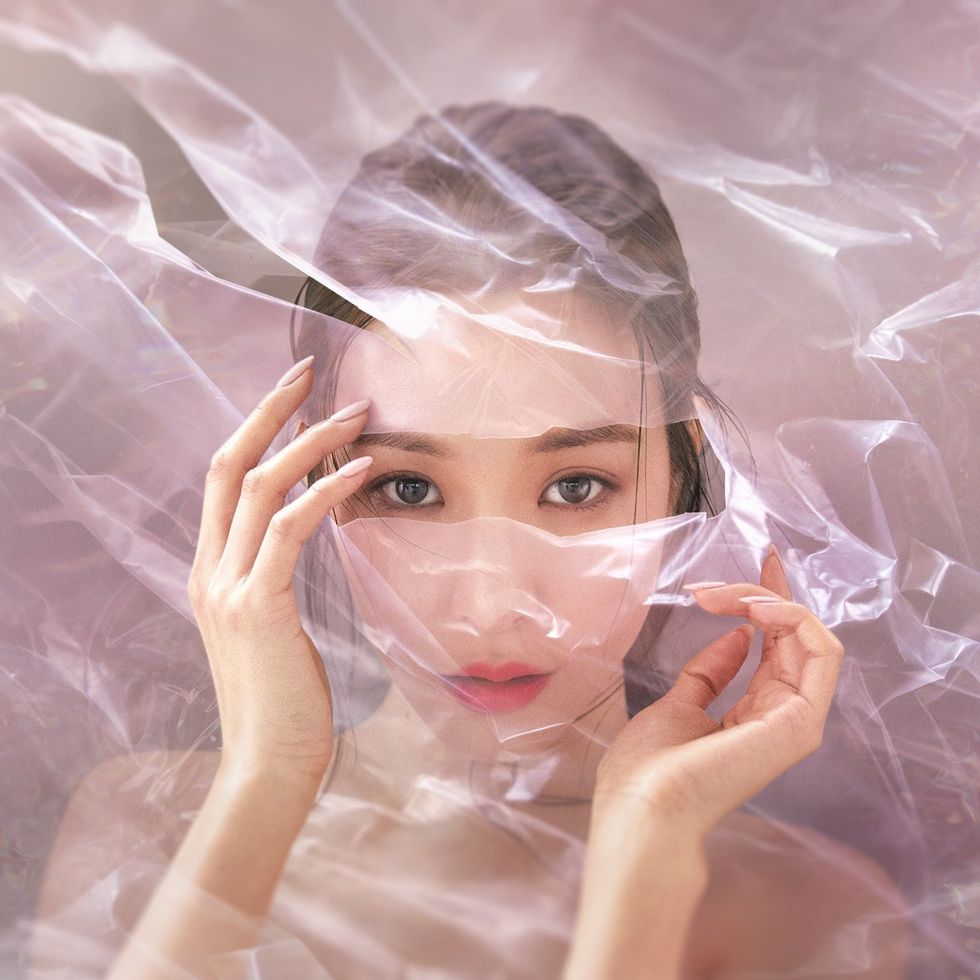 Good morning! You're in LA right now?
Yes, I am home in West Hollywood. Where are you? I was going to say "Good morning," but...
Ah, I'm in New York! it's 2 PM.
Good afternoon. [Laughs]
It's already been two years since "I Just Wanna Dance." As a huge K-Pop fan, Girls' Generation fan, Girls Aloud fan and Britney Spears fan, I—
[Cheering] Woo! I touched all the worlds!
First of all, you saw Britney in Seoul, right?
Oh my gosh, I was like the biggest fangirl.
Oh, I know. I was watching your Instagram Story.
Oh, you watched it?! My Instagram was like, the ultimate. It was amazing. I mean, Britney is Britney. I'm so glad that you totally understand.
I was considering flying over for it.
I love Britney. Britney Spears was one of the artists that made me want to become a musician, so to see her... especially in Seoul! My management called me going, "Hey, Britney Spears is having a show. We know you love her. Wanna go watch it?"
Related | What Would Godney Do?
Duh.
Duh! No-brainer.
The imagery from your album kind of reminded me of her.
My family said the same thing! They were like, "Your 'I Just Wanna Dance' photos look like Britney's earlier albums."
I loved it. You returned earlier this year with a cover of "Remember Me" from Coco.
"Remember Me" was around March. It took half a year to settle into the routine of going to acting school every day and going to the studio almost every day. I don't want my fans to forget that music is always going to be my first love. I can't do without it. That is where my identity lies, still, as an artist. I remember watching Coco and going, "Wow, this is such a great and positive song for when you miss someone." I was at Babyface's studio with The Rascals, who are amazing at being spontaneous with me. It all just kind of together really naturally, and it sent a positive message to my fans that I'm always working on new music too, so don't worry.
You were talking about acting school. Can we talk about your ambitions with that?
I've been wanting to pursue acting for years. My fans know. I just didn't want to start until I had the proper time and training, which was why I decided to go to school. Being in Girls' Generation makes you hyper-focus on one category. When they asked me to choose one back in 2012, I was like: "I choose music." And that's why the unit — Girls' Generation-TTS — came about. Coming back and having all this time to dig deep into why it is I want to do acting, I was like... I've been acting on set and on stage my whole life! So yes, I've been going on auditions and getting scripts. It's a whole new experience. If you've seen La La Land, you know that scene in the elevator where all the girls have the same hair color and are all wearing the same thing? It really is kind of like that. [Laughs] I felt that way the past couple months, but it's such a good experience. I'm open and willing to do anything if the story and the character's truth speaks to me. I'm just waiting for the right role. And then I'm going to the studio as much as school, and music seems to be even developing faster, and it's more fun because there's no pressure... I wanted to go back to the craftsmanship of the art. Not just throwing things together, you know? I wanted to make sure I'm putting my hours in. Because you know what they say: 10,000 hours to make a master. [Laughs]
Bringing in the experience of Girls' Generation, do you feel you're met with any preconceptions in the studio? Are you working with people who knew of you already?
Absolutely. Yeah, there are a lot of preconceptions — pros and cons, but mainly pros. I've been with some of the most amazing producers. I think I was taking baby steps into it because I've been kind of getting into songwriting. It was new, and it was nice that I was sitting with some of my favorite songwriters and producers and watching their process. I watched how it was done, and then I started saying, "I really want to write and I want your help." At first, it was hard. They're like, "Are you sure? How far do you want to take this? What do you want to talk about?" In a nutshell, it was positive because they trusted me as an artist to know what I want.
"I am very much comfortable in my skin [...] This is about me. I am happy, I am ready, and I am owning who I am."
That's good that the experience has been mostly positive.
There was a struggle. But, I mean, going into the studio and getting your hours in, really just getting that grind in, I think really helped.
So now you're coming out with "Over My Skin."
You're a Britney fan, so I'm excited for you to hear it! Coming back home and having that support from my bandmates telling me that they trust and support me in whatever new story I want to tell, with music or film, made me focus on what I want to talk about, and not pleasing others. I think that's so relevant in today's culture, no matter where you are, where girls — girls and boys — aren't just going to say things, or not say things, to please others. If you just read the lyrics, it can be a sexual song, but it really is about, "You know what? I am very much comfortable in my skin. This isn't about anybody. This is about me. I am happy, I am ready, and I am owning who I am." It's a song about taking control and being liberated. I don't want to change anything. If anything, I want it to be a much more evolved me. I want to take in everything I am in K-Pop and take everything I love about pop — Donna Summer, Cher, Madonna — the leading ladies who had such a bold and passionate statement. And I love the Britney-Pharrell-Justin Timberlake-Timbaland era. "I Just Wanna Dance" was pretty new in the sense of Girls' Generation never having anything like it. "Tiffany's never had anything like it" was my goal for people to say. I feel like art is about me having everybody live vicariously through this song. All the choreographers are like, "Dang, this song is me!" And I was like, okay, that's what this is.
Well, now I really can't wait to hear it.
I know, I'm so excited! I Just finished the video last night.
Can you tell me anything about that?
It's coming out in July. It's my first U.S. piece, so I wanted the videos and visuals to be unexpected. The photos are very minimal and bare, and then video's going to be like... colors, colors, colors! I wanted to have this contrast of having very minimal things, but also... hey, I'm from Girls' Generation! I'm going to be extra! Eleganza extravangaza! Because if you think about it, there's 10 years worth of work that I've done online, and I wanted to outdo it in a sense — but humbly, because I'm still starting out here and juggling things on my own.
To that point, as we know, this is being done without S.M. Entertainment. What is that like?
Being in S.M., I think, was probably the most intense, greatest and most educational thing that I have done. S.M. has a cult following. I love S.M. I love the artists. I was such a fan, which made me want to go into that label. Being a part of it and being able to create, hands-on, starting in 2011 — just the whole crafting of it. I would love people to look at me and say, "Wow, she's very creative." 'Girls' Generation was so polished that it took time for anybody to really consider us, uh... craftsmen. [Laughs] Now we're 10- years in, and they're like, "Oh dang, Girls' Generation is holding it down!" The art spoke for itself. I believe in that. I mean, I'm a huge RuPaul's Drag Race fan and...
Oh my God, you're amazing.
Are you too? Oh my God, thank you! I love you. You know that one part where they go, "If you have to explain your art, it's not right"? It hasn't been created to the fullest!
Yes!
Words to live by! I live by RuPaul right now.
You wanted to tell your story on the runway without explaining it.
Exactly! You remember that episode! When I heard that, I was like... my song does not need explanation! People can interpret it as they want. With my music video, I want people to look at it and just have fun. My choreographer is Yanis Marshall, if you're familiar.
Yes, I am!
He's amazing. He's the best. He's my dream choreographer. I really had all my chess moves in line.
All those routines in heels!
Yes, I remember being in class with him before putting the songs together... it was perfect. I love that this is going to be a summer anthem for everybody.
Who are you rooting for this season then, since you're watching Drag Race?!
Ah! [Straining] I was — am — a Monique Heart fan. And Aquaria. But that's the thing: I can't pick! Because watching RuPaul made me feel like, oh my gosh... that's like Girls' Generation! You have to have your hair and makeup amazing, your presentation, your improv — because you know, we did a lot of improv TV shows in Korea. You have to be a queen on the stage, know all your lyrics. I was like... gosh, I connect with them so hard!
So basically, you feel like a Drag Race contestant.
Oh yeah! [Laughs] I mean, K-Pop is so fierce and positive, and RuPaul and the drag queens are so positive. I think K-Pop fans need to watch it, too! I love that I'm at a place where I can bring cultures together. Being in Korea and coming back home, I was like, "I hope you love K-Pop!" And now I'm staring at my K-Pop fans like, "I hope you love Drag Race!" [Laughs] It really is the story of the artist, or the queen, and it's about growing and evolving and saying, "Hey, I have more fight and love in me to do this."
Completely, I love that. Going back to the "U.S. debut" thing: this is something that's notoriously difficult, either because of preconceptions or prejudices in the industry. We've seen efforts from BoA, CL… what do you think about it?
Oh, absolutely. BoA paved the way for me and every single artist, female artists especially, since 2000. She really inspired me. I discovered her Japanese album, and everyone was like, "She's Korean!" and I was like, "No, you mean...?!"
Coming from America, that story sparked the idea in me that I can leave home and conquer a new side of town, and still come home and be welcomed... although, I took 10 years. [Laughs] It's about constantly pushing and challenging yourself, and she sets such an amazing example. I think it was timing. She was trying new things. She is such a superstar. Where K-Pop is at right now has everything to do with her. I think K-Pop has its own huge following that has made a platform for any act to be welcomed all over the world. It's exciting. Yes, there have been preconceptions, like, she's a K-pop girl, what is she gonna do in America? But I'm home. Throughout my career, I've always been the Korean-American girl. It's funny, when I was announcing my plans for this release to my bandmates, I sent them the pictures, they were like, "Oh my gosh!" and used all these really hard Korean words, which they knew I probably wouldn't know. Taeyeon snapped me all these English-Korean translations of what words she was using. [Laughs]
Related | Jeremy Scott and CL On Moschino, Pop Culture and the Power Of Girls
What was she saying?!
She was saying, basically, we see how much you work and how strong you were keeping this under wraps because you're somebody who'd be like, "I'm doing this, I'm doing that!" They've been listening to all the things I've been recording since last fall, so they were like, "we're so excited. We don't know what you'll come out with, which is more exciting." [Laughs]
I was speaking to Hyoyeon because she just launched her DJ debut, and she also mentioned you have a group chat.
Yes, we have a group chat! I'm always like, "Hey, send high quality pictures so we can post on our socials!" [Laughs] Support your friends, support your girls!
Related | DJ HYO: Girl of the EDM Generation
There's so much fan support around you, consistently, no matter if you're active or doing an anniversary thing or your own thing — and you're all supportive of each other, too.
I feel like we're at college now in the sense that we've all decided what our majors are going to be. l'm leaving the space of signing with an Asian talent agency. I know how strict the rules are, and I forever want to be a part of Girls' Generation. I wouldn't gamble that for anything. So I said, "If you need me, I can come back anytime because I have the freedom." Without even talking about all that business — business is business — my girls are my girls. We are each other's. We have this trust. I've been with the girls for 13 years... longer! When we know we're at this place when we can create something new and amazing, we will get together. Even when we're rolling out solo projects, we're always like, "Once we do this, let's get together."
There's a general understanding.
Yeah! And we've had years where we don't have Girls' Generation albums. Right now it's time to kind of develop ourselves individually. I'm always overanalyzing the music... I love that Girls' Generation was about togetherness, but also individuality. It really was about knowing who you are and what you can be, and how you can help as the best possible person you can be.
That's probably why you have such a rabid fanbase, because people are so inspired by that.
[Laughs] Thank you.
You're like this rare link, knowing the inner workings of the K-Pop industry while still coming from the Western world. We read updates about signing with these agencies, and it's causing panic all the time.
I know! I guess I'm the peacemaker with that. Business is business, but you can't tell me I'm not Girls' Generation. No one's going to tell me that I'm not Girls' Generation! [Laughs] We've all continued to support each other. There are things we can and can't talk about. Maybe one day down the line we'll tell the story, but we are still very much throwing each other random texts, and saying "Whoever doesn't respond within 10 minutes, we're getting together at your house next!" Just by the social media, you can tell that we're still very active with each other. I hope the fans trust us. In my girls, I trust. In Girls' Generation, I trust.
Amen! I'm looking at BTS and BLACKPINK, and there's such a conversation about crossing over in the West. Is that even something the agency considered for Girls' Generation?

It happened so suddenly. Girls' Generation is right in the middle of... in Korea, they say, "The digital and analog age of the Internet." I remember when I couldn't text my family, or it took me a phone modem when all the people in the house were sleeping to type a long email. Oh my God, I sound so old. [Laughs] The Internet isn't the same as when we were starting. Girls' Generation popped off in that YouTube era. I think that's how the evolution went into full speed, from promoting in Korea, then Japan, then China, then Southeast Asia — and then going to fashion week in Europe. We got to travel the whole world. The senior artists at S.M. really paved the way for what Girls' Generation became. There was a whole generation of girl bands and boy bands when we were really active that created this platform for the younger artists to bloom. You watch BTS, you watch BLACKPINK — it's undeniable. They're visually stunning. Now, people are really understanding the craftsmanship to K-Pop. It's a lot of work. I remember watching The Nutcracker last Christmas with my family... it's like ballerinas. They do it so gracefully that nobody knows how many hours the workload is.
"In Girls' Generation, I trust."
Just those dance rehearsal videos alone, thinking about how much time is put into that — and that's just the dancing part.
Yeah, and I'm doing it here all over again. You know what? This is pop. This is what pop music is. You can put a "K" in front of it, but we are all pop artists.
What music is inspiring you right now?
I'm always looking for an artist that speaks to me, who I can analyze and get a sense of the story. It's the analysis of the humanly universal connection. I dig into my scripts for a movie, and I didn't realize, but I do it the same way as a musician. I really started to dig into my inner Carrie Bradshaw, and that era of fashion and music... which was Madonna and Janet Jackson. I went into the root of it — Britney or BoA's muses — and it all made sense. I looked up to them because they were artists that I grew up with, whereas with Madonna and Donna Summer and Janet Jackson, I only got to hear of them when they were already queens at the peak of their career. My mom's favorite artist was Madonna, and she used to sing and dance to her all the time. I really got into understanding all the songs and connecting with them.
It really is about doing your pop homework. I understood Madonna and Janet to be queens when I was younger, but I didn't know exactly why until I did my homework. Like, Britney is Baby Janet.
Yeah! Right! You totally understand. I love that I can talk to you about this. [Laughs] I realized I'm very lyrically driven — melodies are super important, too — but it's about your truth at the moment: Girls' Generation was absolutely my truth at that moment. Growing up as a 17-year-old, thinking I'm going to jump into this new world and change it with these girls. Then came, like, "Gee," I'm falling in love for the first time. Then "The Boys," saying "we've been here, and we're gonna take control." There was "Twinkle," where I was like 'I'm going to be fabulous and fierce!' [Laughs] I got to do all that stuff. Also, digging into Madonna and the Blonde Ambition Tour, I was watching it and looking up how old she was at the time. She's gorgeous! And she's been saying this the whole time, but people need to see the beauty of a woman at every age.
Yeah, she debuted in her mid-twenties.
Yeah! Female artists. Queens to the rescue! Watching that tour, and the rest of her tours, I remember specifically "Living for Love" on the Rebel Heart Tour...
I'm gonna carry on...
Yeah! That spoke to me so much. And obviously "Express Yourself," "Vogue," "Dress You Up" those are my jams, but having the whole story and connecting to all of those songs. Thank you, Madonna. [Laughs]
Do you have anything to say to the fans about what this new chapter's going to be like?
Now that I'm doing this interview with you, it feels so real. [Laughs] I'm so thankful that they trust me, individually and as a bandmate, to pursue this and challenge myself. It is their love and support that continues to let me challenge myself. I hope this new chapter of my storytelling, whether it be film or music, really lets everybody recognize what pop artists do. We're at a time where there aren't that many glossy pop videos as there used to be, but pop has really inspired a generation full of strong, amazing people. I hope that I can reinterpret what has inspired me and inspire others to... live for love. [Laughs] That rolled out so well.
Can I also just put it into the universe that you become a guest judge on Drag Race?
Amen! Amen!
Photos courtesy of Transparent Arts