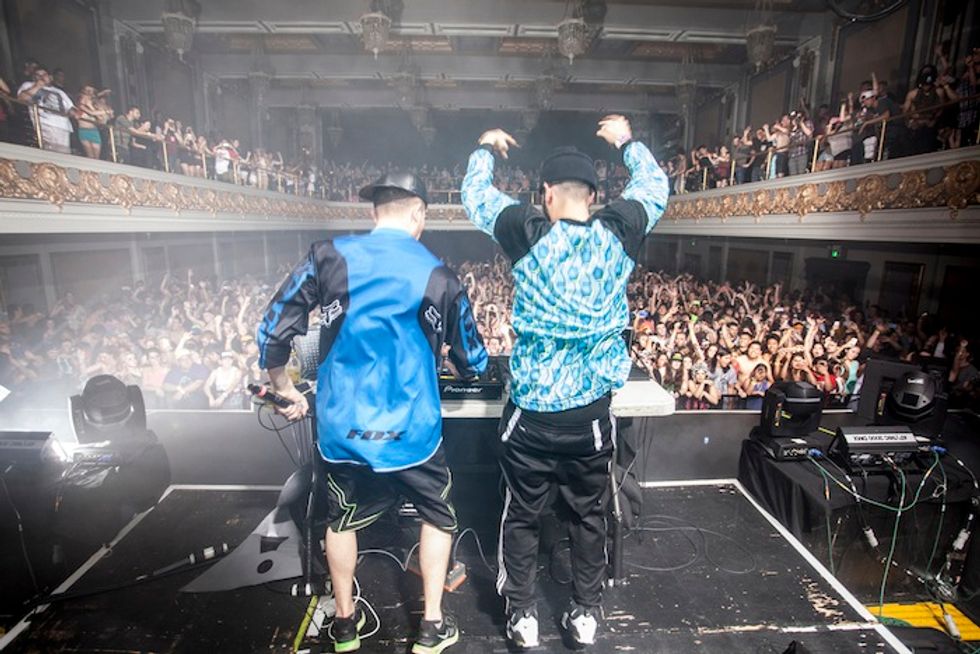 Flosstradamus DJing at The Regency Ballroom in San Francisco.
(Photo by Grady Brannan)
The rabbit warrens of Soundcloud don't have anything in common with the inner city streets of Atlanta but, as hip-hop and EDM heads have noticed, much like that Southern city, the music-sharing site
has become a hub for trap music -- or, rather, its electronic-tinged spinoff.   
Original trap, which rose to prominence after T.I. released
Trap Muzik
in 2003 (an album that was, incidentally, co-produced by Kanye West), took its moniker from "the trap," a term typically associated with the inner city streets of Atlanta and the drug-dealing culture therein. "We just did what was on our mind at the time," says DJ Toomp, the Grammy-winning, Atlanta-based producer who's worked with everyone from T.I. and Kanye to Mariah Carey and Rick Ross and who executive produced
Trap Muzik
. "[T.I.] and I understood that whole movement, we both had partners that were locked up and we saw the lifestyle of the big-time guys back then." Of the genre's 808-heavy sound, Toomp adds, "You gotta give props to Rick Rubin. The way he was using the 808 drum machine back then -- what he was doing with the Beastie Boys -- wasn't too far from what we were doing."    
"Rubber Band Man" by T.I. from 2003's Trap Muzik


Following T.I.'s break-out album, a crop of rappers and producers, mostly based in the South, continued producing trap beats and songs throughout the aughts, but by the middle part of the decade, buzzier Southern-based hip-hop genres like crunk and non-Southern-based artists like Kanye West seemed to eclipse the trap scene. It was towards the end of the decade and into the next that trap seemed to re-enter the mainstream and begin a revival that more closely approximated the genre's early aughts popularity; producers like Virginia-based 22-year-old wunderkind Lex Luger along with Atlanta-based rappers like 2 Chainz, Gucci Mane and Waka Flocka Flame and Memphis' Juicy J began dominating the radiowaves and reignited interest in trap. But, within the last year (or, more accurately, year and a half), a new crop of DJs has emerged who are
creating a sound
that, while similar in style,
has less in common
with the original genre's hard-edged substance or locus in the South.
For the most part, the Internet is trap 2.0's street corner, with new productions and songs spreading like wildfire with the click of a mouse. Though the origins and the audience might have changed (not to mention the fact that many dance-trap mixes lack rap vocals entirely), much of the sound elements remain: the 808 drums, frenetic hi-hats, booming bass, the prominent use of snares and vocal chops.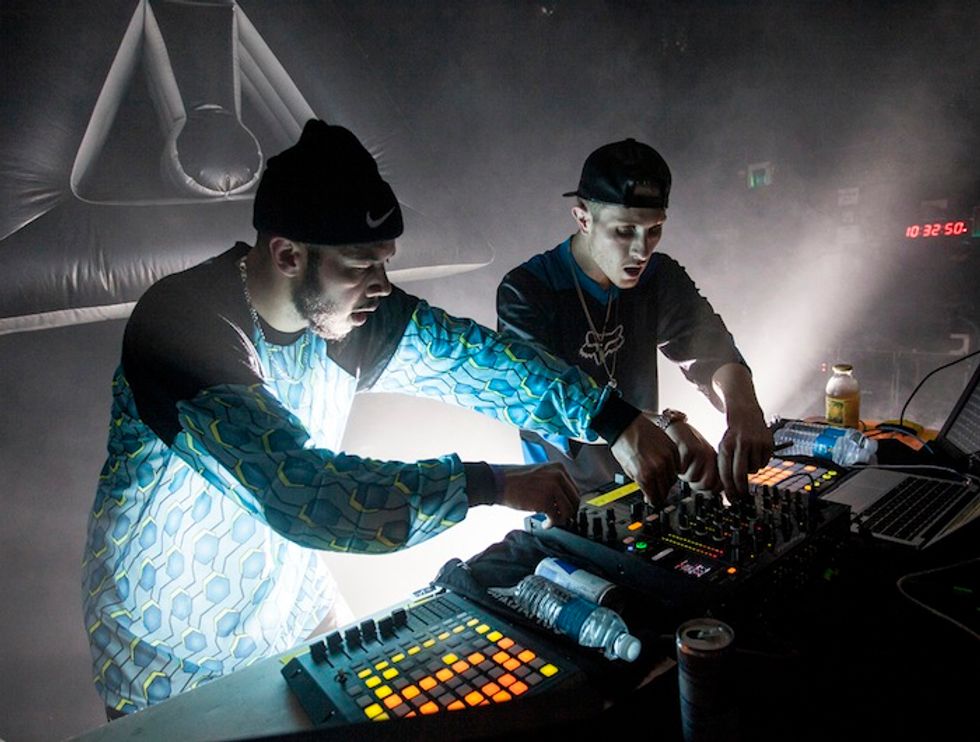 Flosstradamus' J2K (left) and Autobot (right)
(Photo by Grady Brannan)
Flosstradamus, the Chicago-and-Brookyn-based DJ duo who first achieved popularity in the mid-00s with raucous rap-dance mash-ups and who are widely credited with being leaders in the new trap game, says the genre's evolution started as one big digital game of telephone. In fall of 2011 "I was making rap demos and the style and beat I was making was a trap beat for a trap rapper," Flosstradamus' Josh Young (a.k.a. J2K) explains.
"I put the genre as 'trap' on Soundcloud because that was the influence and what it sounded like." He adds, "The rappers were slacking off and not returning the product in time." Young says he and his partner Curt Cameruci (a.k.a. Autobot) "got frustrated with people not doing our projects fast enough so we started putting the songs out ourselves."
Young says that the duo's
"post-apocalyptic trap"
EP,
Total Recall
, released in February of 2012 by Diplo's Mad Decent imprint, Jeffree's, was actually intended for Sir Michael Rocks (The Cool Kids rapper formerly known as Mikey Rocks). "He passed on the track and we threw it up on Soundcloud with the genre 'Trap' because of the style of drums I used."
"And the kids that were hearing [those tracks] and latching onto it had no reference for what original trap was so they thought it was a new genre," Young explains. "That's why it became what it was."     
While their productions may have initially been intended for trap artists to rhyme over, it was their January 2012 remix of a decidedly different style of song -- Major Lazer's "Original Don" -- that "blew [new trap] out of the water for the first time," as Young puts it.