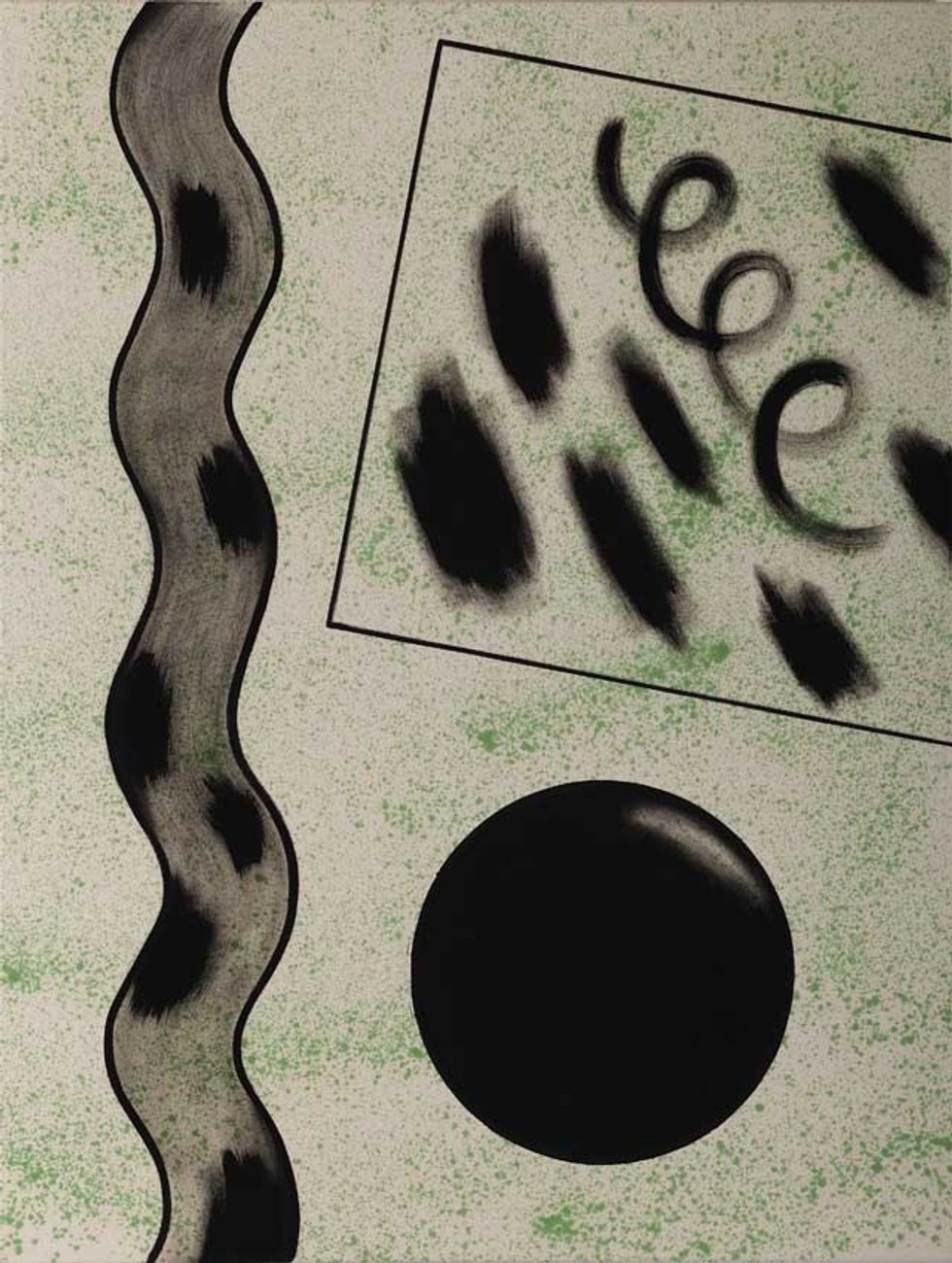 Untitled (dear painter, paint me), 2015, David Krňanský via SVIT Praha
The non-profit arts org NADA opens the 14th edition of their Miami Beach fair at the Deauville Beach Resort (6701 Collins Avenue, Miami Beach) with over 100 exhibitors from 17 countries. Their preview is today until 2 p.m., and then it's open to the public until 7 p.m. and daily through Sunday with a $20 single day ticket. Check out the "temporary reappropriation" of Katz's Deli by Laila Gohar and Nikki Cohen in the gift shop today through Saturday (and have a pastrami sandwich); and the "immersive lounge installation" by Exhibition A on the hotel's ground floor.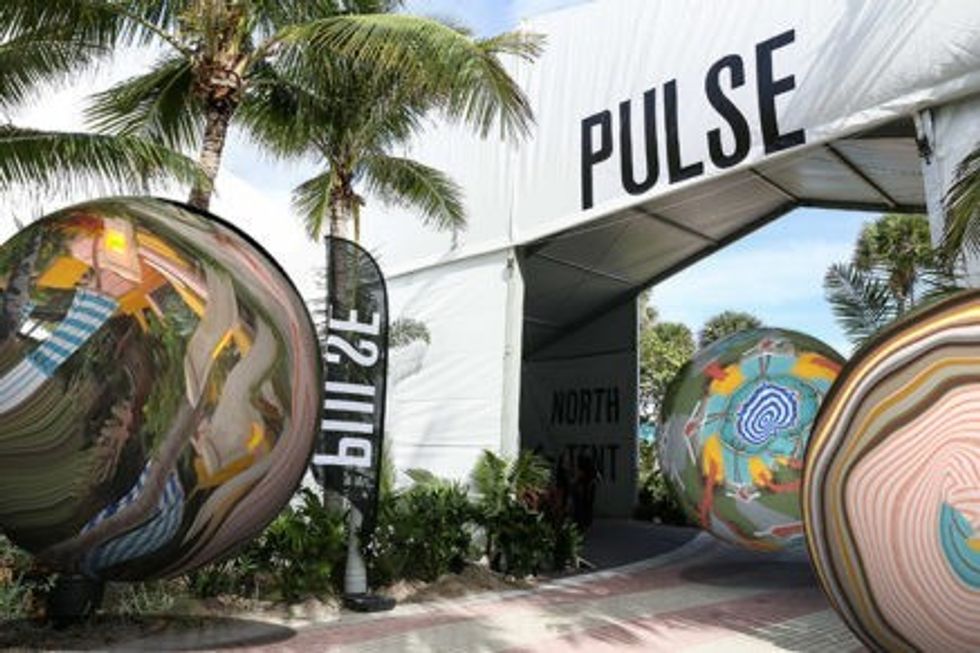 Miami Marbles Rendering, 2016. Courtesy of Anne Spalter.
PULSE Miami Beach is back in Indian Beach Park (4601 Collins Avenue, Miami Beach) for their 12th edition, featuring over 75 local and international galleries. Their VIP, "invite only" preview brunch is today 1 p.m.; and then it's open to the public daily through December 4. They also have a "Young Collectors" cocktail party on December 1, from 5 to 7 p.m. Check out the site-specific installation, "Miami Marbles," at the fair's entrance by digital artist Anne Spalter. The artist used photos and videos of the city to create abstract images on large spheres.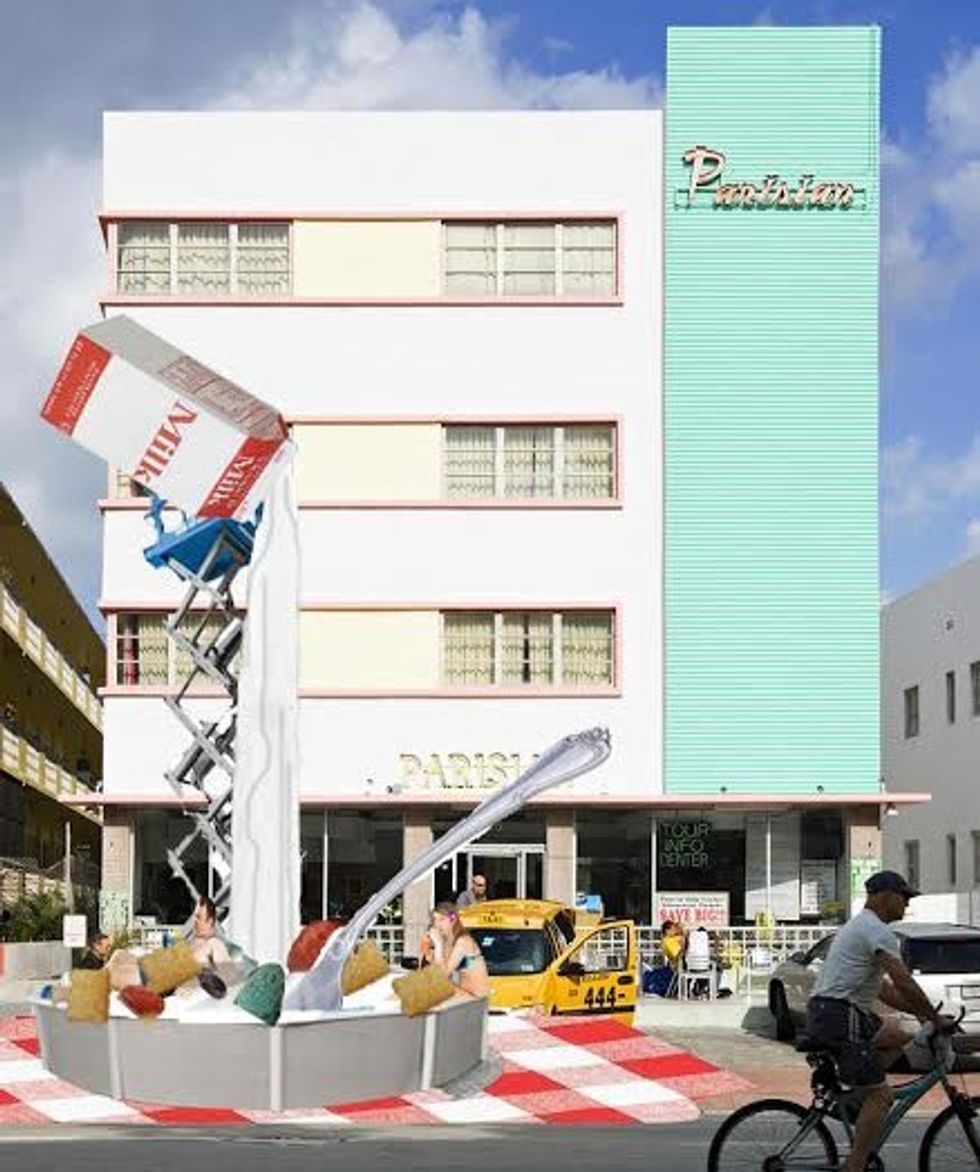 "F+++ IT" preliminary rendering, courtesy Jen Catron and Paul Outlaw via Satellite
The second edition of the Satellite fair moves into the Parisian Hotel (1510 Collins Avenue, South Beach) from Thursday, December 1, thru Sunday. This is an artist-run and concept-driven alternative fair that includes music, performance, new media and technology. For example: They're planning a a queer strip club, a virtual reality lounge, a post-feminist tattoo parlor and after- hours entertainment in the hotel's penthouse curated by NYC alt venue Trans-Pecos. Look for the giant milk carton and cereal bowl out front by the art duo Jen & Paul.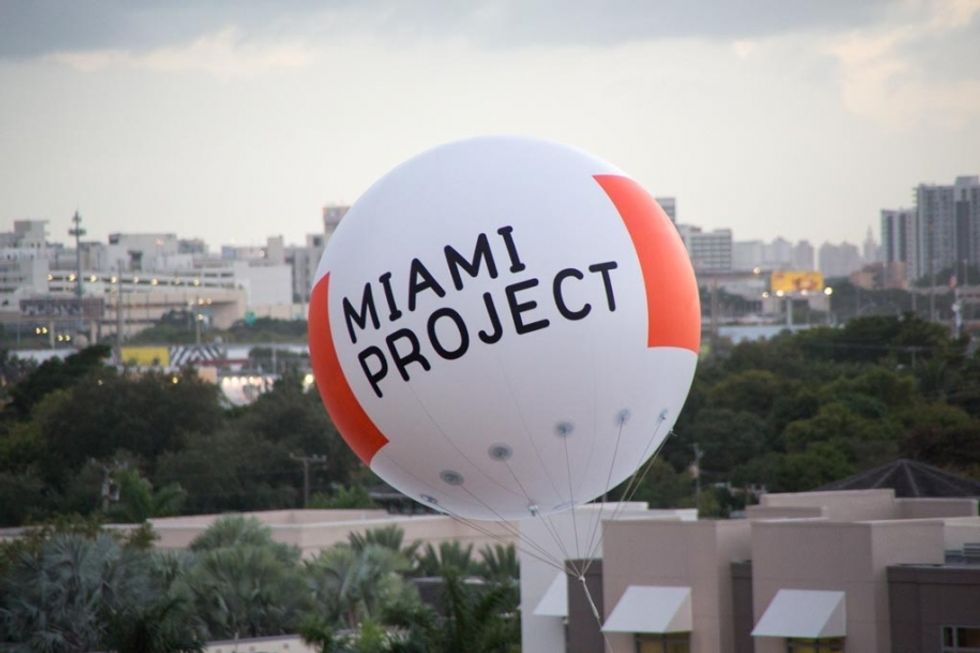 Miami Project 5 runs from December 1 through 4 with 50 global galleries showing at Indian Creek Drive and 67th Street, Miami Beach, a block away from the NADA fair.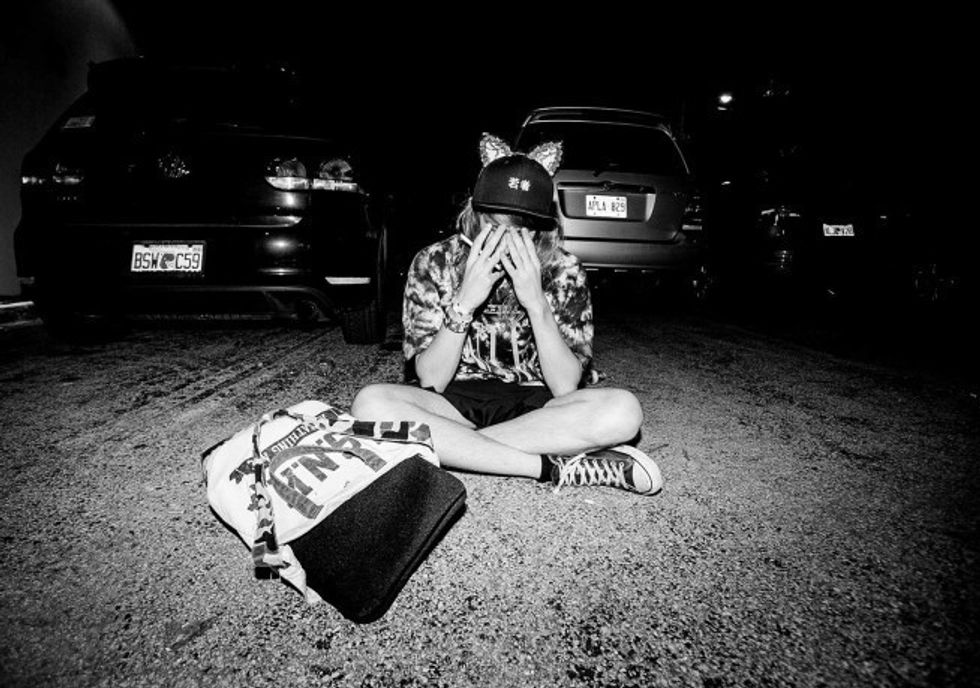 Cashmere Cat, via Cashmere Cat and PAMM
Norwegian DJ and musician Cashmere Cat, Jillionaire (Major Lazer) and Uncle Luke (Luther Campbell) are all performing on the terrace of the Perez Art Museum Miami (PAMM) tonight, 9 p.m. to midnight. The event is free, but only open to the museum's sustaining and above level members and AB/MB VIP cardholders. Become a member HERE.
The grand finale of the 7th Annual Bombay Sapphire Artisan Series — hosted by Russell Simmons and Danny Simmons — is Thursday, December 1, 8:30 to 11:30 p.m., in the Herzog & de Meuron-designed parking garage at 1111 Lincoln Road in South Beach. The event celebrates the 16 finalists before the announcement of this year's winner. NYC arts org Creative Time is the honorary judge and there's music by Jermaine Dupri. Note that this is "invite only" with RSVP mandatory. The annual Rush Foundation Art for Life charity auction is also tonight at SLS Brickell (1300 S Miami Ave., Miami) starting at 6 p.m.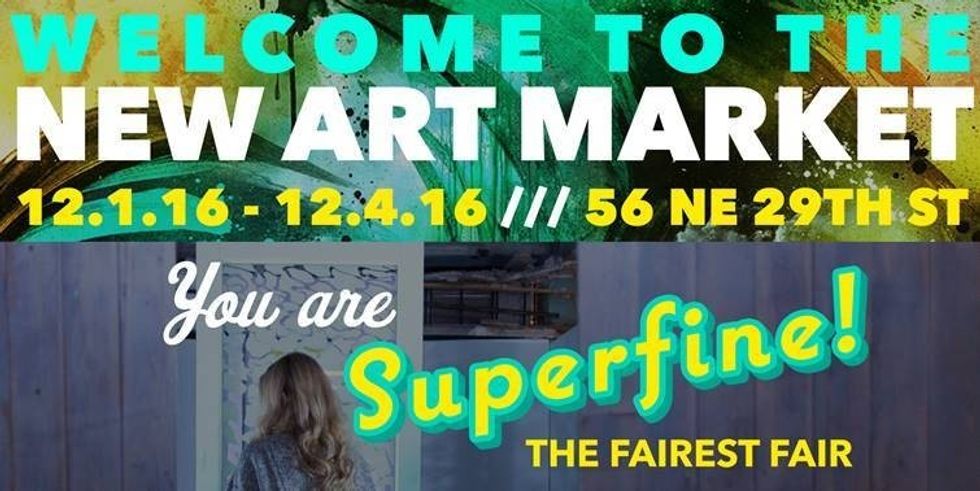 French perfumery and fragrance house, CARON, is partnering with Superfine! "The Fairest Fair" for an interactive art installation created by local Miami Haitian artist Asser Saint-Val. Titled "The Philosopher's Stone: Awaken Your Senses," the work will be on view from December 1 thru December 4 at the fair's new Midtown Miami location, 56 NE 29th Street. Superfine! has tons of other daily activities including installations (Jen Clay, Nice 'N Easy), bands (Afrobeta, K Pasa USA) and a tea party on Saturday, 7 to 11 p.m., with DJ Lady Miss Kier from Deee-Lite.
The private Moschino/Jeremy Scott dinner and afterparty are tonight at the Delano Hotel (1685 Collins Avenue, South Beach). RSVP w/invite mandatory.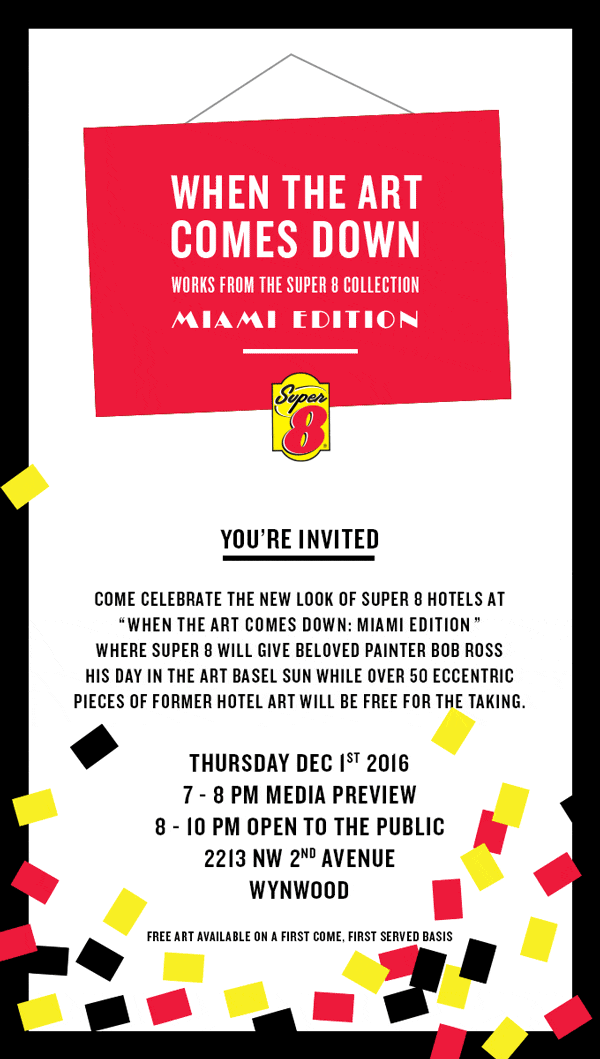 FREE ART! That's right, the Super 8 hotel chain is currently re-doing their decor in North America and updating their art collection, so they'll be giving away 100 works on a first-come, first-served basis from 8 to 10 p.m. on Thursday, December 1, at 2213 NW 2nd Avenue in Wynwood.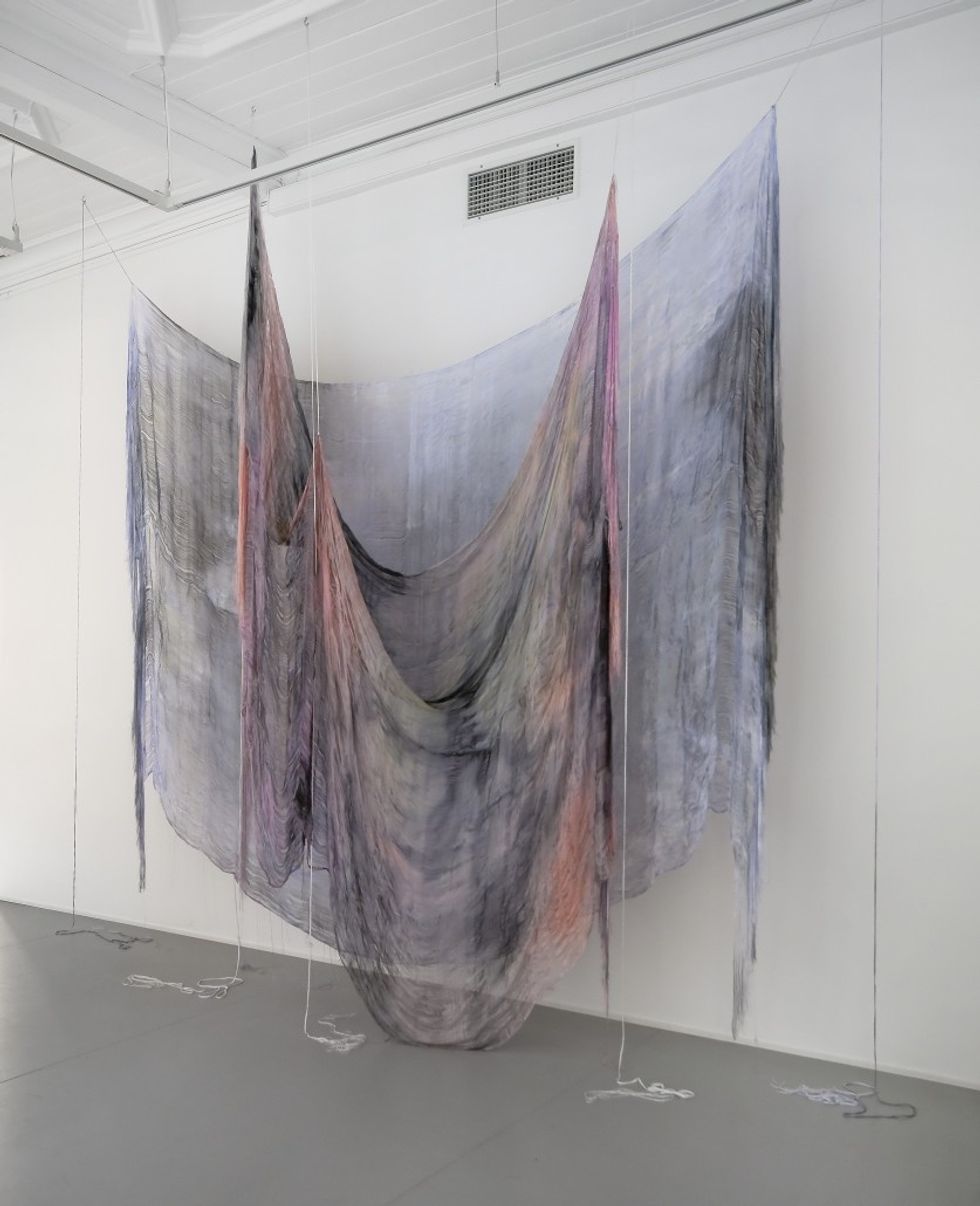 Aurora Passero
Miami's artist-run space Dimensions Variable (300 NE 2nd Avenue, 3rd floor, Miami) will open their new 3,000 square-foot gallery in downtown Miami with a group show called "The Rest Is History" today and on view until January 5, 2017. Over 13 international and local artists are included in the show. DV was founded in 2009 by artists Frances Trombly and Leyden Rodriguez-Casanova and the new gallery is a partnership with Miami Dade College.
Norma Kamali and Diamonds Unleashed CEO Kara Ross host a wearable art exhibition called "Wear Your Heart On Your Sleeve" that's on view through December 4 in the lobby of the Mandarin Oriental Miami (500 Brickell Key Drive, Miami). Twenty artists have contributed one-of-a-kind dresses including Julia Rich, Georgia Grey, Carly Jean Andrews and Stuart Hemple; and all will be auctioned with funds donated to non-profits that support women's empowerment. The VIP opening is tonight at 8 p.m.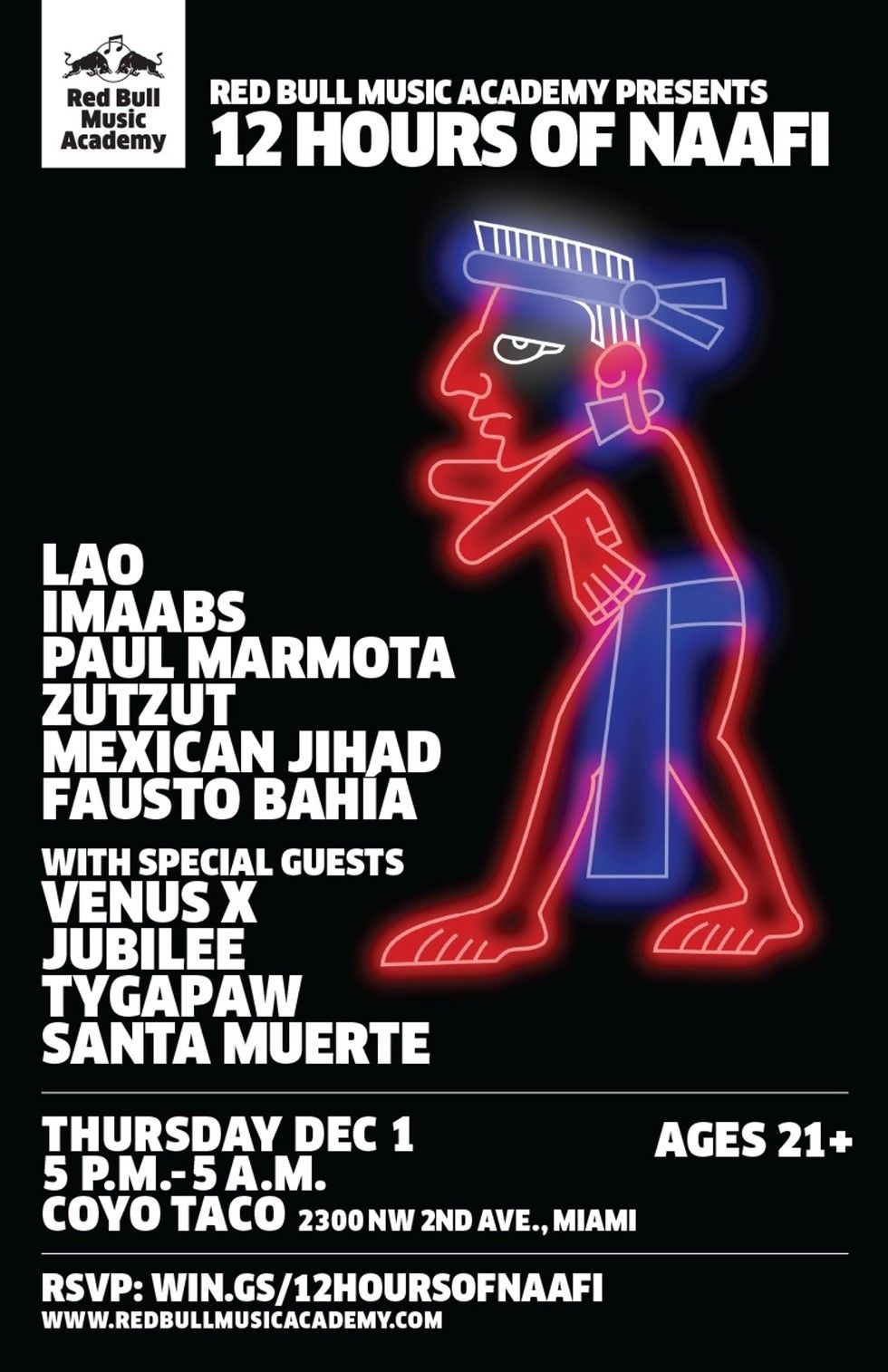 Red Bull Music Academy presents "12 Hours of NAAFI" featuring 10 DJs selected by the Mexico City-based record label NAAFI, along with the art-duo known as SANGREE (Rene Godinez Pozas and Carlos Lara) on Thursday, December 1, from 5 p.m. to 5 a.m. at Coyo Taco (2300 NW 2nd Avenue, Miami). The DJs are Lao, Imaabs, Zutzut, Mexican Jihad, Fausto Bahia, Venus X, Jubilee, Tygapaw and Santa Muerte. 21+ with RSVP.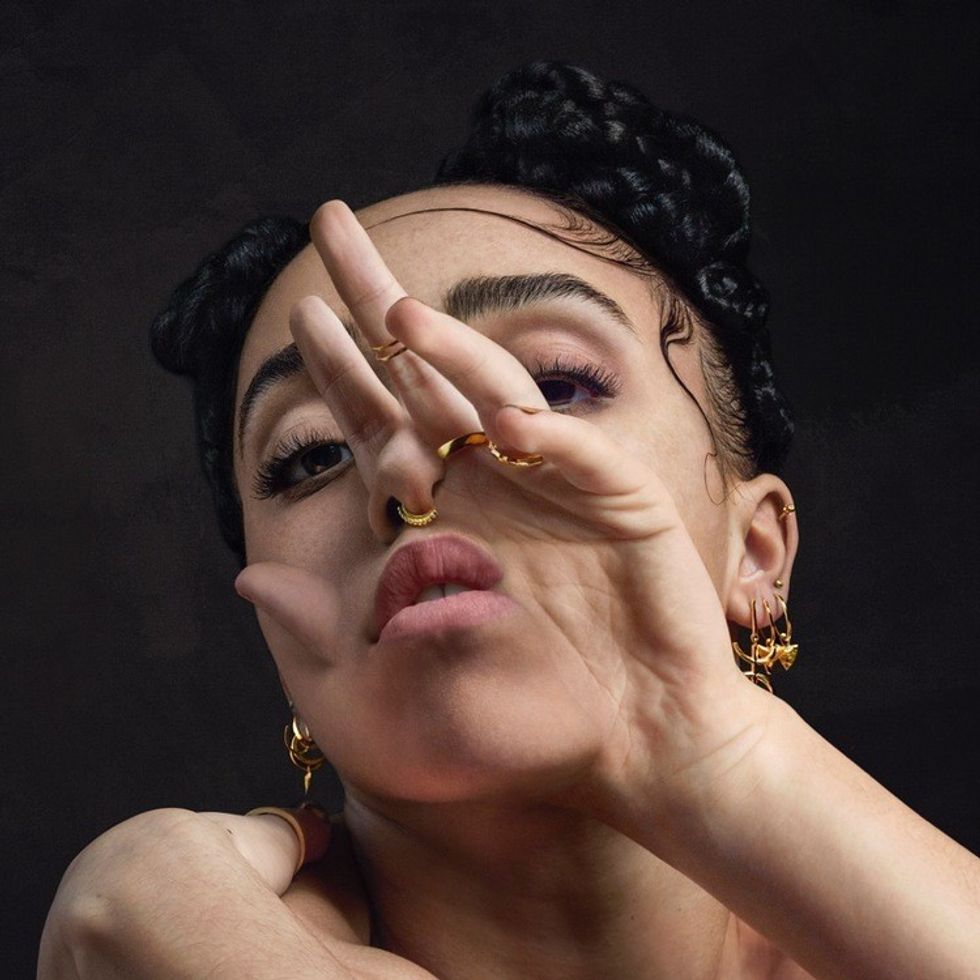 Matthew Stone, FKA twigs - M3L155X
Tumblr's 5th Annual Basel Brunch honors UK artist Matthew Stone on Thursday, December 1, 12 p.m., at The Standard Spa (40 Island Avenue, South Beach). Art Ruby, "the essential art journal for visual addicts," co-hosts. Past honorees include Jose Parla, Dustin Yellin, Marina Abramovic and Daniel Arsham & Jonah Bokaer. Invite w/RSVP mandatory.
Check out "Off-White c/o Ben Kelly," an installation at 3814 NE 1st Avenue in the Design District, 6 to 8 p.m. tonight with a DJ set from Virgil Abloh. RSVP mandatory.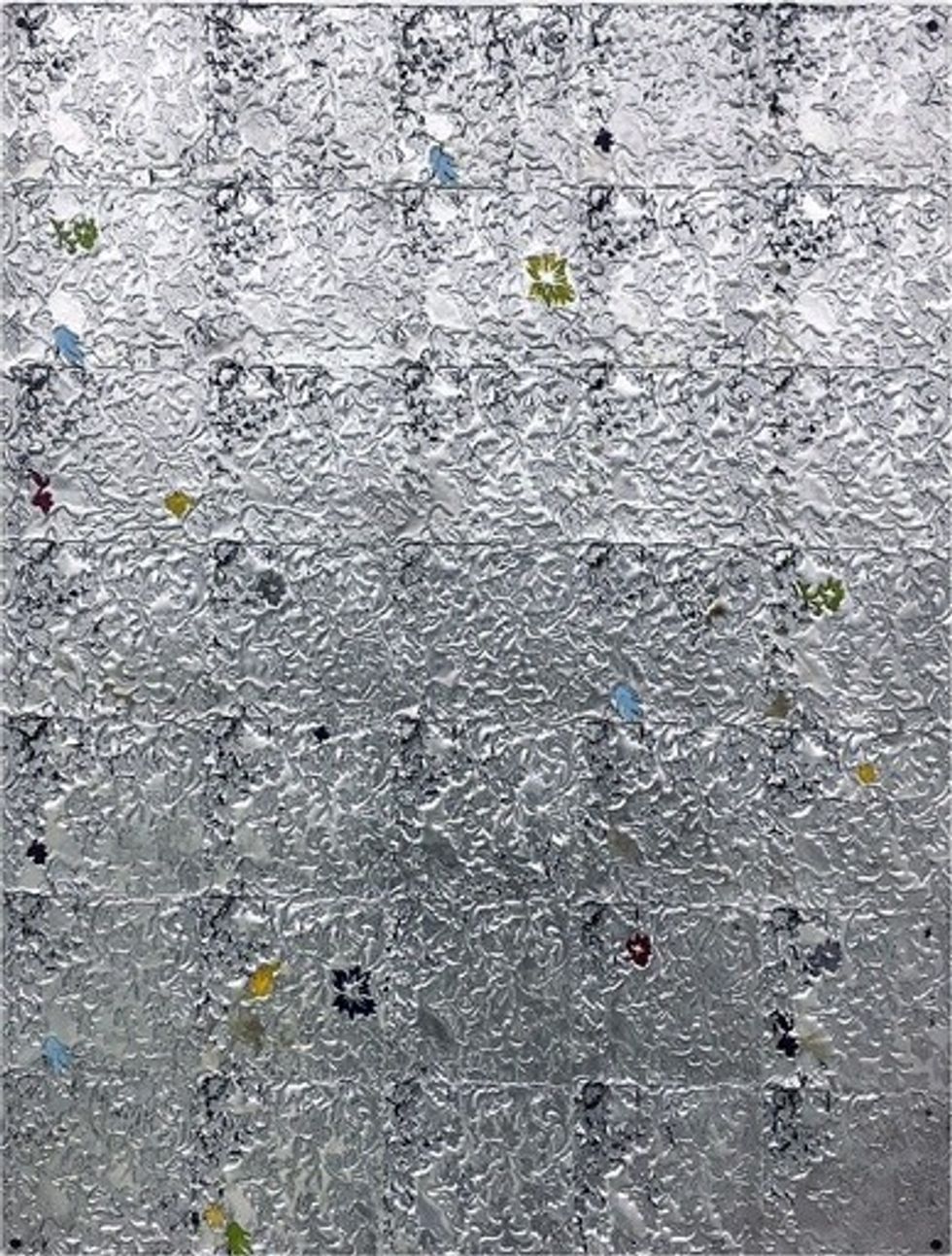 Hugo McCloud, Ups and Downs, 2016Via Paddle 8, courtesy Sean Kelly Gallery and artist.
Sean Kelly Gallery, Paddle8 and Absolut Elyx host a benefit auction for Water For People featuring a new work by Brooklyn-based artist Hugo McCloud on December 1, 7 to 10 p.m., at Nautilus South Beach (1825 Collins Avenue, South Beach). Look for a DJ set from Melo-X. Invite with RSVP only.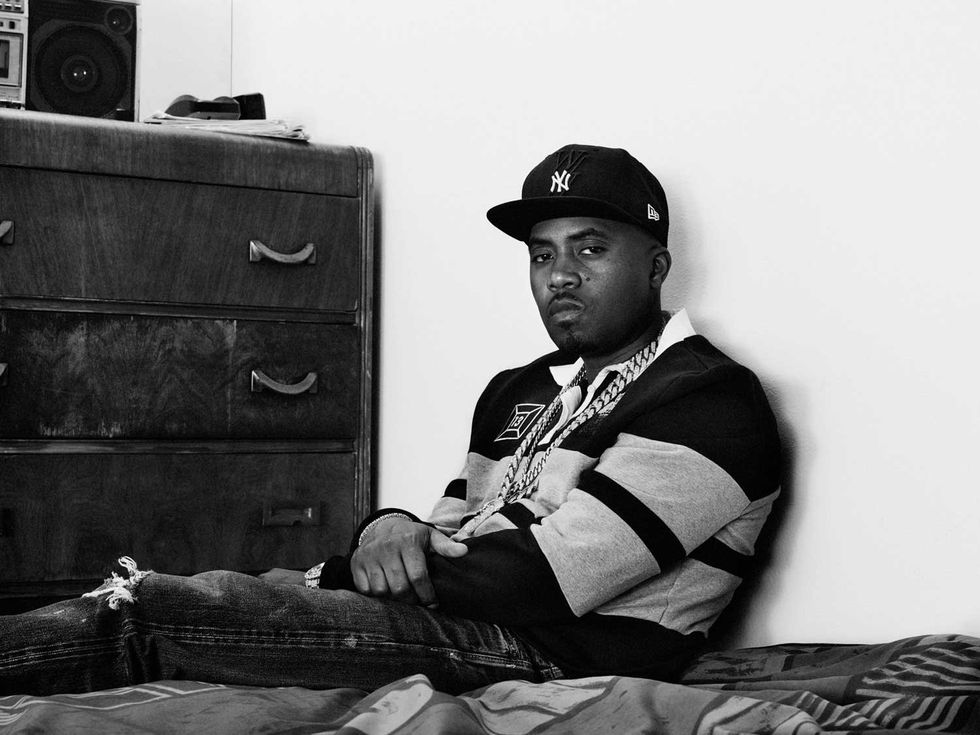 The Confidante Hotel (4041 Collins Avenue, Miami Beach) hosts "WNL Radio" by NYC fashion duo Dao-Yi Chow and Maxwell Osborne of Public School on December 1, 2 and 3. WNL, aka "We Need Leaders," was conceived as a pop-up radio station and performance art piece, with daily programming providing "a platform for conversation and dialogue." Participants include Stretch Armstrong & Bobbito, Daniel Arsham, Jose Parla, Yes Julz, Heron Preston, Derek Watkins, Selema Masekela and Uncle Luke. Stop by for pool parties on Friday and Saturday, and go online HERE to pick up a limited edition WNL t-shirt or hat. Tonight's kick-off party features music by JUS SKE, Twin Shadow and The Extortionists.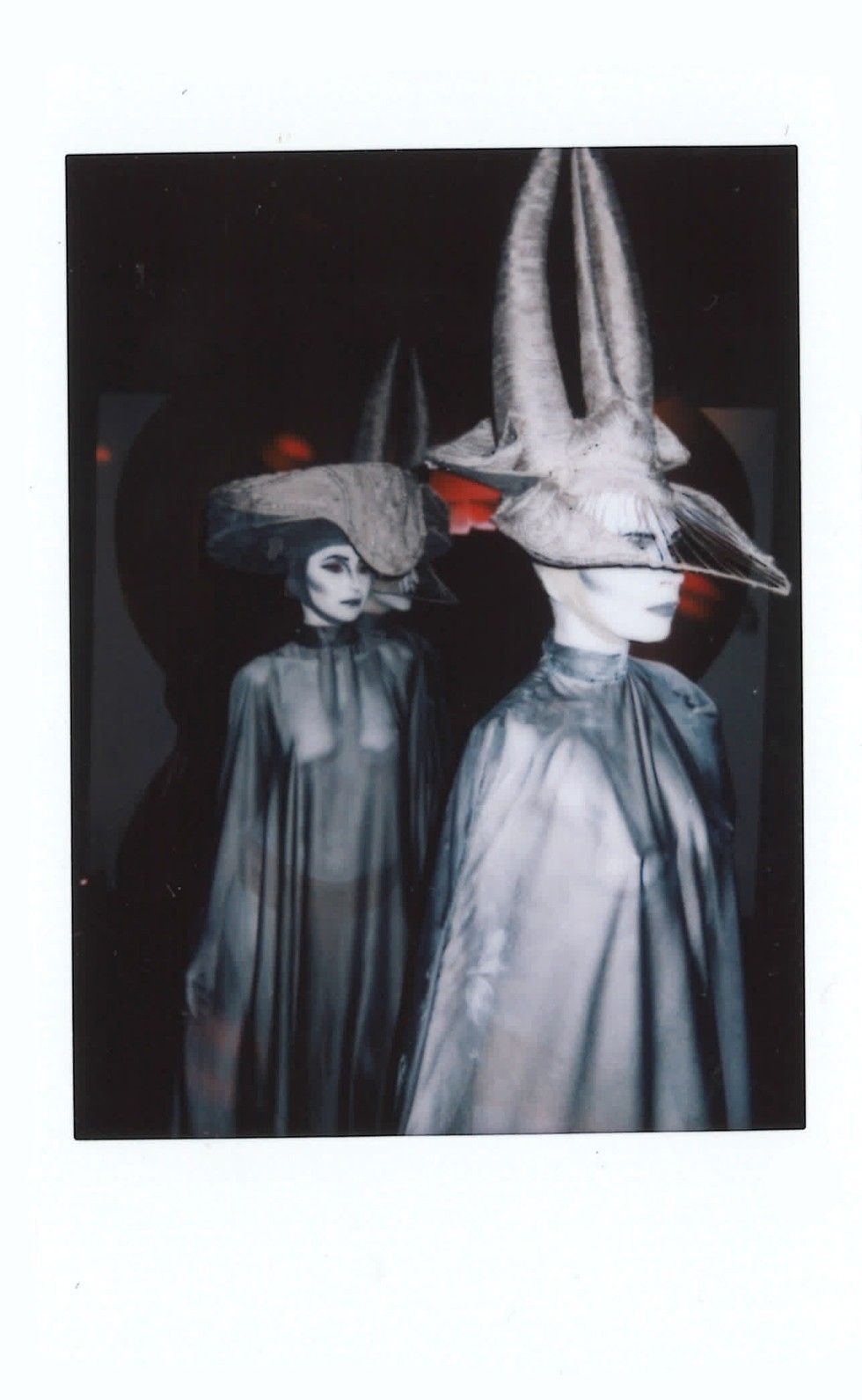 Barrett Barrera Projects and Charlie Le Mindu are bringing their CHARLIEWOOD "exhibition of transgressive movement" to the FAENA Theater (3201 Collins Avenue, Miami Beach) on Thursday, December 1, 7:30 p.m. with guest host Ladyfag and a special appearance by Christeene. RSVP/w invite mandatory.
SURFACE Media hosts a talk and video installation with artist Ben Jones and Pusha T on Thursday, 6:30 to 8 p.m., at the Miami Marine Stadium in celebration of Adidas Originals EQT, and a private pajama party (w/ 21c Museum Hotels) in the Design District Palm Court on Thursday, 10 p.m. to 2 a.m., with The Skins, Narcissister, Joseph Keckler and DJs Mia Moretti and Devin Lucien. The entire SURFACE event list is HERE.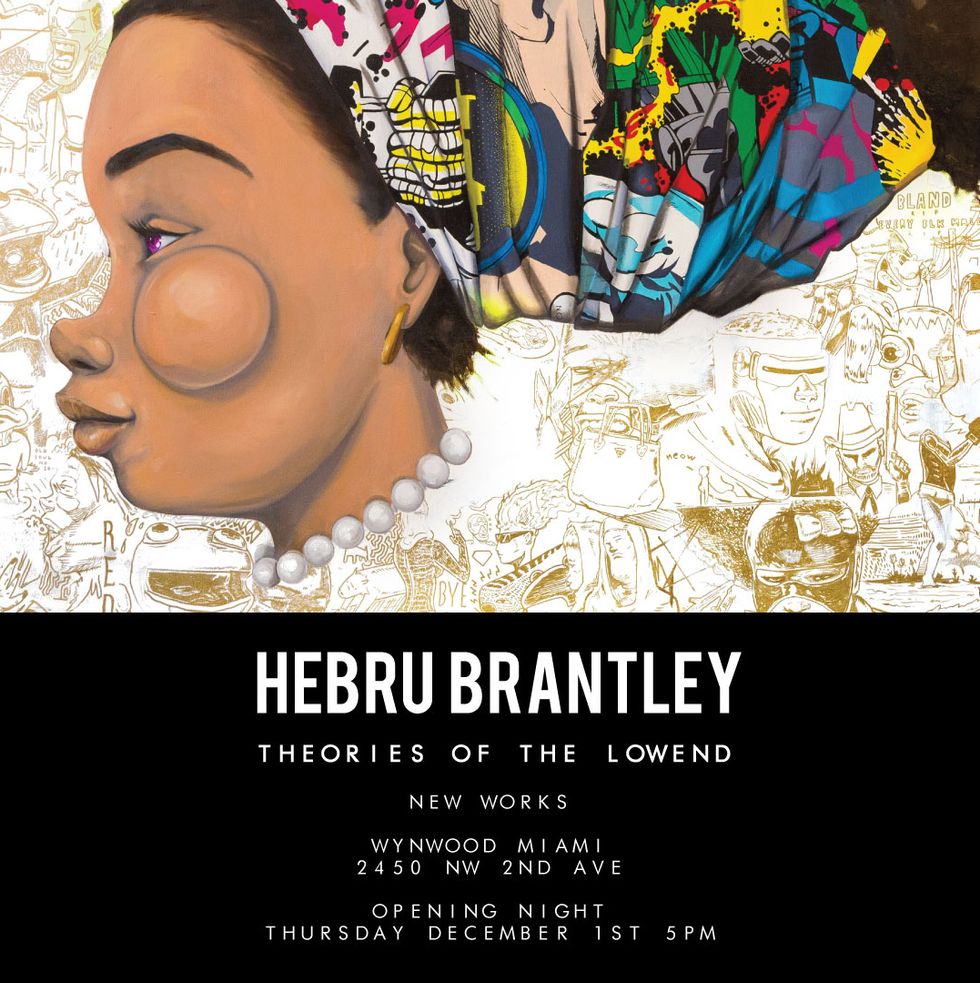 Chicago-based artist Hebru Brantley has an exhibition called "Theories From the Low End" opening today and up thru January 7 at 2450 NW 2nd Avenue, Miami. Brantley "explores modern folklore by inserting black superheroes into American comic history." There's a party for Brantley with Virgil Abloh spinning on Saturday night at David Grutman's new Komodo Lounge (801 Brickell Avenue, Miami).
Be sure to stop by The Bakehouse Art Complex (561 NW 32nd Street, Miami) during the week and check out their 60 resident artist studios.
Mobile game DOTS commissioned artist Fabien Cappello to create a site-specific installation called "Casa Dots" for the Fasano Residences + Hotel Miami Beach (1901 Collins Avenue, South Beach). Check it out today thru Sunday, noon to 6 p.m.
SWOON and the Heliotrope Foundation host a launch reception for the 2016 Heliotrope Prints featuring Aidan Koch, Rashaad Newsome, Kenny Scharf etc. tonight, 6 to 9 p.m., at The Dog (1306 North Miami Avenue, Miami. The Dog also hosts several nights of art/design (Tim Biskup, Mogollon, Stephen Burks Man Made etc.) and music (Brenmar, Craze, Peachfuzz, Gaslamp Killer, DZA, Nick Hook etc.) curated by Major Lazer's Jillionaire thru Saturday, 8 p.m. until late.
The Webster (1220 Collins Avenue, South Beach) has an exclusive collab collection with the NYC-based artist Enoc Perez featuring a limited-edition tote bag and five watches by Bamford Watch Department.
George Yabu & Glenn Pushelberg launch a new collaboration with Italian luxury brand HENGE at a private cocktail event at the Solesdi Showroom in the Design District on Thursday. Also check the new HENGE collection designed by Massimo Castagna. RSVP mandatory.
Design Within Reach and Regan Arts host the launch of Trey Speegle's new book "Yes: Transform Your Life With Color By Number" on Thursday, December 1, 6 to 8 p.m., at DWI (4141 NE Second Avenue, Miami)
The Savannah College of Art and Design curated an exhibition called "Theater of Self" featuring work by the London-based artist and designer Daniel Lismore at 1601 N Miami Avenue in Miami. There's a VIP opening on Thursday from 6 to 9 p.m. with rsvp mandatory.
Galerie Magazine and Luxury Living celebrate LL's new collections tonight, 8 to 11 p.m., at the Luxury Living Showroom (90 NE 39th Street, Miami). rsvp please
Preview a new Riviera Maya, Mexico, hotel called UNICO 20°87° from December 1 through 3, noon to 8 p.m. daily, at their sister property NOBU Eden Roc (4525 Collins Avenue, Miami Beach). There will be art from Angulo 0 Gallery, jewelry by Caralarga, retail by Spanglish, plus mezcal tastings. RSVP mandatory.
NYC cocktail bar Employees Only pops-up for two days (Thursday and Friday) during Art Week at the Washington Park Hotel (1050 Washington Avenue, South Beach).
The FREEHAND Miami (2727 Indian Creek Drive, Miami Beach) hosts a spotlight on Mexican artists on December 1, 7 to 11 p.m., with live mural painting by Diana Garcia, DJ Eyal Agai and Don Julio cocktails. Plus they've got a party for women artists from the Miami area with Wild Belle DJing on December 2, 7 to 11 p.m. And, since they are opening another Freehand in LA soon, they've also got a pool party for California artists (Lauren Ys), DJs and vendors (Adina Mills Jewelry, Vida Kush) on December 3, 1 to 6 p.m., with Midori cocktails.
Absolut Elyx will have a pop-up retail shop at the Spectrum Miami fair (1700 NE 2nd Avenue, Miami) from Thursday thru Saturday, noon to 8 p.m. daily. The luxury vodka brand also launched an online retail store HERE. Taste signature Elyx cocktails all week in their private bar, "A Little Bird Told Me," in the EDITION Hotel (2901 Collins Avenue, Miami Beach).
EAST Miami (788 Brickell Plaza, Miami) celebrates the unveiling of Harif Guzman's exhibition "A Chillies Armos, A Mother's Love" on December 1, 7 to 10 p.m. Brittny Gastineau co-hosts and DJ iLoveMakonnen spins. RSVP w/invite only.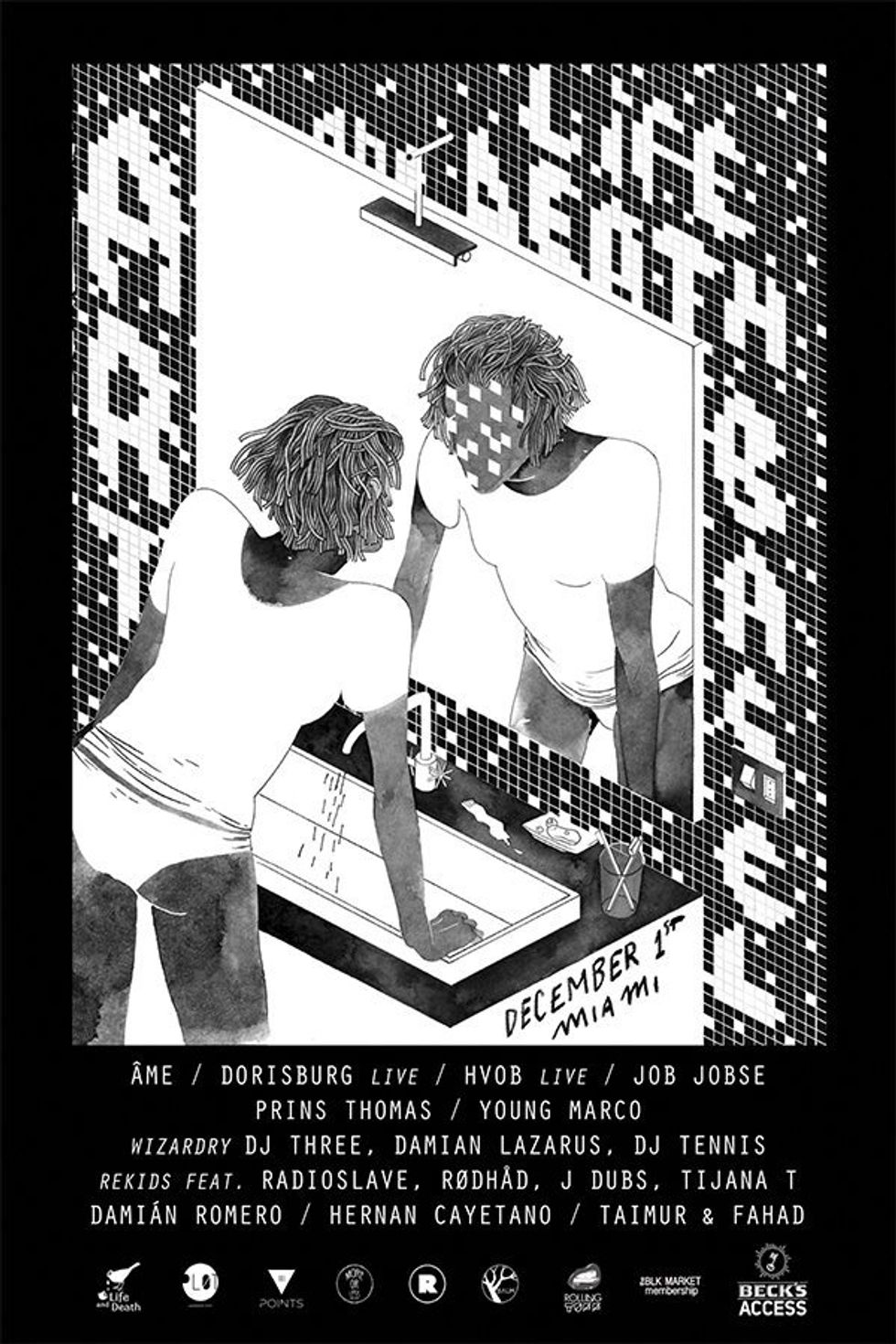 The Life & Death party returns for a fifth year with Ame, Young Marco, Prins Thomas, HVOB and many more in a new space at Little River Studios (300 NE 71st Street, Miami) on Thursday, December 1, 7 p.m. to 7 a.m. Also on December 1, the folks behind III Points present Young Thug, Shlohmo, Nick Leon and indigochildrick at Magic City. The entire schedule of III Points events during AB/MB is HERE.
The Surf Lodge pop-up at the W South Beach has a party for artists Katherine Bernhardt and Eduardo Sarabia. RSVP mandatory.
Pussy Riot plays in the Up&Down tent behind the Nautilus Hotel (1825 Collins Avenue, South Beach) tonight at a party for NYC gallery The Hole.
Catch Boyfriend and her rap cabaret tonight, 11 p.m., at The Anderson ( 709 NE 79th Street, Miami).
Calvin Harris at LIV in the Fontainebleau Hotel (4441 Collins Avenue, Miami Beach) tonight.
Travis Scott with Virgil Abloh at STORY (136 Collins Avenue, South Beach) tonight.
Splash photo: Spielbergian Climax, by Hebru Brantley