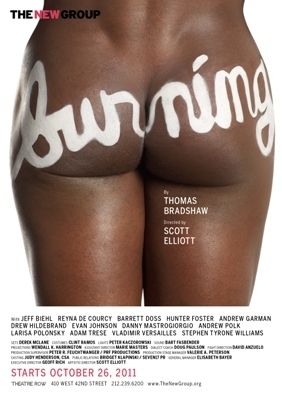 I've been following the provocative young playwright
Thomas Bradshaw
for years, and I've never been disappointed. I go to his plays happily expecting to be shocked, challenged, and also knowing I will be laughing hard at some things on stage that many others would simply call "sick."  Also I know that Bradshaw will give us a story, one that we can follow, and be continually surprised by its devious turns. With his latest,
Burning
, he gets a full-on Off-Broadway production by The New Group, with Scott Elliott directing, and a large cast of 13, that includes downtown ace Jeff Biehl and Broadway's Hunter Foster.  I spoke with
Bradshaw
. 
I get the idea that this is a large-in-scope play.
This one takes place in two different time periods.  The first one involves five gay men in the '80s.  In the plot line, one of the men is the head of the Performing Arts High School in New York City.  He's holding auditions for students, and a 14-year-old kid from San Francisco, named Christian, comes to try out.  The kid bombs the audition, but afterwards he tells the man that his mother had just died from a drug overdose, and he has no place to call home.  The partner of the man who is the head of the high school is a Broadway producer, and these two men take the young Christian into their household and essentially become his parents; and that all happens in the 1980s. 
Then, in the present day, we follow the plot of this black painter, who hides his race because he doesn't want any gallery to show his work because of affirmative action.  He's totally obsessed with his work being shown on its merit alone. 
Then there's a third plot line too: a Neo-Nazi family in Germany, also present day.  The Neo-Nazis parents died in a car accident, and their daughter is disabled.  So now the sister and brother live alone, and the older brother takes care of the sister.  The black painter goes to Germany for a show, and there the two plot lines connect.  The Neo-Nazi works at the gallery where the black painter is going to have his show. 
And these stories intersect with the '80s story because the boy from San Francisco, Christian, is the half-brother of the black painter's wife, who is English, and Caucasian.  So that's the basic plot but it gets more complicated than that. 
It sounds epic.  What else?
I could tell you all sorts of things about it, but all the rest starts to give things away.  In the '80s plot, the guy who takes in the boy, the high school principal, he truly loves him, and they go back to San Francisco to bury the boy's mother, after she ODs.  But also, he and his partner turn him into their houseboy, cooking and cleaning, and they start to have a sexual relationship with him.  It's unclear who starts the sexual action.  We have this scene and it's ambiguous, but the boy walks in on the two men having sex, and they ask, "Do you want to join us?"  It's based on a true story, like most of my work is. 
Then in the present, when the black painter gets to Germany, the Neo-Nazi at the gallery is real excited that this painter is coming over to have his show there.  But he completely misinterprets the black painter's work; he thinks he's a Neo-Nazi too.  He wants to be the guy who shows him around, until he meets him at a hotel.  As soon as he realizes his mistake, he lies and says his disabled sister needs him, to get out of taking him around Berlin. 
This is a complicated play.
There are three funeral scenes in the play; three full stories, that take place in America, England and Germany.  It'll probably be two and a half hours.  It's my longest play to date.  Usually they are about an hour. 
The New Group at the Acorn Theatre, Theatre Row, 410 W. 42nd St., (212) 239-6200. Opens Nov. 14-Dec. 17. Mon., Tue., Wed., 7 p.m.; Thur., Fri., Sat., 8 p.m.; mat., Sat., 2 p.m. Tickets are $61.25 and available here.