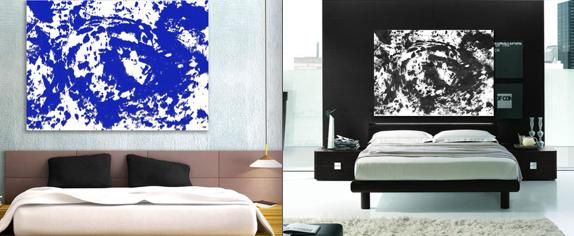 These were made by sex

If this
Valentine's Day
you're looking for something a little different, perhaps a touch more creative, might we suggest treating you and your significant other to
The Love Is Art kit
? 
Jeremy Brown
, the Founder/Owner of Love Is Art has created a gift package that lets you and your partner "make an abstract painting while being intimate."
What's inside the box?
-80" x 90" plastic sheet to protect surfaces from paint splashes
- 54" x 41" specially treated non-allergenic white cotton canvas
- 4oz bottle of specially formulated non-toxic, washable paint
- Two pairs of disposable slippers
- Custom body scrubber
What's more, the kit comes in two colors: Black ($60) and Klein Blue ($89) to suit your mood. Just think! The next time you have a party and that snotty couple from down the street comments on how nice your painting above the mantle is, you can have the satisfaction of knowing that in addition to art taste, you probably also have a better sex life too.