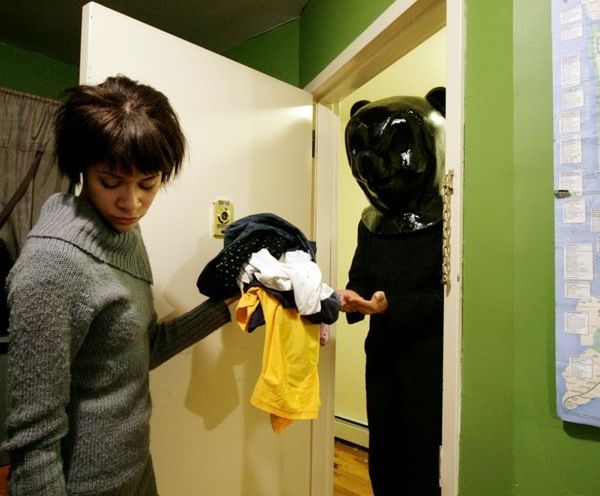 Performance artist
Nate Hill
used to lead "garbage tours" through Chinatown, scavenging with others for animal carcasses to re-purpose for "personal taxidermy" projects. His latest venture,
Death Bear
, also involves collecting objects others no longer have use for: specifically, mementos that conjure painful memories of exes and lost loved ones. For the past year, Hill has been paying visits to people's houses wearing a large black bear head to excise clothes, photos, and whatever other objects clients would like to give him, he says, to help "make the pain go away."  Death Bear, who's making free Valentine's Day rounds in Brooklyn starting today through Sunday, recently chatted with PAPERMAG about his service and what happens to the things he's given.
What sorts of objects do you receive? What's the strangest thing you've ever been given by a client?
Mostly, I collect things like clothes and pictures from women that remind them of their ex-boyfriends. I don't think any objects are strange -- it's not my place to judge.  I will take anything as long as it fits in my duffel bag.
Do people ever ask Death Bear for their stuff back?

Even if they did, the objects are gone forever. Even I don't know where they went. The cave absorbs them. I was born in the cave, but not with the knowledge of how it works or where I came from.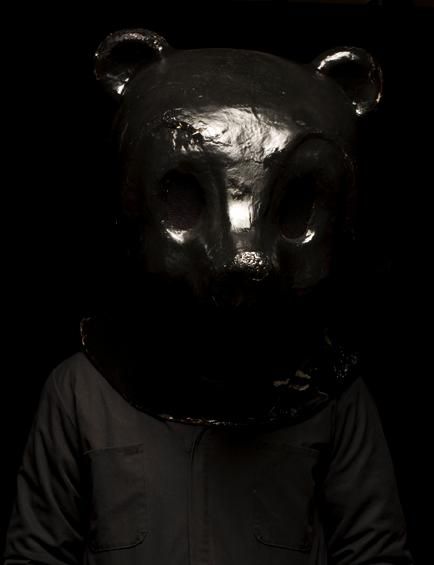 What does your cave look like?
Imagine a warm black hole with a bed
.

What does Death Bear do when someone cries?

No one has ever cried fully. People often get choked up and begin to almost cry. But then I think they remember that I am only a bear and may not have the ability to understand their emotions.
How does Death Bear handle his own loss and heart break?
I empathize with the people I serve.  But I cannot get too emotionally involved because I'm a bear and just like you, I get tired, and also I am simple.  But after a long day of relieving objects from homes, I like to sleep peacefully in my cave.
Does Death Bear ever become involved with his clients?
No
.

Death Bear will be making free house calls in Brooklyn only today thorough Valentine's Day. Text (347) 742-2293 to schedule an appointment.
Death Bear portrait (top) by Teresa Nasty, Death Bear portrait (bottom) by Kevin Walsh.