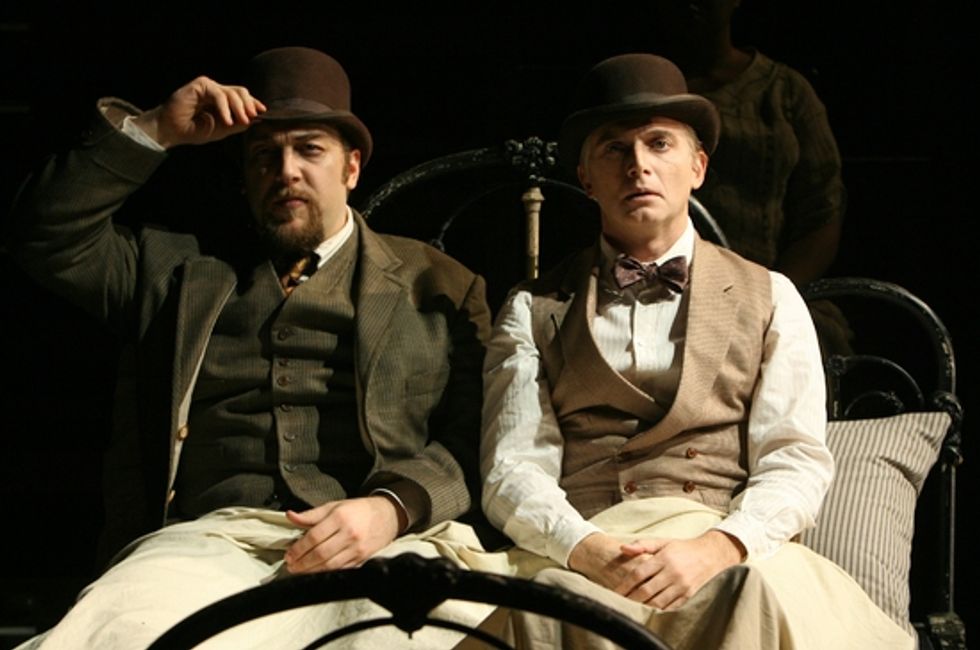 ROAD SHOW
It's been a long time coming, with different titles and re-writes, but at last the new Stephen Sondheim musical has arrived, with a book by John Weidman, and set design/direction by John Doyle. The play (based on a true story) revolves around two brothers who chased the American dream from the Alaskan gold rush to the Florida land boom. The masterful Michael Cerveris and Alexander Gemignani (Sweeney Todd), who are pictured above, play the not-to-be-denied siblings, in a cast of 15.
Public Theater, 425 Lafayette St., (212) 967-7555. Previews Oct. 28, opens Nov. 18-Dec. 28.
MOUTH TO MOUTH
The New Group kicks off their season with an English import, written by the playwright and BBC screenwriter Kevin Elyot and directed by Mark Brokaw (Cry-Baby), about a gay male writer, living with AIDS, who attends a female friend's party to welcome her teenage son back from abroad. A cast of seven, including the splendid David Cale and the excellent Lisa Embry, unravels a story of passion, deception and eventual betrayal.
The New Group at Theatre Row, 410 W. 42nd St., (212) 279-4200. Previews Oct. 21, opens Nov. 6–Dec. 27.
AMERICAN BUFFALO
The title refers to a rare nickel, and the plot concerns the planned heist of said coin, by three wannabe con-men, in this early (1975) David Mamet jewel of a three-hander. Chicagoan Robert Falls (Death of a Salesman) directs the star-powered trio: multi-talented John Leguizamo, comedian Cedric the Entertainer, and Haley Joel Osment, all grown-up since The Sixth Sense.
Belasco Theater, 111 W. 4th St., (212) 239-6200. Previews Oct. 31, opens Nov. 17.
STREAMERS
This David Rabe drama about young soldiers made a big impact in 1976. Set in 1965, the focus is on four men who have just finished boot camp and are on their way to a still escalating Vietnam War. Tensions rise over race, sex and class. The steady Scott Ellis directs.
Roundabout Theater Company at the Laura Pels Theater, Harold and Miriam Steinberg Center for Theater, 111 W. 46th St., (212) 719-1300. Previews Oct. 17, opens Nov. 11–Jan. 11.
CATCH 22
The hilarious, bittersweet 1961 novel by Joseph Heller was one of the most enjoyed books of the '60s. In '71, Heller attempted a play of it, and Mike Nichols made it into a movie; but here it is adapted and directed by Peter Meinich, and performed by a cast of seven for the innovative Aquila Theater. The plot: Yossarian, a bombardier on a B-25 and stationed on a small island off the coast of Italy, is only trying to stay alive during the war. As mission after mission is run, Yossarian begins to believe the world is going mad, with supporting characters like con man Milo Minderbinder and the obsessed Colonel Cathcart to prove it. Air Force regs say that you can get out of combat if you are deemed "crazy," but if you think what's going on around you is "insane," then you're obviously not crazy; and that's the "Catch 22."
Lucille Lortel Theatre, 121 Christopher St., (212) 279-4200. Previews Nov. 11, opens Nov. 23–Dec. 20.