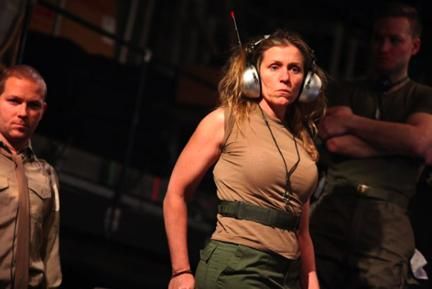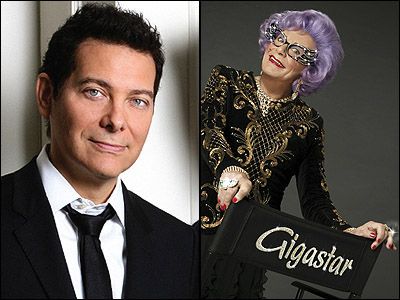 COME FLY AWAY
Come Fly Away
is a new musical for
Frank Sinatra
fans, who liked what
Twyla Tharp
did with
Billy Joel'
s songs in
Movin' Out.
She won a Tony Award for that one, and here again she has conceived, choreographed and directed a dance musical with Ol' Blue Eyes' songs. The setting is an evening at a crowded nightclub, and the story line follows four couples as they fall in and out of love. There'll be an onstage 19-piece big band and 15 world-class dancers.
Marquis Theatre, 1535 Broadway, 877-250-2929. Previews Mar. 1, opens Mar. 25.
MILLION DOLLAR QUARTET

"Blue Suede Shoes," "Great Balls of Fire," "I Walk the Line," "Whole Lotta Shakin' Goin' On" -- what would it have been like to have been in the Sun Records recording studio in 1956 when Elvis Presley, Jerry Lee Lewis, Johnny Cash and Carl Perkins dropped in to jam? Hunter Foster and Elizabeth Stanley join the four performers who played the rock 'n' roll legends when this show was a big hit in Chicago. Eric Schaeffer directed, with a book by Colin Escott and Floyd Mutrux. The musical direction is by Chuck Mead.
Nederlander Theatre, 208 W. 41st St., (212) 307-4100. Previews Mar. 13, opens Apr. 11.
ALL ABOUT ME

At first, All About Me's two stars, the outrageous insult comedian, Dame Edna, and the sophisticated singer pianist, Michael Feinstein, were reportedly feuding. Over what, no one knew. They've apparently since reconciled, and have decided to do a show together. It might have been the only way anyone could even imagine them sharing a stage. But they are, and master satirist Christopher Durang has helped write the script, along with the two principals. Casey Nicholaw (The Drowsy Chaperone) directs.
Henry Miller Theatre, 124 W. 43rd St., (212) 239-6200. Previews Feb. 22, opens Mar. 18.
LOOPED

I learned to love the inebriated zaniness of the old time movie star,Tallulah Bankhead by watching The Dueling Bankheads, a hilarious act performed downtown over the years by Clark Render and David Ilku . Here, in a comedy written by Matthew Lombardo, and directed by Rob Ruggiero, Valerie Harper plays Tallulah, who reportedly would enter parties doing cartwheels, sans underwear. In 1965, Bankhead is called into a sound studio to loop a single line of dialogue for her final film, Die, Die My Darling. It's not a good day for the sound engineer.
The Lyceum Theatre, 149 W. 45th St., (212) 239-6200. Previews Feb. 19, opens Mar. 14.
NORTH ATLANTIC
I saw the Wooster Group's original production of this play by James Strah in 1982. Steve Buscemi and Ron Vawter were in it, and it was a wonderfully funny dance and carrying-on romp, about the strange minds and people that comprise our military leadership. It's set on an aircraft carrier during the final years of the Cold War. Theater sorcerer Elizabeth LeCompte directs a cast of ten, which includes Wooster veterans, like Kate Valk, Scott Shepherd and Frances McDormand, as well as newcomers to the ensemble, like Jenny Seastone Stern and Paul Lazar.
Jerome Robbins Theater, Baryshnikov Arts Center, 420 W. 37th St., (212) 868-4444, Mar. 10 - 25.