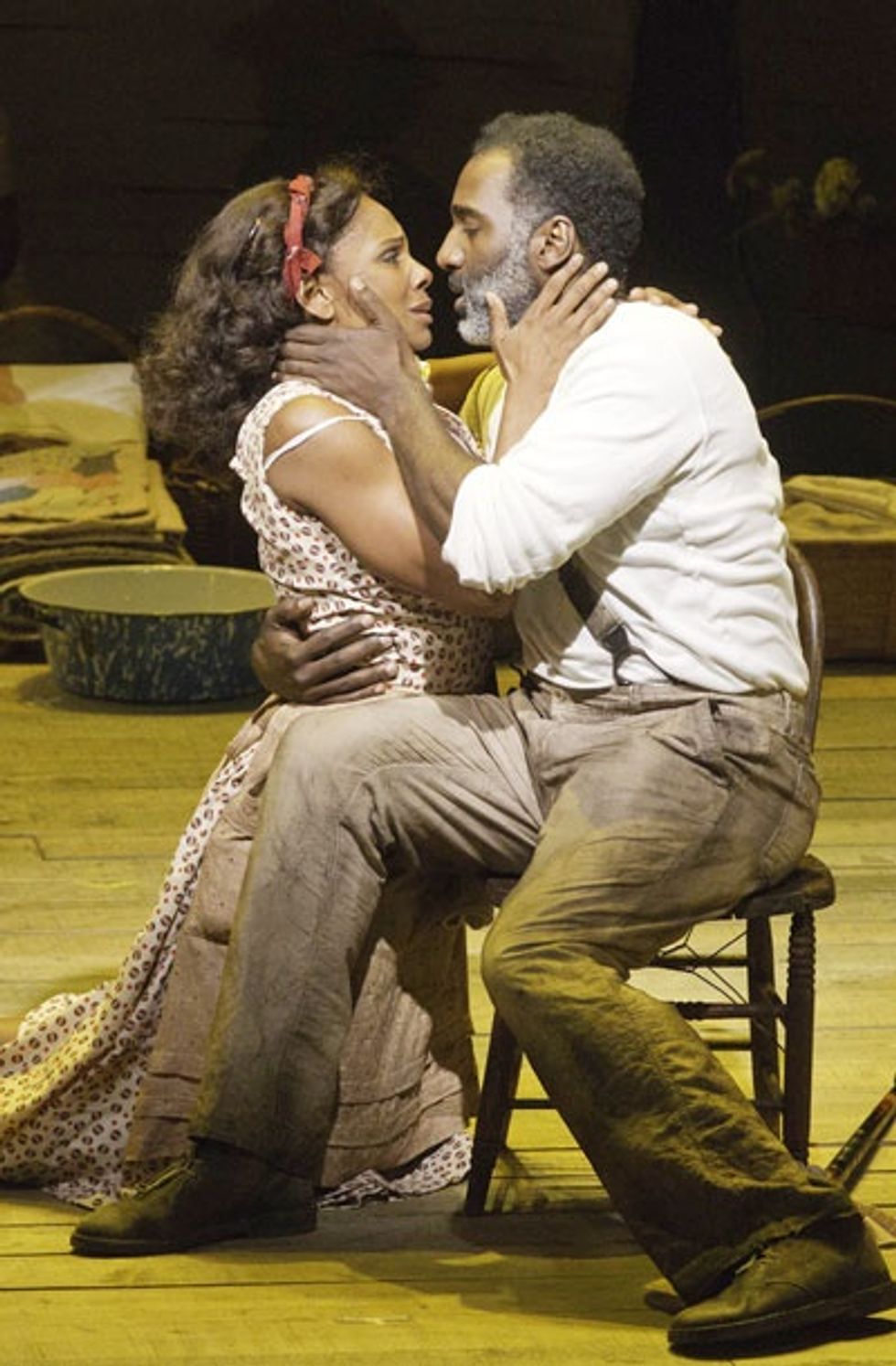 THE GERSHWINS' PORGY AND BESS
This is a new version, by director Diane Paulus and playwright Susan Lori-Parks, of  the steamy, Southern musical filled with bluesy, time-slowing classic songs, like "Summertime" and "It Ain't  Necessarily So." Four-time Tony Award winner Auda McDonald plays the put-upon Bess, with the scandalous past, who side-steps her former lover, Crown (Philip Boykin), and the colorful troublemaker, Sporting Life (David Alan Grier), as she tries to make a new life with the crippled but gutsy Porgy (Norm Lewis). Set on Catfish Row in South Carolina, it ought to make anyone forget winter weather.
The Richard Rodgers Theatre, 226 W. 46th St., Ticketmaster, (877) 250-2929, previews Dec. 17th, opens Jan. 12.
WIT
This is a revival of the first and only produced play by Washington, D.C. native Margaret Edson, a sixth grade public school teacher, who also worked in the cancer and AIDS inpatient unit of a research hospital. It opened off-Broadway in 1998, logged over 500 performances, and won the 1999 Pulitzer Prize, as well as Best Play by all the theater award groups.  Tony and Emmy Award winner Cynthia Nixon, hair shorn for the role, plays a poetry professor undergoing experimental treatment for cancer, with a supporting cast of eight.The play's got humor, heart and courage, and is directed by Lynne Meadow for The Manhattan Theatre Club.
Samuel J. Friedman Theatre, 261 W. 47th St., telecharge.com, 212-239-6200, previews Jan. 5, opens Jan. 26 - Mar. 11.
WORLD OF WIRES
Any show by 2011 Guggenheim fellow
Jay Scheib
is going to have elements of the future, both scriptwise and theatrically. His brand of theater always seems to be ahead of everybody else.
This is his new adaptation of
Welt am Draht,
Rainer Werner Fassbinder
's 1973 sci-fi TV series, based on
Daniel Galouye'
s 1962 novel,
Simulacron-3
.
The core idea is that we might all be ones and zeroes in someone else's immaculately programmed world.
So, are we living in a computer simulation?
Scheib and his cast of six powerful actors, and his imaginative set designer, will give that thought a go.

The Kitchen, 512 W. 19th St., 212-255-5793, thekitchen.org/wire, Jan. 6- 21.
GOB SQUAD'S KITCHEN (YOU'VE NEVER HAD IT SO GOOD)    
This show, from a UK/Berlin-based troupe of young and daring experimental theater makers, was a big hit at last year's Under The Radar Festival, and was my choice for Best Play of 2011. Their take-off point is an Andy Warhol movie, The Kitchen, which they replicate (somewhat) both live and on video; but then they take the show to places you never see coming, and (if you're like me) will knock you out in the most satisfying of ways. When I saw the show last January, I felt I'd seen a true masterpiece of theatrical possibility. Long live Gob Squad!
Public Theater, 425 Lafayette St., 212-967-9555, publictheater.org, previews Jan. 19, opens Jan. 23 - Feb. 5.
CATTYWAMPUS AND AWAY UNIFORM

  


The Incubator Arts Project has been well-serving independent artists who create original work for a few years now, and their instincts and support are strong.

 

For their January Other Forces Festival, they bring us two top theater artists, Robert Cucuzza and Tina Satter.

 
In Cattywampus, The Transit Authority's writer/director Cucuzza reinvents August Strindberg's Miss Julie in the modern day setting of a used car lot. His Julie (Jillian Lauren), disappointed sexually and otherwise with her used car dealer husband, sets out to seduce the lot's car detailer (D.J. Mendel). Julie Crockett provides a country western score.

In Away Uniform, representing her Half Straddle troupe, Satter gives us a companion piece to her delightful Pony Palace/Football, where again, sports and teammates are the focal point.  Her cast of three are top-notch downtown actors: Jess Barbagallo, Emily Davis and Pete Simpson. Chris Giarmo provides the music.
St. Mark's Church, 131 E. 10th St. (at 2nd Ave.), incubatorarts.org, theatermania, 212-352-3101, Cattywampus, Jan. 5- 21; Away Uniform, Jan. 6-10.