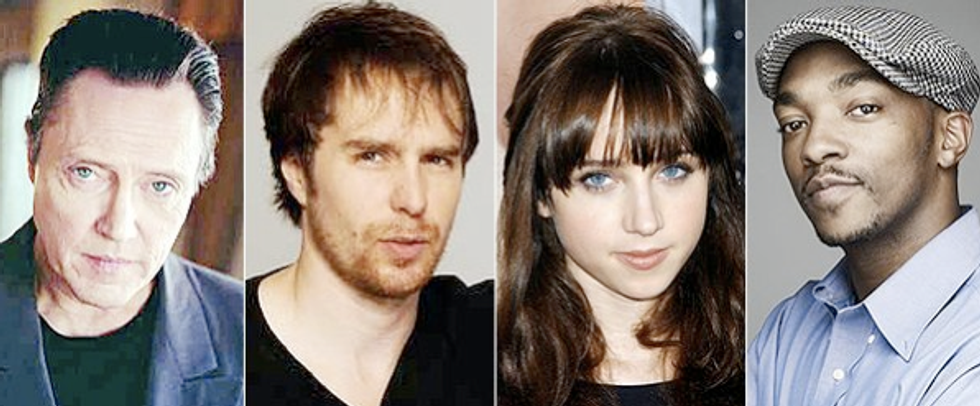 A BEHANDING IN SPOKANE
This is a new black comedy by the magnificent Martin McDonagh (
The Pillowman
), directed by John Crowley (
A Steady Rain
). The four-member cast is led by the consummate film actor,
Christopher Walken
. The plot revolves around the fact that Walken has lost a hand, and two con artists, played by
Anthony Mackie
and
Zoe Kazan
, promise they can get him a new one for a couple hundred bucks.
Sam Rockwell
plays an overly curious hotel clerk. The chance to see Walken on stage live, in a work by one the most exciting playwrights today, makes this a must-see.
The Gerald Schoenfeld Theatre, 236 W. 45th St., (212) 239-6200. Previews Feb. 15, opens Mar. 4.

THE DIVINE SISTER
Here is a new outrageous comedy, written by and starring the talented
Charles Busch
, who has been turning out camp classics since the '80's (
Vampire Lesbians of Sodom
) and similarly satiric screenplays as well (
Die, Mommie, Die!)
. This one is a homage to all the Hollywood movies about nuns. Busch plays a Mother Superior who wants to build a new school for her convent, but who has to deal with vision-seeing postulants and sex-hysterical sisters.
Julie Halston
(
Hairspray
) co-stars, and the supporting cast includes
Jennifer Van Dyck
and
Jonathan Walker
.

Theater for the New City, 155 1st Ave., (212) 352-0255. Feb. 6-Mar. 7.
MR. & MRS. FITCH
This is the world premiere of a new comedy by
Douglas Carter Beane, who really nailed it with
The Little Dog Who Laughed
. Scott Ellis directs two Tony winners in the title roles:
John Lithgow
, a recent Golden Globe-winner for his work in
Dexter
, and
Jennifer Ehle
, a hit in two Tom Stoppard plays. Here the pair play husband & wife gossip columnists.  Always looking for fresh dirt to fill their column, they decide to create their very own scandalous celebrity.
Second Stage Theater, 305 W. 43rd St., (212) 246-4422. Previews Jan. 26, opens Feb. 22
. 
THE BOYS IN THE BAND
This is a revival of
Mark Crowley
's breakthrough gay-life play of 1968. All sorts of lines were crossed in this all-male birthday party comedy/drama where witty sarcasm leads to nasty accusations and more. Jack Cummings III directs this ever-relevant period piece in a site-specific production.
37 W. 26th St., between Broadway & 6th Ave., the penthouse, (212) 352-3101. Previews Feb. 12, opens Feb. 21.
NEIGHBORS
Here is an electrifying and hilarious new comedy by Brandon Jacob-Jenkins, directed by Niegel Smith. I saw a staged reading of it awhile back, on the recommendation of our favorite provocateur scripter
Thomas Bradshaw
, who remarked about the playwright, "This guy is the real deal."  And he was right. The show is about two black families living side by side.  One is conservative, and the newcomers are tacky and uncouth actors (with names like Topsy, Sambo, Mammy and Zip), who wear clown-like makeup and are rowdy and loud. The conservative father just can't take it when it looks like the newcomers are invading his family.  Prejudice was never this funny.
The Public Theater, 425 Lafayette St., (212) 967-7555. Feb. 16-Mar. 7.

Photo via Broadway.com