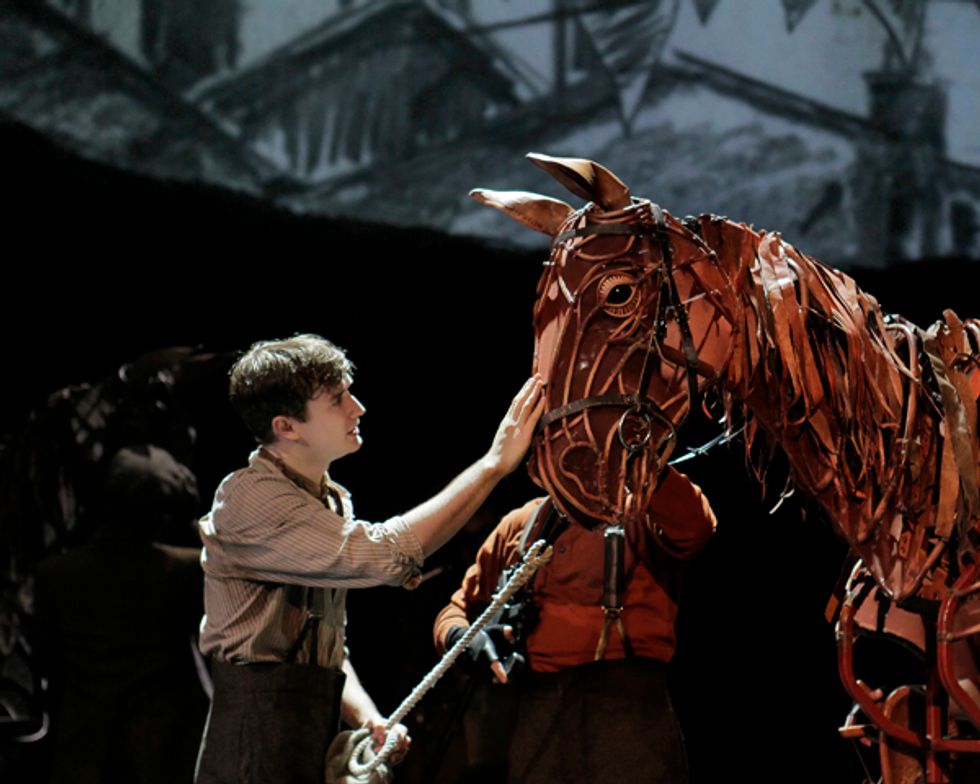 WAR HORSE
This show, a hit in London since 2007, and set during WW I, is about a young man and his horse. When the horse is sent off from his Devonshire village to be part of the cavalry on the front lines in France, he gets lost on the battlefield and the boy goes to find him.  Based on a book by Michael Morpurgo, adapted by Nick Stafford, and co-directed by Marianne Elliott and Tom Morris, the very human story of love and loyalty, fathers and sons, soldiers and officers is enhanced by life-like horse puppets, each manned by three puppeteers, and a cast of 35.  
Vivian Beaumont Theater at Lincoln Center, 150 W. 65th St., (212) 239-6200. Previews Mar. 15, opens April 14. Tickets available here.
THE MOTHERF**KER WITH THE HAT
From Stephen Adly Guirgis, the original resident playwright of downtown's classy LAByrinth Theater Company, comes a new down-to-earth drama, and a step up to Broadway, directed by Anna D. Shapiro.  The strong cast is led by the threesome of Bobby Cannavale, Elizabeth Rodriguez and Annabella Sciorra, involved in a love triangle, with support by comedian Chris Rock and Yul Vazquez.. It seems that Jackie (Cannavale) is out on parole, living sober, under the shaky 12-step sponsorship of Rock's character, not a comic role at all.  But the real action results from the fact that both of the women are in love with Jackie, and with Guirgis, you can expect some honest emotion and lines that land like punches.  
Gerald Schoenfeld Theatre, 236 W. 45th St., (212) 239-6200. Previews Mar. 15, opens April 11. Tickets available here.
CATCH ME IF YOU CAN
This was a wonderful movie by Steven Spielberg, with Leonardo DiCaprio in the lead role, about a compulsive con man who was able to convince people he could do things like perform surgery and fly a plane. Now it's a musical. Norbert Leo Butz plays the FBI man on his tail, Tom Wopat plays his dad, Kerry Butler his fiancée, and  Aaron Tveit (
Next to Normal
) plays the hard-to-catch Frank Abagnale, Jr.  But maybe the best part is that Marc Shaiman and Scott Whitman (
Hairspray
) have written the score, and Jack O'Brien (also of
Hairspray
fame) directs.  These guys know how to make a musical fun. 
Neil Simon Theatre, 250 W. 52nd St., (877) 250-2929. Previews Mar. 14, opens April 10. Tickets available
here
. 
GO BACK TO WHERE YOU ARE
Playwrights Horizons is producing a new play by the protean David Greenspan, who can do it all.  If you doubt me, try not to listen to every syllable when he speaks on stage; he was born to be on the boards, and his writing is smart and funny too.  Here, he and six other actors, including downtown's sparkling jewel, Mary Schultz, will enact the tale of a forgotten chorus boy (Greenspan) from Ancient Greece, who is sent on a mission from God to a vacationing family in Montauk, where he remembers how to fall in love.  This comic romance is directed by Leigh Silverman, who superbly staged Lisa Kron's
Well
on Broadway, and her more recent masterpiece,
In The Wake
, at the Public. 
Peter Jay Sharp Theater, 416 W. 42nd St., (212) 279-4200. Previews Mar. 24, opens April 12-May 1. Tickets available here.
UNDER CONSTRUCTION
The successful experimental SITI  Company, directed by Anne Bogart, once again joins with collagic playwright Charles Mee, to paint a juxtaposed picture of America: how it was in the '50s and how it is today.  Art figures like Norman Rockwell, and his classical, innocent
Saturday Evening Post
covers, along with contemporary installation artist Jason Rhodes, whose constructions are huge and messy, were part of the show's inspirations.  But past Bogart/Mee collaborations promise theatrical and visual inventions that will take things a step further. 
Dance Theater Workshop, 219 W. 19th St., (212) 924-0077. Apr. 21-May 7. Tickets available here.

Photo from
War Horse
by Paul Kolnik