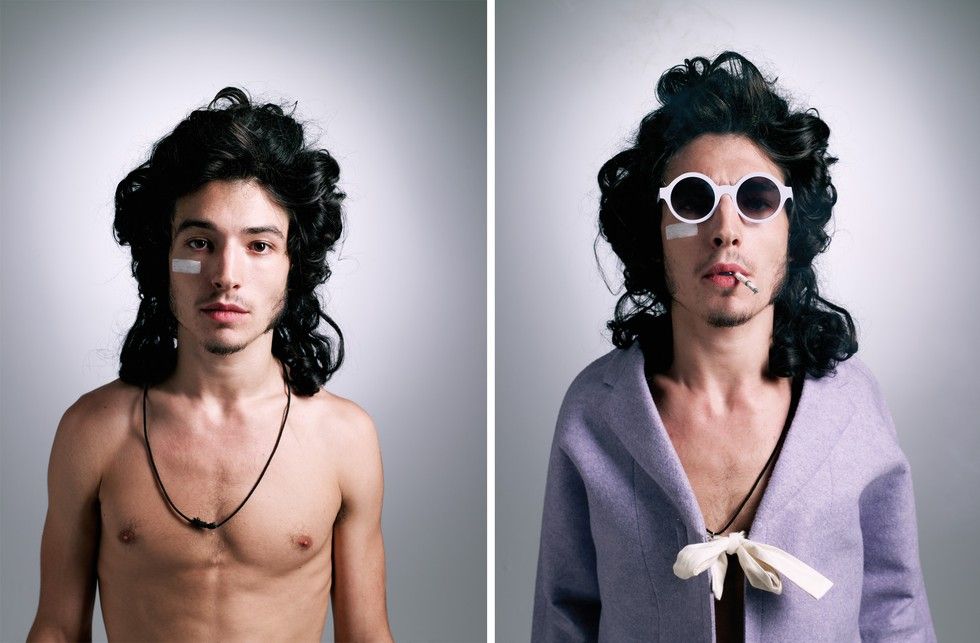 Blazer by Comme Des Garcons and sunglasses by Illesteva.
Ezra Miller played Lincoln Center before he was a decade old and the Metropolitan Opera House not long after.            
He made his name in a string of eye-catching little independent films (
Afterschool
;
City Island
), and arrived incontrovertibly with a frightening, dead-eyed performance as a budding psychopath in last year's
We Need to Talk About Kevin
.       
In September comes
The Perks of Being a Wallflower
, Stephen Chbosky's adaptation of his own best-selling young-adult novel. With its cracked sweetness and plainspoken honesty-- characteristics relatively rare in teenage popcorn flick --
Perks
feels like an inheritor of the John Hughes canon. Logan Lerman plays the central character, Emma Watson the romantic lead, and a supergroup of Hollywood talent (Paul Rudd, Joan Cusack, Dylan McDermott, et al.) rounds out the supporting cast. But it's Miller, with his twitchy, galvanic performance as the irrepressible Patrick, who looks (as it might be written in a high school yearbook) most likely to walk away the breakout star..
It has already been a good few years for Miller, originally of New Jersey ("the dirty borough," he says), currently stationed in a postwar apartment building on a side street in Chelsea. The upshot of his remarkable performance in
We Need to Talk About Kevin
was that suddenly Hollywood needed to talk about him. His
Kevin
costar Tilda Swinton loves him. So do critics. At the Cannes Film Festival, where he went with
Kevin
, he walked off with the Chopard Trophy, for the Male Revelation of the Year.
Revelation has been something of a Miller specialty. Though he says that "outside of art, I don't really want to have anything to say to the mass public," he has been steadily expressing himself to reporters -- not always necessarily to his own credit -- since his star began to rise. So when he brings out that, "I just started, as of a month ago, to my own extreme displeasure, being my own publicist," it can inspire the same wry wariness as when an alleged criminal elects, lawyer-free, to mount his own defense.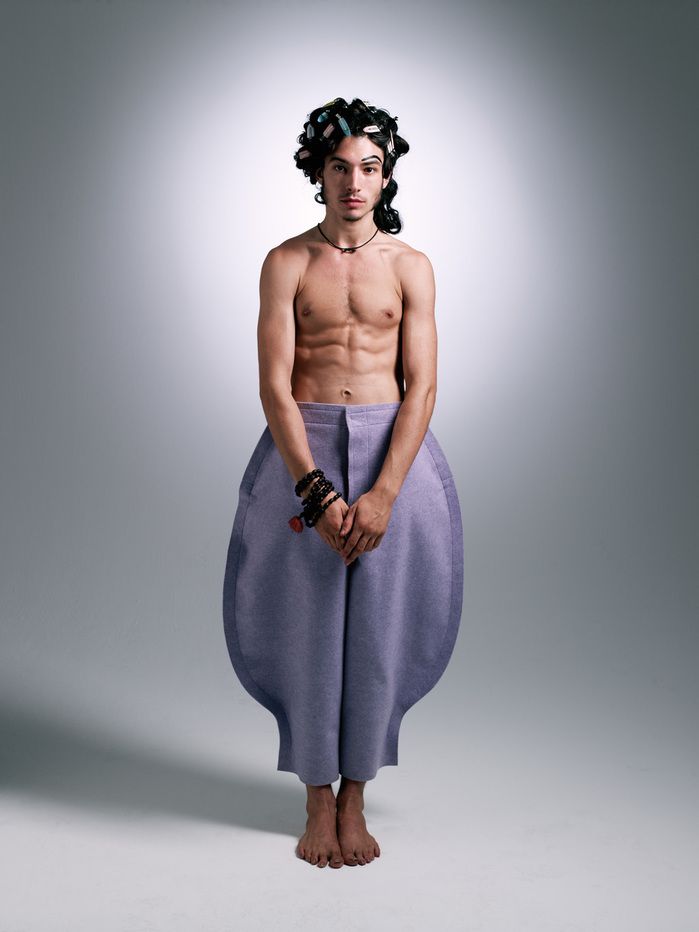 Pants by Comme Des Garcons.
Miller has invited me to his apartment to talk. He's attended by an entourage of friends and collaborators -- they've recently been recording music together. There are loose pages of graph paper scattered all over the floor, covered in scrawl ("DARK AGES?" is one passage I can make out), which Miller calls "planned schematics" and which have something or other to do with the Federal Reserve.
Without undue effort, Miller commands the room. His audience circles loosely around him (they'll later trot behind him to our photo shoot), offering tea, red wine, miniature cupcakes and very occasionally, commentary. Tucked into a miniature leather armchair, Miller answers questions and offers pronouncements, occasionally cocking an ear to consider a conversation in the next room about the works of Oscar Wilde, or wandering away in a self-incited passion about the films of Shion Sono. He's got a thick spray of black hair interspersed with grays, giant, dirty feet and the slight funk of one with loftier pursuits than diligent scrubbing. It all contributes to a kind of off-kilter charisma. Ezra Miller is not a wallflower. And it turns out not being one has its perks, too.
•  •  •
If you were -- or knew -- an adolescent in the early-aughts, there's a decent chance you know
The Perks of Being a Wallflower
in its original incarnation. Chbosky's novel openly and honestly tackled the darker issues adolescents can face: isolation, rejection, suicide and abuse. (The American Library Association placed him on its annual list of most frequently challenged authors in 2004 and 2006-09.) That's how Miller knew it. "Read the book when I was 14," he says. "Was totally valuable to me. Really helped me feel kind of OK about things that nobody ever still feels OK about."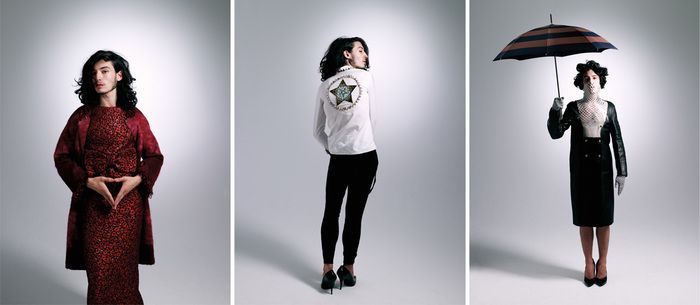 (L-R) Coat by Anna Sui and dress by Chris Benz. / Shirt by Creatures of the Wind, pants by Sonia Rykiel and necklace by Burberry/ Coat and turtleneck by Alexander Wang, gloves by Creatures of the Wind and umbrella by Burberry. 
The story of high school freshman Charlie (Lerman), the titular wallflower, coming out of his shell, facing down his demons, and finding his way into friendships -- like one with the gay senior Patrick -- resonated with many, including Miller. So much so that when his agent called with
The Perks of Being a Wallflower
script, he explains, "I said that I probably was not going to want to do that."
Why not? "Because it's a book I really love. My immediate spark reaction was, oh my God, why are they doing that? You know what I mean? The book-reader reaction, any time you hear a film is getting made. The classic," he grins, and winds himself up into an escalating yelp: "
Noooo
-- no, don't do it. Why you gonna do it?  Oh no, begone! It is very legitimate and very valid to be terrified of what someone might do to someone else's art. That's a freaky concept."
That was before he learned that Chbosky was adapting the book for the screen and directing it himself. "Then I was like, oh my God, that's awesome. That sounds awesome."
According to Chbosky, Miller was the perfect fit for the part. "Patrick was the most difficult part to cast," he tells me. The character needs to provide both sensitive guidance and comic relief, gravity and levity. Patrick is a "merry prankster who in a devious way is the smartest kid in the school." 
Miller has a sparkplug intensity that's hard to tear your eyes away from -- so much so that it occasionally feels that his character has wandered in from another movie. There's a little Captain Jack Sparrow to Patrick, de-pirated and sent to high school. 
Life imitated art during the three-month shoot in Pittsburgh, with Miller taking on the prankster role off-set as well as on. "Patrick as the goofball ringleader," he says, "for someone like me, that's an easy energy to hold." (Goofball may be a polite word for what Miller was. He and the cast stayed at a local Crowne Plaza Hotel, and "kind of ended up taking up the whole floor. A bunch of people moved out. It became an issue.")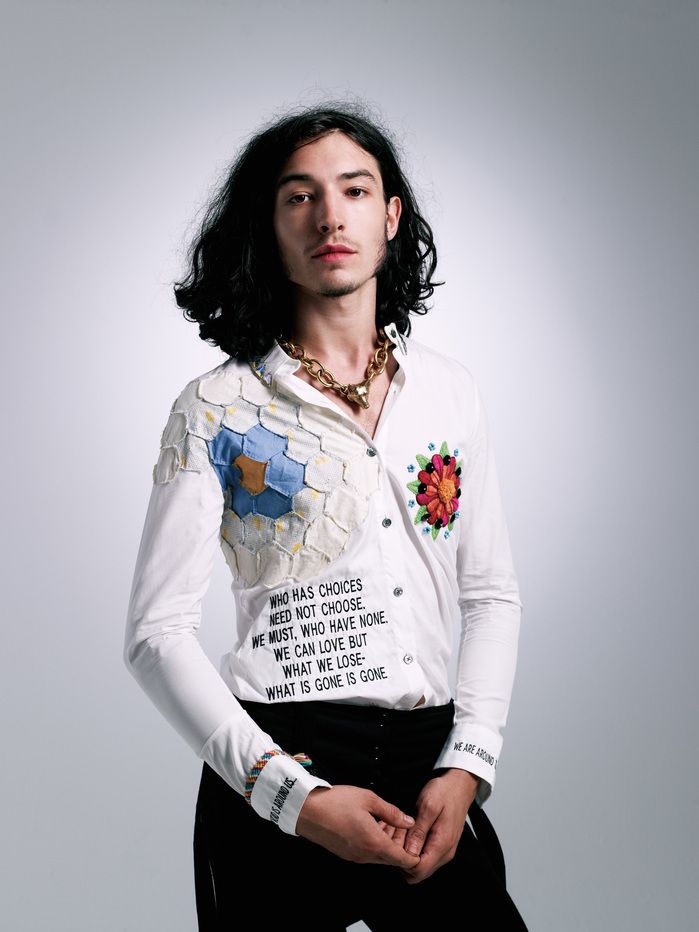 Shirt by Creatures of the Wind, pants by Sonia Rykiel and necklace by Burberry.
But he inhabited the character's good qualities, too. "He instantly bonded with Emma," Chbosky recalls of their time on set. "I think he just took it upon himself to become her big brother, in a sense, to become her protector. I'll never forget how close they were when they were doing the film." That kind of connection, and the strength it can provide in the face of adversity, is the key message of the film. "In terms of the story, everybody's having these individual experiences; everybody has their individual shit," Miller says. "Sometimes it's really intense, what that shit is. You don't often know it. But there's a universal experience also."
Miller's personal experience is less universal. The born artist, son of a dancer mother and a publishing-powerhouse father, who converted to opera at five when a kindergarten teacher played his class
Carmen.
The high school dropout, who abandoned school at 16 after Beethoven counseled him in a dream. The burgeoning celebrity who arrives at film premieres with a plastic frog poking out of his front pocket, brandishing an antler at the assembled paparazzi. The object of fixation -- some of it quite dark -- for a community of young women, one of whom founded an online forum of adoration headlined "I Pray To The Church Of Ezra Miller's Armpit Hair." Exceptional and, yes, intense. You're becoming a specialist in intense shit, I say.
"I don't know," he tells me after a pause. "That sounds like an unappealing job. But I don't know. Things are intense."
•  •  •
On set at Paper's shoot, Miller races over to the racks of exclusively women's clothing in which we're going to shoot him. "Is this the height of fall fashion?" he asks the stylist, fingering a flattened felt suit by the avant-garde Japanese label Comme des Garçons whose built-in curves make it look borrowed from the wardrobe of an overweight paper doll. It is, she says. "
Yesssssssssssss
," he hisses back.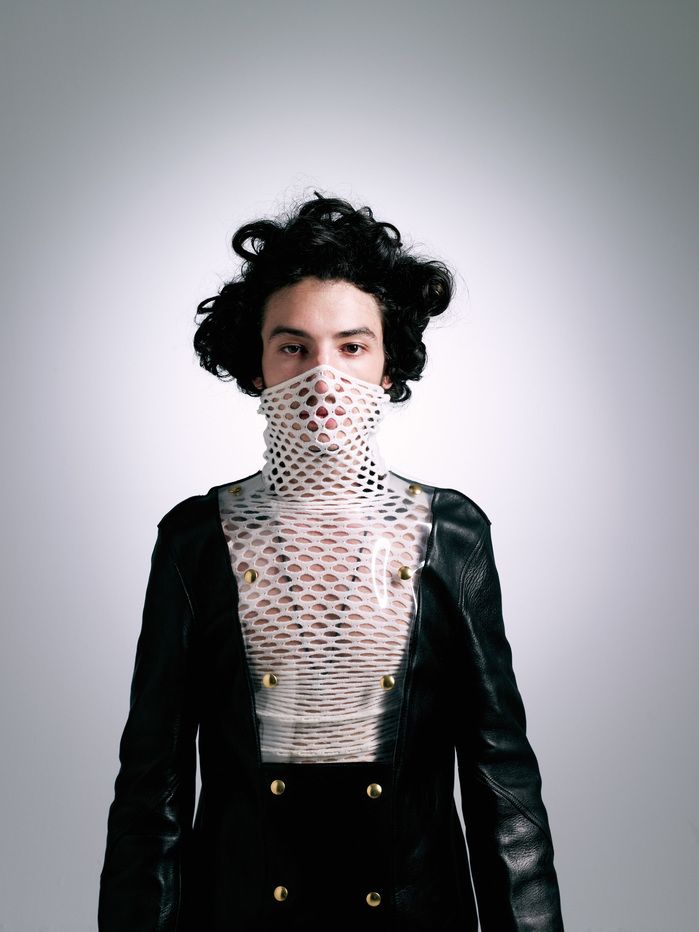 Coat and turtleneck by Alexander Wang.
Ezra is game. Game to try on women's clothes, game to throw on a coat of lipstick. Game to produce music with his friends. Game to play gay, as Patrick is, on film -- not a given, even in 2012, for a young actor -- and game to take on
Madame Bovary
next. (He'll play Leon, one of Emma Bovary's lovers, and to prepare, is reading the novel for the third time. "I love Gustave Flaubert. With a burning passion. I just want to kiss him on the forehead.")  He's game for just about whatever.
"Ezra's crazy-ish," says Chbosky, "in the most beautiful and benevolent way you could ever be. I really, truly believe that he can go wherever he wants to go. The only question is where he wants to go. And that's entirely up to Ezra. He has the talent to be one of the preeminent actors of his generation. He's also a wonderful musician. He's also a wonderful artist. And something of a wanderer. I wouldn't be surprised if by the end of his career, Ezra won three Oscars. Or if he ended up writing a book about his five years traveling on the roads. He's that kind of a free spirit."
"I'd really like to work in all artistic forms and industries," Miller tells me, "for as long as I have legs."
"When I say crazy-ish," Chbosky clarifies, "what I mean is, that boy is lightning in a bottle. And I don't know if the bottle could ever be big enough for him."
Give a girl a good pair of shoes and she can conquer the world, the old saying goes. A boy, too, if you can find a pair of patent leather stiletto pumps in a size 13. (Miller wears the ones our stylist found in a drag boutique on Hollywood Boulevard.) So I leave Miller vamping up and down the studio in heels, clouds of smoke trailing in his wake.
And just before I go, the film's publicist -- not Miller's, of course -- has a message from Chbosky. He woke up the day after we spoke wanting to make sure, doubly sure, that I understood what he meant by crazy-ish.
Hair by Cash Lawless using Oribe at The Magnet Agency • Makeup by David Tibolla for M.A.C at Artists by Next Management.