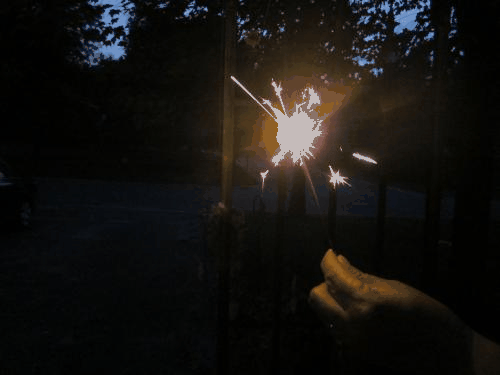 Wednesday
The Lone Ranger Opens
Be one of the first people to see Johnny Depp play a totally cringe-y Tonto to Armie Hammer's Lone Ranger when the flick opens tonight. It also stars Helena Bonham-Carter.
In theaters nationwide
50% Off at Colette
Colette may be the chicest boutique in
Paris
, but you can still get 50% select merchandise online through this weekend, even if you're Stateside.
colette.fr
, runs 7/3-8/15
Souls of Mischief / GHE20 G0TH1K
Hear the alt Oakland MCs rock their two-decade-old 93
'til Infinity
over live jazz grooves, then stick around for Venus X's freak-chic rager.
S.O.B.'s, 204 Varick St., Manhattan; SoM: 9pm, $25, 18+; GG: 11pm, $12, 21+
Our Nixon at Socrates Sculpture Park
On the eve of Independence Day, revisit a darker period in our country's political history at the
outdoor screening
of
Our Nixon
, an archival documentary consisting of Super 8 footage filmed by three of Nixon's White House aides who later went to prison following the Watergate scandal. Should be some riveting stuff.
Socrates Sculpture Park, 32-01 Vernon Boulevard, Queens; 7pm, Free
60% Off at Opening Ceremony
Spring/Summer items will be heavily discounted, so prepare to search and high and low -- and maybe throw a few elbows -- to find those discounted
Spring Breakers unicorn sweatpants
.
Opening Ceremony, 35 Howard St., Manhattan
Nona Hendryx
Nona Hendryx's personality always outshone that of her group's namesake, Patti LaBelle; appropriately, she followed that group's demise by collaborating with downtown punk-funkers Material and Talking Heads. Hendryx headlines tonight's tribute to poet and performer Sekou Sundiata. Expect songs from last year's strong
Mutatis Mutandis
.
Central Park Summerstage at 71st Street, Manhattan; 7 pm, free, all ages
ThursdayMacy's Fourth of July Fireworks
This year's Macy's Fourth of July Fireworks will be "directed and inspired by" Usher (?), and will feature performances from Taylor Swift, Tim McGraw, Mariah Carey and Selena Gomez. Like last year, this shiz will be set off on the Hudson, which means you'll need to trek over to the West Side for a good view, or, if you're in Brooklyn, plan on doing a lot of neck-craning.
Hudson River, Manhattan; music starts at 8 pm and the fireworks start at 9:20 pm
Rockabilly Night Market
Mold your hair into a pompadour and head over to Dances of Vice's second annual flea market riff at SRB. You can expect shopping (brands in attendance include Dated Vintage Style, Dusty Buttons, and Pan Am Originals), DJ sets, a vintage car show, live music, burlesque dancers, and a pinup photobooth. Additionally, a limited number of tickets are available for a rooftop cookout that includes unlimited PBR.
SRB Brookyn, 177 Second Ave., Brooklyn; 7pm Tickets are $10 in advance and $15 at the door
"4th of America Pizza Hot Dog Hamburger Party"
Roberta's is hosting this Independence Day bash at their new Tiki Disco home away from home, Maspeth, Queens' Knockdown Center, promising loads of beer, pizza, burgers and dogs from Rippers & Meat Hook and performances by local punk-pop thrashers Dirty Fences, sock-hop punks 1-800-Band and trance rockers Endless Boogie.
Knockdown Center, 52-19 Flushing Ave., Queens; 8pm-2am


Coney Island Fireworks
If you don't accidentally get too drunk and fall asleep by 5 pm after hitting up the hot dog-eating contest, stick around Coney Island for fireworks at MCU Park (where the Cyclones play). Start time is 4:30 pm, with oldies and top 40 cover bands, a "beers of New York" beer garden and a performance from the Brooklyn String Orchestra. In other words, this is going to be off-the-charts charming. Fireworks start at 9:30 pm. Admission is free, but donations will be accepted and will benefit the Brooklyn Public Library and Hurricane Sandy relief charity,
ConeyRecovers
.
Coney Island, Brooklyn; 4:30pm start time, fireworks at 9:30pm


Deafheaven
The SF shriek-gaze ensemble plays tunes off this year's much-blogged-about Sunbather. With Marriages, Aun, and Theologians.

285 Kent Avenue, Brooklyn, 10 p.m., $10. Tickets here.


Riverpark's First Annual July 4th BBQ
The Kips Bay restaurant is hosting a BBQ blowout in their outside patio, complete with smoked wagyu brisket, whole roasted pigs, fried chiken, house-made sausages, fish kabobs and all the fixin's any good barbecue should have (a.k.a. watermelon, corn on the cob, potato salad and more). And, if your stomach hasn't exploded, make sure to try strawberry shortcake, blueberry pie sundae and a red, white & blue sangria. There will also be live performances by Sea Monsters, Ski Lodge, Rocket & the Ghost and Caged Animals.

Riverpark,  450 E. 29th St., Manhattan; 1-6pm; $65 for under 21, $95 for 21+


The Opening of "6<<<>>>6 Part 2″ at Interstate Projects
The folks at Interstate Projects asked curators to organize projects in different parts of the gallery. This round includes Chelsea Haines, 247365 and Nicholas O'Brien.
Interstate Projects, 66 Knickerbocker Ave., Brooklyn; 6pm
PH-D Rooftop Party
Head over to the Dream Downtown hotel to get one of the best views of the fireworks shows along the Hudson River and indulge in Independence day food specials like pulled pork sliders and and watermelon caprese salad skewers.
PH-D Rooftop Lounge, Dream Downtown Hotel, 355 W. 16th St., Manhattan; Doors open at 4pm, Tickets HERE

Nathan's Famous Hot Dog-Eating Contest
Hit up the  grandaddy of all eating competitions at Nathan's Famous on Coney Island to watch contestants eat more hot dogs than you think could be anatomically possible.
Nathan's Famous, 1310 Surf Ave., Brooklyn; Women's championship starts at 11:25am, general contest at noon

Summerjam
No, it's not hosted by Hot 97, and no, it's not where the Mets play. What it is is Brooklyn's best punk rock cover band, the Shea Stadium All Stars, featuring members of Titus Andronicus and the So So Glos. Plus ambient arpeggiators White Bike and psychedelic loopers Pregnant.
Shea Stadium, 20 Meadow Street, Brooklyn; 6 pm, $5

Fatty 'Cue Pig Roast
For those who can't resist the siren song of smoked pork products, head to Fatty 'Cue's Williamsburg outpost for their July 4th pig roast. They also promise live music, "unlimited access to a self serve keg" (we're sold), "kitchen sink" punk, pulled pork sandwiches, brisket tacos and a whiskey pickle back station. Pre-feasting, gustatory calisthenics recommended.
Fatty 'Cue, 91 S. 6th St., Brooklyn; noon-8pm, $35

"Red, White and Juice" Party at SOAKED at Mondrian SoHo
Get panoramic views of the city atop the Mondrian SoHo's rooftop venue, SOAKED, and take in the fireworks while munching on popcorn and partaking of the beer and wine open bar.
Mondrian SoHo, 150 Lafayette St., Manhattan; 7pm-12:30am (open bar ends at 11pm); $95 tickets

Party at the King & Grove Williamsburg
If you don't have a Montauk connect, you can still make like you do by heading to the King & Grove hotel in Williamsburg, which is hosting a Fourth of July pool party complete with a DJ and a la carte food and drinks. Once you've had enough sun, swimming and rosé, head upstairs to the Upper Elm, the hotel's rooftop bar, where you can catch the sunset and toast the good 'ole U-S-of-A.
King & Grove Hotel, 160 N. 12th St., Brooklyn; $55 (not including food)

Hot Dog-Eating Contest at the Eventi Hotel
If you're not up for venturing all the way to Coney Island, you can still get your fix of watching men and women stuff hotdogs in their maws at the Eventi Hotel, which is hosting their own frankfurter-eating competition starring none other than erstwhile champ, Takeru Kobayashi. If all that hotdog eating gets you hungry, you can grab a treat from any one of the Hester Street food vendors who will be setting up shop on the hotel's plaza.
Eventi Hotel, 851 Sixth Ave., Manhattan; Competition begins at noon, plaza opens at 11

Back to the Beach Kick-Off
Sixpoint Brewery and My Social List are hosting this Rockaway Beach blowout to launch the free summer concert series taking place on the 86th street beach for the next two months. Grab a burger at Rippers, slather on some SPF 30 and have a Sixpoint brew (or four) while listening to live music by Friend Roulette, Celestial Shore, Pow Wow!., This Library is on Fire, and Hippy and The Roads.
Rockaway Beach at 86th St., Queens, 1pm

Maison Premiere's Fourth of July Party
The 4th is one of the only nice days this week and we can't think of many other outdoors spots more charming than the French Quarter-inspired boîte's garden -- hunker down, grab an absinthe cocktail, oysters, and chilled seafood and listen to the Bedford Avenue Society band.
Maison Premiere, 298 Bedford Ave., Brooklyn, ; noon-8pm

Cookout at The Dutch
Andrew Carmellini's upscale American comfort food spot will be shelling out Texas-style smoked brisket, suckling pig, St. Louis ribs, watermelon, corn on the cob, slaw, and pie in honor of the anniversary of our nation's independence. Cookout grub will be available for lunch and dinner eat-in or carry-out at $40/person.
The Dutch, 131 Sullivan St., Manhattan

Clam Bake at The Fourth
The new, aptly named East Village spot will be hosting a New England-style clam bake, complete with clams, mussels, lobsters, chorizo, steamed potatoes and corn. If you're in the mood to wash down your feast with something other than a beer, try one of their blackberry pancake cocktails.
The Fourth, 132 Fourth Ave., Manhattan, 11:45am-midnight; $36

Friday

Up to 60% Off Sale at Barneys
It's that glorious time of year again -- the double mark-down at Barneys. For those of us who are already on vacation, not to worry: the sale is also online and includes free shipping for all U.S. orders.
Barneys New York, 660 Madison Ave., Manhattan, and online

Gigawatts Fest
Williamsburg-centric PAPER spinoff zine 1.21 Gigawatts hosts twenty bands over two days, headlined by local stalwarts Team Spirit and Total Slacker.
Silent Barn, 603 Bushwick Avenue, Brooklyn; Friday and Saturday at 5 pm, $12 one-day, $20 for a two-day pass. Tickets here.

The Opening of the "Unhinged" Exhibition at Pierogi
The Flat Files were started in 1995 as a way to make art more accessible to the public. Over 70 artists made original artwork that had to fit into file cabinets, which traveled around the world, available for the public to dig through. 18 years later, Pierogi is putting the best of those flat files on display.
Pierogi Gallery, 177 N. 9th St., Brooklyn; 7-9pm

Speedy Ortiz
PAPER faves Speedy Ortiz celebrate the release of alt-rock opus Major Arcana with help from Baltimore's scuzzy riff sculptors Roomrunner and others.
Death by Audio, 49 South 2nd Street, Brooklyn; 9 pm, $8

Saturday

Theophilus London Concert in Prospect Park
Rapper, fashionplate and nightlife all-star Theophilus London is playing a free show tonight at Prospect Park, with Les Nubians and Aabaraki sharing the bill. Flavorpill predicts that the show will "turn into the biggest party in all of NYC tonight."
Prospect Park Bandshell, 62 West Dr., Brooklyn; 7pm; Free ($3 suggested donation)

Hot Dogs at Red Rooster
Get your July 4th hotdog fix, Marcus Samuelsson-style. The Red Rooster chef will be cooking up three types of dogs -- the midsummer (topped with shrimp salad, chili sauce and crispy onions), banh dog (with sriracha mayo, cucumber, carrots, and cilantro) and mac (dressed with cheese sauce, jerk bacon beans, cornbread crumbler, and pickles). Franks run $5-$7.
Red Rooster, 310 Lenox Ave., Manhattan; available July 4-July 8

Ghostbusters at Nitehawk
Watch Bill Murray, Dan Aykroyd, Rick Moranis and Sigourney Weaver fight ghosts (and deliver some of the best one-liners of all time) during this matinee screening at Nitehawk.
Nitehawk Cinema, 136 Metropolitan Ave., Brooklyn; 11:45am; $11 general admission/$9 children & seniors

James Chance and the Contortions
The downtown vet brings his skronk-funk combo to Bleecker Street, where they'll be joined by outsider savant R. Stevie Moore and local heavies Endless Boogie (see above).
(le) Poisson Rouge, 158 Bleecker Street, Manhattan; 10 pm, $15. 21+

Sunday

Tiki Disco at Knockdown Center
End the holiday weekend like a party champ by heading out to Maspeth, Queens for Tiki Disco at the Knockdown Center (though originally scheduled for Roberta's, the party has switched locations as of late). If you've never been to the massive space that once housed a glass and, later, door factory, this is probably one of the best opportunities to scope it out, get sweaty with a bunch of other attractive Brooklyn-dwelling twenty-and-thirty-somethings and forget that (most of) you have work tomorrow.
The Knockdown Center, 52-19 Flushing Ave, Queens; 2-10pm; Free

Ice cream takedown at the Bell House
I scream, you scream, we all scream for...okay, you get the idea. Head to the Gowanus venue to see thirty amateur ice cream makers duke it out to win prizes for their lactose-loving concoctions. The real winners, though? The audience, which gets to indulge in unlimited samples.
The Bell House, 149 7th St., Brooklyn, 2pm-4pm; $15

Warped Tour
Earlier this year, Vans pulled their funding from the the annual punk rock caravan, making this your perhaps last chance to mosh in a field full of lip-ringed teenagers. Highlights include emo heroes Hawthorne Heights and the Used, third-wave ska holdovers Reel Big Fish and Big D, plus new-school party-rockers 3OH!3 and Wallpaper.
PNC Bank Arts Center, 116 Garden State Parkway, Holmel, NJ; 11 am, $37.50

Say Anthing at Habana Outpost
Watch John Cusack woo eternal late-'80s/'90s girl crush Ione Skye in the Cameron Crowe classic while munching on some of Habana outpost's Mexican corn on the cob and their famous Cuban sandwich.
Habana Outpost, 757 Fulton St., Brooklyn; 8pm

Ches Smith
The versatile avant-garde percussionist (Ceramic Dog, Xiu Xiu) leads a new trio with acclaimed pianist Craig Taborn and violist Mat Maneri.
Cornelia Street Café, 29 Cornelia Street, Manhattan; 8:30 pm, $20 (includes one drink).