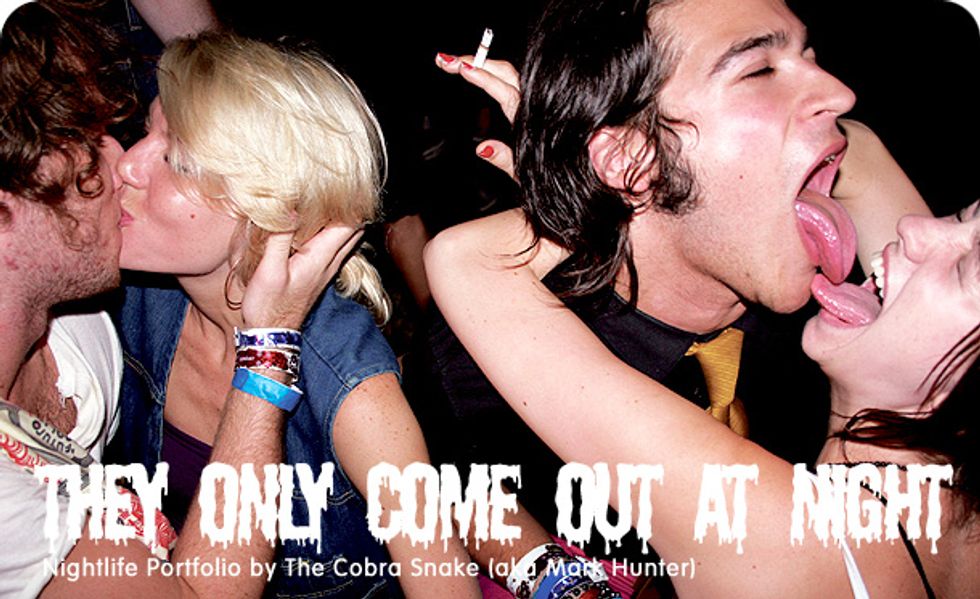 AS TOLD TO JACOB BROWN
In high school I was dating Charlotte from that band the Like. She was friends with the guys from Phantom Planet and Maroon 5 and also with Jason Schwartzman -- the whole Coppola thing. It was sort of a Teen Vogue young Hollywood crowd. My photos back then were black-and-white, more like fine-art stuff. I knew that wasn't going to cut it. So I came up with my manifesto: Take photos of kids and give them flyers. Then they tell their friends to go look at my site [www.thecobrasnake.com], while I put up posters and stickers that get random people curious. At first I wanted to build up an audience and then just cut out and pull some artsy shit. Actually, I still might do that.
New York is more welcome [than L.A.] to being photographed. Even if they don't have a clue about me, people in New York are like, "Yeah, take my picture." I like the parties where it doesn't feel like you're getting taken advantage of -- open bars and cool bands are good. I like parties that anyone can go to, places that don't care [about age]. Because, you know, young kids do crazy stuff. In L.A., there are these 16-year-old girls -- I don't understand how they're out on a Monday 'til 3 a.m. Half of them can't get in and just hang outside. But half the party is on the sidewalk anyway. I have a handful of girls that I love. It's not even that they're pretty. They just have good vibes. Like they'll go in a room and spill ketchup all over the place. They do things that add some life to the party -- jump in hot tubs, climb over fences and rip their clothes, that sort of thing.
I like the life that Patrick McMullan has led. I want to sort of be on everyone's peer level, even if they're not in the same age group [as me]. Like if I'm with this band, I don't want them to be like, "Oh, man, here's this photographer we have to work with." I want them to be like, "Hey, what's up, Cobra Snake?"
+ click on the image to enlarge. +