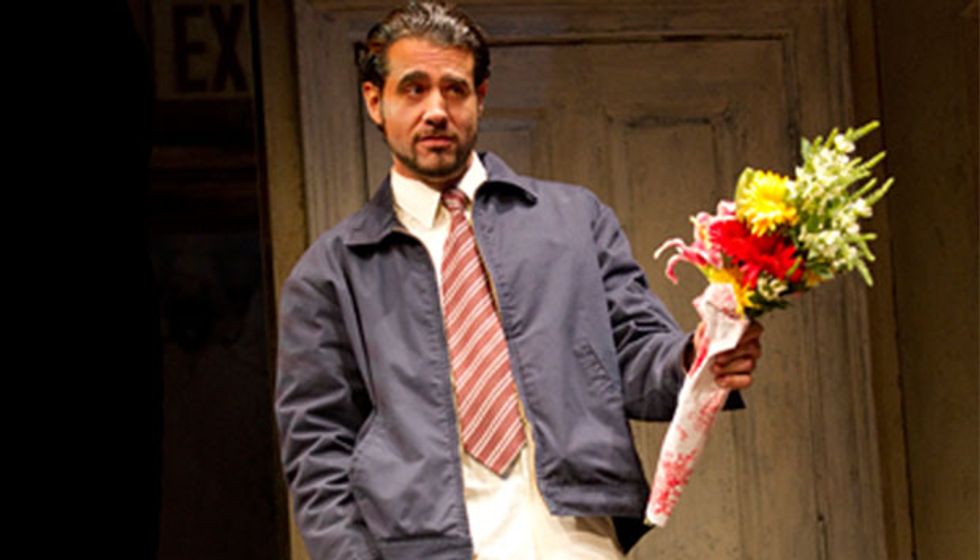 Not only is actor
Bobby Cannavale
currently sharing a Broadway stage with his idol
Al Pacino
in the revival of
Glengarry Glen Ross
, he's apparently sharing his time offstage with
Bridesmaids
' actress,
Rose Byrne
. We spotted them canoodling at the the premiere of the third season of
Portlandia
on Monday night, and couldn't help but think,  "
Damn
, he gets around with some of the coolest ladies in the biz." Not that the talented, totally hot Cannavale is a hard sell but, still, we're impressed. Here's a guide to a few other actresses that Cannavale has dated, and what they're up to now. (You can just send our award overnight express, Pulitzer committee. Thanks.)
Cannavale was married to
Jenny Lumet
, granddaughter of Lena Horne and daughter of Sidney Lumet from 1994-2003. They have a teenage son named Jake who starred alongside his dad in
Nurse Jackie
this year. Lumet went on to write
Rachel Getting Married
in 2008.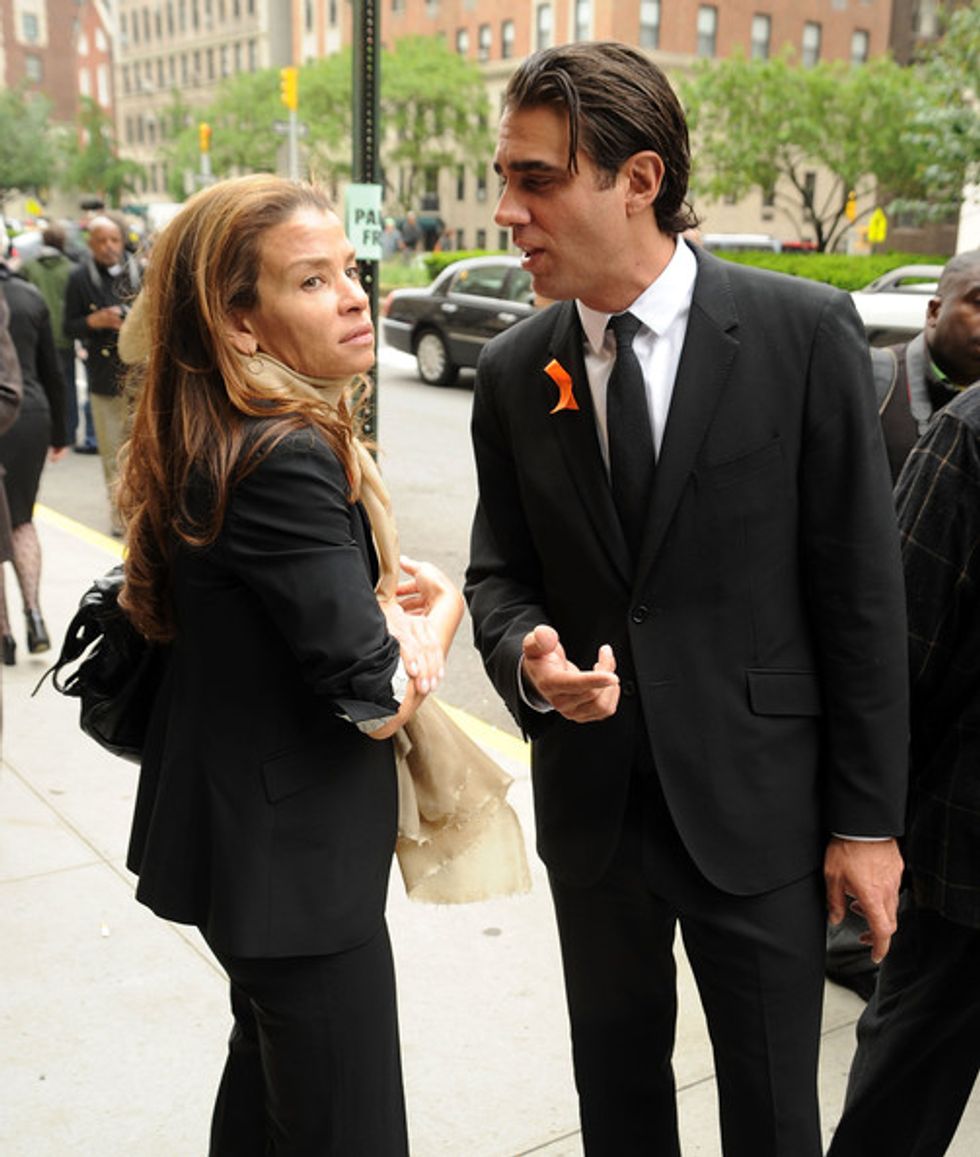 Bobby was 33 when he started dating actress
Annabella Sciorra
, who was 11 years his senior. He dumped her for his 22-year-old co-star
Alison Pill
in the Broadway play
Mauritius
(see below). Ironically he ended up starring alongside Sciorra his next time out on Broadway in
The Motherfucker with the Hat
, four years later. This Tuesday, Sciorra will star in the
Rockaway benefit
at the Cherry Lane Theater for Hurricane Sandy victims.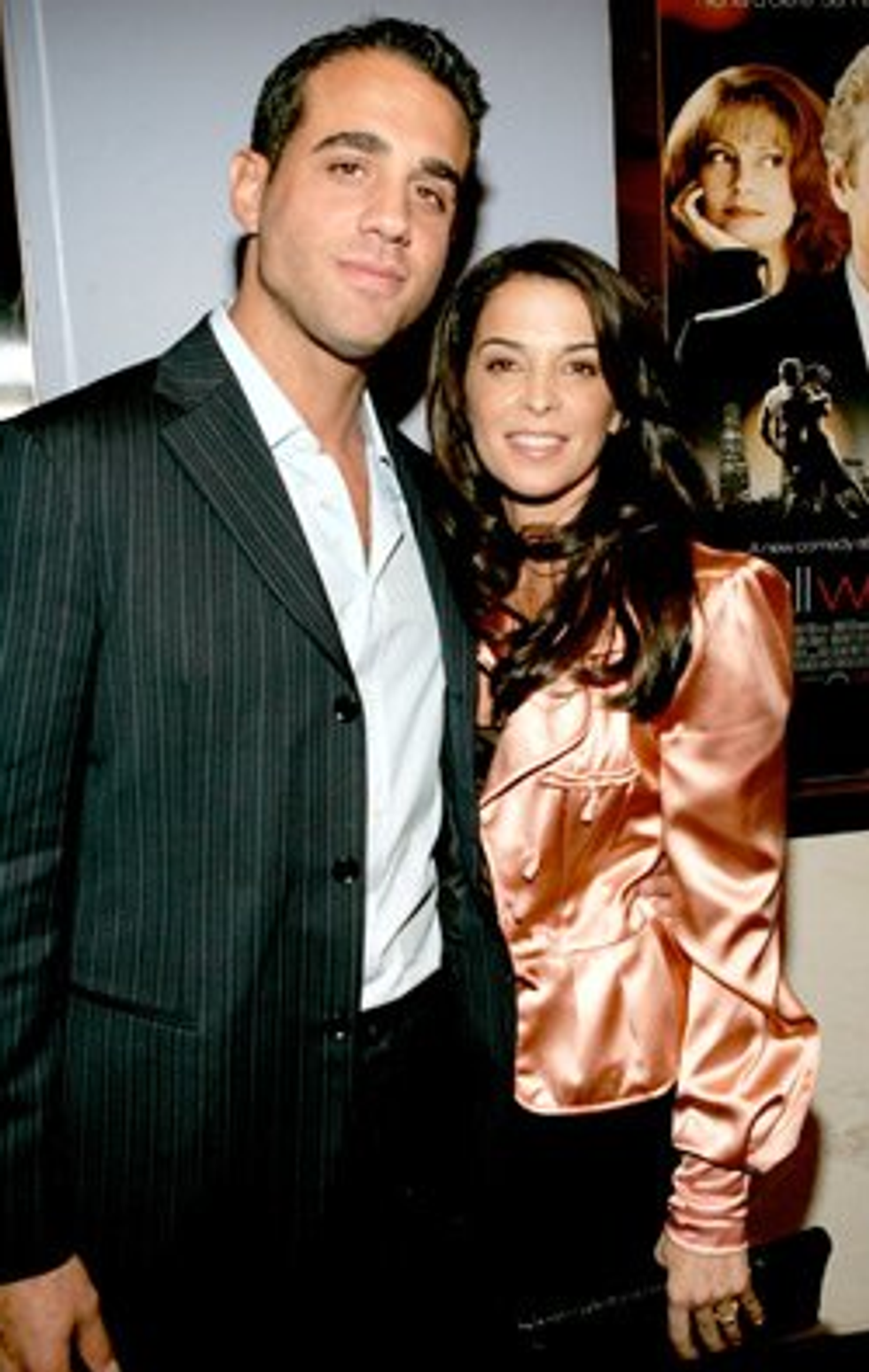 As we mentioned above, a very young
Alison Pill
fell for Cannavale while co-starring with him in the play
Mauritius
, but it wasn't until after they broke up that Pill's career really took off. She's since been a regular presence on Broadway and currently stars in Aaron Sorkin's HBO hit,
The Newsroom
. And her love life doesn't seem so bad either. She recently tweeted a topless photo of herself to new boyfriend Jay Baruchel.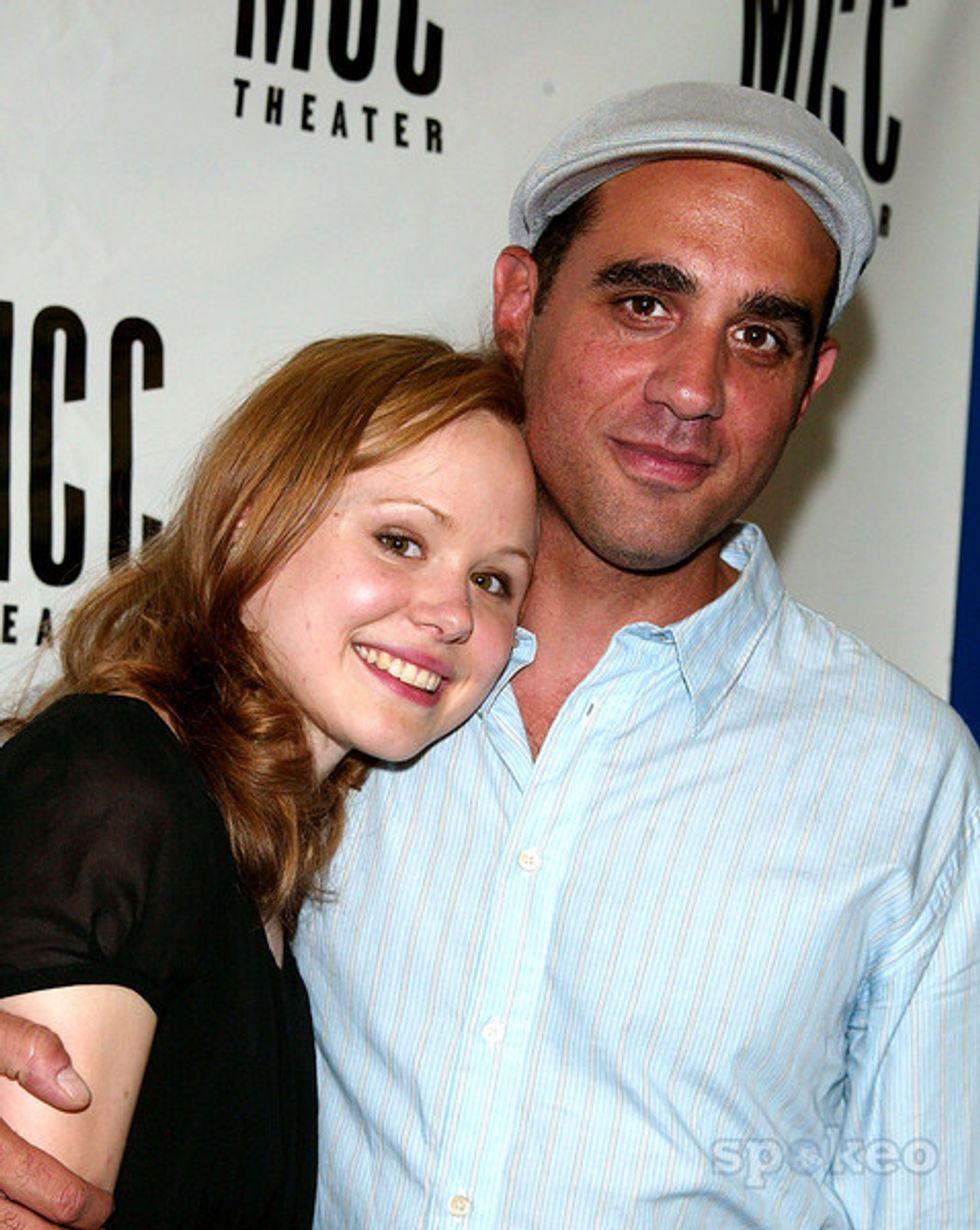 Continuing with the co-star theme, Cannavale also dated Broadway superstar
Sutton Foster
. The actors met doing the off-Broadway show,
Trust
. In 2011 they were both nominated for Tony Awards, Foster for
Anything Goes
and Cannavale for
The Motherfucker with the Hat
. (Foster won.) The two broke up in April of 2012, but she's now starring on the enjoyable ABC Family show
Bunheads
, about ballet dancers.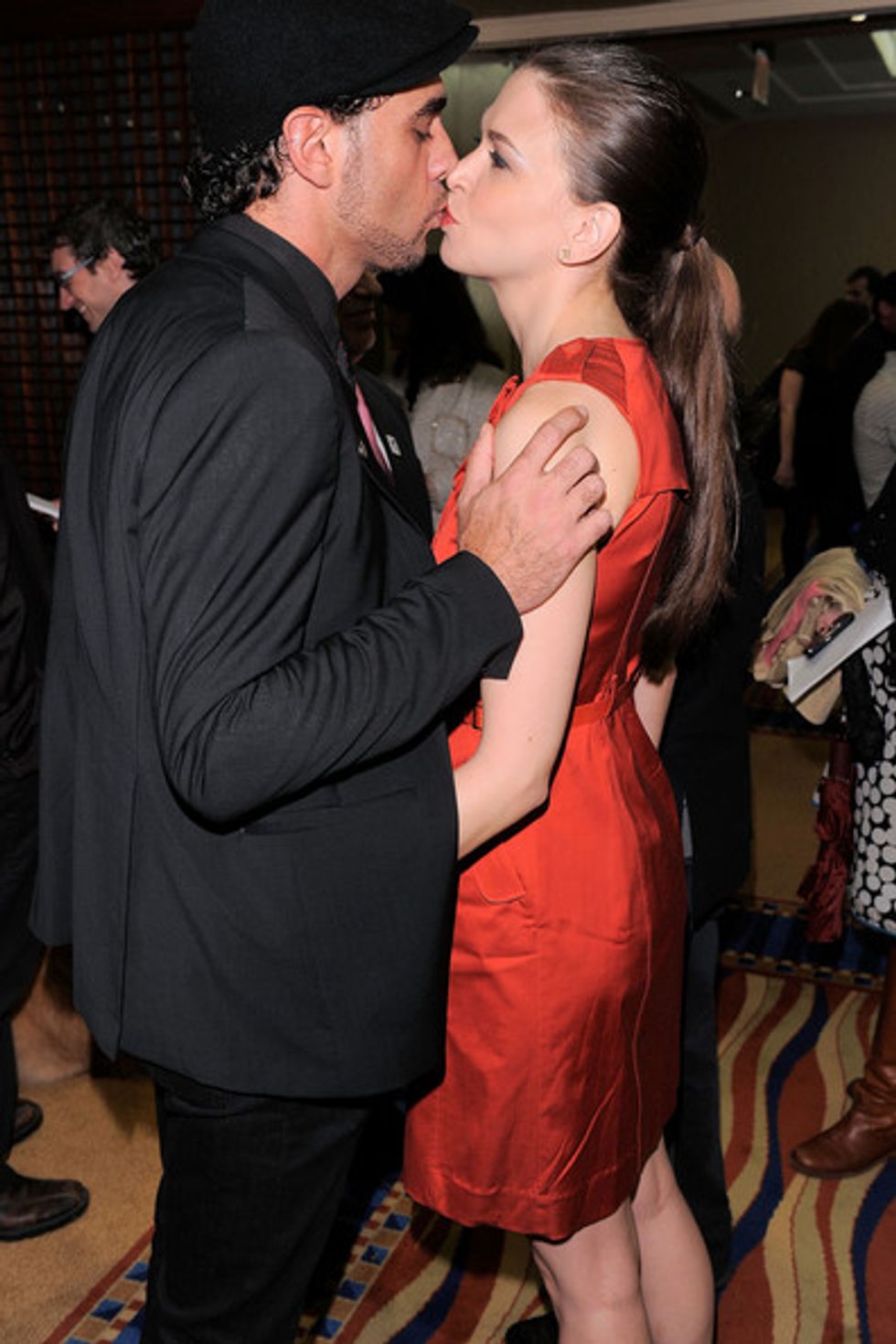 OK, this is a huge stretch, but we once spotted Cannavale smoking with Tony-winning actress
Nina Arianda
, a former
Paper Beautiful Person
and star of the upcoming Janis Joplin biopic,
Janis
, outside of a theater-related event, and, hey, they'd be cute together!  Just putting that out there. (That's
Smash
's
Will Chase
in the middle of the handsome pair.)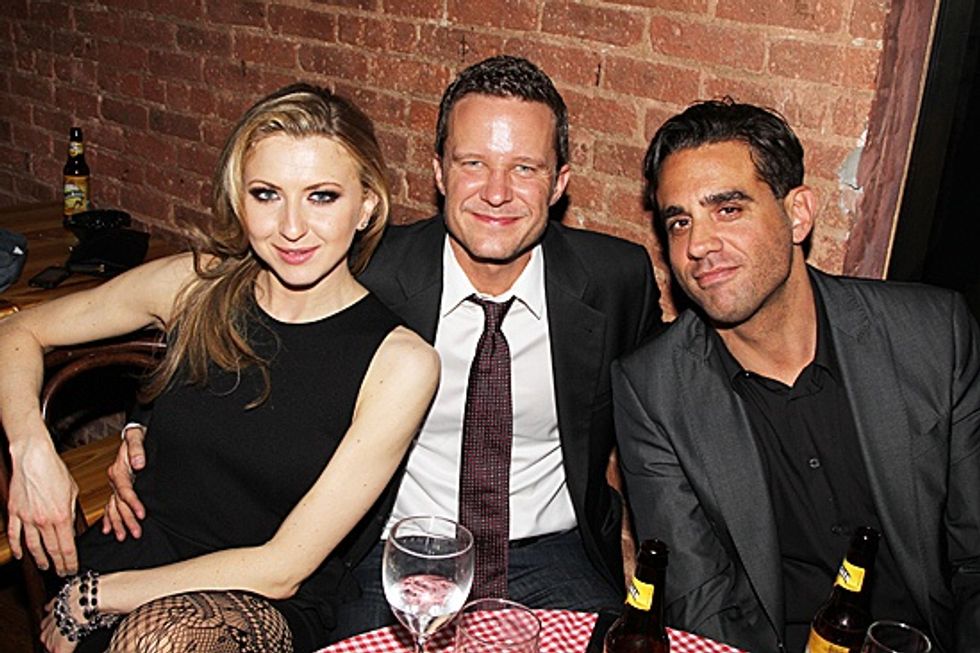 And finally... it looks like Rose Byrne will be Cannavale's date to this year's Tony Awards. But first, .she's starring in the British newlywed comedy
I Give it a Year
, out in February.