It's no secret that we here at papermag.com love Nicki Minaj -- not only for her music, persona and incredible contributions to contemporary pop culture, but also for her sharp wit and "take no bullshit" attitude. After all, girl gave us some of the best teaching moments re: intersectional feminism and the pop industry machine via her prolific Twitter and incredible quotables. As such, we rounded up 5 of Nicki's best "QUEEN" moments from the past year, because no one should forget the epic way she continues to shit on literally all the haters -- and for good reason.
Dragging The New York Times Magazine
IDK about you, but I think it takes incredible fortitude and personal conviction to walk out of a cover story interview for The New York Times Magazine with a pretty condescending writer who already had a "drama-riddled popstar" narrative half-written in her head. Just another instance of Nicki taking zero bullshit -- something that's made even better by the fact that she literally kicked the writer out of the hotel room with an apt "Do not speak to me like I'm stupid or beneath you in any way. I don't care to speak to you anymore."
Miley "What's Good"
You all know what I'm talking about already -- that VMA moment that will live in infamy and definitively solidifies Nicki Minaj as one of the most important cultural commentators of our time. Back during the VMA ceremony this year, she accepted her award for "Best Hip-Hop Video" with a pretty nice speech, that soon made a complete 180 when she addressed host Miley Cyrus' "[Nicki's] not too kind" diss from a few days before with a "back to...this bitch who had a lot to say about me in the press the other day, Miley, what's good?"
And rightfully so, as Nicki articulates in the aforementioned New York Times Magazine profile (before she threw the reporter out lol). Explaining that Miley has no reason to get off on her when it comes to issues that directly affect black women, she puts it best when she succinctly says, "If you want to enjoy our culture and our lifestyle, bond with us, dance with us, have fun with us, twerk with us, rap with us, then you should also want to know what affects us, what is bothering us, what we feel is unfair to us. You shouldn't not want to know that.''
The T Swift Incident
Only Nicki could make another VMAs-related slight a wonderful teaching moment for intersectional feminism, as exemplified by her Twitter beef with none other than pop's blindingly blonde pop princess Taylor Swift, who for some reason decided to insert herself into a discussion that, uh, does not involve her? Especially seeing as how she has zero stake in the way pop culture regularly ignores the (record-breaking, extremely viral) achievements of black women? Like whatever, Taylor. Keep thinking the world revolves around you because at least that means Nicki can spread the good word on the hypocrisy of the pop industry machine.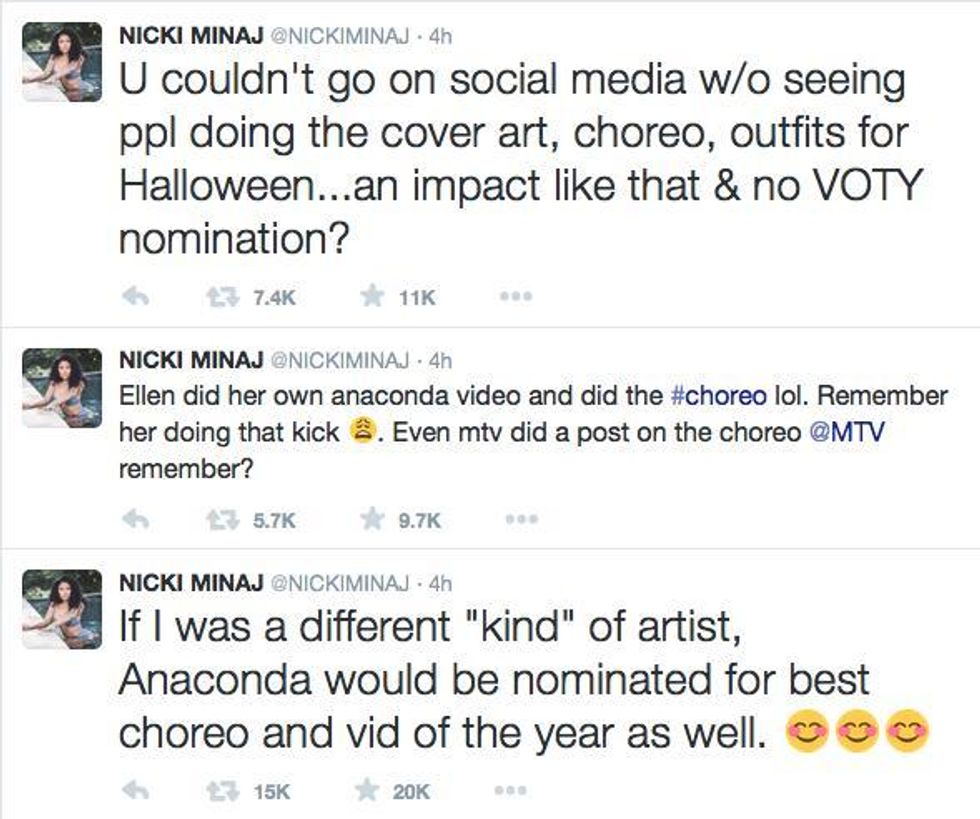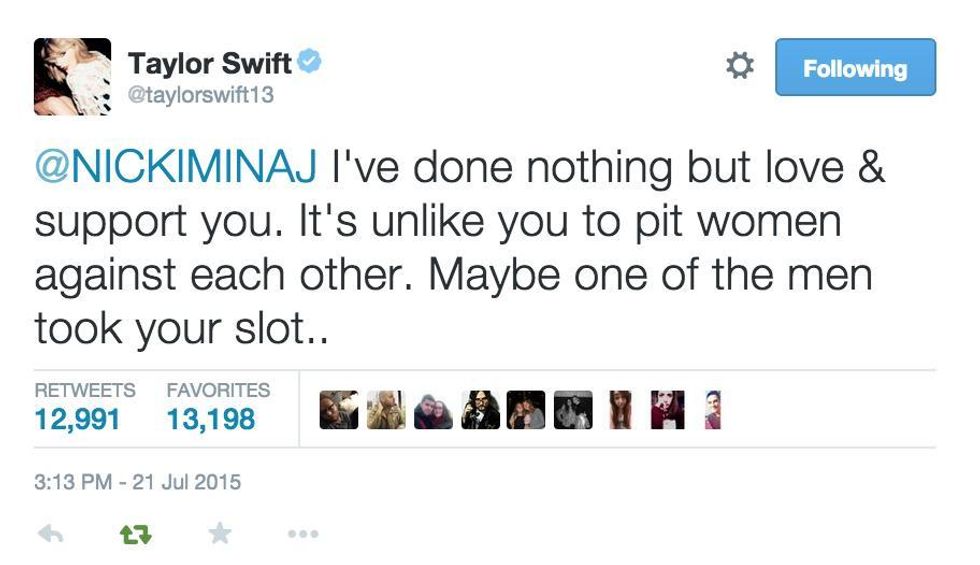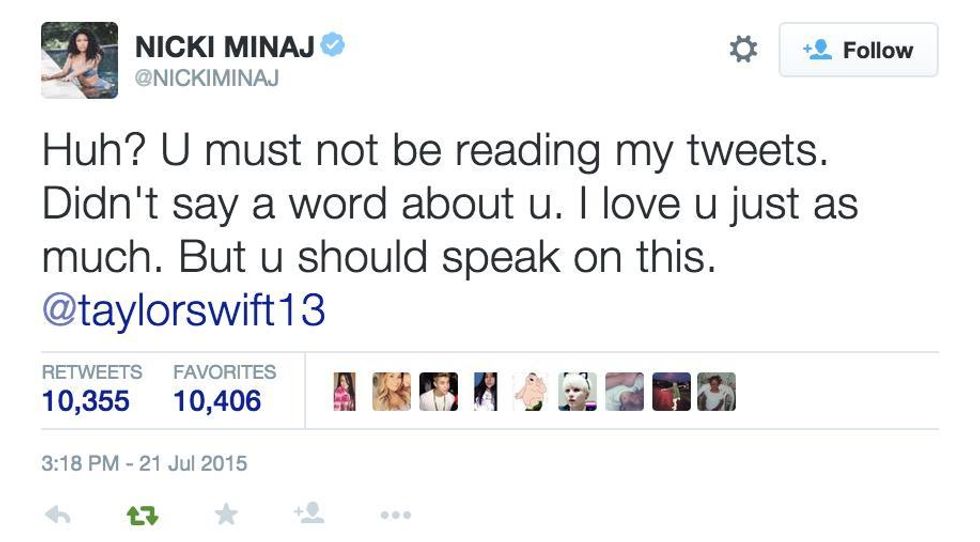 IHOP Twitter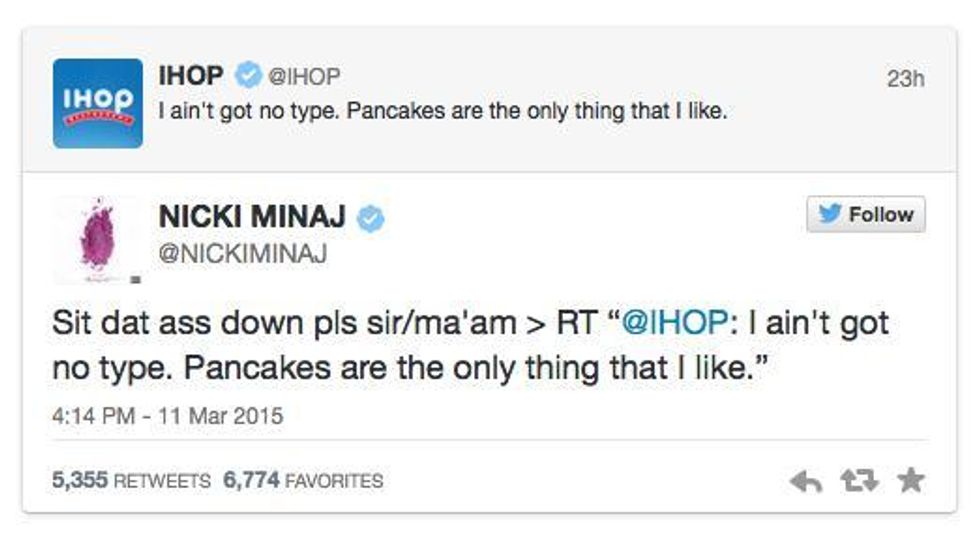 We all fucking hate brands calling you #bae to pander to what a Nielsen study has determined to be "Millennials With Purchasing Power" but most often it's just something to roll your eyes at and grumble about. Very rarely does anyone (with actual cultural klout, for that matter) tell them to shut the fuck up, or erm, sit the fuck down, which is exactly what Nicki did with a lame IHOP intern who decided to flip a Rae Sremmurd line into something about pancakes. Thank god someone finally said it.
Safaree's Single
Remember when her salty ass ex Safaree came after her with that mediocre single about how she was an ungrateful cheater who didn't appreciate him? Well our Nick full of grace obviously wouldn't just let that slide, though she did manage to respond in one of the most gracious takedowns we've seen someone address their ex with on social media: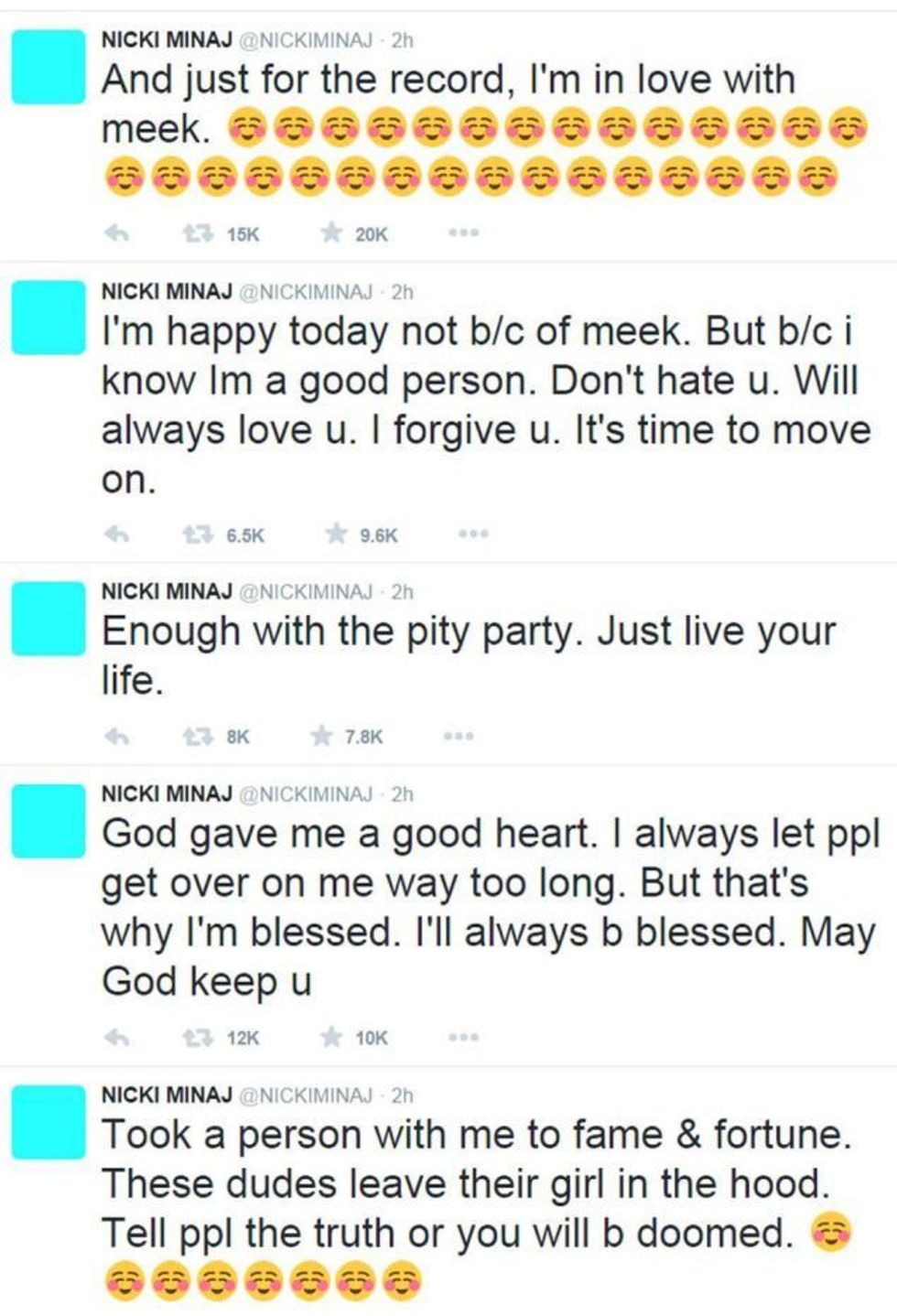 You tell 'em.