Here' s what a motley crew of PAPER contributors liked, loved, chewed up and spit out in 2010.
My Top 10 Gastronomic Pleasures of 2010
By Julie Besonen, PAPERMAG food editor
Best New Restaurant: Torrisi Italian Specialties
Best Cheap Eats and Drinks: The Commodore in Williamsburg

Best Restaurant Design: ABC Kitchen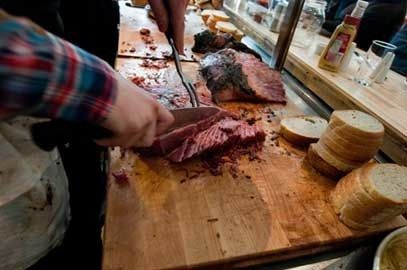 Best New Sandwich: The smoked meat at Mile End

Best New Dish: Crisp pork belly with caramelized apple mostarda at Pulino's

Best Emerging Chef: Blake Joyal at The Bedford in Williamsburg

Best Place for People Who Like Separate Checks: Vapiano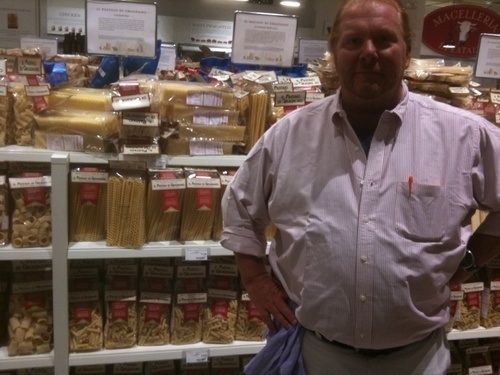 Best New Place for All Things Italian: Eataly

Best New Cookbook: In the Kitchen with a Good Appetite by Melissa Clark

Best New Drinks Book: Punch: The Delights (and Dangers) of the Flowing Bowl by
David Wondrich
The Top 10 Gay Porn Star Tweeters of 2010
By Mickey Boardman, PAPER's editorial director
Samuel Colt
@SamuelColtXXX
Sample tweet: "I have never had sex with or even seen a woman's vagina."

Chris Porter
@ChrisPorterXXX
Sample tweet: "That's the last time I cum before going to the gym. Kills all motivation."

Alessio Romero
@AlessioRomero
Sample tweet: "SO TIRED BUT I WANT TO GET LAID >> ON GRINDR NOW thank god my computer is only 12:19 knowing for me is 3:19 who cares!! :P i need COCKs"

Austin Wilde
@AustinWilde
Sample tweet: "In other (and more interesting) news, I just lost 5 lbs in 5 minutes. #donotgointhere

Matthew Rush
@TheMatthewRush
Sample tweet: "I'm a Gay Erotic Video Personality and a hopeless romantic who hopes that one day he'll be in a relationship that lasts longer than his Glade Plug-ins."
Runner up: "I think the TSA just gave me a prostate exam! "TSA: if we don't get off, you don't get on!"
Kennedy Carter
@Kennedy_Carter
Sample tweet: "Damn you Modern Family for making me crack up and then ALWAYS tear up at the end of every episode."
Marcus Mojo
@MarcusMojo
Sample tweet: "I'm ready to fuck"

Rob Romoni
@robromoni
Sample tweet: "LA IS A DOWNPOUR! but it still smells like pee! and old lady breath!"

Riley Price
@rileypriceless
Sample tweet: "'i accidently texted my brother last night, 'i want 2 swallow ur unborn babies,he replied' im gonna need therapy 4 the REST of my life.'"
The Top 10 Parties of 2010
By Peter Davis, PAPER's editor at large and Status Update blogger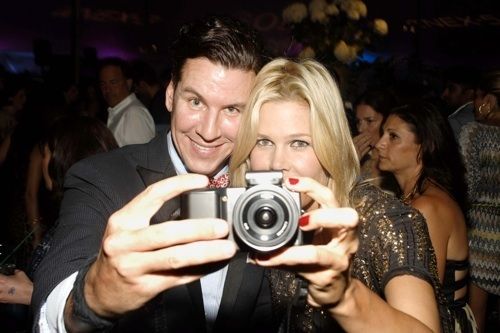 Only in Manhattan can you hit five or more parties in one night. It's insanely glamorous and also costly (cabs, car services, boozing at Boom Boom). Of course there is always the after, after-party at chez Kenmare, Bunker, Le Bain, Avenue and The Boom Boom Room to keep you up way past a normal bedtime. So many gift bags and cheeks to air kiss and so little time! Here are my Top Ten Parties of 2010:

My sister Minnie Mortimer's dinner at The Standard Grill after the launch of her clothing line at Scoop. Orlando Bloom (so hot) and Miranda Kerr (equally hot) came and I sat in between two style beauties: Nina Garcia and my BFF Eugenia Gonzalez -- what more could a gay ask for?

The CFDA Awards because Kim Hastreiter gave the best speech ever when she won her much-deserved Eugenia Sheppard Award. Gwyneth Paltrow told Kim that what she said was "so punk rock." Meanwhile, I met Kim when I was a high school intern with blue hair at PAPER. It was like everything had come full circle.

The 11th Annual Love Heals benefit at Luna Park in Watermill. I co-hosted with the super-chic stylist Mary Alice Stephenson, got photographed a lot with Molly Sims and then hung out with my girls Becka Diamond and Heidi Kelso. Good times! Mary Alice and I MC-ed a live auction and we raised tons of dough for AIDS education and awareness, which actually trumped those photo ops with Molly Sims in terms of a natural high.

The Cinema Society premiere of Twelve was so star-studded -- even though Joel Schumacher's movie adaptation of Nick McDonell's great rich-UES-kids-on-dope-book kinda stunk. It was exciting to see pals like Liam McMullan (Patrick's son) and Cody Horn in the movie. The after party was at Le Bain and it was warm out, so all the cute kids were on the roof puffing cigs (and probably weed too).

The CITTA charity soiree organized by Mr. Mickey at The Tribeca Grand Hotel was filled with cuties and made lots of money for a Women's Health Center in India. I flew downtown from a FIT Couture Council shindig to Tribeca in an outfit that mixed fancy fashion party with Bombay bohemian -- a paisley shirt, bow tie and hot pink pants. I ended up on Style.com, but a cyber "friend" on Facebook wrote me a message saying I looked like a gayer version of Pee-Wee Herman -- which I took as a huge compliment.

The Karl Lagerfeld lunch during Fashion Week at Avery Fisher Hall was like a style coronation -- literally everyone in the industry was there. Lagerfeld received the Couture Council Fashion Visionary award from the Museum at FIT.  I was just stoked to be in the same room as Daphne Guinness, with whom I have an obsession that probably verges on mentally unstable.

The True Prep launch at Brooks Brothers. Full disclosure: I wrote two chapters for the book, one on how rehabs are the new boarding schools (I personally was thrown out of boarding school but have never been to rehab -- yet). I worship the author Lisa Birnbach and when she asked me to write for the sequel to her legendary Preppy Handbook, I thought it was a prank. Anytime I see Lisa (mostly now we tweet at each other as she is always book touring) I'm happy.

The Paper Nightlife Awards. Last year, I presented with Kelly Bensimon and did three vodka shots right before going on stage. I ended up screaming about Sex Rehab with Dr. Drew and gay rights and the rest is a blur. I learned my lesson never to booze before public speaking (my iPhone ended up getting stolen by a notoriously sticky fingered "socialite" that night). This year I was 100% sober, met Pee-Wee Herman and presented with Luigi Tadini and Byrdie Bell, two of the prettiest people in New York.

The Artwalk Benefit for The Coalition for the Homeless, which is my favorite charity. Bettina Prentice got me involved and she is so committed and inspiring. The art is always amazing from new talent to big names like Cindy Sherman. Plus, I got a semi-gay vibe when I met Matthew Settle, the sexy dad from Gossip Girl -- but that was probably just the white wine getting the vibe, as I met him again later and he seemed very straight -- and also very nice.

Allison Sarofim's Halloween party is one of the best nights of the year. Always themed, this year it was "Calder's Circus." I went as a villainous magician. Everyone gets dressed up big time to the point where you can't recognize your best friends. It's definitely one of the best evenings year after year. I think I'll take a disco nap until next Halloween. Or at least until tonight.
The 10 Best and Worst Films of 2010
By Dennis Dermondy, PAPER's senior editor and Cinemaniac blogger
When it comes around to the end of the year I'm always reminded of that fabulous line in the movie The Mirror Crack'd when Kim Novak (as a brassy, mean movie star) exclaims: " I could eat a can of Kodak and puke a better movie." I always feel that way leaving a theater after a bad film. At the same time, quite a few films I saw this year also reminded me of why I can still be transformed and exhilarated in a movie theater. Here are my picks for this year's 10 best films.
The Ghost Writer: Roman Polanski's fabulously complex, paranoid thriller is about an author (Ewan McGregor) who uncovers some dark secrets behind the former British prime minister (Pierce Brosnan) for whom has been assigned to ghost write a book. The film is gorgeous looking; so sleek, sinister and perfect in every way.

Black Swan: Darren Aronofsky' s loony, baroque thriller starring Natalie Portman as a
ballerina who goes bonkers was deliriously over-the-top and heaven to watch. As if Dario
Argento had directed The Red Shoes.

Enter The Void: This major psychedelic mindfuck from Gaspar Noe (Irreversible) is set in a neon-drenched Tokyo with subjective camerawork following the restless spirit of a dead drug dealer (Nathaniel Brown) watching over his stripper sister (Paz de la Huerta). It' s trippy and fabulous.

Another Year: A marvelous new film by Mike Leigh about several seasons in the life of happily married, incredibly nurturing couple, Gerri (Ruth Sheen) and Tom (Jim Broadbent), and their assortment of damaged friends -- notably, Gerri' s coworker Mary (Lesley Manville), a frazzled neurotic mess. Possibly my favorite Mike Leigh film.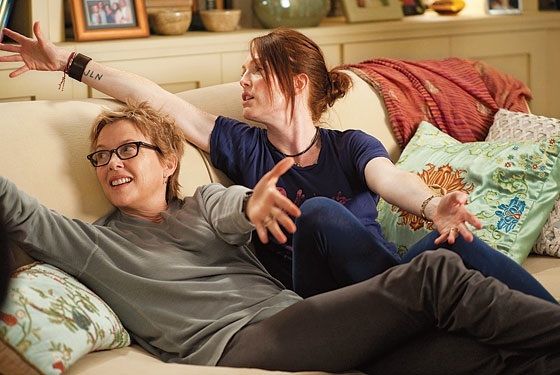 The Kids Are All Right: This warm, wise, and exceptionally funny film by Lisa Cholodenko is about a long-term lesbian couple, Nic (Annette Bening) and Jules (Julianne Moore), living in California with two teenage children (Mia Wasikowska and Josh Hutcherson) who seek out the identity of their sperm donor dad (the perfectly cast Mark Ruffalo).


Piranha 3D: The most fun I had in a movie theater this year, Alexandre Aja' s gory, insane 3D epic about spring break invaded by carnivorous prehistoric fish is a bloody riot.

Inception: Christopher Nolan's risky, heady sci-fi thriller, about a team that invades people's dreams, features an impeccable cast: Leonardo Dicaprio, Tom Hardy, Joseph Gordon-Levitt. It was both thrilling and visually insane.

Dogtooth: This bizarre Greek film by director Yorgos Lanthimos is about a deranged father who isolates his family in a compound and feeds them scary disinformation about the outside world. One of the weirdest films I' ve seen all year. And I mean that in a great way.

Life During Wartime: Todd Solondz' latest is a ferociously funny, sardonic reimagining of the characters from his movie Happiness, only years later and entirely recast.

Rabbit Hole: John Cameron Mitchell' s beautifully directed film (based on a Pulitzer Prize-winning play) about a couple dealing with the tragedy of the accidental death of heir child. With breathtaking performances by Nicole Kidman and Aaron Eckhart, this was surprising as it was moving as hell.

Other favorites include the almost Luchino Visconti-like I Am Love with the divine Tilda Swinton; the beautifully wrought and expertly cast, backwoods thriller Winter's Bone; and the witty and fascinating tale about the creation of Facebook, The Social Network; I also loved an unhinged Australian horror film called The Loved Ones that desperately needs a DVD release in the USA; and for sheer jaw-dropping shock value, The Human Centipede (First Sequence) can' t be beat.

THE 10 WORST FILMS OF 2010
Iron Man 2: Everything that made the first Iron Man so fresh and fun was totally wiped clean. Robert Downey Jr. was annoying. The villain (Mickey Rourke) was grotesque and unthreatening. And it was torturously long.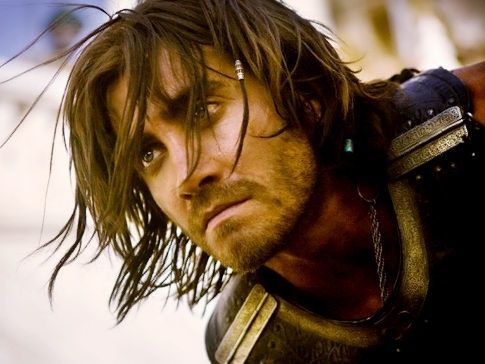 Prince Of Persia: The Sands Of Time: Even if Jake Gyllenhaal were nude through the entire film it would still suck. I felt the sands of time slipping away, that's for sure.

Carlos: This epic (five and a half hour) film by Olivier Assayas (a director I admire) is about the revolutionary terrorist Carlos The Jackal (Edgar Ramiriz). It just seemed endless and unenlightening to me. But everyone I know adored it, so maybe one day I should give it another try.
Nightmare On Elm Street: What a dumb idea to begin with -- what was wrong with the first one? Not that Jackie Earl Haley wasn' t a clever choice to play Freddy, but this new reboot was so serious and sour and stupid.

Resident Evil: Afterlife 3D: The worst villain I have ever seen in 2D or 3D. It was unforgivably boring and gave me a headache.

The Wolfman: A CGI bloated and hairy transformation disaster with Bencio Del Toro emoting up a storm and Anthony Hopkins in full hambone mode -- the only one who seemed to understand what kind of a crappy movie he was in.

Sex And The City 2: A sequel that made me hate those women. And I adored the TV series. Thanks a lot for ruining that.

Clash Of The Titans: Why did I bother? Probably propelled by the memory of the original with cute Harry Hamlin in a toga and those glorious Ray Harryhausen stop motion creatures. But even in 3D this was a dud.

The Expendables:  "Un film by Sylvester Stallone" with every beef-bag action star in films from Dolph Lundgrun to Steve Austin, Bruce Willis, Jet Li, Mickey Rourke and as much as I love (walking hard-on) Jason Statham, this was too dumb -- even for me. Where is Jean-Claude Van Damme when you need him?

Biutiful: Another wrist-opener from director Alejandro Gonzalez Inarittu (Babel) starring
Javier Bardem (in an undeniably dynamic performance) dying of cancer in Barcelona with two small children, a bipolar wife and wheeling and dealing with African street peddlers and illegal Chinese immigrants. It was so unrelievedly bleak I almost started laughing.

And why did I bother to see Burlesque, The Tooth Fairy, Repo Man or any witless comedy starring Gerard Butler, Jennifer Anniston or Kate Hudson? You could eat a can of Kodak and puke a better film.
My Favorite Things of 2010
By Kim Hastreiter, PAPER's co-editor and publisher.

Inside Job
Maira Kalman's And the Pursuit of Happiness
The fabulous H&M + Lanvin sunglasses
Eataly's prepared spit roast chicken
Renzo Rosso's olive oil from Eataly
Brunch at La Superior in Williamsburg
My new titanium hip from Dr. Salvati at the Hospital for Special Surgery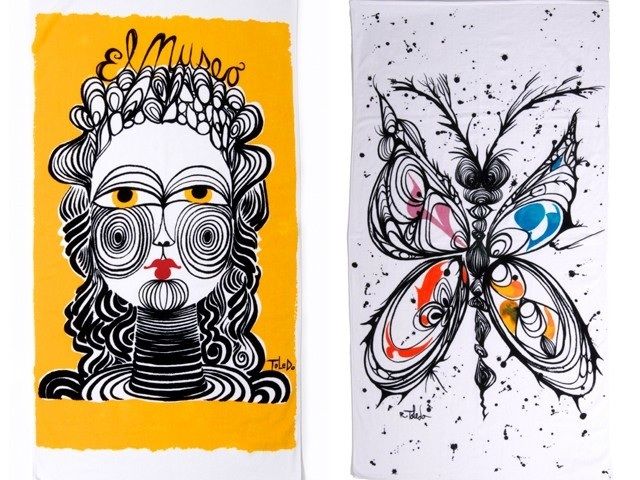 Ruben and Isabel Toledo beach towels from Target
Marcus Samuelsson's new restaurant The Red Rooster
The repeal of "don't ask, don't tell"
Pink Martini's new Christmas album, Joy to the World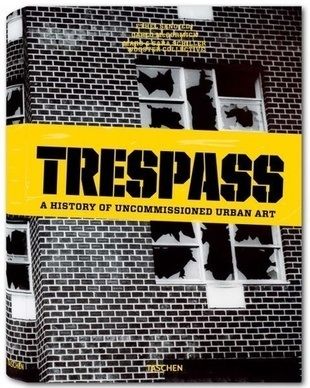 Carlo McCormick' s book Trespass
Tauba Auerbach's jewelry for Ohne Titel
Ingo Maurer's light bulb condoms
Cold-drip ice coffee from Maialino at the Gramercy Park Hotel
Cameron Mesirow's Glasser
L.A.'s Family Bookstore
Australian artist Anthony Lister's masks
Sally Singer' s new T Magazine
Humane Farm Animal Care Organization

The Best of the Best
By David Hershkovits, PAPER' s co-editor and publisher.

Books: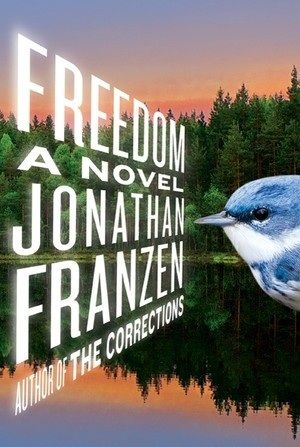 Freedom by Jonathan Franzen: Franzen manages to be intimate and cinemascopic at the same time. Believe the hype!
Gilded Youth by Kate Cambor: A history book about the children of three of France's most celebrated men of the 19th century.
And the Pursuit of Happiness by Maira Kalman: Kalman Goes to Washington and thinks, writes and draws. So much fun watching this singular talent at work.

Restaurants:
Red Rooster: Marcus Samuelsson's Swedish, Ethiopian and African-American restaurant will surely bring the scenesters to Harlem. Great vibes!

Music:
Kanye West, My Beautiful Dark Twisted Fantasy: Kanye can be a little cuckoo, but in this masterpiece he shows how art-damaged he can be. And I love it.
The Black Keys, Brothers: Really cool, soulful, classic and bluesy, which makes it all the more hip.
Arcade Fire, Suburbia: Melancholically uplifting, Arcade Fire's modern classic holds up to repeated listening.

Movies: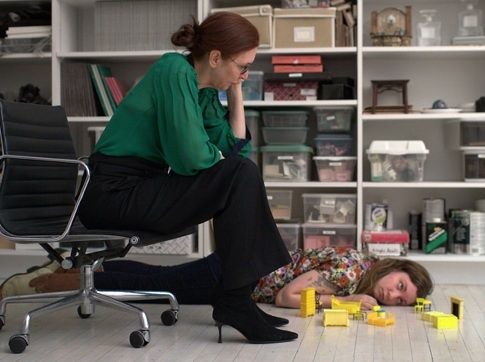 Tiny Furniture: Lena Dunham's wit and wisdom propel this film to breakout indie film of the year.
Toy Story 3: A movie for kids of all ages. I found myself feeling for this cast of characters more than any film featuring real, live humans.

TV
Glee: I'm late to Glee, so I'm even more excited at this discovery than most. The "kids" are great, and the story line surreally exploitative and mature.
The Best of Downtown Theater
By Tom Murrin, PAPERMAG's "Stage Notes" columnist
Best Play Reminiscent of the '60s, when Sam Shepard and Theater Genesis
Flourished: Ghosts in the Cottonwoods, by Adam Rapp, performed by The Amoralists

Most Exciting, Funniest, Strong-Of-Heart Theater Troupe: The Amoralists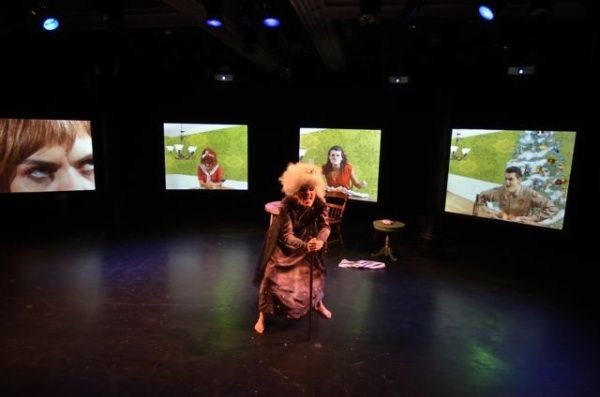 Best Solo Performance Artist: Dynasty Handbag (aka Jibz Cameron), as evidenced in
Brothers and Sisters and Motherfuckers

Most Outrageous, Rudest Performance: Shecky Beagleman in Crack Dance, Howl
Festival

Sexiest Dance Performance: Nutcracker Rouge by Company XIV

Sexiest Straight Play: Venus in Fur by David Ives, directed by Walter Bobbie at Classic
Stage Company

Best Revival: A tie between Ishmael Houston Jones' Them and John Kelly' s Pass the
Blutwurst, Bitte

Best Title: Abraham Lincoln' s Big Gay Dance Party

Best Outright Silly Play: Devil Boys from Beyond

Most Original Version of Shakespeare: Romeo and Juliet, by the Nature Theater of
Oklahoma

Most Necessary Performer/Writer/Director: Justin Bond

Smartest, Funniest Play Without Pirates Or Puppets, Written By Someone Who
Started Downtown And Has Moved Uptown: The Coward by Nick Jones, directed by
Sam Gold and produced by Lincoln Center Theater 3

Best Curator: A tie between Leslie Strongwater of Dixon Place and Salley May of the
biannual Avant-Garde-A-Rama at P.S. 122.

Most Essential and Necessary Theater Space: Dixon Place

Best House Staff And Technical Crew: P.S. 122
The Best Bar Openings of 2010
By Leslie Pariseau, author of PAPERMAG's weekly "Bar of the Week" column.

We're terribly lucky as New Yorkers to have free reign over a billion and one watering
holes 24 hours a day. By most other cities' standards (New Orleans exempted) we' d be
considered lushes, but we like to think we' re just well lubricated. Here are the newer
places, people and cocktails you may or may not find us with at 4 p.m. on a Wednesday.

Best Neo-Colonizer: It' s generally un-PC to praise the white, disease-ridden conquerors, but we' ll make an exception for the relatively hygienic crew at 1534. With a menu of French-Polynesian-American love children, like the Same Same But Different, we'd let them invade our islands any night.

Best Bar for Bivalves: Weather Up Tribeca may fetishize crushed ice, cubed ice, chipped ice, block ice, etc., but we fetishize their Malpeques, Blue Points, Wellfleets and Beausoleils,
which, of course, go well with a side of ice.


Best Bar with a Garden in its Hair: One of the more idyllic (and under the radar) schmancy pants bars in the city, Gramercy Park Hotel's Roof Club boasts an equally idyllic (and under the radar) garden headed up by bartender Kevin Denton and sous chef Dan Dilworth. Kale
martini anyone?

Best Beer and a Shot: Because the music is always loud. Because it' s whiskey. Because the bartenders don' t care if you' ll fall off your stool. Because they' ll buy you another shot. These are a few of the reasons we love Idle Hands.

Best Subterranean Tiki Sin Den: Puffy, fluffy street art, hollowed out pineapples, pretty cocktail servers, take-out menus and cheap-o scented bathroom candles are all part of the ambience at Painkiller. But we also love the oversized booths where bendy straws in overproof cocktails might lead to all sorts of beaneath-the-table debauchery.

Best People Watching: The painfully cool employ The Ace Hotel complex as their 24-hour runway. From the bro-infested Breslin to the slick and chic John Dory and everywhere in between, the Ace is prime strut and pose territory.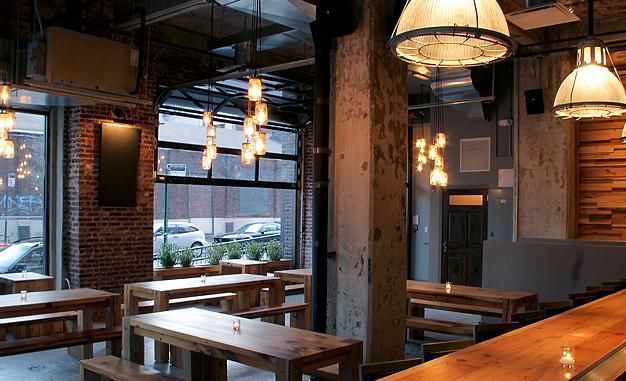 Best Bar to Bring Your Favorite Pothead: Dare we name The Counting Room's as city's best grilled cheese? Subtly truffled and smushed with slightly funky cheese and ham, it' s really quite divine. Did we mention the white trash créme brûlèe? Or the garlicky bag of croutons we may or may not have stuffed in our purse for 3 a.m. munchies?

Best Summer Bar: On occasion, the hidden cocktail den is not always the sexiest. On occasion we like to see and be seen, especially when it includes tan legs and boys on bicycles and bare shoulders. On such occasions, Williamsburg' s Dram sets us just right with open windows, bowls full of punch and plenty of lookers.

Best Bartender with an Accent: You can find Ben Scorah behind the bar at The Lion most
evenings. He dresses well, has great hair, serves lovely drinks and makes us laugh -- all the makings of the perfect bartender. And yes, we know it' s silly, but his pretty English accent gets us every time.

* Merci to a certain barfly or two for champagne-fueled suggestions and always
appreciated company.

The Best...
By Gary Pini, author of PAPERMAG's daily "Eight Items or Less" blog

Movie
:
Let Me In
directed by
Matt Reeves
I loved the Swedish original and expected the worst from this re-make, but it turned out
to be great.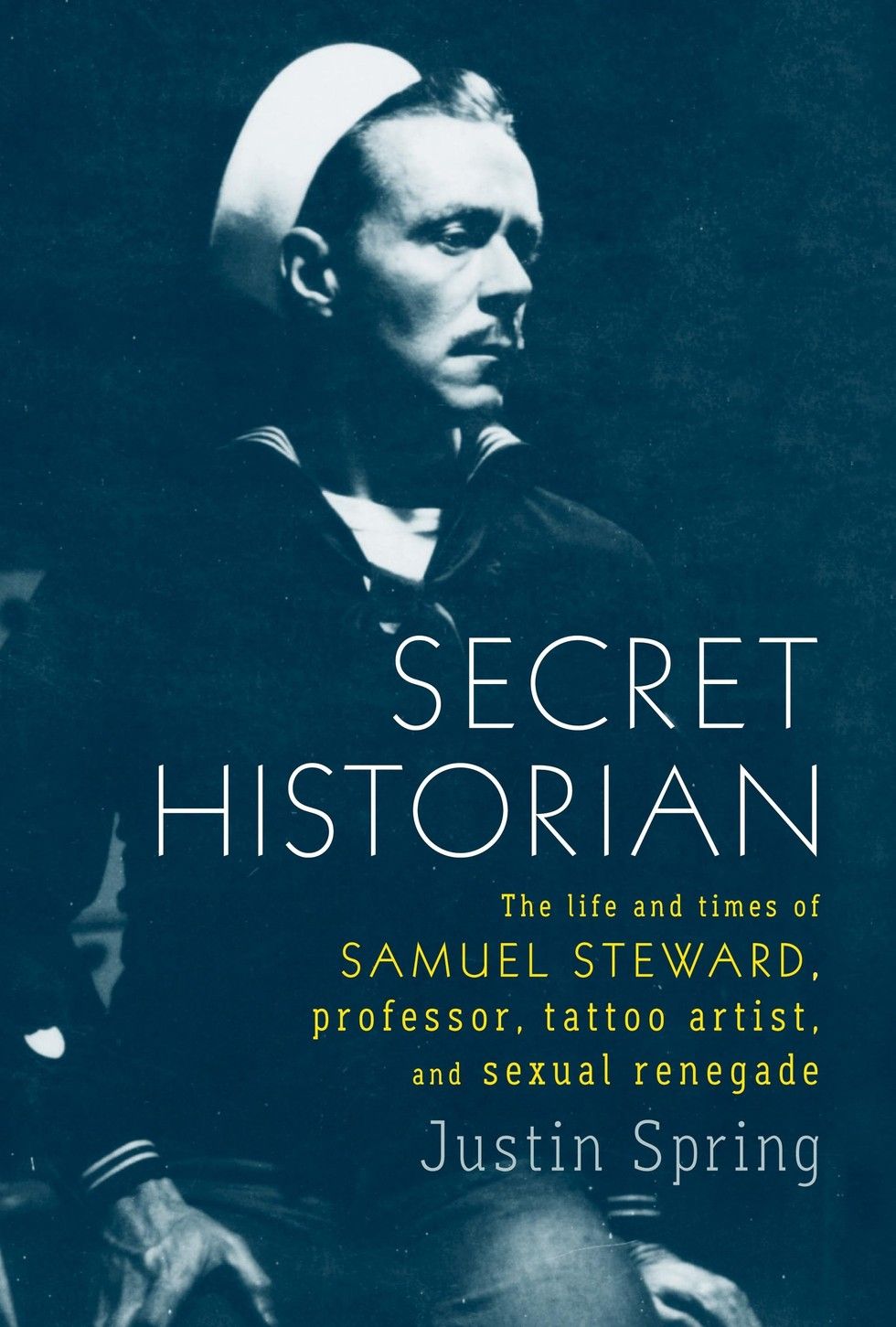 Book
:
Secret Historian
:
The Life and Times of Samuel Steward
by
Justin Spring
I also loved
Patti Smith
's
Just Kids
, but this was one of the most interesting (and funny) biographies I've ever read.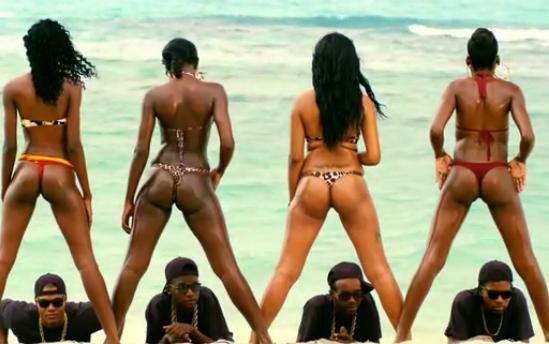 Music Video
: "
The Rabbit
" by
Miike Snow
I haven't figured out the storyline yet but if I watch a few more times I'm sure all will be
explained.
Hotel
:
Hotel des Mimosas
,
Juan-les-Pins, France
I stayed here for two weeks during the Cannes fireworks festival and already booked
again for 2011.
Restaurant
:
Quimet & Quimet
, 25 Poeta Cabanyes, Barcelona, Spain
A small tapas bar that's been in the same family for five generations. I had heard about it,
but couldn't find it until this year. Almost all the food is from a can or jar.
Party
:
FriendsWithYou/PAPER/AOL party
during
Art Basel Miami, 2010
.
I had so much fun that David [Hershkovits] thought I was tripping.
Song
: "
Sexy Bitch
" by
David Guetta
featuring
Akon
This was actually released in 2009, but it took awhile before it really hit me: It' s one of
the few tracks that can get me onto the dance floor without tequila.
The Top 10 Broadway Moments of 2010
By Whitney Spaner, PAPER's managing editor
Here' s a look back at some of the best Broadway moments of the year. Some can still be seen on stage and others are Broadway history. I can't wait to see what 2011 will bring -- hopefully no more injuries at
Spider-Man:Turn off the Dark
!
Viola Davis
ripping
Denzel Washington
a new one as his wife in the Tony-winning revival of
Fences
.
Christopher Walken
' s hilarious return to the Broadway stage as a crazed man looking for his missing hand in
Martin McDonagh
' s
A Behanding in Spokane
.
Eddie Redmayne
's charismatic performance in
Red
as Mark Rothko' s eager assistant, making an otherwise snoozy play much easier to sit through.
Levi Kreis
doing a back-bend while playing the piano as
Jerry Lee Lewis
in
Million Dollar Quartet
.
Kelsey Grammer
up for some man-love with
Douglas Hodge
in the refreshingly intimate revival of
La Cage Aux Folles
.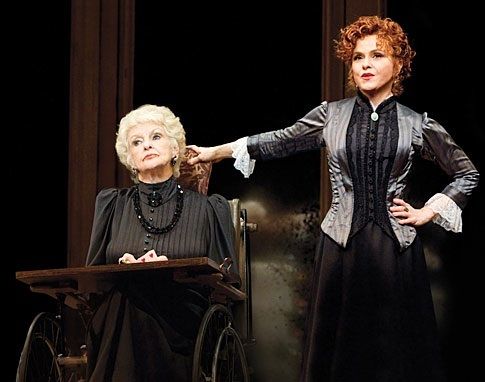 Two Broadway legends,
Elaine Stritch
and
Bernadette Peters
, starring in the revival of
A Little Night Music
as the replacements for
Angela Lansbury
and
Catherine Zeta-Jones
, respectively. I thought Zeta-Jones and Lansbury were magic, but these two took it to another level. I can die a happy Broadway queen.
Ben Walker
bringing sexy back to Broadway as our controversial seventh president in
Bloody, Bloody, Andrew Jackson
.
The use of a ukulele and the song "Go Slow Johnny," in a romantic, ethereal scene between two forbidden lovers in
Brief Encounter
.
Kendrick Jones
's "electrifying" tap dancing skills during the song "Electric Chair" in
The Scottsboro Boys
.
Seeing
Pee-wee Herman
walk out on stage at the Stephen Sondheim theater 20 years
after watching
Pee-wee' s Playhouse
with a bowl of Fruity Pebbles on Saturday morning.
Surreal.
My Favorite 20 Songs of 2010 (In No Particular Order)By Alexis Swerdloff, executive editor of PAPERMAG/PAPERMAG.COM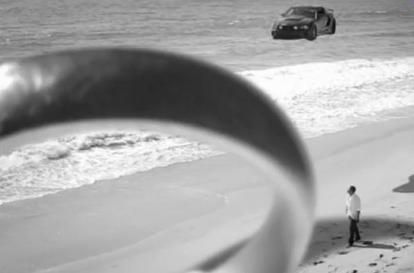 Nelly
, "
Just a Dream
"
Marina and the Diamonds
, "
I Am Not a Robot
"
Kanye West
, "
Runaway
"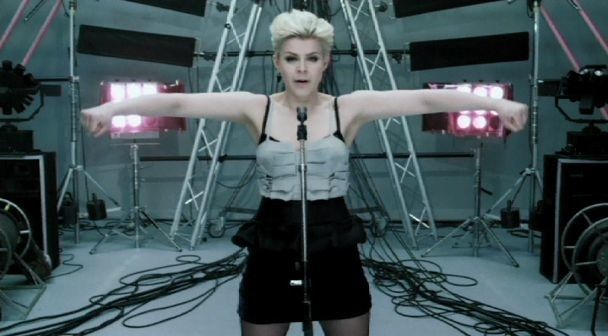 Robyn
,
"
Dancing on My Own
"
Sufjan Stevens
, "
I Walked
"
Arcade Fire
, "
We Used to Wait
"
Aloe Blacc
, "
I Need a Dollar
"
Cults
, "
Go Outside
"
Morning Benders
, "
Excuses
"
Yeasayer
, "
O.N.E.
"
Alicia Keys
, "
Try Sleeping With a Broken Heart
"
Sleigh Bells
, "
Rill Rill
"
Local Natives
, "
Airplanes
"
Belle and Sebastian
, "
I Want the World to Stop
"
Tennis
, "
Marathon
"
The Tallest Man on Earth
, "
Dreamer
"
New Pornographers
, "
Crash Years
"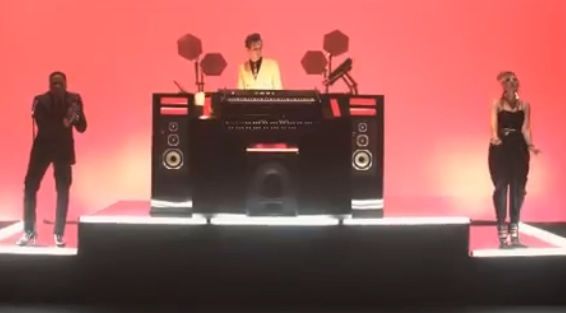 Mark Ronson
, "
Bang Bang Bang
"
The National
, "
Terrible Love
"
Matt and Kim
, "
Cameras
"
My Favorite Five Blogs of 2010 By Elizabeth Thompson, managing editor of PAPERMAG.COM

THE HAIRPIN
The Hairpin, a new women's website from the folks at The Awl and edited by Liz Colville and Edith Zimmerman, feels like hanging out with your smartest, funniest, pop-culture-savviest lady friends. And we mean that in the least
International-Coffees-
commercial
way possible. It's a must-read for anyone who enjoys discussing the lunacy doled out in women's magazine advice columns, and it also provides refreshingly relevant fashion pieces -- Mary HK Choi's missive on the enduring "urban woodsman" trend among New York guys, "All Dudes Learned How to Dress and It Sucks," is solid gold. 
WHAT COURTNEY WORE TODAY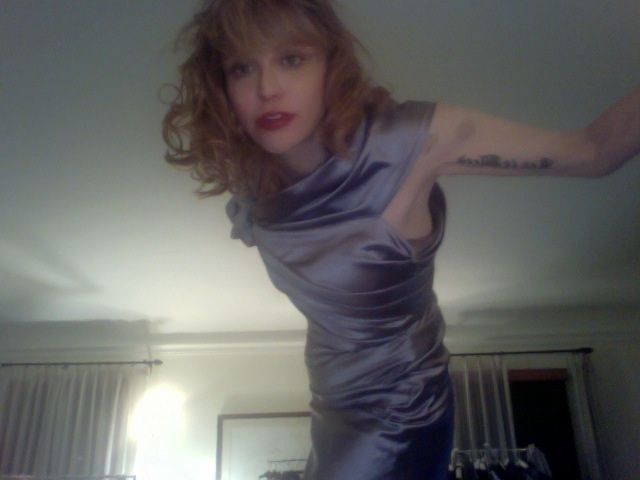 Like its muse, What Courtney Wore Today is a kind of genius, bemusingly shallow tumblr that documents
Courtney Love'
s favorite couture outfits. Its anonymous writer, "X," posts close-up iPhone shots of Love in Dior, Lanvin and other looks leading us to believe he or she is an assistant or someone close to Love. Then again, the site's lack of spelling and basic grammar, frequent use of watermarked paparazzi photos and long-winded asides about Love's underwear choices make us hope the lady herself is at the wheel.
WHAT THE FUCK SHOULD I MAKE FOR DINNER?
The F-bomb Internet meme is nothing new, but What the Fuck Should I Make For Dinner is actually a handy little tool for curing culinary ennui. Users can either accept what the website suggests, like "Make some fucking marinated grilled salmon" (and click through for a link to the recipe), or click "I don't fucking like that" for a different suggestion. Fucking yum! 
THE IMPOSSIBLE COOL
Part style blog, part ode to old-school musicians and movie stars, The Impossible Cool is for anyone who has ever looked at a picture of a pompadoured, smirking George Harrison from the early '50s and dreamily murmured, 'Wow.'
ALBUM TACOS
Album Tacos celebrates two things no one can live without: music and food. Specifically, music and tacos. The blog features tacos Photoshopped onto classic album covers in subtle ways (the camera dangling next to Bob Dylan on the cover of
Highway 61 Revisited
is now a taco with a lens) and more obvious ones (Devo's
Oh No It's Devo
is revamped as "
Oh No, It's Tacos
"). Add it to your bookmarks, and give it a look at the end of a tough day. Sure your boss yelled at you and you just found out your ex is engaged, but someone also spent hours figuring out where to hide a taco in the background of
36 Chambers
! Everything's going to be OK.
The Best Accessories 2010By Martha Violante, PAPER's fashion editor at large.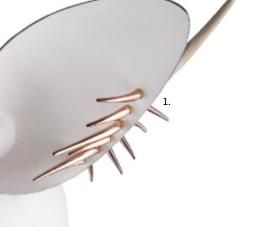 Alexis Bittar'
s magnetic spike earrings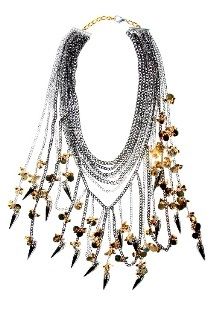 Assad Mounser
's spikes and bullets necklace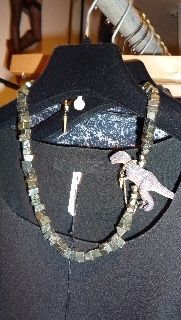 Candace Ang
's prehistoric dino necklace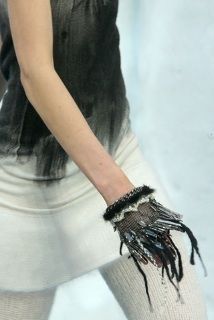 Chanel
's mesh fringe bracelets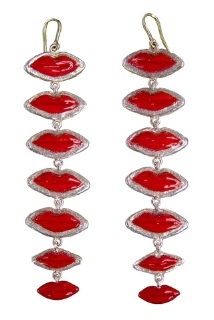 Delfina Delettrez
's stacked up ruby lips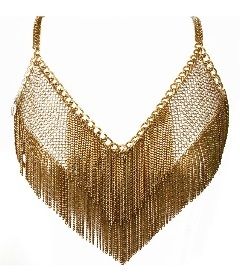 Falconiere
's gold mesh bra top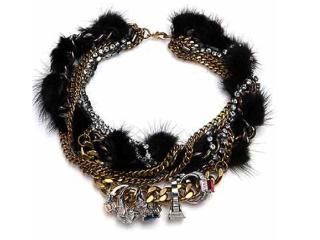 Fenton
's divorcée necklace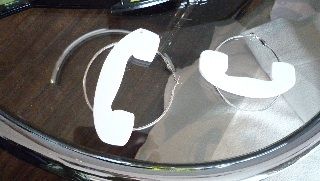 Holly Fulton
's phone hoop earrings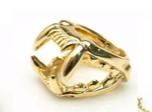 Louis Morais
' vampire teeth ring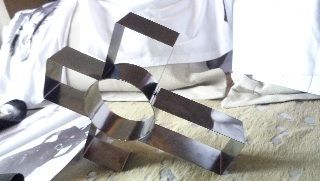 Maria Francesca Pepe
's 3D cross cuff.