• Julie Besonen, PAPERMAG food editor
• Zandile Blay, women's market editor
• Mickey Boardman, PAPER's editorial director
• Peter Davis, PAPER's editor at large, "Status Update" blogger
• Dennis Dermody, Cinemaniac blogger
• Julia Frakes, Fashion Schmashion blogger
• Kim Hastreiter, editor and publisher
• Tom Murrin, Stage Notes blogger
• Gary Pini, Eight Items or Less blogger
• Whitney Spaner, PAPER's managing editor
• Alexis Swerdloff, PAPER/PAPERMAG executive editor
• Luigi Tadini, men's market editor
• Elizabeth Thompson, PAPERMAG editorial assistant
The Ten Best and Worst Films of 2009
By Dennis Dermody, Cinemaniac blogger
Winston Churchill once said, "Success consists of going from failure to failure without loss of enthusiasm." That's what going to the movies can be sometimes like. But for every Old Dogs or Kate Hudson romantic comedy there can be a movie that drop kicks your soul in a good way. For the first time in years I have the luxury of waiting till the end of the year to make my picks. I'm usually scrambling in October. For better or worse here are my picks:
THE BEST
10. The White Ribbon: Michael Haneke (Cache, Funny Games)'s disturbingly masterful new film, set in a Northern German village prior to World War I, is about the seeds of evil. With brutal farmers, wealthy land owners, intolerant preachers all create a breeding ground for hatred in the minds of the town's young children. The movie incrementally lays out the foundation for a generation embracing the Nazi mindset. A chilly, intelligent, beautifully constructed nightmare.
9. Ricky: The new film by the remarkable French director Francois Ozon (Swimming Pool) is a marvelously bizarre tale of a factory worker, Katie (Alexandra Lamy), living alone with her young daughter (Melusine Mayance), who gives birth to a baby who sprouts wings. This fanciful tale of a miraculous infant takes funny, strange and unexpected twists, but the heart of this lovely, ethereal film -- the mother, boyfriend and daughter's journey through all of this oddness -- is so rich and tenderhearted it's almost angelic.
8. The House Of The Devil: A deliciously demonic tale by the talented director Ti West (Trigger Man) set in the 1980s about a pretty college girl, Samantha (Jocelin Donahue), who unwisely accepts a "baby-sitting" job at a spooky house in the country harboring many satanic secrets. Ti West subverts the horror genre playfully by insidiously setting up the mood and letting it eerily and slowly play out before slamming home with a fiendish finale.
7. Antichrist: Lars Von Trier's newest is an art horror film about a grieving couple dealing with the death of their young child. Willem Dafoe plays the husband/therapist who takes his inconsolable wife (Charlotte Gainsboug) deep to a cabin in the woods to face her fears; but he gets a bloody lot more than he plans on. Gorgeously filmed in "chapters," while at times it can be preposterously earnest in its execution, there are moments of true eerie visual poetry. Think Ingmar Bergman's Hour Of The Wolf -- but with genital mutilation. New York critics were gunning for this one after the scandal it made at Cannes and were unfairly dismissive of it.
6. Bronson: A savagely smart, hilariously alarming portrait of Britain's most notorious violent prisoner, Michael Peterson (Tom Hardy), who changed his name to Charles Bronson (coerced by a seedy fight club promoter) during one of his rare stints out of jail. Directed by the wildly audacious Danish director of the brilliant Pusher Trilogy, Nicholas Winding Refn, who keeps the tone cartoonishly operatic, it's like Stanley Kubrick's A Clockwork Orange but far more perversely barbaric.
5. In The Loop: Directed by Armando Iannuci, this blistering dark political comedy follows bumbling British Government minister Simon Foster (Tom Hollander) whose offhand comment to the press that "war is unforeseeable" starts a nightmarish chain of events including ruthless spin doctors (the rudely riotous Peter Capaldi) trying to whip up support of a war while the American Assistant Secretary Karen Clarke (Mimi Kennedy) and her Pentagon General ally (James Gandolfini) try desperately to thwart it. This acerbically funny satire which grew from the BBC television show The Thick Of It has a nice farcical Robert Altman freewheeling improvisational feel to it.
4. Martyrs: This harrowing French horror film by Pascal Laugier is about a young woman vengefully seeking out the people responsible for her imprisonment and abuse as a child. Some parts of this film are almost unwatchably horrific, but the end is unexpectedly profound. Disturbing and unforgettable.
3. The Hurt Locker: This nerve-frying war film by the gifted Kathryn Bigelow (Near Dark) focuses on the special team of soldiers who defuse bombs in Iraq. Scene after scene keeps you on the edge of your seat as the crew -- James (Jeremy Renner), Sanborn (Anthony Mackie) and Eldridge (Brian Geraghty) -- defuse cars wired with explosives. Seeing James (Renner) in an American supermarket daunted by an aisle of breakfast food right after he recklessly throws himself into a car in Iraq loaded with bombs shows that war is really all he understands in some weird, primal way.
2. Broken Embraces: Pedro Almodovar's rapturously convoluted tale of love, obsession, secrets, lies and movies. Penelope Cruz is ravishing and Bianca Portillo as the long-suffering Judit is phenomenal. Based on a photograph Almodovar took of a mysterious couple embracing at the volcanic Golfo Beach, he brings their story to life on the screen with his usual wit, dark humor, sophistication and enough plot twists to dazzle even the blindest of film lovers.
1. Inglourious Basterds: Quentin Tarantino's meta-war film is a glorious, violently entertaining pop fable that was my favorite film of this year. Considering the source -- Enzo G. Castellari's 1978 pulp action movie rip-off of The Dirty Dozen, Tarantino's film is neither a send up of Italian exploitation nor a fan boy potpourri but almost a hallucinatory comic book of what war movies could be. The fiery action-packed pay off at the end is wildly outrageous, cinematically dazzling and ludicrously satisfying.
Other favorites: Bright Star, Grace, A Serious Man, Tokyo Sonata, Trick 'R Treat, Summer Hours, Love Exposure, Two Lovers, Paranormal Activity, Whatever Works. Where The Wild Things Are, My Son, My Son, What Have Ye Done.
THE WORST
10. 2012: Roland Emmerich's apocalyptic epic starring John Cusack has been wisely described by critics as a disaster version of The Parent Tra, but it's so monumentally ridiculous (and long) I must say I had almost as good a time as watching The Poseidon Adventure twice. If only all bad movies could be this much fun. But alas....
9. Tokyo: Three talented directors (Michel Gondry, Leos Carax, Joon-ho Bong) make movies about the city of Tokyo and each one sucks.
8. Cold Souls: Paul Giamatti searches for his lost soul (the size of a chick pea) that was like Eternal Sunshine Of The Wasted Time.
7. Lymetime: This dreary indie flick about suburban misery and Lyme Disease for the first time made me think kindly towards ticks.
6. The Maid: Critics liked this indie film about an unpleasant servant but I just wanted to fire her ass and escape the theater.
5. The Unborn: This supernatural stinker about a woman tormented by a demonic spirit almost made me wish I had never been born.
4. Duplicity: I so expected to like writer/director Tony Gilroy's comedy about corporate spies starring Julia Roberts and Clive Owen, but it was about as complex as a Rock Hudson/Doris Day movie. Except without the chemistry or laughs.
3. Funny People: No, they were not.
2. Bad Lieutenant: Port Of Call New Orleans: Critics went gaga for Werner Herzog's stupid reinvention of the brilliant Abel Ferrara film. Hambone Nicholas Cage was ludicrously over-the-top as the cop on crack and the movie made you feel like someone was pulling your leg for two hours.
1. The Lovely Bones: I just refuse to die if one ends up in limbo trapped in a Moody Blues or Journey record cover. That's what Peter Jackson's film vision (based on that rotten Alice Sebold novel) of a dead girl watching over her family and killer felt like.
My Downtown Theater Favorites
By Tom Murrin, Stage Notes blogger
10. The Lost Lounge: Lois Weaver and Peggy Shaw, also known as Split Britches, put together a heartflkt show, with music and sound by Vivian Stoll, at the New Dixon Place, that made you stop and think about all that has changed in our city in the past decade. They sing and dance and tell jokes, like in any duo lounge act, but underneath there is the sadness and nostalgia and melancholy that inevitably accompanies great change, whether it's new buildings on the Lower East Side or the breakup of a relationship.
9. The Great Recession: The Flea Theater decided to commission six young playwrights to write short plays reflecting their age group's take on the current economic state. The playwrights came through, and so did the six directors and the wonderful resident company (The Bats) who performed them. The plays' themes ranged from horror to relationship angst to hope to post-apocalyptic reality.
8. Comme Toujours, Here I Stand: Annie-B Parsons and Paul Lazar's Big Dance Theater came to The Kitchen with a show that perfectly symbolizes their name and strengths. There was synchronized movement, a huge set with multiple monitors and mechanisms, and an emotional text that revolved around a Parisian female pop singer. Based on an Agnes Varda movie, BDT made it a live, original and beautifully cinematic piece of their own.
7. Crime or Emergency: Sibyl Kempson and Mike Iveson at P.S. 122 have come up with the most ambitious, fully realized 12 character play/cabaret that zips and zaps with energy, talent and theatrical genius. Here the pair take on all the parts, with Iveson arranging early Springsteen songs and spitfire Kempson hurling herself around the stage, switching characters in the blink of an eye and singing her ass off.
6. The Garden of Forked Tongues: Writer/director Jason Schuler often draws on other realities to amuse us. Here his sci-fi scenario, with duplicate and triplicate actors from parallel realities, doesn't always make sense, but his inventiveness and sense of humor carry you along. After a woman hypnotist puts the audience into a proper meditative state at the play's outset, you truly never know what is going to happen next.
5. Kaspar Hauser: This very well-done theatrical opera, at The Flea Theater, with music and directon by Elizabeth Swados, and text by Swados and Erin Courtney, is about an innocent foundling, set in 19th-Century Germany. The feral boy, unknowing of human experience, is discovered, educated, wooed, and eventually destroyed. It's a tragic tale, told with haunting music and song, and performed heroically by 19 of the Flea's resident young actors, the Bats.
4. machines machines machines etc.: Presented at HERE Arts Center in June, created and performed by Quinn Bauriedel, Trey Lyford and Geoff Sobelle, this production was like a Rube Goldberg Inventions! cartoon come to life. The set, a junk cluttered room where the three men lived and fretted about the outside world invading, was amazing. The cleverness of the devices and their athletic clowning made this a joy to watch.
3. Up For Anything: Playwright Marc Spitz, along with the troupe of actors he often works with, under the direction of Carlo Vogel, know how to put on hipster comedies. This farce opens with a man having an afternoon affair, and darn if the Viagra-like pill he took is still doing its job post-coitus. By the time the show is over a cast of 12 crazy characters, including the wife, in-laws and neighbors, fills the Kraine Theater stage. A myriad of side plots are hilariously explored, and the hero's erection finally subsides.
2. Little Theatre: This is the excellent, eclectic variety show of performance art, music, plays, film, dance, poetry and whatever, imaginatively and lovingly curated by Jeff Jones and Mike Taylor, pops up the second Tuesday of every month at the New and Improved Dixon Place. I try never to miss it because I know I will always see a lot of stuff I like, and things I'd never see anywhere else. (Full disclosure: I have been known to be a part of their programs with my Alien Comic shows.)
1. The Lily's Revenge: Taylor Mac's five-hour hosanna to all the possibilities of theater, with a special nod to the style of the Playhouse of the Ridiculous, was accomplished with the participation of 40 downtown performance stars, five directors, and a host of others (like composer Rachelle Garniez and costumer Machine, to name just 2), along with the venue itself, HERE Arts Center, which offered up its innards for the show's elaborate success. This was the most challenging, exciting and wonderful theater event of the year.
My Favorite 2009 Moments
By Kim Hastreiter, PAPER editor/publisher
10. Getting a standing ovation for playing the triangle with Pink Martini at Carnegie Hall this year.
9. Eating the most amazing Caesar salad I've ever encountered at the newly opened Breslin restaurant at the fun ACE Hotel in New York.
8. Our first lady Michelle Obama wearing Martin Margiela pants to a poetry slam at the White House and a gorgeous Isabel Toledo outfit to meet the Queen of England.
7. The Grey Gardens festival held at the Maysles Institute in Harlem.
6. Isabel Toledo's retrospective show at FIT featuring her husband Ruben Toledo's 500-foot accompanying mural.
5. The film This Is It, that gave the world the last word on the pure unadulterated genius of the late artist Michael Jackson.
4. Tauba Auerbach playing her amazing 17-foot-long organ called the Auerglass every day at her show at Deitch Projects.
3. Hosting THE most fun dinner for Pedro Almodovar and Penelope Cruz at Casa Lever with all our favorite, most creative New Yorkers.
2. Befriending the AWESOME Beth Ditto (wearing an amazing Jeremy Scott dress) at the above, aforementioned dinner
1. When Liza Minnelli sang "New York, New York" at midnight at PAPERs 25th anniversary party this past September.
My Favorite Eats of 2009
By Julie Besonen, PAPERMAG food editor
Favorite New Restaurant of 2009 (New York City): The Breslin is delectable on every level, from the groovy setting to the perfect Beefeater 24 martini to the juicy chargrilled lamb burger and most amazing thrice-cooked chips in the city.
Favorite New Restaurant of 2009 (Los Angeles): Santa Monica, actually. Fig is the quintessential Southern California bistro, where up-and-coming chef Ray Garcia cleverly combines peak season ingredients. I love how his menu breaks down what's just arrived at the farmers' market, what's in peak season and what's coming soon, which gets me excited to go back.
Favorite Cheap Eat: Aamchi Pao This West Village hole-in-the-wall has gourmet Indian street food for a pittance, plus it's BYOB. The spicy $3 Manchurian cauliflower is crazy good.
Smartest Food Trend of 2009: Since they're not paying rent, fabulous new food trucks like Frites 'n' Meats, Schnitzel & Things and Picnick Smoked pass the savings on to us!
Favorite New Happy Hour Spot: Named for the robber baron Cornelius Vanderbilt, Cornelius (on Vanderbilt in Brooklyn) has $1 oysters and $4 beers, plus delicious discounted cocktails. And what better place to read one of the best bios of the year, The First Tycoon: The Epic Life of Cornelius Vanderbilt, by T.J. Stiles?
Hamburger Heaven: DBGB Kitchen & Bar was quite the sensation this year -- haute chef Daniel Boulud opening a sausage emporium on the Bowery?! But I liked the burgers even better, particularly the Frenchie, topped with pork belly confit and morbier cheese.
Most Brilliant Sandwich: Henry Public is bound to warm the cockles of your heart, it's so adorable and old timey, and the turkey leg sandwich makes you rethink Thanksgiving.
Favorite New Mexican: Cascabel Taqueria is pretty mindblowing, especially when it comes to porky gorditas and organic quinoa and beans.
Best Healthy Lunch Deal: Qi a stylish new Pan-Asian restaurant, offers an appetizer and a bunch of impeccably-prepared vegetables and stir-fries for $6.90 -- even on weekends!
The Must-Have Cookbook: Simple Fresh Southern by the Lee Brothers (Matt and Ted, who couldn't be more charming) is definitely worth buying, especially if you're into pickling.
Top Ten Cheap and Chic Retail Collabs of 2009
By Zandile Blay, women's market editor
2009 was all about the designer collaboration, and for that I offer endless Hail Marys, Hosannas and high fives in thanks. Every high-end designer from Anna Sui to Zac Posen suddenly realized that regular folks like luxury too. Cue retailers like Uniqlo, Top Shop, Target and the House of H&M. By year's end, it felt like a battle to see which store could outdo the other with collaborations. So who won? I say we did! So journey with me won't you, as we look over the top ten chic and cheap collaborations of 2009 -- in no particular order.
Christopher Kane for Top Shop: Perhaps it's because he was a fellow CSM student (shout out to Prof Tredre!), but I am absolutely biased towards Christopher Kane. But the reality is that Kane is dopeboots.com. Ditto his collaboration with Top Shop which featured a divine crystal-studded, Pepto-pink, figure-hugging dress. Really, what more does one need in life?
Isaac Mizrahi for QVC: Not sure what I heart more -- Mizrahi's haute hustle or his moderately priced straight-to-television collection of apparel, accessories and home goods.
Mary Kate & Ashley for JCPenney: This right here isn't so much a review as it is a request: Can the Olsens adopt me? But I digress... The mini-moguls launched a diffusion line, Olsenboye, expertly offering the unimaginable: a "mature" juniors line.
Alexander McQueen for Target: Now I'm not one to critique (gratuitously). Truth be told, I'm no one's designer... but something tells me (even if it was only my stylist friends) that McQueen's McQ line for Target could have given us more chic and more cheap. We love a friendly price point, but cheap fabrics? Not so much! That aside, I loved the passionate pops of pink throughout the collection.
Zac Posen for Saks: Z Spoke... And we all listened. Have $78? You can start with a T-shirt from Posen's new, Saks exclusive collection. Now that, as I like to say, is a moment!
Rodarte for Target: The Mulleavy sisters succeeded in spinning their uber special collection from runway to reality -- mass reality. And the masses loved it. It was chock full of special pieces like ripped tights, a flirty skirt, and a tiger print cardigan. My personal fave? The see-through button-up shirt with a purdy bow. Naturally.
Sonia Rykiel for H&M: Even if she just designed a selection of satin bras and panties and slapped her name on it -- Rykiel could do no wrong. Amazing, because she did exactly that for her H&M debut.
Jimmy Choo for H&M: For the Jimmy Choo aficionado, this collection was pure heaven. Signature sexy stilettos and an equally sultry capsule collection of clothes to match. Alas, I'm not a Jimmy Choo aficionado.
Jil Sander for Uniqlo: Folks went mental over the simple and sophisticated staples which made up her collection for Uniqlo. Check it out again next month when JS for Uniqlo's spring collection debuts in stores.
Rachel Roy for Macys: In my humble opinion, no ones done it better. "Rachel," Ms. Roy's spin-off line for Macy's hit all the right spots: Style, fit and budget. (Just between us, feel free to buy me the leather jacket with sculpted shoulders. J'die!)
The Trends We Love and Those We'd Love to Forget
By Luigi Tadini, men's market editor
LOVE
Retro: The Mad Men craze brought 1950s glamour and Rat Pack charm to the forefront of fashion. Thom Browne has been blowing this whistle for quite some time with his trademark Golden Era tailoring, but the widespread phenomenon became a pandemic early this year. From tie-clips to wing-tips, cigars to crew cuts -- tailoring at its finest has never been so popular on this side of the pond. 2009 was the year of the Draper!
Rainbow Bright: Whether just an accent accessory or an entire neon look, bold color palettes are here to stay. Unlike years before, these vivid shades invaded fall runways pumping life into the somber ocean of winter grays. Cyan, ambers, and screaming oranges trickled into every major fall and spring collection and are likely to keep dictating adventurous color stories through fall 2010.
Eco-apparel: It has been a long time coming; finally eco-apparel has matured far beyond the graphic sweatshop-free tee. This year marked the debut of a handful of American based brands that are reinventing the way we re-use raw materials. From yarn made of recycled bottles to sunglasses made of renewable organic sources, green is the new black.
Home Grown: Another welcome trend is the emergence of young designers who are producing their lines entirely in the US. Some argue fashion is one of the last standing manufacturing industries in America. Certainly, the battles over the high rising rents in the Garment District and the competitive global alternatives have made it clear that the state of local manufacturing is dire. The support of these creative young designers might just be the answer to this struggling industry.
The Mastroianni: Being called "four-eyes" has never been so cool. Thick-framed prescription (and non-prescription, for that matter) glasses are everywhere. The vintage appeal of this accessory adds a certain bookish je ne sais quoi to the wearer. Marcello Mastroianni made them famous in 8 ½, hipsters made them popular again, and designers made them ubiquitous.
Check Mate: Plaid is classic and arguably the most traditional of patterns a gent could sport. And this year, plaid took over its fair share of lookbook pages and found itself cut into tuxedos, bowties, socks, umbrellas and even shoes. From Chuck Bass to the Bushwick hipster, this trend has been embraced by all trickling down from the haute houses across the pond to the massified comfort of your suburban Target. Mixing the different styles of plaid has become a sport favored by the fashion savvy as an ultimate testament to their fine-tuned styling abilities.
Monotone: Tone-on-tone hasn't been as popular since the early nineties. Initially made famous by Calvin Klein and designers prone to the abstract and avant-garde, this trend is finding its roots and strength in the "simple is better" mentality. Some might argue it is the designer's way of taming the recession by investing in the safety of grey, black and white. Minimalism is chic and will go well with all the highly designed gadgets we all obsess about.
LOVE TO FORGET
Frazzled Dazzle: Like QVC's Quaker Factory on steroids, Ed Hardy has been committing fashion war crimes ever since it's self-important founder and designer decided to bedazzle the world with his own share of contagious and ill-fated fads. Nothing is more horrific then the fashion coup that ensued, a line seemingly based on sportswear for the mentally insane, the Orange County housewife or the misled teenager. This West Coast obsession has gone global with its own appalling kind of tasteless terrorism.
Stache It: I'm not quite sure why the mustache has come back in full throttle this year. I don't understand why young men want to look like Tom Selleck or a Marx brother. Whether a handlebar, a horseshoe, a walrus or a Fu Manchu -- as far as I'm concerned, no mustache is a go. Just because you can grow facial hair, doesn't mean you should.
Hair-Don't: If your idea of a good haircut involves taking inspiration from a 19- year-old Disney employee or a waiflike Mormon vampire, then it might be a bit too late to save you. The Zac Effron 'do is not appropriate for anyone but Zac Effron -- even then it is up for discussion. Asymmetry is also a common sickness in urban hair salons, but we suppose an asymmetric haircut is useful in helping you locate yourself if you happen to be lost in certain boroughs across the bridge.
Utilize This: This is a tough one. Some things are meant to grace the runways and the glossy pages of fashion magazines but not the streets. Such is the case with the utilitarian jumpsuit trend that seeped into every major collection this year. As much as I appreciate a look inspired by the tough and sometimes heroic jobs in which the jumpsuit is called for, the fact remains it is not a proper piece of clothing. If you're not a racecar driver, a pilot or a striper then please retire your onesie.
Metal Me This: If you're not Mick Jagger, David Bowie or Iggy Pop then you should never wear a metallic suit. Again, this falls into the category of the perfect garment to be photographed or worn on stage. Unfortunately, for the fashion obsessed, we have to suffer as we witness the Rod Stewart metallic hit the streets worn by the most unusual cast of unqualified characters.
Burnt: To some, an orange and obviously fake tan is as much part of their persona as the clothes they wear (i.e.: Valentino Caravani, Donatella Versace, the cast of Jersey Shore). To most, a fake and unseasonable dark tan means you are either spending too much money at your local salon or too many hours lathering yourself with chemicals in the bathroom. Embrace the seasons and your pale skin.
Mesh: Need I say more?
President Barack Obama's Ten Best Style Moments of 2009
By Julia Frakes, Fashion Schmashion blogger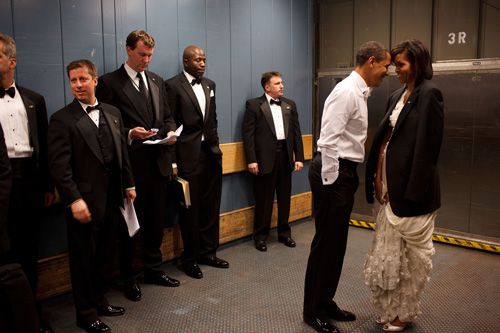 CLICK HERE FOR THE SLIDESHOW
While First Lady Michelle Obama may receive the preponderance of political fashion coverage (and by championing the likes of Rick Owens to Isabel Toledo... rightfully so!) her discriminating taste and exquisite wares have a propensity to outshine her husband's style selections: ones highlighted by his unfussy routine signatures contingent on the occasion or level of decorum at hand.
The contemporary white bowtie: Who could forget Pete Souza's tender Inaugural Ball night image of The President gallantly sharing his tux coat and a private moment with First Lady Michelle Obama in a chilly freight elevator on Jan. 20, 2009.
The "Clint Eastwood autumn casual": A warm palate (grey cozy wool sweater with peek-a-boo collar and classic sepia windbreaker) and togs keep the President toasty as he first tours the White House South Grounds with Curator William "Bill" Allman, left and Chief Usher Admiral Stephen "Steve" Rochon on Jan, 24, 2009.
The Obama-trademark crisp white shirt: In their idiosyncratic and characteristic suit styles, President Barack Obama and former President Bill Clinton leave lunch at a Greenwich Village restaurant after the President's speech at Federal Hall on Wall Street on Sept. 14, 2009.
The (now-iconic) "dad jeans": Capped off with a simple white T-shirt and his hometown Chicago White Sox duffle coat, President Obama gets into the true "dad jeans" mentality while cheering for his daughter Sasha's soccer team on May 16, 2009.
The classic black tie: Perhaps best exemplified during the 2009 Nobel Banquet in the Hall of Mirrors at the Grand Hotel in Oslo, Norway while dancing with the First Lady (note the Preseident's hallmark "lax cuffs") on Dec. 10, 2009.
The professorial panache: While the President donned an endearingly bookish "costume" for the Halloween festivities, the First Lady and Marian Robinson got a bit more into the spooky seasonal spirit welcoming children from Washington, D.C., Maryland and Virginia schools at the North Portico of the White House on Oct. 31, 2009.
The "sans-tie" suit: Perhaps our most even-tempered and unflappable of presidents in modern history, the "sans-tie" suit and unbuttoned shirt, while not a frequent gesture, has become a laidback Obama standard. Here, President Obama talks with aides outside the U.S. Ambassador's residence in Paris before returning to Washington, on June 7, 2009.
The formal necktie: Opting against his conventional bow tie route, the President and First Lady arrive for the Congressional Hispanic Caucus Institute's 32nd Annual Awards Gala dinner with Speaker of the House Nancy Pelosi on Sept. 16, 2009.
The straightforward athletic gear: President Barack Obama takes a shot during a game with Cabinet secretaries and members of Congress on the White House basketball court true to form: in unadorned, unlogo'd solids on Oct. 8, 2009.
The unostentatious golf attire: President Barack Obama puts a bit of body English on his shot during a golf round at Farm Neck golf course while vacationing on Martha's Vineyard on Aug. 24, 2009.
The Saturday gingham shirt: With his nonchalantly rolled-up sleeves, the President's grace and ease are apparent while catching up with Indian Prime Minister Manmohan Singh on the phone in the Oval Office on Saturday, Oct. 10, 2009.
2009 According to Gary
By Gary Pini, Eight Items or Less blogger
The Best Compilation Album: Kitsune Maison Volume 8
There must be something in the water over in Paris. How else to explain the consistently great compilations from Kitsune. This one is a complete rundown of bands to watch in 2010. Yes, The Drums are on board, but I love Chew Lips, French Horn Rebellion, Delphic... what the f**k, I love 'em all.
Best Artist Album: Odd Blood by Yeasayer
I know, it's not out until next year (on my birthday) but I have heard it and I have to say I feel proud to live in Brooklyn. Note to musicians thinking of moving here: Go ahead, the more the merrier!
Best Single: "Heavy Cross" aka "Cruel, Cruel World" by The Gossip
Haven't heard it in the States as often as Europe over the summer, but the intro still hits hard. Please, please, please play at a PAPER party in 2010.
Best Movie: District 9
I almost gave this to Star Trek but am going to go with District 9 instead. Both killer sci-fi flicks and both great, but District 9 is genius on a low budget.
Best Non-Fiction Book: Panic by Michael Lewis.
There were tons of books about the Great Recession of '09, but this one let history tell the story.
Best Fiction Book: The Brass Verdict by Michael Connelly.
As good as his Lincoln Lawyer, and I still wonder who has the movie rights for his books? I have his latest, 9 Dragons, but I am saving it for the beach in Miami in February.
Best New Building in New York: 41 Cooper Square by Thom Mayne of Morphosis.
I was jealous of Los Angeles and San Francisco because they both had cool Morphosis buildings, but now we've got one, too. Bonus points for the built-in skateboard ramp and elevators that don't stop at every floor.
My Top Ten Star Moments on Broadway in 2009
By Whitney Spaner, PAPER's managing editor
Fiscally speaking, it's been a year that we'd like to forget, and Broadway tickets were not at the top of priority lists come budget-making time. But Broadway had a plan. It armed itself with as many celebrities as it could convince to come back to the boards and fought the recession with star power. Audiences love to see their favorite film and tabloid stars in the flesh, and ticket sales for shows with big names above the titles fared pretty well. Although I think the practice of hiring celebrities just to sell tickets when he or she doesn't actually have the chops is disheartening, I think even the snobbiest of theater critics have to admit that seeing Catherine Zeta Jones sing "Send in the Clowns" from three rows away is kind of a thrill. Here are ten celebrity moments on Broadway this year that were very memorable for me.
Catherine Zeta Jones making me cry when she poured her heart out to her long lost lover Frederik Egerman (Alexander Hanson) in A Little Night Music.
Sienna Miller and Jude Law sneaking around and spending Thanksgiving together while making their Broadway debuts within days of each other this past October in After Miss Julie and Hamlet, respectively. How could you not sneak around with your ex while you're both living in New York and starring on Broadway? More power to you Sienna, and let's hope the nanny stays out of it this time!
I was upset that I missed Deuce, the 2007 play by Terrence McNally starring Marian Seldes and Angela Lansbury not because it was a play about tennis (boring) but because I thought it would be the one and only time I'd get to see the then 82-year-old legendary Lansbury on stage. But turns out 2009 was her year. She starred in not one but two Broadway shows, Blithe Spirit and A Little Night Music. She won her fifth Tony for Blithe, giving a very touching speech about what is was like winning yet another award at her age.
Daniel Craig in A Steady Rain. Yeah, that's it on that one.
Will Ferrell making my cheeks hurt in his show based on his George W. Bush impersonation You're Welcome America.
Jane Fonda's very touching Broadway comeback after a 47-year absence in 33 Variations. I also loved that she came out to support her 9 to 5 costar Dolly Parton at the opening night after party for 9 to 5 the Musical, for which Parton wrote the music.
Geoffrey Rush basically turning himself into a human rag-doll for his exhaustingly brilliant performance in Exit the King accompanied by Susan Sarandon and her dry humor.
Marcia Gay Harden jumping on James Gandolfini's back in God of Carnage, the very funny and biting new play about parents at odds over their children.
This one didn't happen on stage but I sat next to a solo Kurt Russell at Tracy Letts' new play Superior Donuts. I tried really hard not to wink and smile at him. He seemed to genuinely interested in the play and gave it a standing ovation at the end! That just made me like him more…
Carrie Fisher bringing her hilarious memoir Wishful Drinking to life on Broadway. Talk about turning lemons into some very tangy lemonade.
2009's Most Strangely Addictive Blogs
By Elizabeth Thompson, PAPERMAG editorial assistant
A website celebrating the unflattering family photos that make us wince years later. From unfortunate portraits of a bowl haircutted boys and their clarinets, to a family decked out in matching chain male, the site reminds us that delete buttons on digital cameras may be the best invention of all time.
A website by Gawker videographer Richard Blakeley devoted entirely to photos of shamefully American, artery-clogging entrees. Recent posts include a hamburger topped with bacon, two fried eggs, served between two grilled cheese sandwiches, and hot apple-bacon turnovers with icing. Don't look without a bottle of Pepto-Bismol within reach.
Posts are sporadic, but the drolly non-judgmental, sparsley punctuated captions accompanying photos of dogs dressed as humans make Dogs Looking Like People a must-visit. A recent photo of a dog wearing sunglasses and a red dress shirt came with the caption "OK Jen sent in this dog Sam that she thinks looks like a person that is a spy. Jen says: 'This is a picture of my dog Sam looking like a person who is a spy.' OK Jen thanks but I don't think spies wear floor length red shirts." Good point.
Part of 2009's "fuck yeah" meme, (see also Fuck Yeah Sharks and Fuck Yeah, Neil Patrick Harris) Fuck Yeah Cilantro breathlessly extols the virtues of the green leafy herb with charmingly stupid vigor. One post recently used logic to explain the appeal of a sprinkling of cilantro atop a plate of nachos: " THIS IS NOT IN MY MOUTH RIGHT NOW: THERE IS NO GOD QED FUUUUUUUUUUUUUCK." Makes sense to us.
A newly launched compilation of screen-grabbed searches using google's "suggestions" function, in which other popular searches containing words or phrases appear in a dropdown menu. A recent post shows that typing in "is Abraham Lincoln" yields common searches for "is Abraham Lincoln a ghost" and "is Abraham Lincoln a founding father." They're the types of cultural nuggets that will have sociologists slapping their foreheads in 200 years.
Missed Connections New York Missed Connections New York features artist Sophie Blackall's fanciful paintings of New York Craigslist "Missed Connections" posts, most of them wrenching, poetic descriptions of shyness getting the best of us when we see someone who catcjes our eye: "On leaving, stepped on my foot. Wish i could have stricken up a conversation." Others are wonderfully weird: "Seeking girl who bit me TWICE last night while we were dancing."
Faces of Old Dogs Human Giant writer and director Jason Woliner's Tumblr devoted to unflattering screen shots of Robin Williams, Seth Green, and John Travolta from the recent Disney movie Old Dogs. It's deeply strange, slightly creepy, and will suck up 15 minutes of your morning.
Top Five Party Moments of 2009
By Peter Davis, PAPER's editor at large
5. Debbie Harry in a Stephen Sprouse yellow faux-fur coat and purple and black stripe second-skin tights singing "Rapture" at The Louis Vuitton tribute to Sprouse at The Bowery Ballroom as Stephen's mother Joanne (in a neon orange vintage SS suit) looked on proudly.
4. The costume parade at Allison Sarofim's annual, infamous Halloween party in her West Village townhouse. The theme, "Basquait '80s Graffiti" inspired amazing costumes like Carlos Mota as Leigh Bowery, Marc Jacobs as Teri Toye, Happy Massee as Stephen Sprouse and Jim Shi as Mr. Chow, to name just a few. Valentino was there too, and dressed as himself, was in the perfect costume.
3. Flying to Cochin, India with Nadine Johnson, Bob Morris and Christopher Mason for the debut of Vikram Chatwal's Dream Hotel and witnessing Vikram (after arriving late for his own party) jump in the pool fully dressed surrounded by models and bottles of champagne.
2. Examining both Madonna and Courtney Love's (pretty impressive) face work up-close at the preview of the swanky club formerly called The Boom Boom Room, now known as The 18th Floor of The Standard Hotel.
1. Watching Liza Minnelli belt out "New York, New York" (replete with jazz hands and leg kicks) at PAPER's black-tie 25th bash at The New York Public Library in a packed room that included Kanye West, Pat Field, Sean Lennon, Amanda Lepore and Isabel Toledo. A true only-in-New-York moment.
Guys I'm a Little Embarrassed to Admit That I Want to Have Sex With: 2009 Edition
By Mickey Boardman, PAPER's editorial director
The Situation and Ronnie from Jersey Shore
It has to be a three-way if we're getting busy down at the Shore!
Rob Kardashian
Actually I'm not that embarrassed about this because Rob is genuinely HOT!
Brody Jenner
Hideous but hot dude number three on this list. I need to work on my self-esteem I guess!
Christian Audigier
I don't wear the T-shirts but the designer is a hunky bear I'd get busy with.
Michael Lohan
This one I'm truly embarrassed about. Not only is he the worst father in the world, but he also wears his cell phone clipped to his belt! Still, he's a DILF!
Mayor Bloomberg
He was scummy about changing the term limits but there's something cuddly and zexy about him.
Joe Jonas
I feel very creepy because this kid is on the Disney Channel but he's over 18 so I guess he's fair game!
Treasury Secretary Timothy Geithner
He's really the only hot man in politics and you know power is the ultimate aphrodisiac.
Mort Zuckerman
I don't normally lust after 72-year-olds but he looks so handsome and smart on the McLaughlin Group.
Top Chef winner Michael Voltaggio
He's such a douche and almost a parody of the rock-star chef but he's hottttt.
Dr. Drew from Sex Rehab on VH-1
Okay so I have a thing for authority figures, but have you seen those arms?
Sounds Like Fried Chicken
By Alexis Swerdloff, PAPER/PAPERMAG executive editor
Throughout 2009, it seemed like all anyone could yap about was the delicious fried chicken they were eating and the wonderful Brooklyn bands they were discovering. Since fried chicken and Brooklyn bands are two things about which I am quite knowledgeable, I thought I'd make things simpler and combine the two into one concise and delicious year-end round-up.
1. Baden Baden + "Ambling Alp" by Yeasayer
Though Yeasayer's full-length doesn't come out till February (we've already put it on our short list of best albums of 2010), they released a single, the psychadelifunky "Ambling Alp" back in November. "Now, the world can be an unfair place at times/ But your lows will have their complement of highs," singer Chris Keating warbles mid-song. The "highs" of which he speaks surely include the experience of eating fried rotisserie chicken dipped in hot sauce while Sisqo's "The Thong Song" blasts at Koreatown's Baden Baden.
Eat: Baden Baden, 28 W. 32nd St., 2nd Fl.
Listen: click here. d
2. Henry's End + "Two Weeks" by Grizzly Bear
With their classic-preppy look, there is something slightly appropriate about pairing Grizzly Bear with a classic-preppy restaurant in Brooklyn Heights. The members of Grizzly Bear are also super into food, as anyone who used to follow lead singer Ed Droste on Twitter knows (he sadly closed his account back in October), and they would surely appreciate Henry's End and its sweet and spicy fried chicken, with a complex crust featuring cinnamon, cumin and some clove.
Eat: Henry's End, 44 Henry St.
Listen: click here.
3. Bon Chon + "No Reasons" by VEGA
There is some confusion on the Inter-web as to whether Alan Paloma, he of VEGA and Neon Indian fame, is Austin-based or Brooklyn-based at this point, but he's played in Brooklyn enough times throughout the past year to be included on this list regardless. To eat a platter of Bon Chon's extremely spicy, soy-garlic double-fried wings and drumsticks is pretty much a transcendent experience, one that goes very well with the pounding, insanely catchy chorus of this synth-laden dance-floor ballad.
Eat: click here for locations throughout the city.
Listen: click here.
4. Momofuku + "Beach Comber" by Real Estate
There are no words in Real Estate's fuzzy-breezy gem "Beach Comber" and there are no words are needed to describe Momofuku's "fried chicken dinner" which includes two whole fried chickens, one prepared southern style and one Korean style.
Eat: Momofuku, 171 First Ave.
Listen: Listen: click here
5. Roberta's + "Rain On" by Woods
There are only two things for which we will drag our lazy South Brooklyn selves all the way out to Bushwick: Delicious, crispy and surprisingly light fried chicken courtesy of Roberta's and creaky old-timey-sounding lo-fi rock 'n' roll courtesy of Woods.
Eat: Roberta's, 261 Moore St.
Listen: click here.