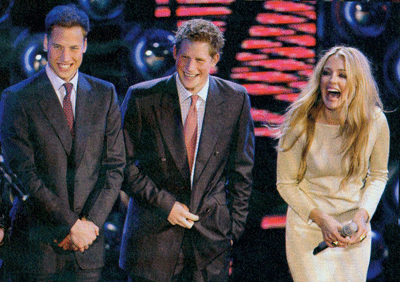 Okay how cute are William & Harry? MM forgets who the hussy on the right is but MM thinks this is from a Prince's Trust event. Once again, totally hard hitting reporting at MMBlog.

The Wales boys are constantly making headlines thanks to their girlfriends and public opinion about whether or not they are princess material. MM frankly loves both Kate Middleton and Chelsy Davy. First of all, if the kids are happy together, who are we to judge? Secondly, this is the 21st century so it's a bit archaic to talk about class and pedigree when it comes to royal brides. That said, MM still thinks that when you marry a member of a reigning royal family, you automatically get a job that will hold you up to lots of public scrutiny. Consequently, a girl needs some preparation and the public needs to be understanding and supportive. Look at the late Diana, Princess of Wales and the former Duchess of York. They got raked over the coals at various times when they both were hardworking royal ladies. Ironically Diana got flack for being too skinny while Sarah got called piggy for being curvaceous. The message is this: royal marriages aren't the business deals they once were but there when a gal marries into the royal family, the eyes of the world will be on her.

Here's an article from a Scottish website about the fashion styles of Kate Middleton and Chelsy Davy.