If you're worried you missed out on dancing and partying like Prince would have on Thursday evening, we're here to assure you that the fêtes were just getting started. Even if you missed the Prince tribute at the Apollo or the block party Spike Lee threw in Fort Greene, there are still quite a few more chances to spread your dove wings and party like the Purple One.
See below for your chances to get in on the action.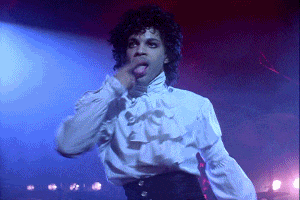 All Weekend:
Purple Rain Screens at AMC Theaters

AMC theaters across the country are showing Purple Rain this weekend at select locations. You owe it to yourself to see the 1984 classic, loosely based on Prince's life, on the big-screen. That puffy shirt was meant to be viewed from plush, stadium seating. Participating theaters are listed here.
Friday April 22
All I Need: In Memory of Prince
C'mon Everybody
There's nothing better than a Friday night spent dancing with the spirit of Prince. C'mon Everybody will honor the music legend with a dance party playing music from Prince "and the many artists he has influenced." DJs Rob D Lite, Stefane Be, and Twelve45 will be in charge of the jams tonight at 11 p.m.
Saturday April 23
Dearly Beloved: A Prince Remembrance and Listening Party
Meridian 23
Celebrate Prince before your seder starts (or maybe stop by right after). At Meridian 23, bartender Kim Hayes will even be serving a special purple beverage honoring Prince at the free event.
Party Like It's 1999
Littlefield
Not only is this a 90s party, but one that's named after a Prince song. For $6, you can dance to your Prince favorites, deep cuts and artists he's inspired. Plus, Littlefield will be projecting Prince's performances, music videos and films on the walls.
Sunday April 24
Prince Listening and Viewing Party
The Rosemont
Mourning will happen in Prince fashion with a happy hour, listening and viewing party starting at 3:30 p.m. and lasting until 8 p.m. Prince's films will be projected and there will be purple rain shots as well as a specialty cocktail called The Purple One.
Monday April 25
Prince DJ Night
Happyfun Hideaway
There's nothing quite like mourning, crying and dancing, so Happyfun Hideaway has created the perfect scenario in which to do so. Starting at 8 p.m., you can dance to tunes from DJs Frankie Teardrop, Knifesex and Cherry Magdalene for free.
Tuesday April 26
Immersive Purple Rain
House of Yes
Bushwick's art collective will host a screening and dance party for the classic Purple Rain. When Bowie died, House of Yes held a similar event. At only $20, the evening will feature dinner, cocktails, House of Yes performances and a gratis dance party.
Wednesday April 27
Prince Tribute Party
W Hotel - Times Square
The Living Room at the W Hotel in Times Square will host an evening of dancing to Prince's greatest hits from 9.p.m. to midnight. While you're sexing it up on the dance floor, be sure to grab one of the craftily named cocktails. We hear the Purple Rain, EXtra Touch and 1999 are great.
[h/t Village Voice]