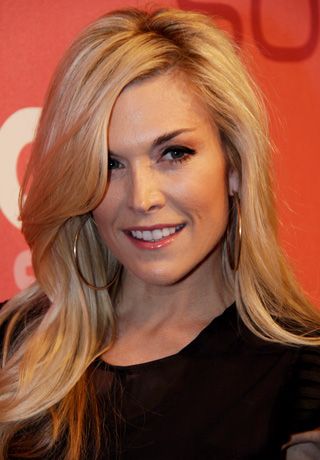 The media pit was quite literally packed to the edges last night at the press party for the CW's two new reality series, High Society, starring the incomparable Tinsley Moritmer, and Fly Girls, which chronicles the everyday lives of a gaggle of giggling Virgin America flight attendants, as well as the (wait for it)... 14th cycle of the show that weirdly never seems to get old, Tyra Banks' America's Next Top Model. This blogger was nearly knocked over on multiple occasions by the clumsy crowd and high force winds, which blasted through the cracks of the heated tent we humble reporters were so generously promised just outside of the Meatpacking District's Simyone Lounge (rather than figuring out how to really pronounce it, we recommend sticking to "SL"). 
I felt a little bad for the cast of Fly Girls, who arrived promptly at 7:30 and were required to brave the red carpet in their work uniforms, but was comforted by the variety of bangs styles they exhibited because really it's the little things in life that truly matter. 
High Society's Devorah Rose, Dabney and Dale Mercer all looked divine, but Tinsley outshone them all with her naturally charming presence. When asked if she had any reservations about doing the show and its affect on her reputation, Tins explained one of the reasons she wanted to do the show was to show the world that she isn't the typical socialite, and that contrary to recent bad press, she's a hardworking and dedicated woman who puts passion into everything she does. Even when hit with the potentially awkward divorce question, she kept her cool: "It was already public whether I liked it or not... I wanted to be myself and show what was going on, but it's not just about my divorce, I also do a lot of things that are fun."

Although she elaborated that "fun" was showing her handbag line in Paris, we learned she also enjoys chicken satay at Philippe, Cape Codders (drink of choice) at Avenue (current after hours locale of choice), and the occasional cupcake or donut (Tins swears by a low carb diet to maintain her petite frame).
America's Next Top Model
veteran judges
Nigel Barker
and
Jay Manuel
both insisted that the loose-lipped
Janice Dickinson
is actually a kind person and has on occasion uttered to herself "I shouldn't have said that," while reporters left and right vied for an opportunity to talk to fashion heavyweight and cycle 14 "harsh, nice, but not the hardest" judge
Andre Leon Talley
, who sported a fur hat (made of simply "Prada") and a vintage Venetian elephant tusk necklace.  I was under the impression that the
Vogue
editor-at-large had originally declined to work with Tyra because he thought the show would fail, to which I was told, "you read wrong... the first season she asked me to be on the show and I opted not to do it. Eight years later I said yes because I felt it wasn't right for me or fit for me [when the show started]." ALT explains that a top model "comes from deep within. A passion, a dedication, something original and unique... there's something special about them that no one else has... It could be a walk, it could be a smile, it could be the girl next door like Gisele [Bundchen]... It's a spiritual thing, it's not about makeup and hair." Finally Miss
Tyra
herself showed up, clad in an elegant up-do and kimono catsuit affair. I was dying to know what would be the stand-out Tiffany tirade of this season, but alas, all I learned was "We don't produce for controversy. It just happens."
See more pics from the part-ay courtesy of PAPER's About Last Night... photog Caroline Torem Craig.