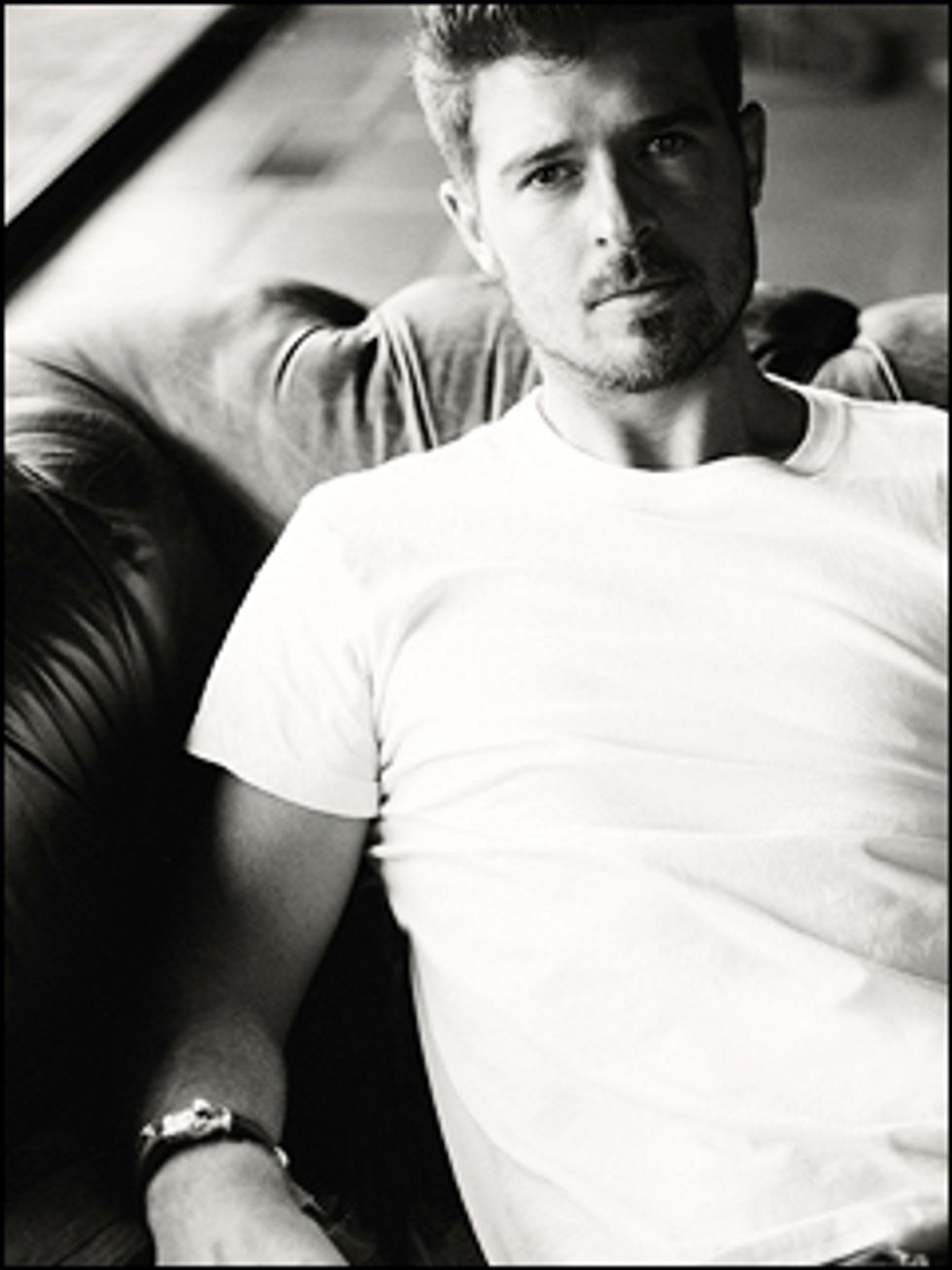 Robin Thicke makes oddly folksy, mostly lovey-dovey poppy soulish R&B hip-hop music. Some people call it "Blue-Eyed Soul."
"I want to hate that label," Thicke says, "but I can't. I never say that my music is this or that, but I'm a member of the hip-hop generation, I've got blue-eyes, and yeah, I'm a pretty soulful guy."
The son of a sitcom dad and a soap opera star (Alan Thicke from Growing Pains and Gloria Loring from The Young and the Restless, who, incidentally, co-wrote the theme-song to '80s sitcom The Facts of Life in 1979), Thicke was a natural piano player and born musical noodler. He signed his first record deal when he was 16, but didn't get around to releasing an album for another 10 years. "Back then, I was listening to Prince and gospel music. I had opportunities to do that Nickelodeon thing, that Disney thing, but I wasn't really feeling it."
While not feeling his own career as a performer, Robin bided his time writing songs for other people: Brandy (when he was only 16), and Michael Jackson ("It was on the History album; I never actually met the man," he says), among others. "I knew I was a singer, but the truth is I had fear of failure... performing my own music, will people like it? Stuff like that."
Using his songwriting revenue to rent recording time for himself, Thicke met Pharrell Willams from the Neptunes while working in the studio across the hall. As the story goes, when the Neptunes' Star Trak label was moving to Interscope Records, Pharrell asked Interscope "What are you doing with Robin Thicke?"
"Being on Pharrell's label is like being in heaven," says Thicke. "It's like being in Tibet with the Dalai. You know, the Dalai Lama."
Thicke got our attention -- and the rest of country's -- this past January, with his heavily-YouTubed and much-discussed Tonight Show duet with rapper L'il Wayne. (The New York Times, after labeling Thicke's music "light-blues faux-gangsta rap," called it "one of the best and most unexpected televised musical performances in years" and "an extraordinarily enjoyable culture clash.") "Wayne and I told ourselves, like Jack Black said, 'One great rock show can change the world.' And we went for it."
Lyrics are a big part of what makes Thicke's music interesting; it's almost as if being "blue-eyed" has given him the freedom to say things that his peers can't. It's hard to picture to R. Kelly dropping lines about his girl's force field, and singing that, "Scientists say that she's a second sunshine." On the single "Wanna Love You Girl," which Thicke wrote and performed with new boss Pharrell, it's clear that the two share the same gift for using earnest goofiness to further the message of a song: Thicke makes progressive music and rarely needs to find a rhyme for "booty."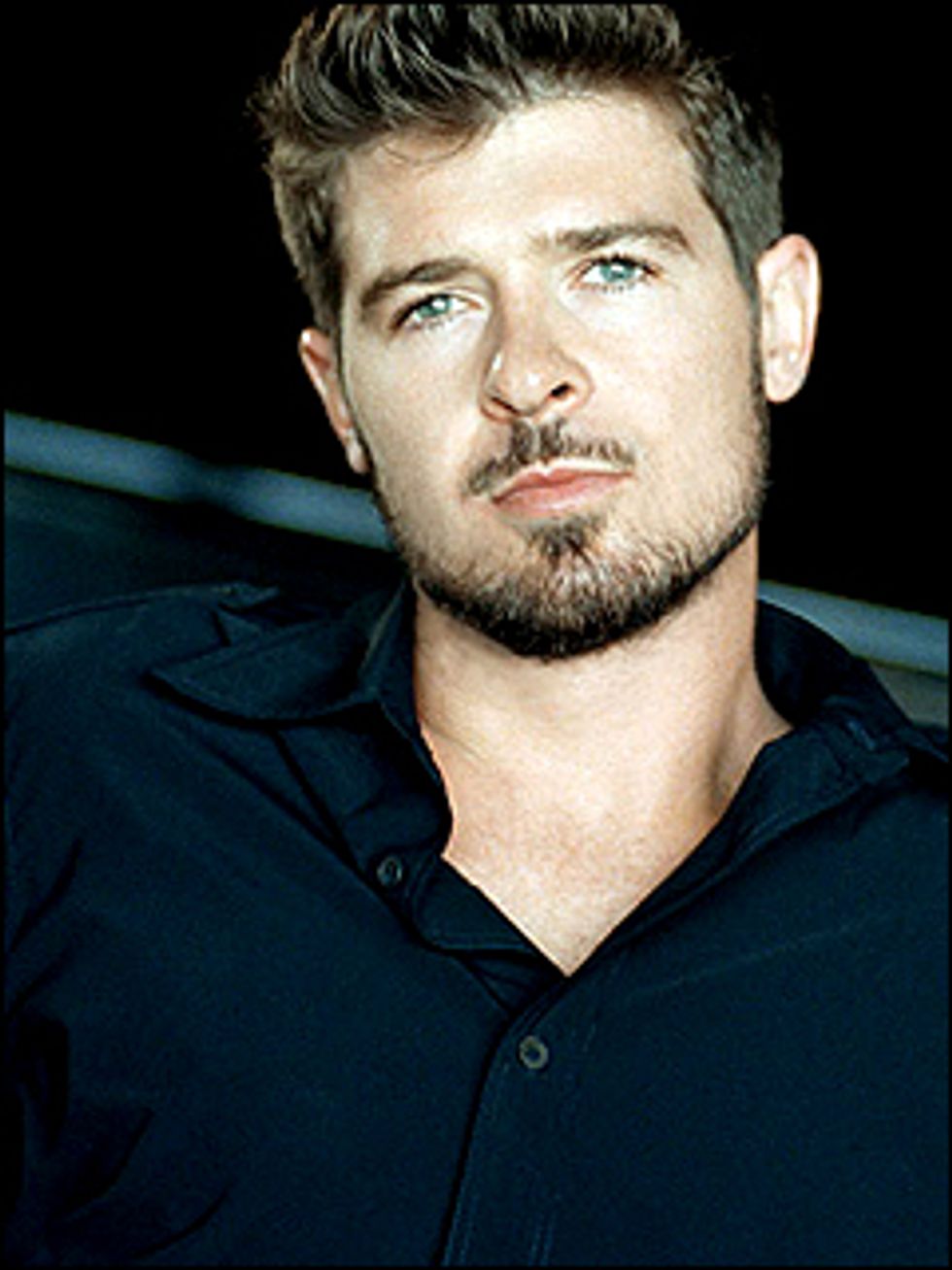 Discussing "Give it to You," a song Thicke wrote for former New Kid Jordan Knight (it went platinum, and remains one of the more interesting things in the desolate pop wasteland of late-'90s MTV), Thicke gives an embarrassed groan. "I was in my Beatles period," he says. "Instead of going to college, and taking classes for a semester, I'd just focus on one artist or one type of music for a few months. That was my college." Asked what he's studying now, he laughs. "I'm done with that now. I mean I graduated, not dropped out. I feel like I've got so much to say musically, that I'm really trying to limit my exposure to other artists right now. I want to try to keep my own songs pure."
"Most important," Thicke says, is his first Star Trak album, The Evolution of Robin Thicke, which is due out July 18th. "This album will give you what you want. And it will give you what you need. It will throw you a party, it will make you believe, it will help you with your struggles. So you should get it."