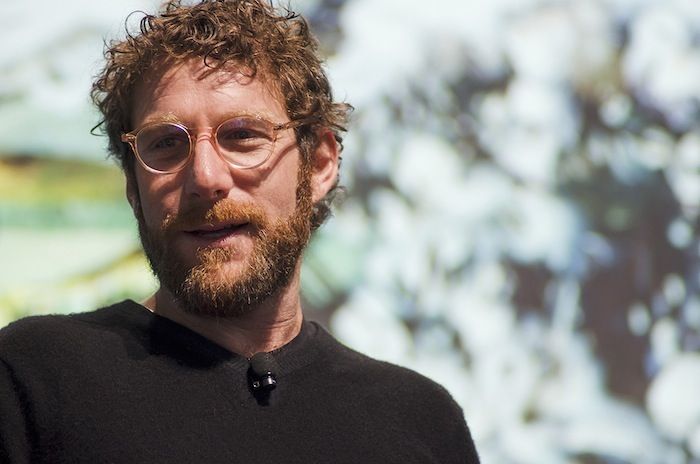 Photo by Kaan Hiini
Spend 5 minutes with artist Dustin Yellin and you'll feel like you've fallen down the rabbit hole.
The 39 year-old-artist, best known for his large, dystopian-themed sculptures, has a way of speaking that's equal parts coherence and confusion. We had the chance to sit down with him during
The Feast
, an annual event that brings together artists, filmmakers, scientists, entrepreneurs, and technologists to engage each other in discussions about creating world-shaking change. This year's conference was hosted at
Pioneer Works
in Red Hook, a center for art and innovation, and the brain-child of Yellin. An appropriate choice of venue since the theme of this year's event,
progression
, was largely inspired by the artist's efforts to turn this space into a cultural hub.
Simultaneously humble and confident, Yellin kicked off our chat by dipping in and out of a fake British accent to explain that his decision to lay roots in this particular part of Brooklyn, once home to natural wetlands, was inspired by his love of the ocean. "I'm like a bird that eats a flower, and then flies over [the Atlantic], and then shits on a rock, and then that rock becomes a fertile island because of the seeds," he said. "So I suppose that I found myself in Red Hook because I love the sea." He continued, "[Red Hook] was creative before I came and will be creative after I go. I just add one more seedling into the pod of creativity in this blossoming by the sea. I think it's beautiful that all of these incredible people could come together, to live next to each other, and to share their warm thoughts around our fireplace."
Yellin moved to New York City from Colorado back in 1995, making ends meet by breakdancing on the sidewalks while creating art in his spare time. It was ten years later before he finally got his first solo show at James Fuentes gallery. It didn't take long for a wider audience to catch wind of his talent; nowadays Yellin can be seen collaborating with Vito Schnabel, partying with the Gyllenhaals, modeling for Misha Nonoo during New York Fashion Week, running from knife-wielding Bijou Phillips, and dating celebrity goddesses like Michelle Williams and Charlotte Kidd.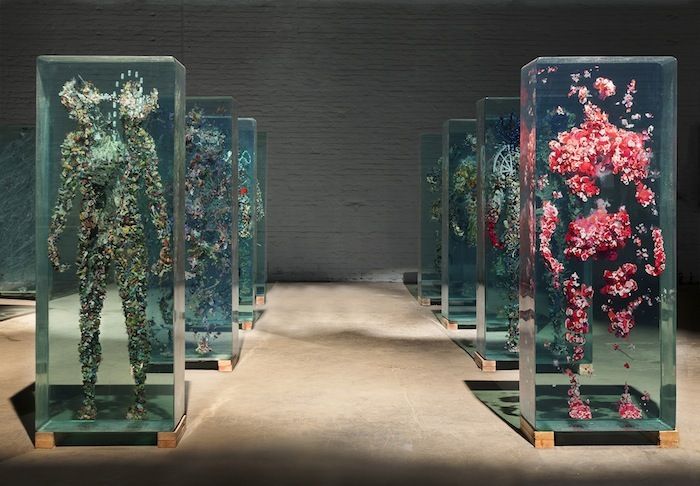 Dustin Yellin's
Psychogeographies
. (Photo by Dustin Yellin)
You're apt to run into any of these people at Pioneer Works where, Yellin says, their talents and ideas often cross-pollinate. "You can walk in and see a physicist looking at things at the nano-scale and then you can see someone playing music, and another person writing a poem, and another person making a painting, and another person doing a dance," he tells us, adding that "hopefully things like that will trickle down into civilization, and then we'll realize that we can all get along and resolve all of these problems all over the world, and then all over the multiverse."
As we continue our conversation amidst Yellin's life-size 3D face of his friend -- Butthole Surfers frontman Gibby Haynes -- and his twelve
psychogeographies
sculptures made from collages sealed in resin, encased in layers of glass, and standing tall like the ancient Terra Cotta Warriors, the artist starts doling out advice for aspiring creatives. "Have you seen the movie
Fitzcarraldo
?" he asks us. "[Making art] is like pulling a ship over a mountain. You have to live it. You have to feel it in your bones. There's nothing else you can do. You have to be relentless and tireless to make your dreams a reality."
And regardless of where you are or who you know, Yellin says one of the most important things a young artist can do is establish their own creative community. "People are key. Community is real. You must build your culture," he insists. "I don't believe in networking (net-worth or the net)! I believe that you have to professionally take LSD on the beach with your friends once a year, drink fresh lemonade, visit the red baby deer in Nara, dip your feet into the warm sea and learn how to surf. I believe that you have to come together. That is important." Feast on that.