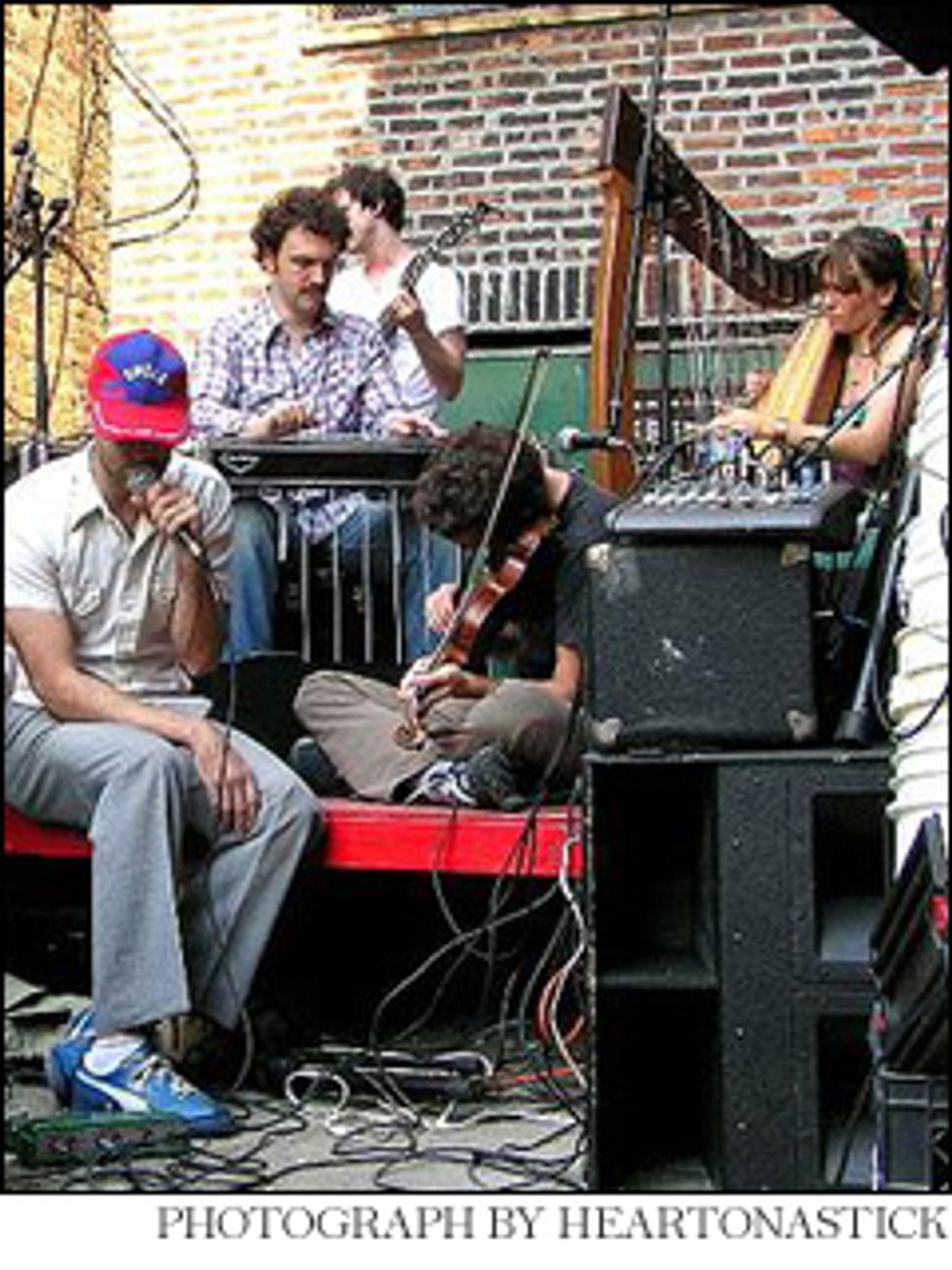 Sun Lights Down on the Fence
, the 2003 LP from Brooklyn-based extravaganza Stars Like Fleas, was one of the strangest records of the brand-new century. An assemblage of field recordings and nearly two dozen musicians, it was met with some of the most confused hyperbole ever to hit category- and pedigree-obsessed music criticism. To start, it's indescribable without a) newfolk, b) free jazz/ blues, c) noisecore/glitch, d) chamber, e) bubblegum, and obviously f) avant. But it was also entirely unsatisfactory for braintrust bandleader Shannon Fields; so inadequate in fact, that after big words about future work, Fields and frustrated co-founder/vocalist Montgomery Knott declared the project "broken up entirely." It's no small wonder then that we're able to announce
The Ken Burns Effect
, the 2007 album which will not only defy characterization, but will probably be the big break for one of New York's most sublime and continuously undiscovered bands.
They've gained the admiration of and the opening slot for bands as incredible and disparate as Deerhoof, Akron/Family, Gang Gang Dance, and Grizzly Bear -- each of whom they substantially resemble, and all of whom they easily match for talent. And so the initiated may be surprised to hear about a breakup: Up until the band "got back together," they'd never performed, and had appeared only in blurred press release photos. Possessed of self-described dictator tendencies, Fields hadn't been able to wrestle his ideas onto a stage -- but more importantly to the disbanding, had been unable to inject a critical spontaneity into his heavily orchestrated music. Who can say where the kernel of persistence lies, but when Stars Like Fleas somehow dragged itself back into existence, it happened in live performance. Cue a two-year music-making process so strange and gutsy that it suits only people this obsessed with composed chaos.
"It's just awesome. Violent activity created it. It's the quietest place I've ever been." That's Shannon Fields on Iceland, where Burns Effect was just mixed, but it can as easily describe the immersion experience of seeing Stars Like Fleas onstage. The most recent set, their first at Bowery Ballroom, included ten members. There is an insistence to the swelling and hollowing out in this small orchestra's songs, even as the instrumental exchange teeters between seamless layers and near-collapse. Fields would certainly appreciate this characterization, as it echoes his own upon first assembling Stars Like Fleas' live incarnation. "The band evolved, and every few months we'd come back and record, kind of improvise around songs and structure games we'd been playing live. And then I'd get frustrated and I'd sit on it." Sessions became benchmarks, subjects for contemplation -- and the practically pitch-black live shows became working rehearsals.
The reborn Stars Like Fleas made the paradox between orchestration and improvisation into its mode of being. There'll be "an idea about who plays where and how, but never what. There'll be specific chord progressions you want a few instruments to play, but you want other people to figure how to complement or challenge that," says Fields. The band relishes the difficulty that results: Cellist Tianna Kennedy likens building a track to a "petri dish -- someone throws something in, and there's a lot of undifferentiated cell growth. It kind of just goes mad." The liberated concerts, into which steel guitar brings backcountry sturdiness and bassoon adds free jazz, confirm the metaphor. Fields -- who "used to develop these crazy three-page matrixes of rules and structure to guide the band" -- noticeably stepped back from being the nervous technician, conducting and cueing far less over the course of 2006. He is in fact a proud populist, careful that this reporter understands how many players hatch ideas, and how many are involved in seconding them. "Every instrument's role in a typical indie-rock band they have these buckets that are predetermined it's not emotional, and not very interesting."
Playing live gave new freedom to drummer Ryan Sawyer, and aggressive percussion lines helped open a wider variety of pop styles. The band's size promotes a dearly held volatility, but Fields worries "that some people form unfavorable quick opinions about us that what we have onstage looks excessive or ostentatious, like we're overcompensating for something" A reasonable statement from an undiscovered musician, but also mere humility from the object of a growing in-the-know following.
But no discussion of this band is properly undertaken without an elaboration of its vocals and their vocalist. Knott's voice often supplies the only present melody and at once recedes into nothing with great ease, suddenly inessential. Likewise his person: Flush with avant-movie star looks and typically beneath a fedora and face paint, Knott often hides behind pillars on stage, seemingly working up the tension and vulnerability to sing. "Where it lays in the bed of sound is what we're all about," and as per all instruments in Stars Like Fleas, Knott improvises "intuitive melodies."
The resident id, Knott expresses a desire to reach an "unmediated" place in his music. As for everyone who'd give their eyeteeth to play at the Bowery Ballroom, Knott wants you to know that their light show is profoundly off-putting. Where Stars Like Fleas finds itself -- when its songs actually grow -- is in those moments of "transferring whatever feelings right there," like their 13-minute 2005 set at Prospect Park or their all-acoustic show at miniscule Glassland this spring. That lyrics like Burns Effect's "I'll take you home all filled with hope/ Sleep in deserts carved in cork/ Find someone to tug" emerged impromptu testifies to the group's gentle, haunting, and immediate natures.
Considering the spastic shows that furnished its content, an advance unfinished copy of The Ken Burns Effect is surprisingly tight. After benchmarks gave way to post-production, the spectacular result is full of pop songs; (tentatively-titled) "colorado" is far more traditionally cogent than a typical Animal Collective offering. To be sure, there are tracks like (tentatively-titled) "long pauses" which recreate a certain live sewer quality, the slow tidying of a cluttered tunnel that is a Stars Like Fleas forte. But for the greater part it seems that progressive generations of its songs each ended in a refining of purpose.
Fields told me that the making of Burns Effect was a process of solving problems. Then he reversed himself entirely, in favor of disorder: "I'm completely bored by the cartoonish sentiments you get from... the impulse to unity." He expressed the importance of knocking out one's crutches: "I'm pretty good at making myself uncomfortable, and am always trying to make the people around me uncomfortable." It's important though to note this music's accessibility for the sensitive listener: It's contradictory but not obtuse, and doesn't have the prodding instinct to withhold or stymie that embodies acts like the Fiery Furnaces.
Is this peculiar process an end state for Stars Like Fleas? No; instead, annoyed chuckles at the suggestion of 'maturity.' The evolution of Burns Effect was just one true story for this band, and -- big break or not -- to repeat it would be far too pat. For now, a break from performance; next, maybe a fully improvised record; maybe a strictly composed orchestration; maybe a tribute to Lightning Bolt or Sunn0))). But dead silence is unlikely; they're itching too much to break the rules: "We'll do a record in 4/4 time," Knott says. Laughter. Fields: "Don't know about that. Maybe 4/4-and-a-half."
Keep your ears to the ground for the next utterance from Stars Like Fleas. Their album will appear in 2007.