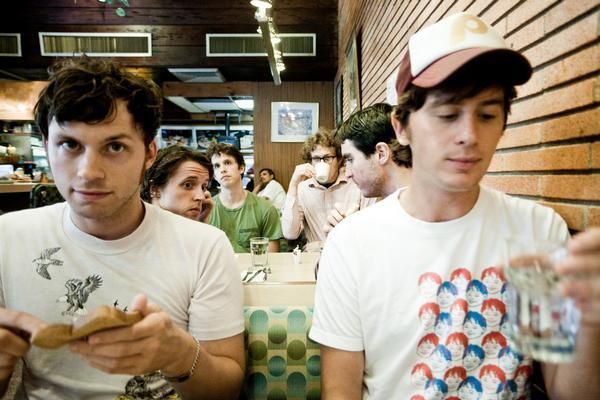 The first single off The Spinto Band's sixth studio album, Moonwink, is called "Summer Grof." I'm almost embarrassed to ask Joey Hobson, one of the band's three guitarists, what it means. I've already checked Urban Dictionary to no avail -- have I missed something?
"You know Janeane Garofalo?" he responds, then pauses. "… It was written a long time ago. " Apparently, the song used to reference Garofalo by name, but she got lost in the process of rewriting. The title stayed as the song evolved, and if audiences aren't exactly in on the joke, it's not a big deal to the boys in the band. "Summer Grof" is peppy and infectious, and liberal with the handclaps -- a perfect summer jam, as its name suggests. A shame, then, that Moonwink came out October 7. "Most of the time it just ends up being when the opportunity arises," Hobson says of the album's release date. He doesn't sound too concerned. Hobson is blasé about a number of things that give most musicians pause -- he's not especially defensive about one of the band's songs having appeared in a Sears campaign, either. "I don't know why people have such a problem with it," he says. "The Sears ad helped us a lot, and it paid for our first trip over to Europe, so that was good."
Maybe it's this live-and-let-live attitude that keeps the Spinto Band firmly in credible territory. And if a band from Delaware is more popular overseas than in America, well, that's fine too. "We definitely did get more press there," Hobson says of the UK's overwhelmingly positive response to the band's last album, Nice and Nicely Done. Then, with characteristic aplomb: "I don't know -- people took to it more, I guess." I can almost hear the shrug in his voice.
The band is following up Moonwink's release with a set with Frightened Rabbit on Saturday at Music Hall of Williamsburg. If the record's any indication, the show will be fun and frenetic -- never has lead singer Nick Krill's languid voice felt more in tune (literally and figuratively) with the band's staccato, piano-heavy style. It seems the scene is ripe for the band to finally get their due Stateside -- all Hobson's humility aside.
LISTEN:
The Spinto Band - "Summer Grof"