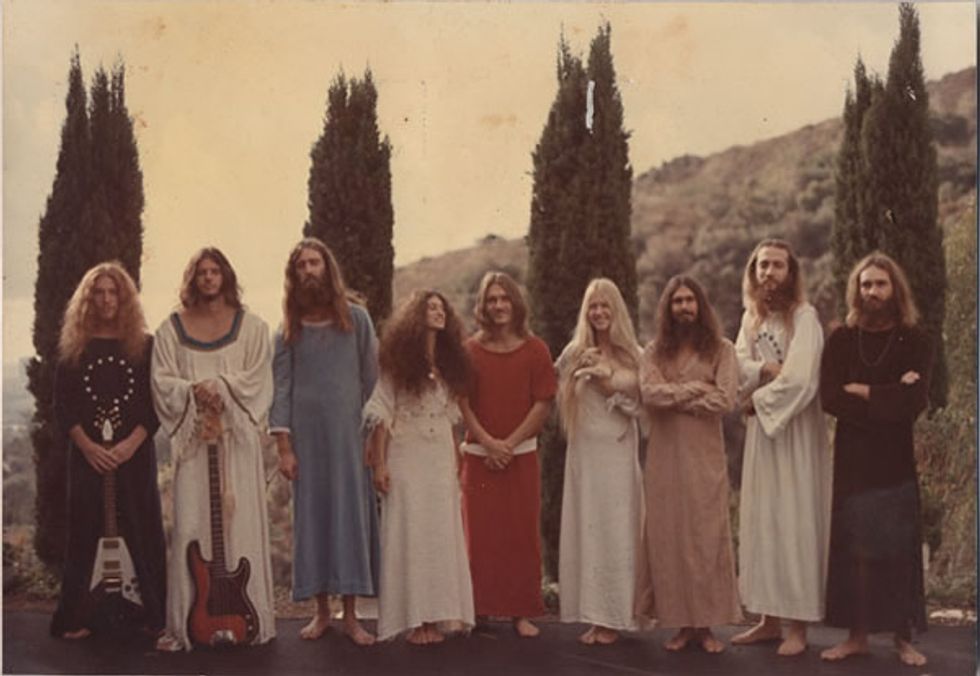 Jodi Wille, Process Media publisher of The Source: The Untold Story of Father Yod, YaHoWha 13, (a book that has become THE talk of the town) agreed to answer a few questions about just what it is about this (until now) forgotten niche of L.A. history that is igniting the imaginations of so many Angelenos young and old. For those of you not yet in the loop, take a quick history lesson via the Process webpage which reads, in part:
"It was 1972, time of the cult-occult-commune explosion. By day, the Source Family served organic cuisine to John Lennon, Julie Christie, Frank Zappa and others at the famed Source restaurant. By night, in a mansion in Hollywood Hills, they explored the cosmos through the channeled wisdom of their charismatic leader, Father Yod. Father was an outlandish figure who had 14 "spiritual wives," drove a Rolls-Royce, and fronted the rock band Ya Ho Wa 13, now considered by collectors to be one of the most singular psychedelic bands of all time.
The Source Family's true story -- kept secret for over 30 years after Father's spectacular hang-gliding death in 1975 -- is revealed here by the Family members themselves, with over 200 photographs and a full-length CD of rare Ya Ho Wa 13 live performances and Family recordings."
The story was scooped in the August issue of PAPER magazine in our L.A. Woman column and has subsequently been featured in the L.A. Times and in last week's cover story in the L.A. Weekly. Looks like folks might be ready to trade in their Versace and Jimmy Choos for some Birkenstocks and a long flowing caftan!
Ann Magnuson: Jodi, what's the buzz? Tell me what's a-happening!
Jodi Willie: The book seems to be affecting people like a cosmic Rorshach test. It seems to be hitting some people deeply. One magazine editor called me up and said reading The Source strangely seemed to confirm a lot of things he's been feeling lately about his own life and the more transcendental direction he feels our culture is headed.
Some people are obsessed with the fashion. The women in the family custom-made everyone's clothes, using high quality velvets and cotton and metallic braided rope for the men's Templar/Atlantean/Essene robes, and the women's dresses were often low cut, sheer babyonian/egyptian goddess-inspired gowns that made them look like impossibly sexy early 70s cosmic rock groupies.
A recent Sunset Junction blog was describing the fashion trends at the Junction and told of three beautiful women walking around wearing desses and glamorous headbands who mysteriously described themselves as " wives of Father Yod."
Isis (the official Keeper of the Records and the official author of the book) told me Father Yod would often say his teachings were based on enlightenment through "sex, dope, and aesthetics."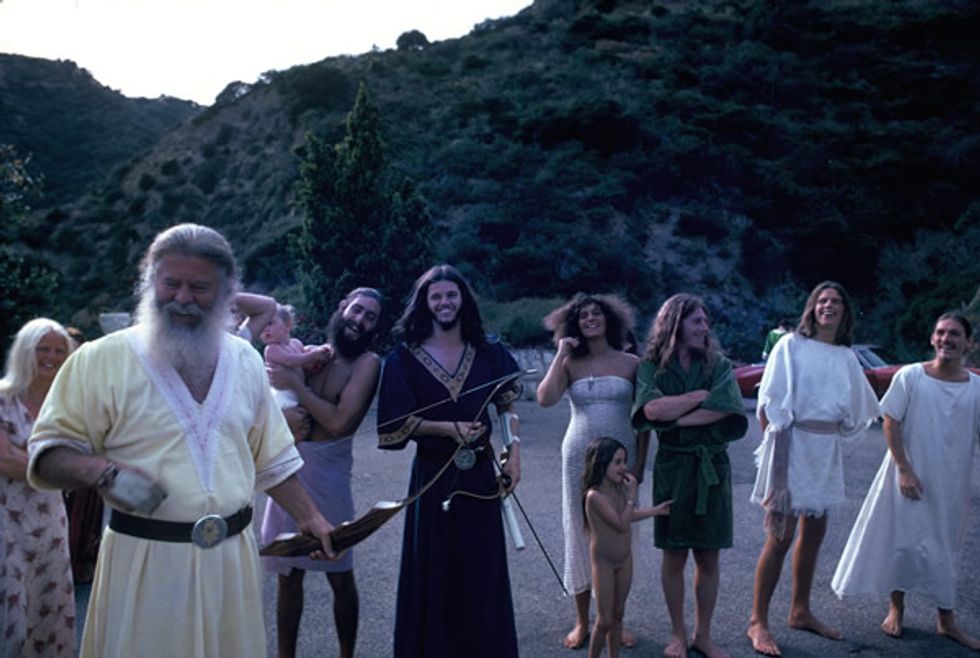 AM: You told me you were recently at an ARTHUR magazine party and The Source was the hot topic. Tell us about that. Wasn't there some young William Morris agent all over it? We've heard folks like Rick Rubin and the babe from the band Lavender Diamond are down with Father Yod. Is this true?
JW: It's all just hearsay at this point, but a friend of mine told me that Rick Rubin called him one day to ask him if he'd heard of the book and told him how much he was digging it, which is exciting to hear, since Rick Rubin is such an inspiration to me as well as being a great example of a modern day magus (shaman/wizard) not unlike Father yod.
Then I was out the other night at little joy in echo park at a party celebrating the revival of Arthur Magazine and met a charming young man (who surprisingly turned out to be an undercover agent for William Morris) who told me he bought a copy of The Source after he saw it on Becky Stark's (of Lavender Diamond) coffee table and he asked her what it was and she reprimanded him like the fiery cosmic schoolmarm she is, saying "What?? You don't KNOW about FATHER YOD?!?!"
Just a couple minutes after he told me that, we suddenly heard Father Yod's voice singing loudly in the bar! I thought I was experiencing an ecstatic vision, but then realized it was just the DJ Don Bolles playing the first song on the CD from the book.
AM: How are Isis, Electricity and some of the other original members who were at your salon last month (an informal unvieling of the book in Silverlake that took place at Jodi's house) reacting to all the media coverage?
JW: They love it. They love that YaHoWha's message is being spread far and wide many years after his death, just as he predicted.
But they still haven't 'outed' themselves to many friends, neighbors and associates in their hometowns in Hawaii who still, because of all the bad press from the early 70s, liken the Source family to the Mansons. They're meditating on how to handle that, as we're now getting press queries from all the Hawaiian newspapers.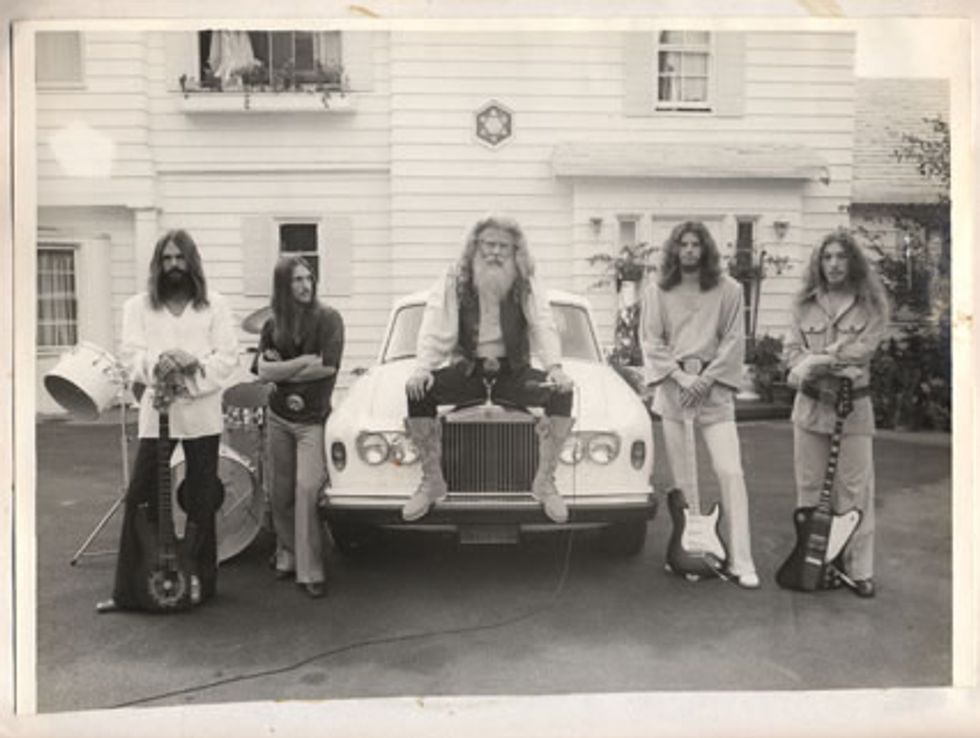 AM: Who would you like to see star in the movie version? I still think CSI's William Peterson would be a good Father Yod (at least in the resemblance dept.). However, after reading about and seeing recent photos of Rick Rubin in the NY Times Magazine I think he might be a candidate! He could at least produce the soundtrack! Which would be mind-blowing!
JW: Peterson could be perfect! I think Rick Rubin certainly has the look and the cosmic cajones for the part, but I think we need a kind of Rick Rubin-meets-a kinder, more intelligent, later years-Steve MacQueen-type. I mean, Yod was very manly and sexy and had those stunning blue eyes.....
AM: There's always Viggo Mortensen, but I think he's too young and sinewy. Perhaps some of our readers can cast The Source movie for us! Lord knows you could have every hot young actor and starlet just off the bus for the followers! And man-o-man, it would be chock full o' sex. The "brothers" were all so hot! Which reminds me, didn't someone accuse Father Yod of being a ''cosmic pussy hound"? Didn't one of his own gurus in India admit he was "stuck in the sex chakras"? I was listening to the CD that is included in the book (looking for a song to cover in my upcoming show DUELING HARPS, shameless plug inserted here) and I did find Father Yod a bit... uh, seductively creepy. But then Isis and the other woman at the salon seemed completely enchanted by him -- that they would have willingly drank the Kool-Aid if he'd have asked them to. Then again, we've all been involved with someone -- usually when we're young and intensely naive -- we would've drank the Kool-Aid for!