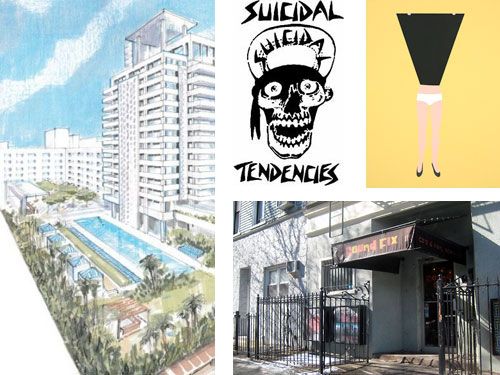 1. Stop by the Oh-Wow Gallery (227 Waverly Place) tonight, September 21, 6 p.m. to 8 p.m. There's a book signing for
Ari Marcopoulos
new photo book
Stoopz
, documenting the early 90's NYC skateboarding scene. Plus, you'll get a free slice of pizza and a beer with purchase.
2. The Miami branch of
The SOHO House
is scheduled to open on October 11, just in time for
Art Basel Miami
.
3.
The Sound Fix
record store (Berry and North 11th Street, Williamsburg) is for sale for $250,000.  Here's
the listing
on Craigslist. (via Daily Swarm)
4.
Aaron Hunt
interviews
NYC/BCN artist
RIPO
on Vandalog.  He's just finished two book covers and is in a big group show in Barcelona. Go RIPO!
5.
Suicidal Tendencies
,
Cro-Mags NYC
, and
Underdog
are playing Terminal 5 on November 14.  Tickets go on sale Friday, September 24.
6.
Geoff McFetridge
opens his new exhibit,
The Westest
, tonight, September 21, 6 p.m. to 8 p.m. at Half Gallery (208 Forsyth Street)