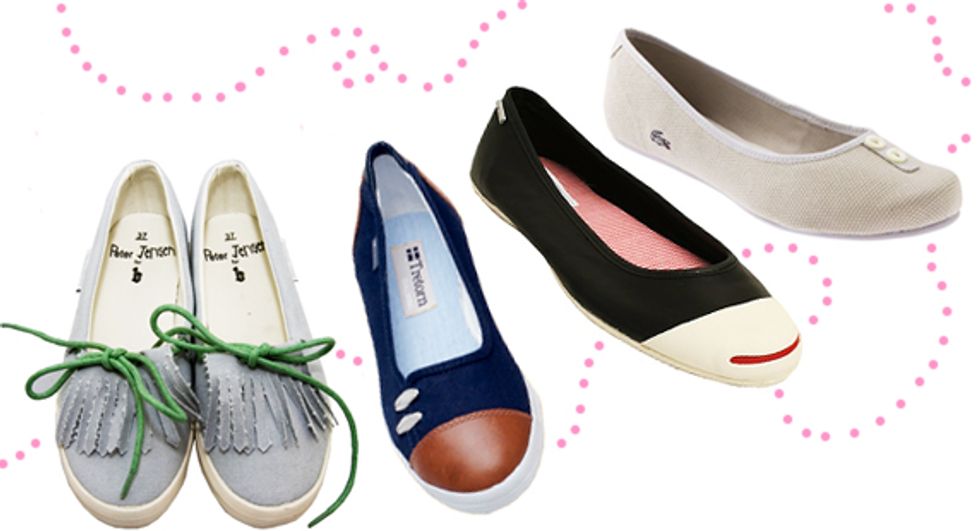 When the weather is warm, we tend to do a lot of walking. Like, a lot. And as such, we can't be wearing a flimsy flat that's going to fall apart after a month! Enter the flat with the sneaker sole, aka the sneaker flat, or the "snat," as we like to call it. Here are our picks for the cutest in comfy.
PETER JENSEN FOR B STORE: Mocassin sneakers!
$112, available at www.gargyle.com.
THE EVELINA BY TRETORN: We own a pair and were stopped on the Subway yesterday by a fan: "Where do you get those?" she asked. "Tretorn," we replied.
$60, available at store.tretorn.com.
JACK PURCELL DANCE II: Jack Purcell's been making these in canvas for quite some time now, but this year they upgraded to leather -- which makes these kicky flats kind of work-appropriate!
$49.99, available at www.converse.com.
THE LACOSTE MOUCHETTE: These shoes remind us of a cardigan -- in a really good way!
$98.95, available at shop.nordstrom.com.