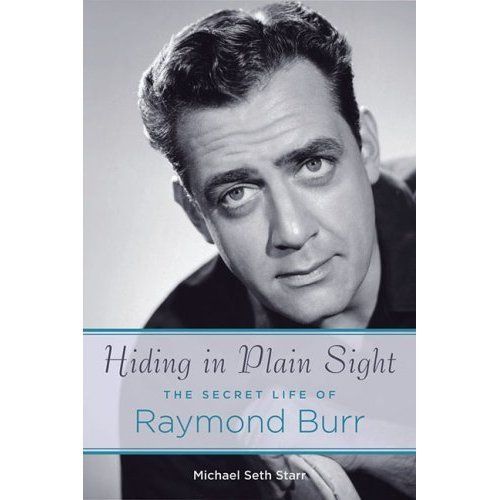 I couldn't wait to get my hands on the new book about the legendary Perry Mason star, Hiding In Plain Sight: The Secret Life Of Raymond Burr by Michael Seth Starr. I mean, I knew Burr was gay, but I know very little about his personal life. And I always loved him on screen. With that booming bass voice he was so commanding as a "heavy" or villain in Rear Window, Desperate and Pitfall with Lizabeth Scott. He gave a great turn as the prosecutor in George Stevens's A Place in the Sun, and was just splendid as the beloved attorney Perry Mason on the well-loved mystery series that ran on CBS for nine seasons and then returned for scores of two hour Perry Mason TV movies.
But Burr kept his life closeted as most actors had to in those days. The interesting thing in this book is the outrageous lengths he went to -- by inventing several wives, and even a son who died of leukemia (and he repeated the stories so much that many of them accompanied his obituary). In reality, Burr had a life partner -- Robert Benevides -- a young actor Burr met on the set of Perry Mason, and who was with Burr right up until his death on September 12, 1993. The great thing about Michael Seth Starr's book is that it shows Burr's incredible generosity and loyalty.
When William Talman, who played the forever losing prosecutor Hamilton Burger, was busted during a raid at a pot party (in the nude no less), he was fired by CBS which used the morals clause in their contract to dump him. But Burr tirelessly worked to get him his job back. He refused to remove Talman's coffee mug from the rack, and "forbade Talman's dressing room to be cleaned out or his space on the studio parking lot to be reassigned." Eventually the executives at CBS relented and Talman was back on the show, but his career would have been finished if it wasn't for Burr. It's stories like that, which are numerous, that make this book an enjoyable read. You may not find out if Burr was a "top" or a "bottom" but you'll appreciate the actor and the man all the more.