New York Fashion Week is well underway and the city's front-row crowd -- Mary-Kate and Ashley Olsen, Kirsten Dunst, Lindsay Lohan, among others -- has descended upon the Beatrice Inn. At the club's most boisterous table, girl-girl power-couple Lohan and Samantha Ronson are holding court, as other members of the Ronson clan, Samantha's twin sister Charlotte (whose fashion show took place earlier in the day) and half-sister Annabelle, mill around them. Meanwhile, the eldest Ronson child, Mark, clad in what has become his signature and oft-imitated look of late -- a Quadrophenia-era Mod, English country gentleman-inspired, short, fitted black suit -- is perched atop a banquette. His head nearly touches the club's low ceiling as he looms over the bold-faced crowd. In his slight English lilt, he politely greets those who have come to wish him a happy 33rd birthday, but otherwise Ronson keeps to himself, steering clear of the Page Six-worthy shenanigans unfolding before him. The next day while recapping the night's festivities he quips, "the best part about the night was getting a burger at Corner Bistro across the street."
Mark Ronson likes to keep himself a good head's-length distance above the celebrity fray. "I try to stay out of the limelight as best I can," he says. And though he has been a fixture on the New York nightlife scene since he was old enough to get past the doorman with a fake ID, these days he is most well known for having turned Amy Winehouse and Lily Allen into super-starlets (he produced big chunks of both singers' 2006 albums) and earning several Grammys in the process. His 2007 covers album, Version, which featured soul-laden Radiohead and The Smiths songs as reinterpreted by Allen, Winehouse, Daniel Merriweather and Santogold, rose to the top of the UK charts, selling over one million copies and making Ronson a really big deal in England -- the album earned him a Brit Award for Best Male Solo Artist (he is the first artist who didn't actually sing on his album to win the award). Mark has his hand in upcoming records by aforementioned R&B phenom Merriweather, Leeds-based rock stalwarts Kaiser Chiefs, indie newcomers the Rumble Strips, rapper Wale and electro-troubadour Patrick Wolf. Even as he's hounded by the paparazzi every now and then, particularly when he's spotted out and about with one of his tabloid-prone protégées, he's made a name for himself first and foremost as the man behind the music -- the skinny hipster's Phil Spector, if you will.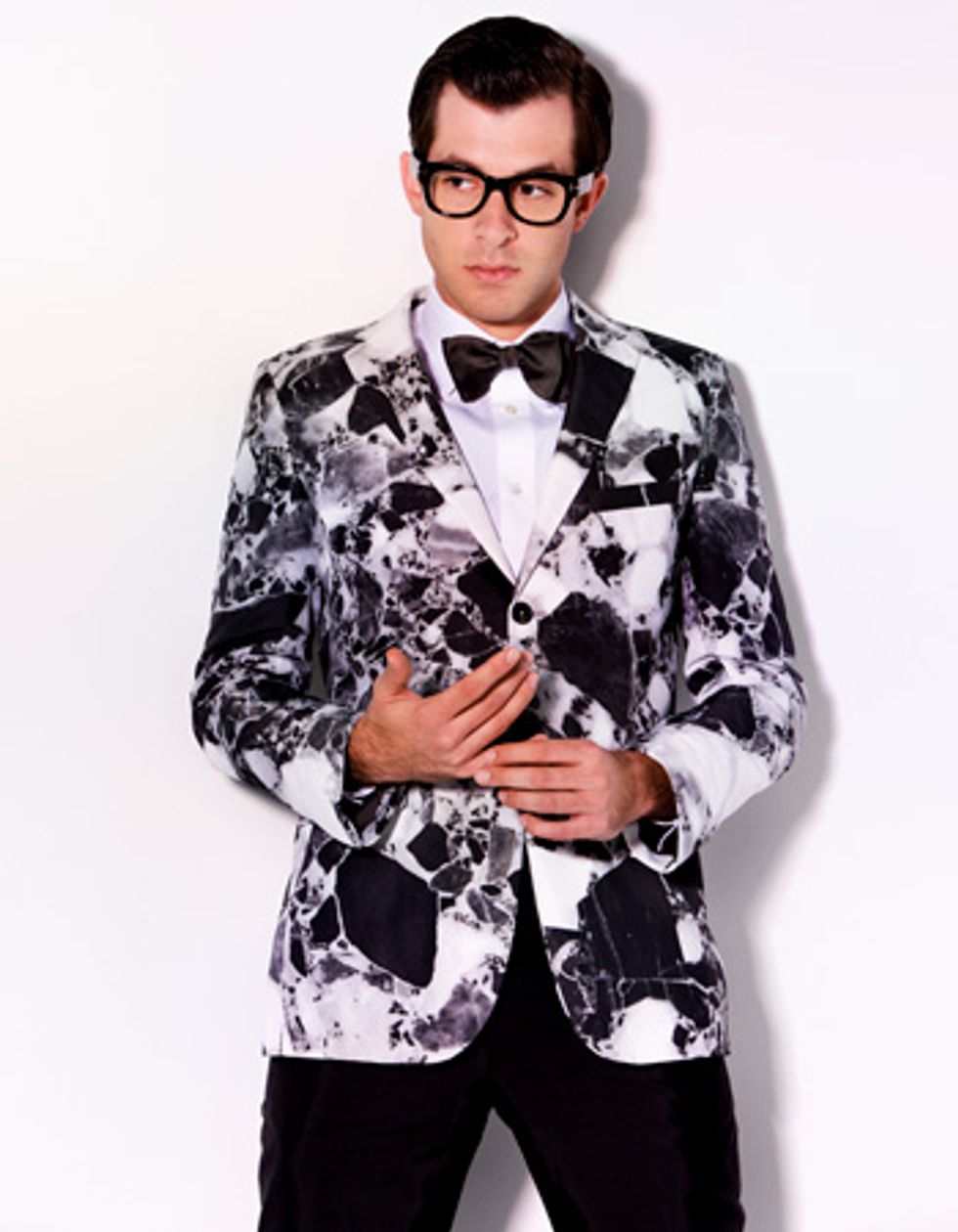 The son of socialite Ann Dexter-Jones and former band manager Laurence Ronson, Mark was born in the UK and moved to New York at age eight when his parents divorced. His mother later remarried to Foreigner guitarist Mick Jones. He went on to attend tony Upper West Side boys school Collegiate, and like any self-respecting New York private school kid, he spent his early teen years "on the steps of the Met with a 40-ounce in a paper bag." He was a music geek from a young age -- he played drums with his step-dad at his Bar Mitzvah -- and at 14, started a band with some friends he met in Central Park's Sheep Meadow called the Whole Earth Mamas. "We were into, like, Living Colour and the Black Crowes, shit like that," he says. "We were really bad." The pinnacle of the band's career was playing an anti-fur rally in Columbus Circle. "It was an all-female lineup and they assumed because we were called the Whole Earth Mamas, we were an all-girl band. And then my dad shows up. He's visiting from London and wearing a ski parka with a fur collar and people sort of start hissing and he's like, 'What, what, you want some?'"
As a senior in high school, Ronson, through family friend Peter Gatien, got his first DJ gig at Club U.S.A., and after a short stint at Vassar, returned to New York to attend NYU. He was a huge hip-hop fan from the get-go ("I grew up idolizing DJ Premier and The Bomb Squad") and initially got his start DJing small hip-hop clubs downtown like Den of Thieves and Rebar. But at a certain point, Ronson's fancy family connections, hunky-lanky good looks and impressive DJ skills landed him residencies at every happening club night in New York. Monday nights at Cheetah, Wednesday nights at Shine, Friday nights at Life -- Ronson was in the DJ booth.
Throughout his DJ tenure, it became Ronson's trademark to play rock records in hip-hop clubs ("before it became the most played out thing in the world to hear 'Under the Bridge' at 1:30 in the morning at Lotus or wherever it is") and hip-hop for the models and the club kids. One night, while DJing at Cheetah, he recalls, "I remember just thinking, I wonder if I could get away with playing Puffy's 'All About the Benjamins' next to AC/DC's 'Back in Black,' and I worked out this whole routine where I would get from A to B, from a hip-hop set to AC/DC without the crowd realizing that the music had changed." Ronson became the great unifier of New York nightlife. With some resistance from upper-level management at mega-clubs like Life, he brought black people into traditionally white clubs, and vice versa. "He is magnetic in the sense that people are just drawn to him," Lily Allen says. "He is also sickeningly good at working a room -- women love him as do men."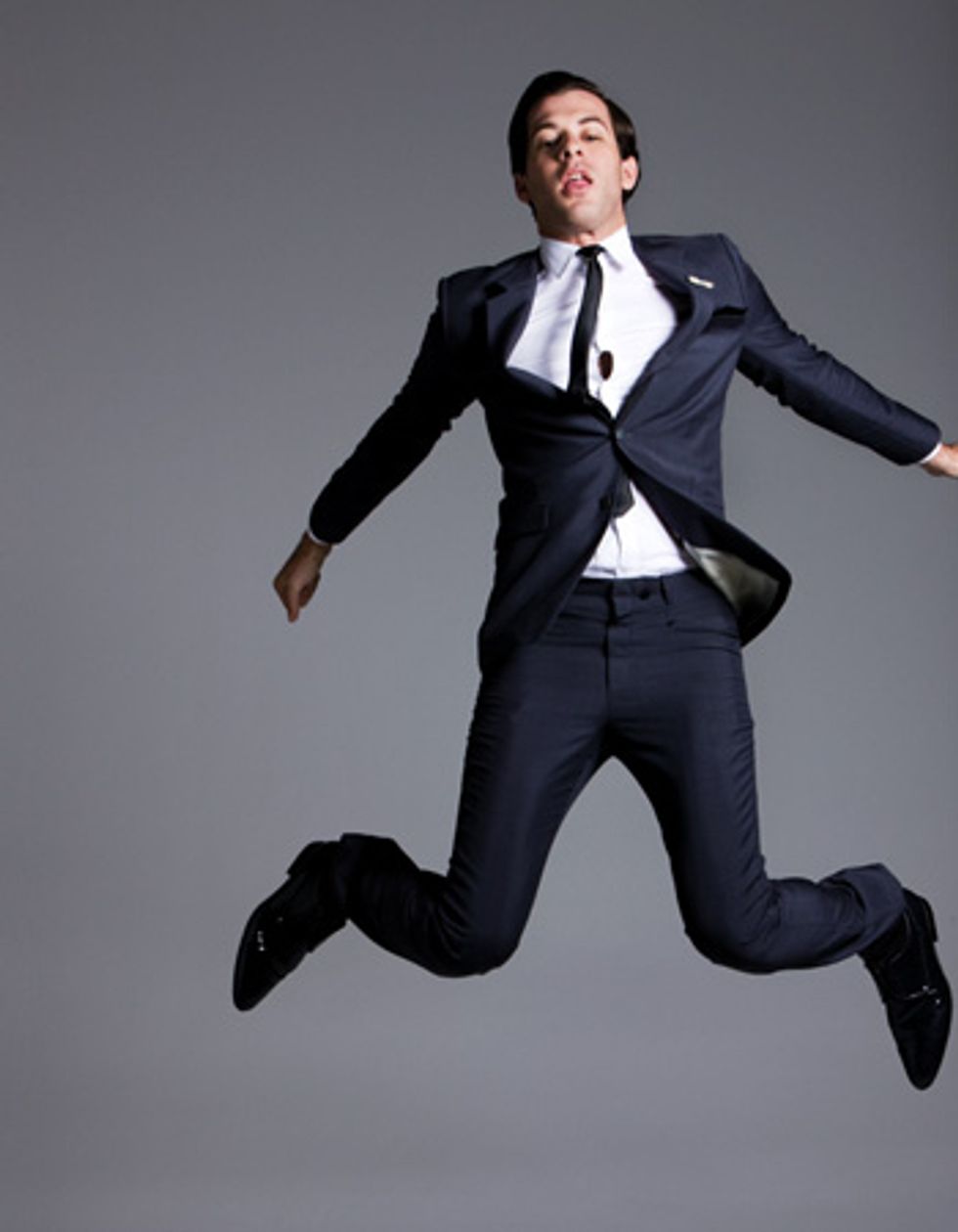 Ronson's ability to bring different types of people together would go on to prove crucial to his later success (pairing up the Dap-Kings with Amy Winehouse; or Lily Allen with the Kaiser Chiefs, for instance). "If you could call that a talent, that is probably one of my main ones, I would imagine," Ronson says. "I enjoy when different people bring something out of each other that they usually wouldn't -- when the combination of two things make something new, exciting, worthy and different."
But before he could turn a song about going to rehab into a number one dance hit, Ronson first had some image re-branding to do. It's unclear which came first: Mark Ronson or the term "celebrity DJ," but whatever the etymology, Ronson was one of the earliest to be marked with the not-altogether flattering moniker. Throughout the late '90s, anyone or anything wanting to cool up their image (Tommy Hilfiger, Donna Karan, Martha Stewart, the Gap) paid good money for Ronson to play at their parties. Among glam New York scenester types, he became the must-have party accessory. In 1998, Ronson toured a private jet with Blade stars Wesley Snipes and Stephen Dorff so that he could DJ various opening night parties for the film. That same year, he DJed Puffy's 29th birthday party at Cipriani Wall Street, which the New York Times named one of the "10 Parties That Shook The Century."
It's with a certain amount of detached amusement that he's reminded of one of the more absurd episodes from his high-rolling days. Recalling a DJ gig at Puffy's White Party about ten years ago, he says, "I hadn't eaten all day, and I was starving. They were coming out with this bowl of brownies, and I grabbed three of them and just started scarfing them down. And I remember when I was DJing it just started getting dark and I can't remember what I was playing, something really big at the time, Juvenile or something, and every lyric sounded like it was the Cookie Monster yelling in my ear, and I started feeling really shitty, but I had to play through the set. I couldn't just go up to Puffy and say, 'Sorry I ate a shit-load of hash brownies, I can't play your White Party.'"
By around 2001, Ronson tried to shed his glitzy corporate party-boy image by heading into the studio with pop star Nikka Costa to produce her album Everybody Got Their Something. The feedback from the record execs was extremely positive, and it looked like this would be Ronson's big break. "There was all this hype and people were like, 'This is going to be the biggest thing ever.' And it came out and it wasn't. It wasn't even anywhere near the biggest thing. It wasn't even the most medium thing ever," he recalls.
From there, in 2003, Ronson released his first album Here Comes the Fuzz, which featured the likes of Ghostface Killah, Mos Def and Q-Tip rapping over '70s funk samples. The single "Ooh Wee" had Ghostface doing his thing over Dennis Coffey's "Scorpio," and did quite well on the UK charts -- but the album as a whole was not a roaring commercial success. In 2004, along with business partner Rich Kleiman, Ronson started Allido Records. At that point, with no mega-hits under his belt and a fledgling label, he says, "I was having a bit of a crisis. Was I going to be DJing for the rest of my life, doing these residencies in Vegas and all this other shit to keep my record label afloat?"
And then Ronson had a "eureka moment," as he puts it. "About that time, I was just like, 'Fuck it. I am not going to try to chase any chances.' It's easy to be, like, living in New York, being around A&R people and shit, and knowing what people want to hear. That can really sometimes distort your taste. When you've been DJing all night and for four hours playing Neptunes hits, it's easy for their influences to creep into your sound."
He realized that though he had spent the past eight years or so trying to make it as a hip-hop producer, creating his own beats with a mix of samples and guest-rappers, he might do best to make it as a producer in a more traditional sense. And after chance meetings with Allen and Winehouse, he did just that. "I met Mark at a club night in London called YOYO," Allen recalls. "I thought he was cute, but assumed he was gay. I remember being shocked when I was introduced to his girlfriend at the time." Ronson's meeting with Winehouse was a little different. "She started telling me about how her dad tried to make her go to rehab and she was like, 'No, no, no,' and I was like, I'm supposed to be a good friend now and be like, 'How was that, was that tough for you?' but all I could think about was how that would sound as a song."
He brought eight-piece soul band the Dap-Kings into the studio -- "I thought, 'Why am I trying do it all myself, when I can just get this band who is playing soul music [to play] how it's supposed to sound?'" -- and developed what went on to be his trademark neo-soul swagger. Ronson's use of Stax-like horn-heavy beats mixed with a modern pop twang dominated Winehouse and Allen's albums, Version and one-offs with Robbie Williams, Estelle and Christina Aguilera. "I always loved people like George Martin, who would do arrangements with whole bands," he says. "And I realized, you know, that's what I'm good at."
Fragrance: Dirty English by Juicy Couture * Hair products by Sebastian Professional
Studio: Shoot Digital * Production: Liz Heres * Special thanks: Sara Morrisson & Constance Faulk at Shoot Digital, Liz Heres at ehmanagement * Grooming: Lisa Aharon * Photography Assistants: Simon Biswas, James Loveday and Isaac Rosenthal * Intern: Justin Magri * Fashion Coordinator: Diane Drennan-Lewis