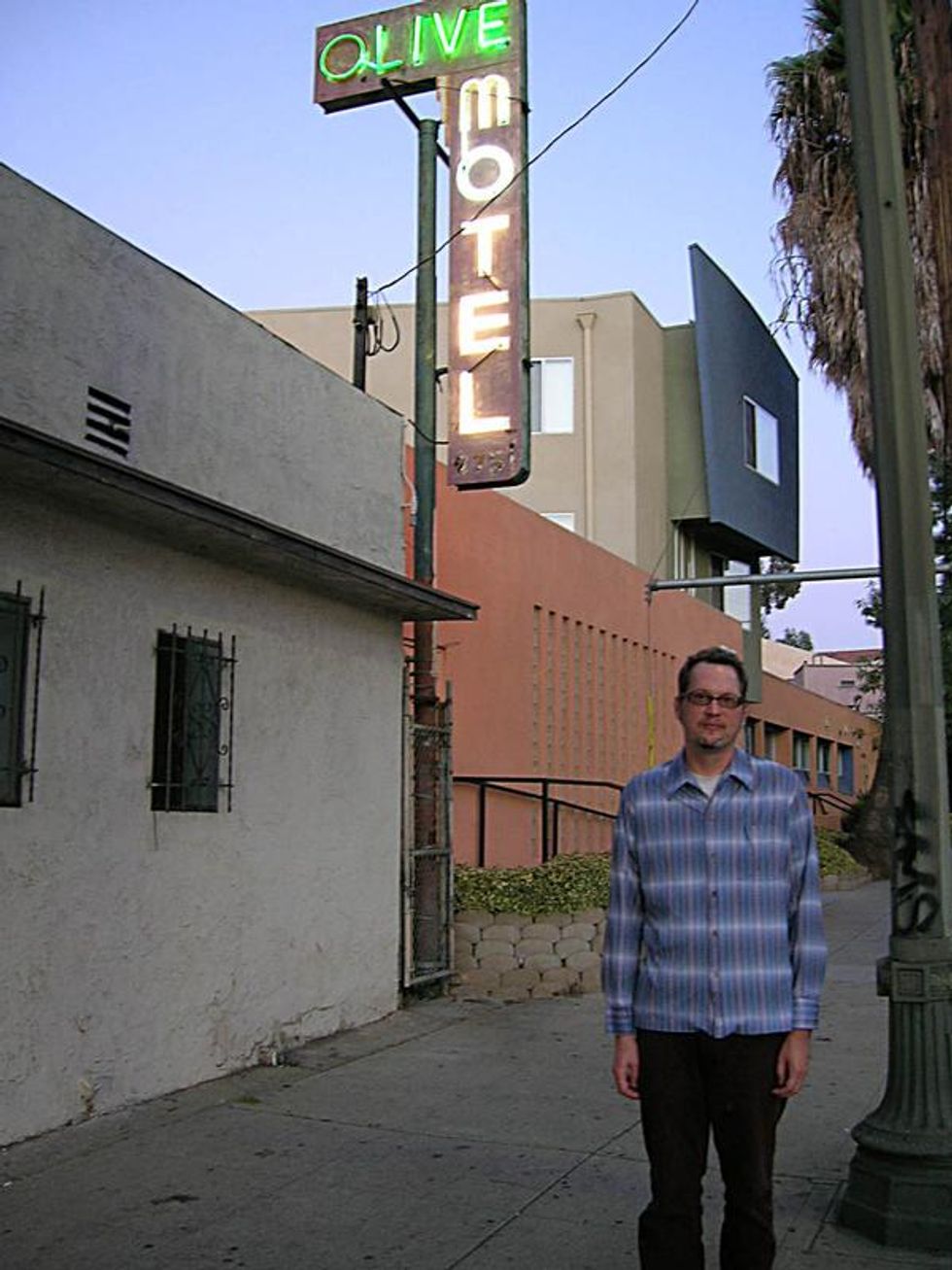 After getting a nice compliment on my Dan Attoe blog from one MySpace pal named Jesse I decided to check out his art as well. I enjoyed what I saw (see some below and more of it here) but it was his snapshot in front of Silver Lake's infamous Olive Motel that really caught my eye.
I've never stayed there nor have I known anyone who has but I've passed by this relic for years wondering when Andre Balazs was gonna snatch it up and turn it into a rich-hipster's paradise. Fortunately Jesse agreed to send me his account of staying at The Olive. I do hope it remains untouched by gentrification and stands as a reminder of a Los Angeles that is disappearing all too fast!
My Stay at The Olive Motel by Jesse:
I like staying at The Olive Motel in Los Angeles. At first impression, it looks like some seedy place Charles Bukowski would have lived out a good chunk of his wasted years. The eerie green neon sign and crusty olive green stucco exterior had attracted me for years before I actually got around to checking in there. But I'm glad I started staying there a few years ago. The first night I stayed there, I had to step around a man passed out by the driveway, face down on the street. I expected I was in for a nightmarish, Mortville-style experience.
Checking in is a bit odd. You can't reserve a room here, or look it up online. But you can walk in after a certain time in the afternoon to see if a room is available. The check-in area is really small and claustrophobic, and you feel like you're in an elevator shaft or carnival ticket booth. The elderly gentleman behind the window takes your money that you slide under the glass security window. He tells me no parties, no groups. This is a quiet place. I say OK and give him my 40 dollars, plus five dollar deposit. There are refurbished rooms for 50 dollars, but I'm pretty sure the rooms I've stayed in were pre-refurbish.
I expected the rooms to be really tiny and cramped, but they are average sized motel rooms. There is no phone, and the TV doesn't work very well. You have to pay a five dollar deposit for a remote. The remote I got didn't work except to turn it off and on. I ended up watching "Desperately Seeking Susan" on a commercial channel in its entirety one night.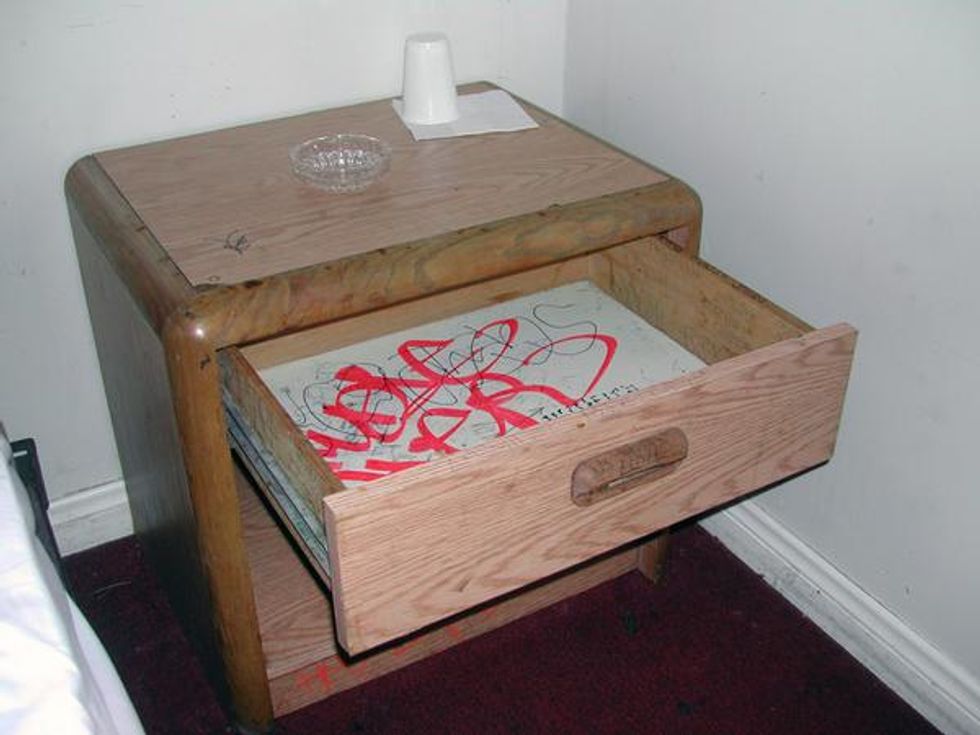 Inside the bedside drawer is covered with graffiti, and sometimes you find strange items in those drawers. Once I opened a drawer and found an ashtray filled with unidentifiable fluid, with some unidentifiable item floating inside it.
Sure, there's writing carved into some of the doors, and writing on some of the walls even. Truthfully, though, I would rather look at the worst bathroom graffiti than have to face the reality of most motel art. There's a plastic, schoolroom style chair tucked in one corner.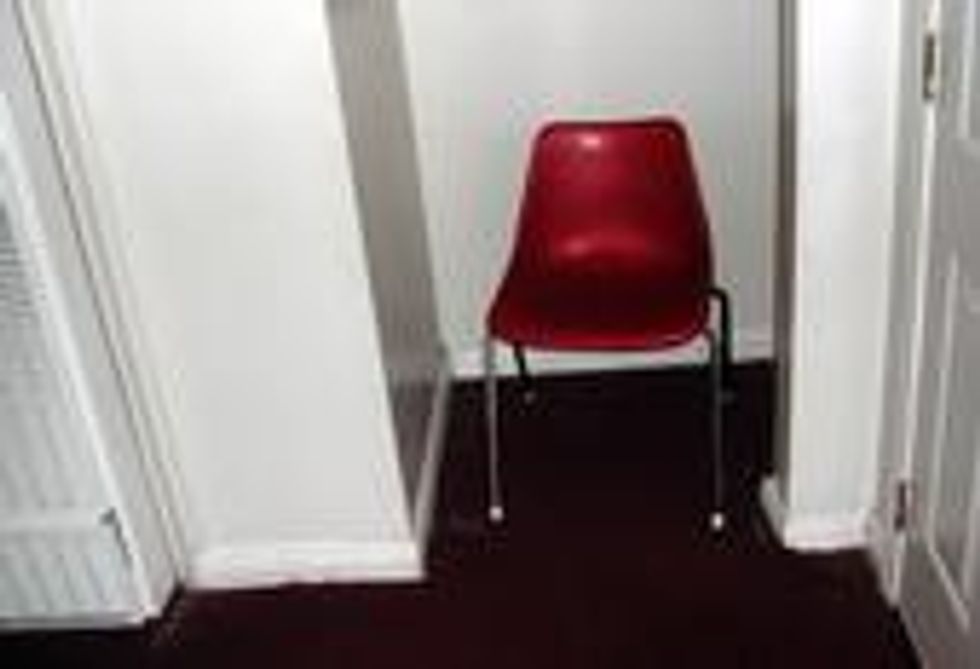 No Olive Motel stationary, unfortunately. One room I stayed at had an unintentionally creepy view of a Catholic school playground outside a crack in the barred bathroom window.
You can hear children playing outside in the daytime. It's peaceful there. The bed is OK. The shower works. It's a fine place to stay.
The Olive Motel is located at 2751 W Sunset Blvd, Los Angeles, CA 90026,
(213) 413-0300
(Thanks Jesse! I hope to stay there someday -- before Kelly Wearstler ruins it! And here are some of Jesse's paintings below -- no doubt inspired by other Olive-like motels he's stayed at!)