Every December, artist, gallerists, collectors and random celebrities find themselves in Miami Beach navigating the cultural earthquake of Art Basel and its hundreds of resulting aftershocks in the form of satellite fairs, art pop-ups, and hotel parties. It's a weekend of big money, late nights, confusing artist x celebrity collaborations that often seem picked out of a hat, and overall, an excuse to be frivolous. But this year, in the wake of the presidential election, there is a sudden sense of urgency in the artwork on display, especially from female artists.
At the New Art Dealers of America (NADA) contemporary art fair, which highlights small and emerging galleries, many artists used their wall time to send a message, presenting feminist themes that some might deem unladylike or even, to quote the president elect, "nasty." From lewd nudes to images of empowered female icons to quoting the Donald himself, these artworks show off the Nasty Women of NADA who can't, and won't, be silenced.
Sadie Laska with Print All Over Me
In collaboration with NADA and Print All Over Me, the painter/sculptor/musician Sadie Laska puts the words of the next president to good use, taking her crass sketches of female nudes and that infamously absurd quote about how much he "respects" women and printing them on beach towels and pajamas. The women may be faceless and the members may be overpowering, but the print as a whole redefines the "nasty woman" and urges us all to wear the label loud and proud (buy yours here).
Becky Kolsrud at Tif Sigfrids Gallery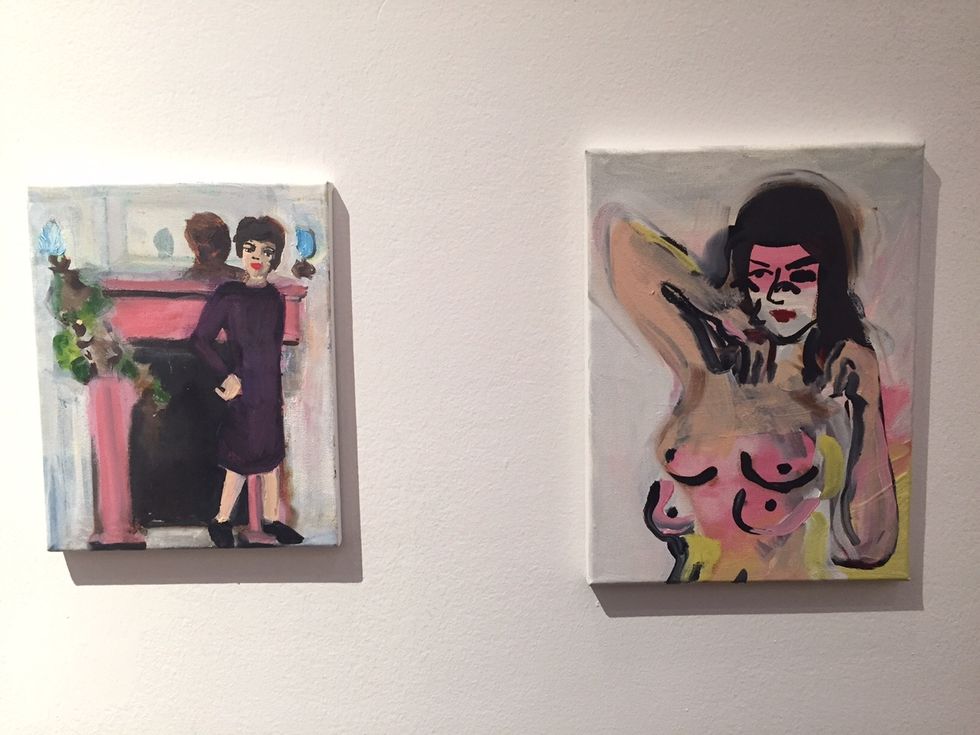 Nude working, drinking, posing. L.A.-based artist Becky Kolsrud's small, relaxed portraits show women being women, but not always freely. The subjects seem trapped by perspective -- from the viewer, from society, from the medium of paint on canvas -- stuck in their homes or in their bodies, surreal and altered as if caught in a glitch on film. But there is a power that radiates from the collection of canvasses in the lineup. It's a strength of women in numbers.
Logan White at Night Gallery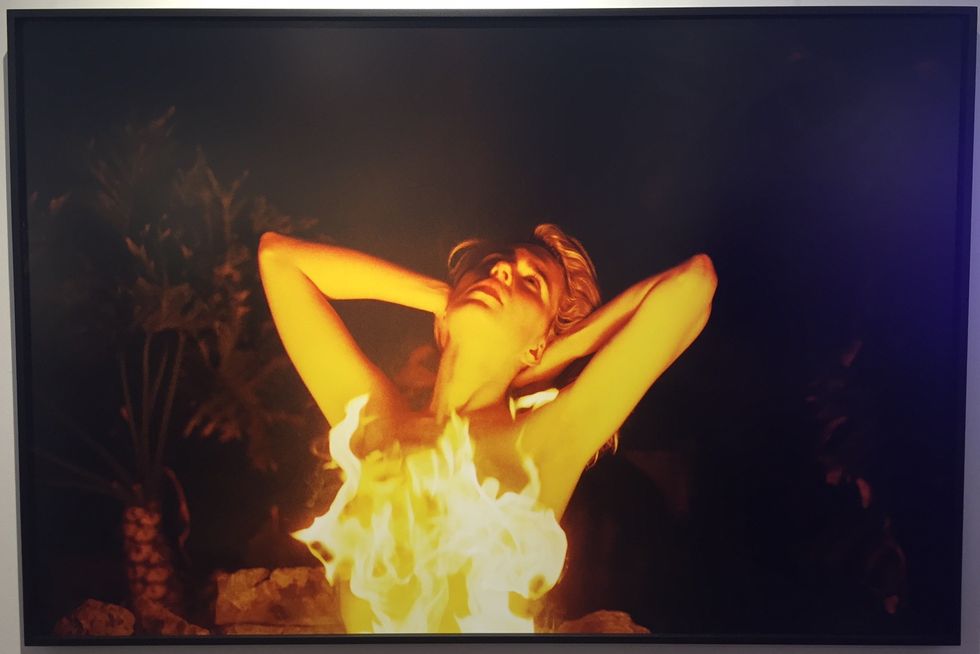 Forget burning bras, the state of the country is making some of us feel like letting it all go up in flames. Logan White, however, knows how to capture those surrealist daydreams with that authenticity we crave. Her photos range from editorial to slightly pornographic but her themes stand strong, showing women and sexuality in a form that begs to be consumed.
Aneta Grzeszykowska at RASTER Gallery
The Polish artist Aneta Grzeszykowska is known for shifting the perspective of the body in her photography and videos, showing detached body parts made of pig skin, obstructing faces and washing away the line between what we see as real and surreal. Here, she puts the camera on herself, playing with the concept of "negative make-up" and painting her entire skin the color of her lipstick. It's a question of what makes a woman through the lens of the viewer, and a peek into the grotesqueness that we sometimes force on ourselves.
Servane Mary at Triple V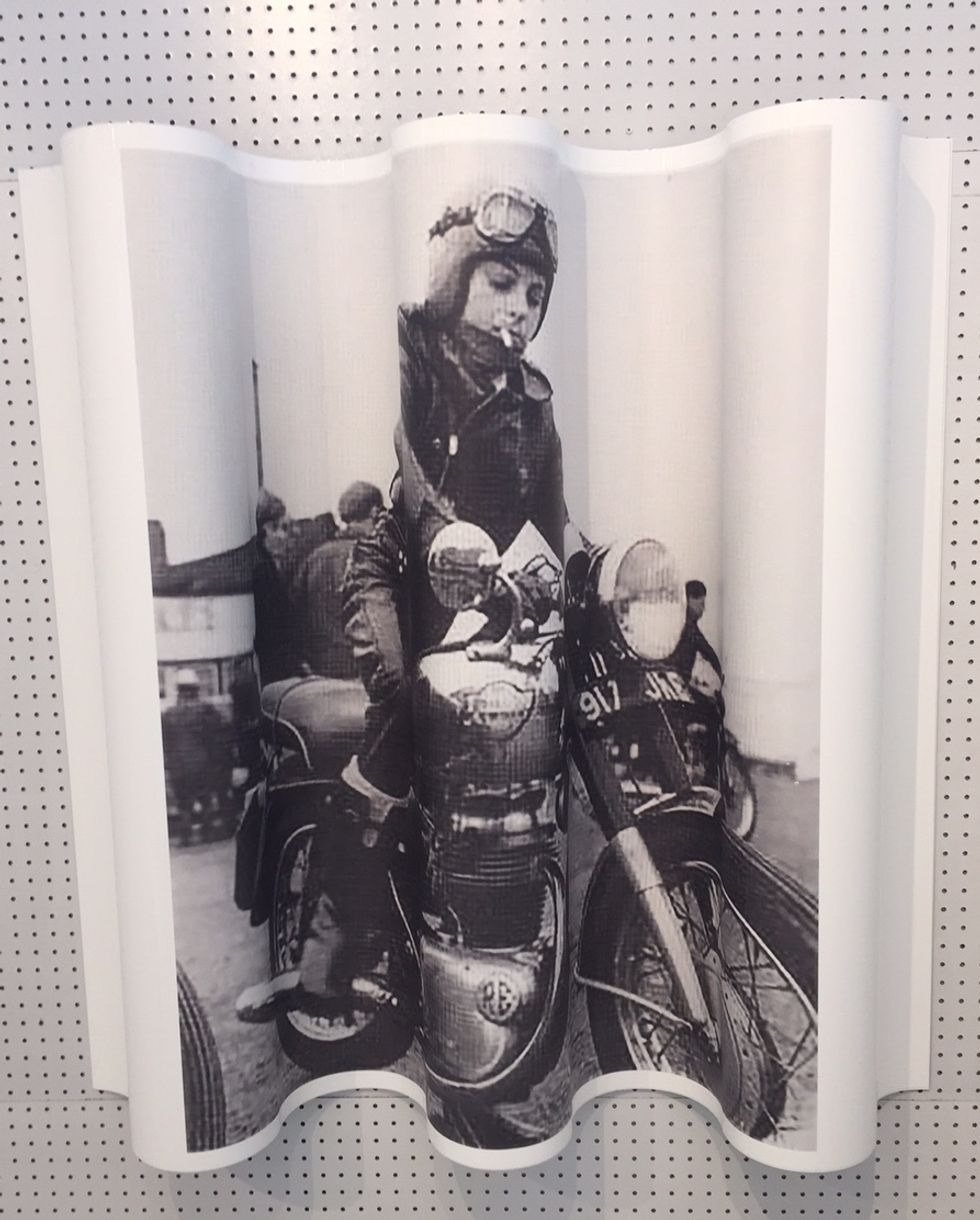 What the world needs now is more bad-ass ladies on motorcycles. Luckily, the French artist Servane Mary is not only giving us images of women throughout history who've bent the rules of the gender binary, but she's made them physical and larger than life. Found vintage images of women on horseback, shooting guns, riding motorcycles and flying planes, have been printed on large plastic structures that overpower in the booth, supplying a necessary voice of the powerful women who came before, leading the battle cry into the future.
Margaret Lee at Jack Hanley Gallery
When Margaret Lee first showed her sculpture of a comically large cowboy hat pierced with a phallic hollow rod, the felt hat was a light baby blue. After the election it became clear the image was too subtle, too nice. So Lee changed the hat to an empowered pink, a big ol' symbol of the transparency of the patriarchy, too garish to ignore. Sometimes being obvious is the only way to make people listen.

Max Maslansky at Five Car Garage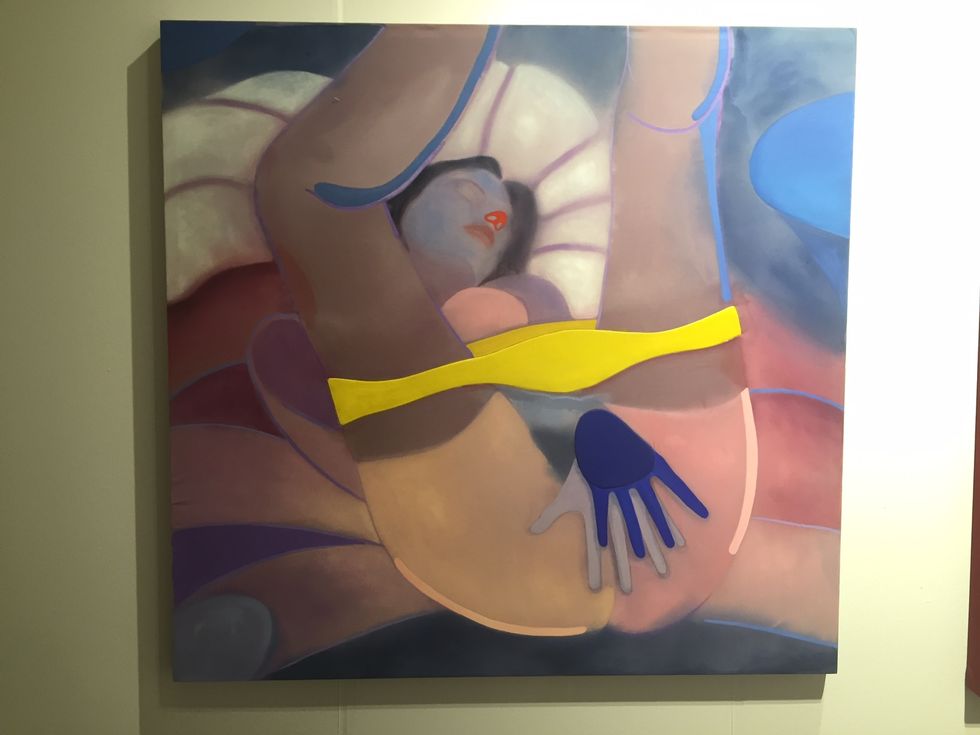 If the current climate has shown us anything, it is the importance of acceptance. Men too can be feminists, lifting us up and fighting together. Max Maslansky is an ally in every sense, showing images of women in ecstasy and strength painted on found bed sheets and stitched together in soft erotica. It's a restructuring of the male gaze towards a brighter, more egalitarian future, and a welcome ode to the other half of the population.
NADA is at Deauville Beach Resort (6701 Collins Ave) through December 4.